The French government's proposed top 75% income tax rate, applicable to individuals annually earning more than 1 million euros, was struck down by the country's Constitutional Council last weekend after it ruled that it breached a fundamental principle of equality for taxpayers. The super-tax for the super-rich had made headlines the world over, notably with the cases of high-profile individuals, latterly the actor Gérard Depardieu, who announced they were fleeing France for more fiscally clement climes. While President François Hollande has promised to redraft the terms of the tax, there is every indication that, if it is revived, it will return severely watered-down. Mediapart business and finance specialist Martine Orange analyses a fiasco that begs the question of whether the tax was scuppered from the inside.
-------------------------

How could the French budget and finance ministries have made such a mistake? Ever since the announcement that the country's Constitutional Council struck down the government's planned 75% tax rate on incomes of more than 1 million euros, the question, sometimes mixed with suspicion, is being asked everywhere.
The blunder concerning what was one of President François Hollande's key and symbolic election campaign pledges is quite simply monumental. The Constitutional Council gave no ruling concerning the admissibility of the proposed rate of the income tax for the super rich, but rather centred on the simple point that the new tax violated a principle of equality.
This was because the tax was applicable to individuals as opposed to households. "The legislator having thus misunderstood the requirement for taking into account contributive rights, the Constitutional Council has, without pronouncing on the other complaints levelled at this Article, censored Article 12 for a misunderstanding of [the principle of] equality before public charges," read the Council's official statement following its judgment.
So the government ignored the basic rule for income tax payment in France, which is that the contribution is calculated on the income a household declares. This meant that, for example, in the case of a household where the total income was 1.5 million euros, but where the couple making up that household earned – individually - less than 1 million euros, they would not be taxed at 75%. Whereas another household, made up of just one income earner who brings home 1.2 million euros per year, would be subject to the tax. This is the illegal inequality that the Constitutional Council cites.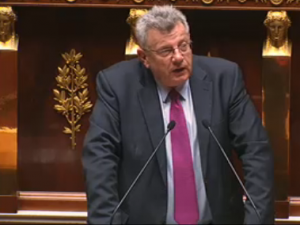 Early warning: Christian Eckert.
Furious at the outcome, Socialist Party MP Christian Eckert, the rapporteur of the finance commission of parliament's lower house, the National Assembly, posted this on his blog: "Many people are now talking of the amateurism of the government and its parliamentary majority, who could have seen this coming! There, too, the truth must be told. Following the expert advice of my administrative team at the National Assembly, I had prepared an amendment to avoid this distortion between [the fiscal status of] households. As always, this was raised with the cabinet of the Minister of the Budget ahead of parliamentary sittings in order to avoid the situation whereby the budget rapporteur submits an amendment that does not have the approval of the government that he supports. I was dissuaded from submitting the amendment. I gave up on it because experience shows that in general the [parliamentary] majority only exceptionally votes against the opinion of the government […] I regret not having been able to convince [the ministry] on this point."
Christian Eckert's blog statement raises a number of important questions. Why did the budget ministry not listen to his warning? Why was the Council of State, which is normally so painstaking in its appreciation of legal matters, not concerned by the issue? This further begs the question as to whether the budget ministry deliberately scuppered a tax it did not agree with. "I have heard these suspicions, but I don't agree with them," Eckert told Mediapart. "[Budget minister] Jérôme Cahuzac places importance on the presentation of things. He can make his contrary opinion known. In fact, in private, he didn't hold back. But he would never tolerate that a situation would degenerate and damage the government."