In 1956, François Mitterrand was Minister of Justice under prime minister Guy Mollet1 (whose government lasted 16 months - a record of longevity at the time). During a secret cabinet meeting, Mitterrand approved of the decision to carry out the death sentence in Algeria on the basis that it served as a severe warning to others, while his left-wing colleagues (Pierre Mendès France, Alain Savary and Gaston Defferre)2 voted against. Under justice minister Mitterrand, 45 people were sentenced to death and guillotined. Mitterrand nearly always refused to commute any sentences, according to Jean-Claude Périer's testimony in the film, also confirmed by records of the time.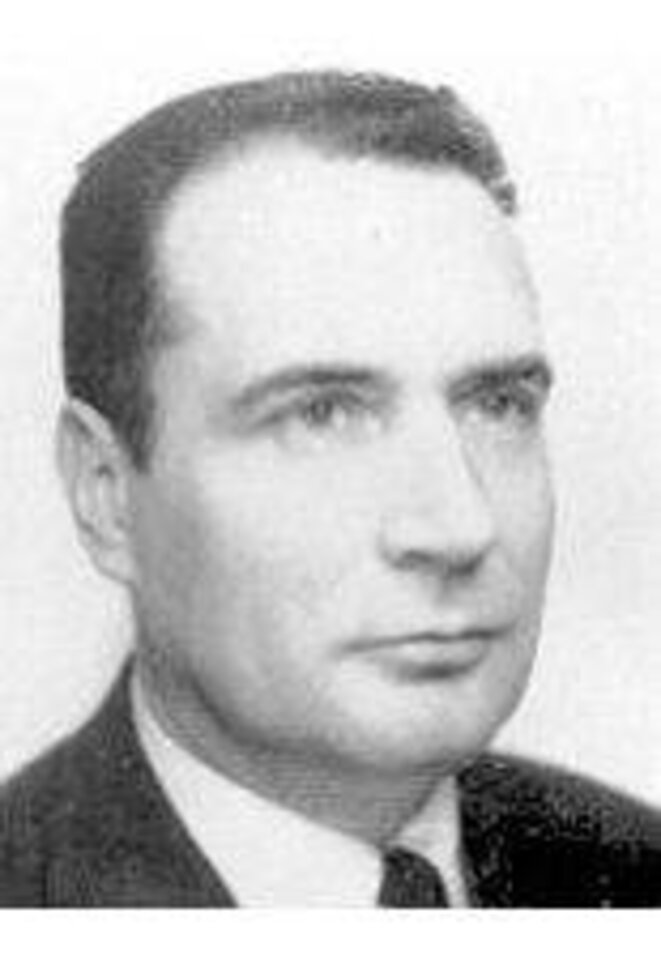 'Untamed ambition'; Mitterrand in 1959. © French Senate
The essential facts about this had already been published in several works: Jean-Luc Einaudi's '
Pour l'exemple, l'affaire Fernand Iveton
' (As an Example, the Fernand Iveton Affair) published in 1986: '
La Main Droite de Dieu: enquête sur François Mitterrand et l'extrême droite
' (God's Right Hand: an Investigation into François Mitterrand and the Far Right) by Emmanuel Faux, Thomas Legrand and Gilles Perez published in 1994, and a thesis on the role of magistrates during the Algerian war by historian Sylvie Thénault,
'Une drôle de justice. Les magistrates dans la guerre d'Algérie
' (A strange form of justice: magistrates in the Algerian war), published in 2001. But Benjamin Stora and François Malye systemize the issue, revealing its scale and scope.
Undoubtedly, the fact that François Mitterrand went on to become French president has focused attention on his particular case. The role of Mitterrand''s main rival of the time, Maurice Bourgès-Maunoury (1914-1993), who was variously defence minister and interior minister between January 1955 and May 1958, deserves a long overdue investigation. Bourges-Manoury went on to become President of the Council after the fall of the Mollet government, a post that Mitterrand was after.
.But the fact is that Mitterrand, known for speaking out in favour of the abolition of the death sentence after he became French President, compromised himself in the Algerian quagmire beyond any degree imagined by today's supporters of the Left. Importantly, the preparation of the film and the book comes as certain ageing witnesses, including Roland Dumas, André Rousselet, and Robert Badinter3, accepted, however cautiously, to re-evaluate the previous lowness of their eternal hero.
The effect of the revelations is staggering for some, haunting for others –- indeed, Mitterrand himself often used the phrase ""C''est selon"" ("'It depends"'). In the following interview, historian Benjamin Stora, co-author of 'Mitterrand and the Algerian War', tells Mediapart how and why France's longest-serving president, idealised by the Left, until now escaped scrutiny about his dark role - what Jean-Claude Périer called Mitterrand's "terrifying ambition" - during the Algerian war of independence.
Mediapart: Do you consider the repressive policy carried out by France in Algeria after 1954 an 'office crime'?4
Benjamin Stora: "That''s an expression used for the Second World War. I''m wary of expressions that are circulated from one period to another, aggravating the anachronism. We have, however, spotlighted politicians, and thus republican institutions. Hitherto, insufficient attention had been paid to the political practices peculiar to the Algerian War. Emphasis has been placed on the army, Jacques Massu, Marcel Bigeard, Raoul Salan, and even De Gaulle, after the Algiers putsch of May 13th,1958, which is logical. When torture is mentioned, military action is what first springs to mind.
But if you examine ministerial directives and analyse the composition of cabinets at the time, you''ll find that the 5th Republic''s chronic instability, which obscured our perspective of institutions, actually masks a very real power that proposed, opted for and allowed a certain way of conducting the war. The undeniable weight of the army from 1957 onwards, and the importance of the Battle of Algiers, mustn't prevent a re-evaluation of the responsibility of politicians. Our work is part of an open review –we're targeting a wide audience – of an instance of governmental behaviour and political culture. It was perhaps time to 'demilitarise' the history of the Algerian War, without diminishing the army's responsibility. Beginning a new area of work doesn't necessitate closing another."
-------------------------
1: Guy Mollet led the French Section of the Workers' International (SFIO) party from 1946 to 1969 and was French Prime Minister between 1956-1957.
2: Mendes France and Savary both resigned over the Algerian issue.
3: Roland Dumas served as Foreign Minister under President François Mitterrand from 1984 to 1986, and from 1988 to 1993. André Rousselet, a faithful follower of Mitterrand since being in his Ministry of Justice during the Algerian era, notably organised the financing of each of his presidential campaigns….Robert Badinter notably served as Minister of Justice under Mitterrand and presented a bill for the abolition of the death sentence, which was adopted in 1981.
4: A reference to Kafkas' words, ''The chains of tortured humanity are made of the official papers of ministries''.