It is an October evening in Paris. A giant silhouette, dressed in a beige raincoat, makes its way towards the Théâtre National de la Colline in the city's 20th arrondissement or district, where Inrocks magazine was holding its literary festival. It is 2007, though the year hardly matters, nor in fact does the location. The man has his hands in his pockets and his gaze lowered towards the pavement where his shadow seems to stretch into infinity.

In a few minutes Patrick Modiano will find himself in front of a packed hall to speak about his latest novel, Dans le café de la jeunesse perdue ('In the café of lost youth'). The kind of appearance he hates making and which he agrees to do only on rare occasions. Coming out of the shadows, speaking about himself in the first person, carrying out an autopsy on his own work...existing in the present. It is hell for a man who has never lived other than through his previous lives.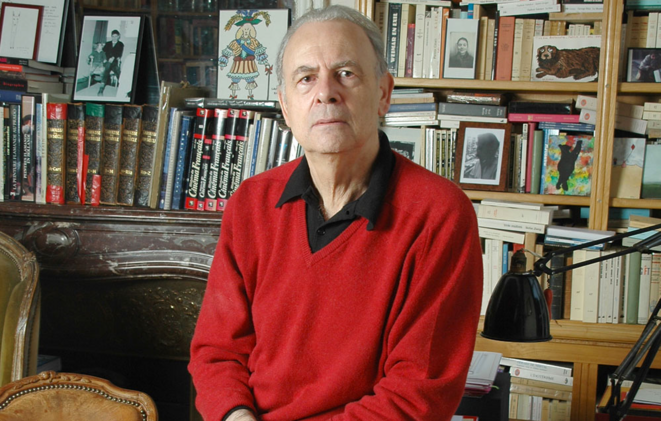 Patrick Modiano © Gallimard
Thinking about the way that his hand trembled the first time he shook my hand, and recalling the way his eyes widened and his lips mumbled when he learnt that I had myself been analysing his work for the previous three years at university, I can't help imagining his reaction in learning that he had just been awarded the Nobel Prize for literature. One only has to look at the interview he gave (see below, in French) just after receiving the major French literary award, the Goncourt Prize, in 1978, the year his novel Rue des Boutiques Obscures ('Missing Person' in the English translation) was published, to get some insight into it.
When his publisher Antoine Gallimard called him on Thursday, October 9th, to announce the results of the Nobel Prize, the novelist simply replied: "How bizarre." It's an expression that makes you smile if you know his character a little. For with him it's very simple – everything is "bizarre". The same jurors who recognised him for the "art of memory with which he has evoked the most ungraspable human destinies and uncovered the life-world of the Occupation", also noted on Swedish television that the Academy had not been able to contact the writer before making his victory official. Nothing could have been more appropriate. Modiano is cast in the image of the characters who have been wandering between the lines of his novels for more than forty years. As the Academy citation puts it: "ungraspable".
Indeed this is precisely why literary critics often struggle to find the right words to describe what they end up calling, as a last resort, his "mood music" - "
petite musique"
in French. It is indeed hard to explain in writing what one feels upon opening a Modiano book, this sensation of feeling at home, snuggled under a blanket, sheltered from time and the outside world. Without wishing to dissuade people who would like to read this article to the end, listening to some of French composer Erik Satie's
Gymnopédies
is often much more effective than reading press articles in touching the essence of a work that the novelist himself doesn't know how to interpret. His comments are as rare as the interviews that he gives are painful. Modiano hesitates, bites his lip, looks for the right words...and never finds them.
Modiano © Gallimardmontreal
If the writer finds it so difficult to respond to journalists' questions, it is above all because with each new novel he feels he has gone as far as possible in his quest for meaning. It is in the writing, and only in the writing, that he manages to find some answers to his countless questions. Some like to say that Modiano always writes the same book. But that's not the case. From the publication of his first novel in 1968,
La Place de l'Étoile
, to his 2014 work
Pour que tu ne te perdes dans le quartier
(not yet translated into English, its title means
'
So that you don't get lost in the neighbourhood
')
, he has moved forward. But like all giants his steps are slow, imprecise and tentative.
One of the phrases that best sums up his obsessions is found in his 1977 novel
Livret de famille
(
1
): "I was only twenty, but my memory preceded my birth. I was sure, for example, that I had lived in Paris during the Occupation as I remembered certain characters from this period, and tiny and disturbing details of things that are not mentioned in any history book. However, I tried to fight against the force that was pulling me back and dreamt of being able to free myself from a poisoned memory." When speaking about Modiano, three words always come to mind: identity, past and memory. However, as he himself
confided a
t the publication of
L'Herbe des nuits
(not yet translated into English, literally 'Grass of the Nights'): "The fundamental problem is the forgetting, not memory."
------------------------------------------------------------
1. Literally it means 'family booklet; in France the livret de famille is an official document that records a family's births, marriages, divorces and deaths.
'Strange people. ..a strange twilight period'
Patrick Modiano is afraid of forgetting. Like his characters, he sifts through old phone books and newspapers, which are to him "the most precious and most moving library that one [can] have, for their pages [are] indexes of people, things and of disappeared worlds to which they alone bear witness". His novels are populated with ghosts, of addresses that have disappeared and of telephone numbers that ring out in the void. Not long ago Modiano told Télérama magazine that he had "always had the desire, the nostalgia, to be able to write a crime novel" and he certainly turns detective at the slightest opportunity. Driven on by daydreams, he carries out his investigations in a parallel world in which "the past and present mingle...by a process of superimposition".

In his writing Paris becomes a poetic and twilight space that in no way resembles the Paris we know now. The ring roads, Latin Quarter cinemas and dubious small hotels around the Montparnasse district … all that has been destroyed in the course of the last fifty years emerges once more from the ground. Modiano's novels have a precious quality in which all that is needed is to apply pressure on "certain sensitive parts of Paris for memories to come pouring out in a shower of sparks". The books allow you to lose yourself in empty and unknown streets, often at nightfall, that hour of the day that suits the writer's characters so well. Part of the formula for this voyage in time is found in L'Herbe des nuits: "On Sundays, and in particular at the end of the afternoon and if you are alone, a gap in time opens up. All you have to do is slip into it."
And there we are, plunged into the Paris of the Occupation, that "original night" during which the novelist's parents met and where, as he writes in his 2004 novel Un Pedigree, "one moved so easily from the shadows to a light that was too harsh, and from the light to the shadows". They were "strange people" in a "strange twilight period". And above all, a strange ambiance. In this parallel world people disappear and reappear without any explanation. They change identity, fear mysterious dangers, hide when it's not really clear why and only find their salvation in obscurity. The writer's father, Albert, was one of those people.
Born into a "Jewish family from Tuscany", Albert Modiano did not come forward for the October 1940 census of Jews ordered by the French authorities. He did not therefore wear the yellow star (1) that all Jews in France were obliged to wear from June 1942. "My father was obviously forced to hide himself...he stayed in Paris until the end of the Occupation. Under a false identity. It was a clandestine life...he was involved in activities of a more or less financial nature, not shady, but rather fanciful," writes Modiano in Un Pedigree, his most autobiographical novel. What activities were they exactly? Did Albert Modiano really mix with collaborators in Paris's rue de Lauriston, as his son suggested in his early novels? No one knows.
In any case, the answer to this question hardly matters now. For if Modiano needs precise memories, his writing itself can now perhaps dispense with them. Evidence for this lies in the quote from the memoirs La Vie de Henry Brulard ('The life of Henry Brulard') of French writer Stendhal, used as an epigraph in Modiano's recent Pour que tu ne te perdes pas dans le quartier: "I cannot give the reality of acts, I can only present their shadow." What matters is that the shadow of Albert Modiano, along with those of the author's creations Raphaël Schlemilovitch, Chalva Deyckecaire, Dora Bruder, Serge Alexandre, Guy Roland, Annie Astrand and other anonymous characters, emerge, finally, from the "cold night of oblivion". Like them, Patrick Modiano is now part of those "mysterious beings, always the same ones, who lie in wait as sentry guards at each crossroads in our lives".

-----------------------------------------------------------------
1. The title of Modiano's first novel, La Place de l'étoile, is a play on words between the name of the famous junction in Paris, the Place de l'Étoile, and the 'place' on their clothes where Jews were supposed to wear their 'étoile' or star.
-----------------------------------------------------------------
The French version of this article can be found here.

English version by Michael Streeter