US film director Stanley Kubrick died on March 7th 1999, aged 70, leaving behind him a catalogue of works of exceptional richness. They included, to name but a few, Spartacus, Lolita, Doctor Strangelove, A Clockwork Orange, Barry Lyndon, 2001: A Space Odyssey, The Shining and Full Metal Jacket.
Kubrick left a corpus of work that brings into the sharpest focus the major metaphysical and epistemological upheavals that defined modern history, and the possibility of producing an artistic form within it.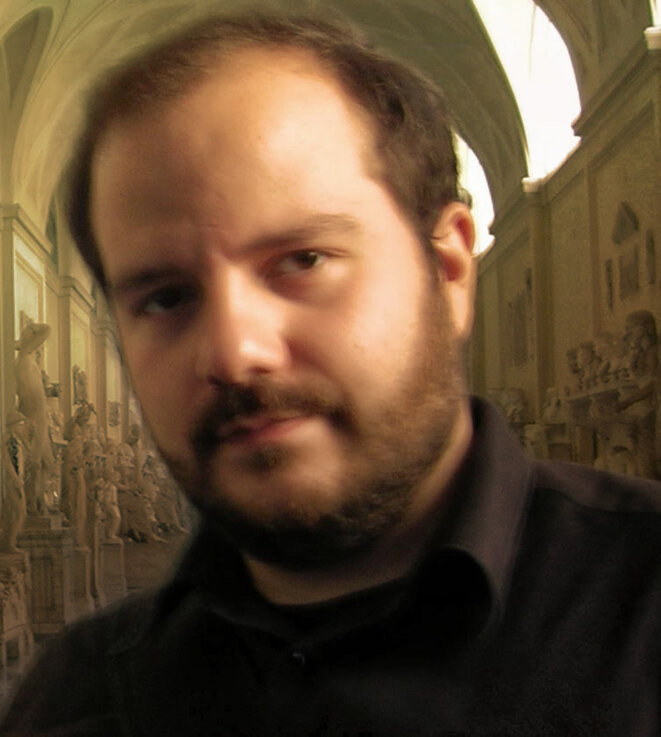 © dr
Sam Azulys, who obtained a doctorate in philosophy before becoming a writer, stage director and, more recently, a scriptwriter and film director, explores philosophical questions broached by Stanley Kubrick's works in his book Stanley Kubrick: une Odyssée philosophique (Stanley Kubrick: A Philosophical Odyssey) published in April.

In this interview with Clément Sénéchal, he provides an unusual and fertile interpretation of Kubrick's filmography. The dissoluteness of western society, the absence of meaning, the triumphant nihilism of technological civilisation are themes that Azulys renders more intelligible at the intersection of Kubrick's images and the ideas of Friedrich Nietzsche and Martin Heidegger.
-------------------------
Mediapart: What was your first encounter with Stanley Kubrick's cinema?
Sam Azulys: My first encounter with Kubrick's work was a precocious one. I can't have been more than eight years old. One day I found myself in front of a TV set, and said to myself that there was a problem. A maelstrom of colours and abstract shapes was cluttering up the screen. I was tempted to draw an adult's attention to the technical hitch, but fascination got the better of me. Stars were spreading like egg yolks through the darkness. Furrowed, iridescent landscapes followed one another. Then a man enclosed in a strange orange space suit appeared in an immaculate decor. It was the end of 2001: A Space Odyssey. Like a lot of people of my generation, I was seduced first and foremost by the incredibly evocative power of Kubrickian images.
Mediapart: Isn't it a bit risky to reduce an artistic work to philosophical questions, and all the more so to those of a single thinker?
S.A.: The use of film to illustrate philosophical concepts is exactly what I wanted to avoid. Philosophers have already tried to link 2001 to the philosophy of Martin Heidegger, but very soon realised that something was amiss: with Heidegger, language plays a critical role, while Kubrick always turns to figurative inventions situated beyond language, and of which the monolith in 2001: A Space Odyssey is, in a way, its quintessence. [...] I realised very fast that we shouldn't slap concepts onto images. On the contrary, my project is based on the idea that Kubrick's cinema should be considered a dialectical springboard, that his cinema can generate ideas. It's by going beneath the surface of Kubrickian images and sounds with a philosophical probe that you can tap into an interplay of ideas. And indeed it's when Kubrick's cinema contradicts the thinking of Nietszche or Heidegger that the analysis becomes really exciting.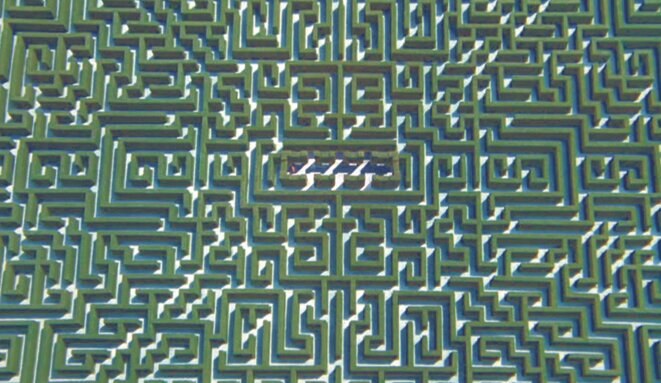 Le labyrinthe de l'Overlook Hotel, dans Shining
Mediapart: What are the major themes of Kubrick's works?
S.A.: Firstly, the self-alienation 2, of man and his moral ambiguity, his profound duality. Like a lot of major directors, Kubrick was fascinated by the contradictions and ambivalence of humankind. In Full Metal Jacket, Joker wears a hippy badge [Editor's note: with a peace symbol] on his uniform and the inscription 'Born to kill' on his helmet. Kubrick was a director inspired by Jung. He considered that man cannot be at peace with himself if he doesn't accept the dark side that is an integral part of him. In addition, as I've already pointed out, technology is one of the great Kubrickian themes. Technology as a vector of nihilism can lead man to catastrophe, but it can also lead him to the superman. With Kubrick, there is always this battle between the animal side of man and the rational side, but these two aspects are complementary and indivisible. Civilisation is only one side of the coin, the other side is barbarism. It's totally reversible.