Hit hard by rising energy costs, France's artisan bakers are openly declaring that they will not survive the winter. It is a highly emotive issue; these bakeries that bake their own bread on the premises are by far the most common local shops in France, with 34,000 points of sale in the country employing around 180,000 people.
It is these boulangers who produce France's emblematic bread and baguettes, which are both a key household staple for local people and also form part of France's internationally-renowned food heritage. This is why the French bakers' much-publicised economic woes have taken a political turn in recent days. In particular there have been insults exchanged between the far-right Rassemblement National - the feeble self-proclaimed champions of small businesses - and the government, which has itself struggled to come to grips with the reality faced by small businesses.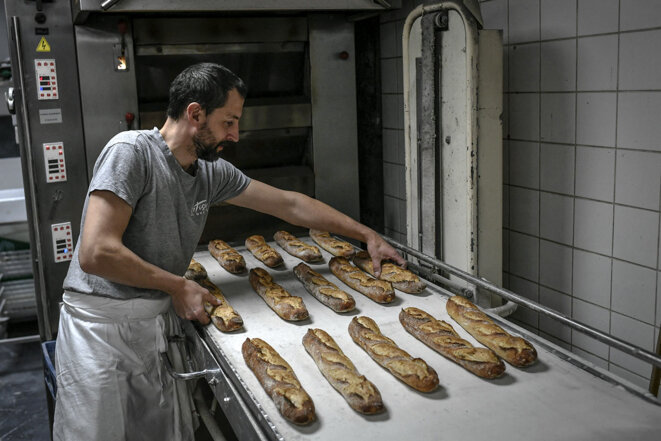 The organic bakery Racynes at Boulogne-Billancourt in the south-west suburbs of Paris, November 2022. © Photo Stéphane de Sakutin / AFP
But what is the true economic state of France's famed boulangeries? They have experienced contrasting fortunes since the beginning of the Covid crisis. The start of 2021 was a prosperous period; the closure of restaurants and health restrictions saw bakeries significantly boost their lunchtime takings, as workers deserted cafés to buy a lunchtime sandwich or quiche at their nearest bakery.
Overall, France's bakers saw a double digit rise in their business in 2021 to 14.7 billion euros, 30% of which came from lunchtime trade, according to the economic research consultancy Xerfi.
Foodstuff prices soar
But in 2022 the situation gradually worsened. "We're in the process of losing everything," admits Valéry Valette, boss of the Au fournil de Saint-Georges boulangerie in the small seaside town of Saint-Georges-de-Didonne in south-west France. Across the country artisan bakers are having to confront an unprecedented combination of negative economic factors. First of all there is the rise in the cost of their basic ingredients: eggs, flour, butter and sugar.
Last winter saw bird flu return to France, and that ravaged poultry populations. As a direct result of this the cost of egg production soared – by up to 87% according to the state statistical agency INSEE.
Then, of course, there was the war in Ukraine, a major cereal producer, which led to the price of wheat soaring on international markets. At the start of the crisis it was said that France was self-sufficient in common or bread wheat – the type of wheat used to make flour used in bread making. As a result our bakers should have been protected from the consequences of the war. But that overlooks the fact that our economy does not operate in isolation.
France's artisan bakers are therefore also subject to the price speculation in international wheat markets. "If a French wheat producer can sell for double in the United States, they're not going to say no. So the whole world falls into line..." notes Valéry Valette. And the flour mills have no choice other than to pass on this wheat price inflation in the cost of their flour, which according to INSEE went up by 41% between November 2021 and November 2022.
Related articles
Butter is another important ingredient for bakers, especially in making pastries and cakes, and its price has also gone up, by 22% according to INSEE. This rise comes against a backdrop of tensions over milk supplies – there are fewer and fewer dairy farms in France because of the low profitability in this form of farming - and at a time when rising energy costs have put a further brake on butter production by large dairies. These producers prefer to focus on more profitable dairy products, such as cheese. The result is a rise in the price of butter.
There has also been an unexpected increase in the cost of sugar, up by 39% in a year, which is once again linked to the war in Ukraine. As a result of inflation and rising fuel costs at the pump, bioethanol – a biofuel that can be mixed with petrol or diesel for use in vehicles – is once again in great demand. And ethanol is mainly obtained through the fermentation of sugar.
Eyeing the chance of some juicy profits, sugar producers have thus set aside part of their crops for making ethanol, which has automatically reduced the quantity of sugar available on the food market and pushed up prices. Finally, on top of foodstuffs, there has been a rise in the cost of paper packaging (up 22% in a year) which bakers use a lot. This rise began during the Covid crisis because of supply and transport issues with raw materials, and has continued.
In short, there has been a lot of cost pressures. But in 2022 bakers largely managed to absorb these costs by raising their prices. In the majority of artisan boulangeries the price of bread, pastries and cakes has gone up by 5, 10, 20 or even 30 centimes. It was "thanks to these price rises in retail products that bakers' turnover increased again in 2022, by 7%, to 15.7 billion euros," explains economist Matteo Neri, director of studies at Xerfi and an expert in the agro-food sector, who bases his findings on figures from INSEE.
Huge rise in energy bills
But things have got significantly trickier in recent weeks. This is because of the rise in energy bills faced by bakers as their gas and above all electricity contracts came up for renewal at the end of the year. Some are are facing obscene cost rises in the new contracts being offered by their energy suppliers (EDF, Engie, TotalEnergie, Eni, GazelEnergie and so on).
"When my new electricity contract arrived from my supplier a few days ago, I thought that was the end of my business: they were proposing to increase my bill fivefold! Unsustainable. So I got a broker and I've just signed a deal with Engie in which I still get a 'threefold' increase. I hope that will be halved thanks to state aid," says boulangerie owner Valéry Valette.
France's regional press has widely reported on similar unsustainable energy increases; for example involving a baker in the Oise département or county north of Paris, another in the Doubs département in eastern France and a third in the Landes département in the south west. And according to Valéry Valette such well-publicised cases do not include "those who say nothing because [bakers] are not a group who complain a lot".
Before the crisis, energy already represented on average around 5% of bakers' overall turnover, according to economist Matteo Neri. It is a high proportion of costs because it is an energy-intensive industry: energy is needed to heat the ovens, to power the cold room and the fermentation chamber, and to light the shop windows. If the cost of energy use doubles, this will have a significant impact on bakers' operating margins which up to now have been acceptable – at round 8% on average says Xerfi – but nothing remarkable. And some will be forced to close their shops.
Not all bakeries are affected in the same way by the energy crisis, however. Dominique Anract, president of the bakers' professional body the Confédération Nationale de la Boulangerie-Pâtisserie Française (CNBPF), estimates that "between 20% and 30%" will be spared by the crisis because they are protected by the government's price cap on energy bills which applies to very small businesses, whose subscribed electricity capacity is at or below 36 Kilovolt-amps (kVA). "On the other hand, for those who are above this level, it might be anything. Some will have to pay four, five or even six times more than the initial amount," admits Dominique Anract.
Government fails to convince bakers
As a consequence the government has brought in some emergency aid measures, with an electricity price "shock absorber" which should cover around 20% of the total electricity bill. It has also made indefinite a "help desk" via which small businesses who use a lot of energy can ask for aid; bakers will also be allowed to break and switch their energy contracts at any time. On top of that, there are measures that allow small and medium-sized companies to ask for a postponement in the payment of their "social charges and taxes".
But the government's approached has failed to convince the sector. "Every time they postpone the problem by putting in temporary measures," says Valéry Valette. "But if we don't have the cash flow to pay our bills today, why would we have tomorrow? In my view it's delaying the inevitable."
The economy and finance minister Bruno Le Maire has also asked energy suppliers to "do more" to help the bakers. This is likely to produce a wry smile among some hard-pressed business owners. For up to now the ministry has made few demands on energy suppliers – with the exception of the state-owned EDF – to show solidarity with the national effort, and has refused to tax their excess profits. It is worth noting that in June these same energy suppliers who are massively putting up bills for small companies urged the French people to make an effort to reduce energy consumption, in an article that appeared in Le Journal du Dimanche newspaper.
Nonetheless, Dominique Anract of the CNBPF remains optimistic. He thinks that "if the energy suppliers play the game by ending toxic contracts, that if the artisan bakers increase their prices a little more, if their customers accept, and if the government helps them, then they should get through this crisis". That does require quite a few conditions to be met, however. "Raising the price of our products by 3% to 5% would likely ensure the survival of our businesses," clarified Dominique Anract in a statement in December.
Once again, bakers around the country are not entirely convinced. "We've already raised our prices over several months, and if we carry on people won't come back," worries one Parisian baker who seems almost resigned to their fate. "We can't pass on all the cost increases without losing customers," notes Valéry Valette. "I lost 20% of my turnover at the end of the year because people's spending power has gone down. We are certainly seeing that they're being more careful with their money."
The macroeconomic statistics are inescapable: in recent months wages have not been keeping up with inflation, which reached 6% in 2022. Figuresfrom the Direction de l'Animation de la Recherche, des Études et des Statistiques (DARES), the government unit that examines work-based data, show a continuing gap between wages in the private sector and price rises – they rise half as quickly. Meanwhile in the public sector the indexation of wages saw them rise by only 3.5% in the middle of 2022, having been frozen between 2017 and 2022. The forecasts from the independent research and forecasting body the Observatoire Français des Conjonctures Économiques (OFCE) tell a similar story: it says that spending power in real terms will fall by 1.4% over 2022 and 2023.
What remains to be seen now is whether artisan bakers will be deserted by hard-pressed consumers as they choose what to spend their money on. There are reasons to fear so, given that they face stiff competition. According to Matteo Neri this competition comes from the chains who reheat or cook pre-made products such as "Paul, La Brioche dorée and La Mie câline and above all supermarkets (Lidl, Leclerc etc) who put pressure on their sector of the market, in particular through aggressive promotional policies". Just a year ago Leclerc promised to sell baguettes for just 29 cents, whereas in many artisan bakeries they may cost up to a euro or more.
The government's policy of favouring wage moderation once again reveals its limitations here. It has been doing all it can to stop companies increasing their basic salaries, through its policy of allowing employers to pay staff tax-free one-off bonuses in order to keep the economy "competitive". This supply side policy in turn risks damaging various sectors as household spending power becomes stretched and demand weakens.
If consumers turn away from the bakeries, and if the latter are driven to close, then the blow will be made worse by the fact that they are the "only sector in agro-food where small, specialised shops have resisted supermarkets; artisan bakeries still have two thirds of the market! It's a distinctive feature of France," says Matteo Neri.
----------------------------------------------------------------------------
The original French version of this article can be found here.
English version by Michael Streeter