Snubs from the Mulliez family and other tycoons in the French mass market retail business are par for the course for journalist Bertrand Gobin. When he contacted Gérard Mulliez, founder of the Auchan supermarket and hypermarket chain, in 2011 about writing a book on the family and its extensive retail empire, the reply was uncompromising. "I do not wish any such book to be written ... I am categorically opposed to any reproduction of my image on the cover," the patriarch of one of France's richest families replied.
But Gobin went ahead anyway and last month he self-published his book, La Face cachée de l'empire Mulliez ('The Hidden Face of the Mulliez Empire'), which is available from his web site. It describes the history, connections and organisation of a remarkable family whose activities represent a significant slice of the French economy. The family itself seems to have read the book. For just a few weeks after it was published, Gobin received a text message from Gérard Mulliez suggesting that he "check his facts", which "could perhaps lead certain companies to seek damages from you".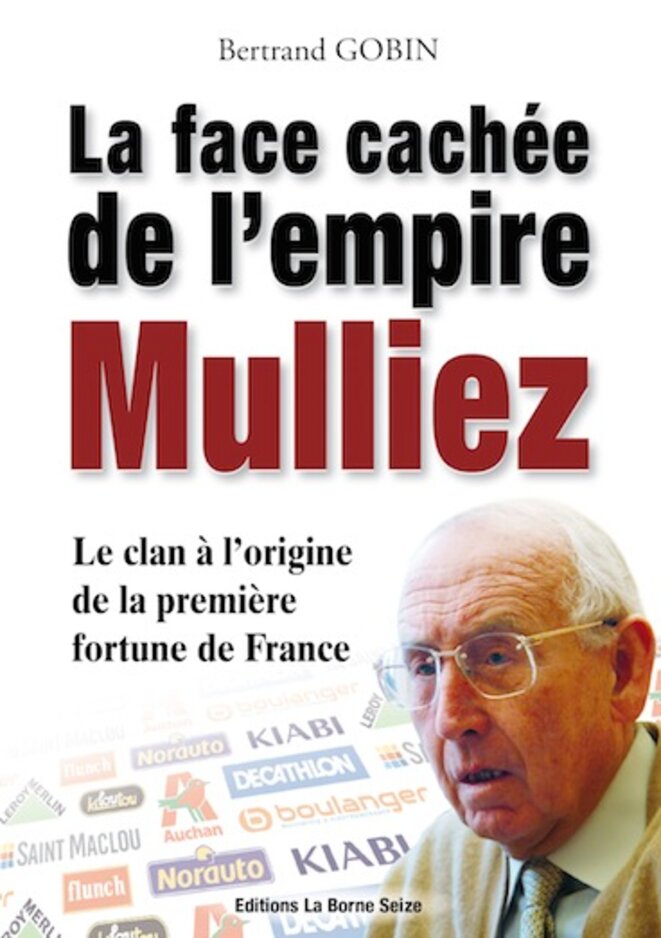 The Mulliez family
'
s diverse retail outlets are everywhere in France, and some have a presence abroad too. Besides the ubiquitous Auchan, the Mulliez family businesses range through homecare, DIY, carpets, car accessories and equipment hire, to clothing, sports goods and restaurants. Together they employ 500,000 people across the world in 8,000 retail outlets that generate annual turnover of 80 billion euros. "Each year in France, 10% of current spending – spending on goods by all households – ends up in the tills of a single family," Gobin writes in the book.
The journalist has covered France's mass-market retail sector for years and runs a blog about the Mulliez family with information gleaned from within the clan, which is probably the best source of information about them. "The Mulliez are very secretive, and I find it more interesting to follow them than a traditional group that holds four press conferences a year," he told Mediapart. "There is a Romanesque side to it – nearly 700 cousins bound by a pact that remained secret for a long time. There are 1,300 living descendants of the original founders. It is a small nation with its constitution and its own laws." He defines the way they are organised as "shareholder communism" nevertheless strongly impregnated with the founders' traditional Catholic values.
In a rare departure a year ago, Mediapart and Arte Radio were able to interview Régis Mulliez, one of the family members living in Belgium to benefit from lower taxation on his 28-billion-euro fortune. In general, they will only speak anonymously, if at all. Gobin says he spoke with around 50 of the roughly 650 Mulliez cousins for his book, which includes "hitherto undisclosed confidences" from people within the clan "who until now had always refused to speak". All declined to be named.
The book deals at length with the history of the family business, which began in the early 20th century with a modest wool-spinning enterprise near Roubaix, northern France, owned by Louis Mulliez. His 11 children went on to create the Mulliez Family Association (Association Familiale Mulliez or AFM) in 1955. This association became more significant after Gérard Mulliez set up Auchan in 1961.
The Mulliez patriarch, now almost 84, handed over the reins to his nephew Vianney Mulliez in 2006, but his influence is still felt by group management and in AFM meetings. The family association has seen its assets grow by 85% over the past decade, according to Gobin, which beats the performance of the CAC-40 Paris Bourse index in the same period by over fourfold.
Disentangling its assets is not simple. One of the least-known family possessions is the prestigious Paris Centre de formation des journalistes (CFJ- Journalists' Training Centre), owned by vocational training company Abilways, itself majority-owned by Creadev, AFM's investment fund. "This confirms, by the way, that the Mulliez barely interest the Paris media microcosm," Gobin said. "If it had been [luxury goods firm] LVMH, [defence manufacturers] Dassault, [telecommunications tycoon] Xavier Niel or [Le Monde shareholder and business partner of the late Yves Saint-Laurent] Pierre Bergé who had bought it, the affair would doubtless have made more waves."
Creadev has shareholdings in around a dozen companies, and the family also partly owns Sonepar, the world leader in business-to-business electrical equipment retailing. But more symbolically, and probably of greater strategic importance, the Mulliez also took a stake in Chinese online retailer Alibaba, whose stock market launch or IPO last September broke all previous records.
A key revelation in the book is the Mulliez family's relationship with General Atlantic, an American fund created in 1980 that invests on behalf of about 30 of the richest families in the world. Not only did the Mulliez invest in Alibaba in their own name, they also have an interest via General Atlantic, which is about as secretive as the Mulliez. "There is a total blackout on the identity of the families that contribute [to the American fund]. Even internally, in the AFM, the name of this 'partner' is not made known to the family associates," the book says.
Some family members will have discovered the connection with General Atlantic, the world's seventh biggest investment fund, from the book. They will also find out from its pages that they are shareholders in less mainstream investment firms, such as Citco, a champion of offshore finance based in the Cayman Islands tax haven.