The Sarthe département (county) in north-west France has one of the lowest ratios of doctors serving as General Practitioners per number of inhabitants of any in France. According to figures from the French national social security office, it has 72 GPs per 100,000 people, compared to a national average of 87 per 100,000.
For the past 27 years, doctor Jean-Yves Panici has served as a General Practitioner in the small village of Brette-les-Pins, 20 kilometres south of the Sarthe's administrative capital and home to the world-famous race track, Le Mans. Situated in an area under-equipped in healthcare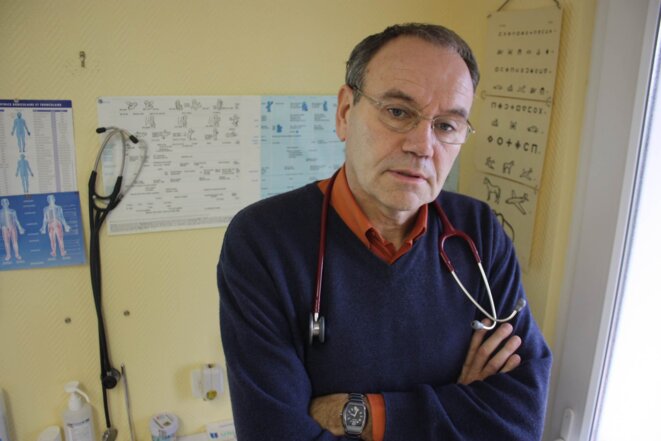 Overworked: doctor Jean-Yves Panici. © E.B.
resources, the 56 year-old is daily confronted with the crisis arising from the shortage of GPs. He hardly has a free moment, even during lunch hours. "I had 37 consultations yesterday, and the average is about 30 per day," he said. "We're reduced to just rushing along, it's frustrating."
His patients, he explained, often put-off their visit before finally going to see him with four or five different complaints. "It's not possible to answer all their needs, I tell them to come back." The number of doctors in his immediate area has fallen by a third in just 15 years, and he cannot meet the current patient demand. "I have to turn them away every day."
The shortage of doctors in French rural regions has been the subject of successive official reports and studies over recent years. The latest to highlight the problem, a report on the state and future of local healthcare practices, was commissioned earlier this year by President Nicolas Sarkozy from former health minister Elisabeth Hubert.
Delivered to him at the end of November, Hubert's report advocates the development of online consultations, a reform of professional training, an increase in doctors' fees and incentive measures for different healthcare professionals to practice in grouped centres.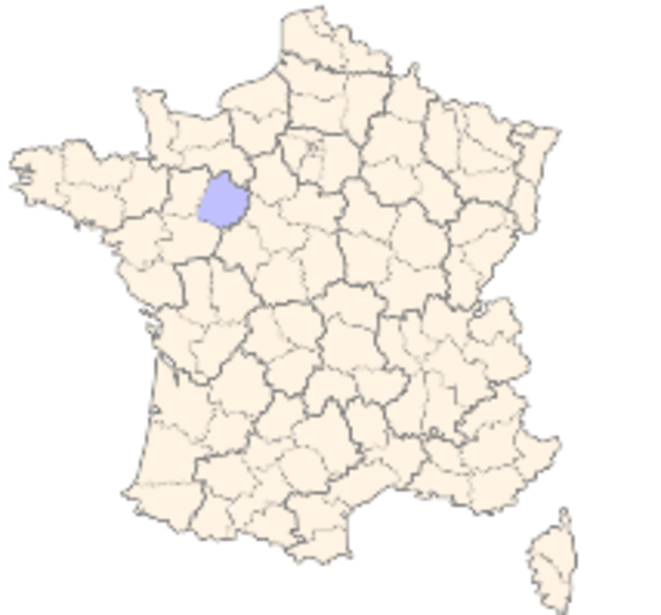 The Sarthe (highlighted in blue). © DR.
"Rural areas lack doctors but the situation in towns and low-income neighbourhoods also requires attention," commented Marie-Ange Lecomte, a GP and head of the Sarthe branch of the largest union representing GPs, MG France. She practices in Le Mans. "In my neighbourhood, we've moved from 13 doctors to six the space of 15 years," she said. "The practices can no longer take on any new patients."
There is a gulf even within those regions with most doctors
The average age of GPs in the Sarthe is 54 years. Over the next five years, 80 of the département's 401 doctors will have reached retirement age (65 years), without any compensatory provision for replacements. In 2009, 13 doctors stopped practicing against just eight new arrivals.
The situation is mirrored across the French provinces, where proper medical 'deserts' are being created. However, official figures for January 2010 show the total number of doctors in activity in France - both general practitioners and specialists - was 216, 450, the highest-ever figure recorded. The problem, clearly, lies elsewhere.
The French regions worst-affected by the shortage of doctors are the Lorraine, Burgundy, Picardy and the Centre. But there are also significant disparities within those other regions that count the highest number of doctors. While the PACA region of Mediterranean France, (covering Provence, the pre-Alps and the Riviera) has the highest number of doctors of any in the country, it has a significant divide between the well-served coastal areas and the under-privileged rural sites inland.
A study published in October and funded by a French association representing non-profit-making private hospitals and personal care establishments, the FEHAP, is the first to have examined the demographic evolution of medical and paramedical resources at the detailed level of cantons. It noted what is a broad and traditional difference in numbers of practicing doctors between the north and south of the country; the south is largely better off due to the high proportion of leading medical teaching centres, notably those of Montpellier, Marseille, Nice and Nîmes. But it also found, in every region, an increasing gulf between large urban centres and the peripheral areas surrounding them.
"The [numbers of] young doctors setting up in towns increases a bit more with every year," commented Emmanuel Vigneron, professor in medical facilities planning at Montpellier University, who co-authored the report. "There is an accentuation in this trend, notably since the 2007 strike by house doctors."
In the map from the report reproduced below here (only available in French), each canton was given a separate score, calculated from the density of its numbers of healthcare professionals, category by category. The number of GPs was given more importance than any other, such as dentists, nurses and physiotherapists. Those where overall healthcare deficiencies are particularly alarming are recognisable by a score of between 0-1.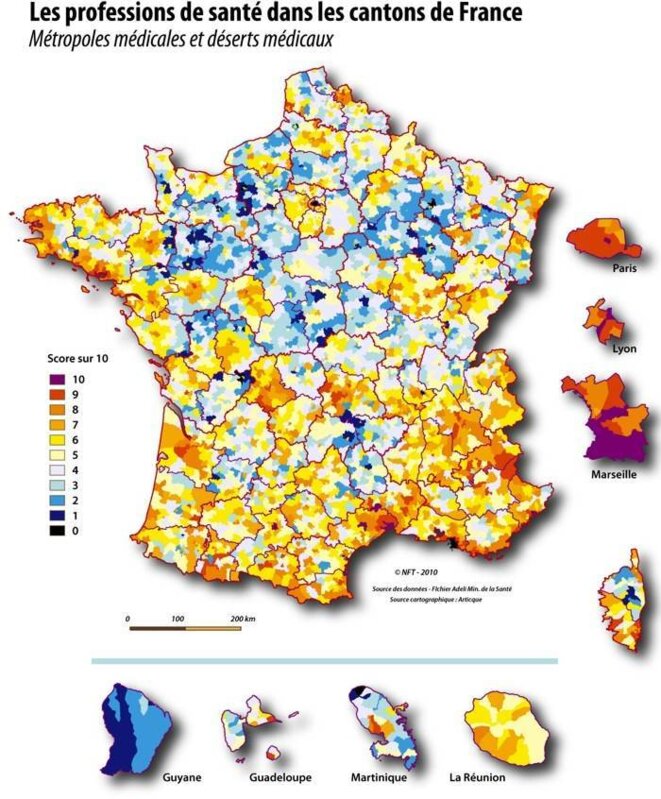 © Emmanuel Vigneron, Nouvelle Fabrique du Territoire, 2010
Head-hunters cash in on the crisis
The disappearing numbers of doctors has offered head hunters a potential new market. Gérard Dufour is the mayor of Cérans-Foulletourte, a village of 3,200 inhabitants which lies on the busy road linking Le Mans with Angers. On his desk is a pile of correspondence from recruitment firms Revitalis, Arime and Rivières Consulting, offering to find a foreign doctor to replace one of the village's two GPs, who died in January. Revitalis, which focuses on the recruitment of doctors from Romania, charges an all-inclusive fee for its services of 14, 325 euros.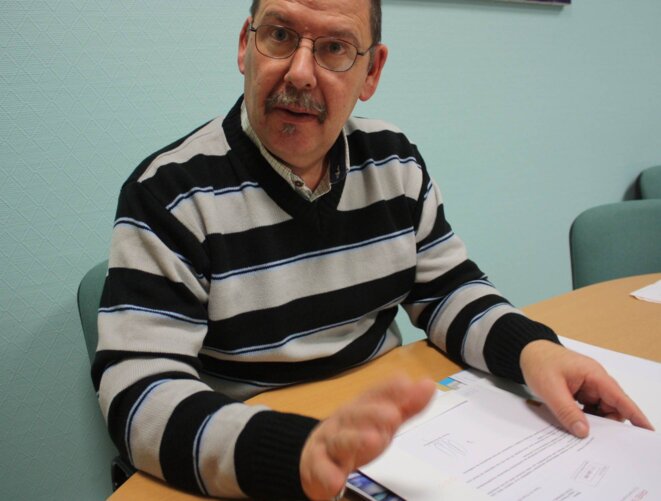 Exaspertaed: mayor Gérard Dufour. © E.B.
"Today it's doctors, but tomorrow we'll also be wanting for vets, who are less and less interested in working in rural areas," said Dufour. "We are suffering from the absence of a lack of strong policies at the height of the state. It's not for me, a simple local politician, to sort out the issue of medical demography."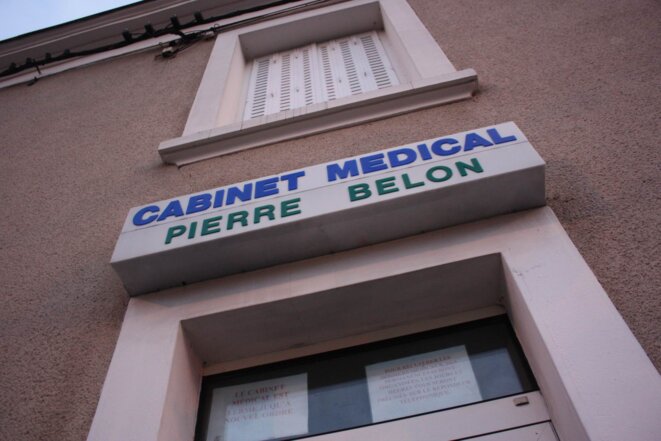 One down, one to go?: the closed surgery in Cérans-Foulletourte. © E.B.
The problem of the poor demographic spread of GPs was only recognised in the last decade. Up until 2003, doctors who had reached the age of 60 were encouraged to take early retirement, as set out under a specific programme which carried the awkward name of the 'Incitation Measure for Ceasing Activity', or MICA. However, the alarming extension of medical 'deserts' around the French countryside has seen since then the introduction of a battery of counter-measures. These included offering grants for studies, accommodation and travel subsidies to medical students in exchange for their engagement that, once qualified, they would serve for at least five years as GPs in areas where there were an inadequate number of practices.
In the Sarthe, the regional council introduced these measures but with limited success; since 2007, only nine students have signed up for the grants. Qualified doctors have also bee offered incentives. Those who agree to set up practices in areas wanting for GPs, including rural and low-income urban districts, are subject to lower taxes, provided with subsidies for setting up a practice and provided with living quarters.
But these are described as little more than "patches" by Emmanuel Vigneron. For Claude Leicher, the national chairman of GPs' union MG France, such aid packages "are not effective." Meanwhile, Alexandre Husson, head of the National Union of Young GPs, the SNJMG, believed "the large majority of young doctors are not aware of them."
In July, 2009, the French parliament adopted a 'Hospital, patients, health and territories' law. One of its provisions, called the Public Service Engagement Contract, was finally introduced this autumn to medical schools across the country. Like the grant incentive system, it offers a monthly financial sum - 1,200 euros - to students who sign an engagement that, once qualified, they will set up practice in areas where there is a shortage of GPs. The law also included a plan under which GPs in over-represented areas would serve on temporary missions in deprived zones. But this 'Health-Solidarity Contract' was never implemented because of opposition from doctors' unions.
Young doctors spurning GP vocation
Marc Bernier, is UMP (the ruling conservative Right party) Member of Parliament for the Mayenne département that lies just north of the Sarthe, and was the rapporteur of the 2008 parliamentary fact-finding mission on the state of healthcare installations across the country. "We are not going far enough, strong measures are needed even if they are unpopular," he said. "If doctors continue to want to set up in areas already overcrowded they should be stripped of their health service contracts."
In addressing the issue of the demographic spread of GPs, it is important to also consider the vocational crisis among young doctors among whom there is a growing trend against moving into general practices. This is partially illustrated by the increase in the number of replacement doctors, those who do not commit themselves, which, according to the French Order of Doctors, showed a rise of 9.1% between 2007 and 2010. "Young generations don't want to practice healthcare as a vocation," commented Claude Le Pen, professor of Health economics at Paris-Dauphine University. "More of them choose salaried jobs than their elders did, placing the priority on comfort and safety, limiting the hold their profession has on private lives." He argued that the job of GP, that of providing frontline healthcare, was seen as unattractive "because it is demanding".
There has been a recent rise in multi-disciplinary medical centres, seen by many today as the panacea. Luché-Pringé is a small village in the Sarthe with 1,600 inhabitants. Its medical centre, which opened in December 2007, was a pioneering establishment for the whole of the large Loire region in which it sits. It was initiated with great difficulty by doctor Jean-Yves Ménage, 64, who's practiced in the village for 36 years. "There were five years of toil in convincing the local authorities to help with a project led by self-employed doctors," he recalled. "It was, however, the only solution to ensure the renewal of doctors in the village."
Now it operates with three GPs, one nurse, a physiotherapist, a chiropodist, a psychotherapist and a dentist - a profession scarcely present in the Sarthe. Since this first initiative, the idea of establishing medical centres elsewhere in the département has truly taken off, largely subsidised by regional and local authorities and also by contributions from the state. But some argue caution: "Villages compete with each other to create their own medical centres sometimes without any doctors being involved," said Alexandre Husson of the National Union of Young Doctors. "That can't work."
-------------------------
English version: Graham Tearse