There is a gulf even within those regions with most doctors
The average age of GPs in the Sarthe is 54 years. Over the next five years, 80 of the département's 401 doctors will have reached retirement age (65 years), without any compensatory provision for replacements. In 2009, 13 doctors stopped practicing against just eight new arrivals.
The situation is mirrored across the French provinces, where proper medical 'deserts' are being created. However, official figures for January 2010 show the total number of doctors in activity in France - both general practitioners and specialists - was 216, 450, the highest-ever figure recorded. The problem, clearly, lies elsewhere.
The French regions worst-affected by the shortage of doctors are the Lorraine, Burgundy, Picardy and the Centre. But there are also significant disparities within those other regions that count the highest number of doctors. While the PACA region of Mediterranean France, (covering Provence, the pre-Alps and the Riviera) has the highest number of doctors of any in the country, it has a significant divide between the well-served coastal areas and the under-privileged rural sites inland.
A study published in October and funded by a French association representing non-profit-making private hospitals and personal care establishments, the FEHAP, is the first to have examined the demographic evolution of medical and paramedical resources at the detailed level of cantons. It noted what is a broad and traditional difference in numbers of practicing doctors between the north and south of the country; the south is largely better off due to the high proportion of leading medical teaching centres, notably those of Montpellier, Marseille, Nice and Nîmes. But it also found, in every region, an increasing gulf between large urban centres and the peripheral areas surrounding them.
"The [numbers of] young doctors setting up in towns increases a bit more with every year," commented Emmanuel Vigneron, professor in medical facilities planning at Montpellier University, who co-authored the report. "There is an accentuation in this trend, notably since the 2007 strike by house doctors."
In the map from the report reproduced below here (only available in French), each canton was given a separate score, calculated from the density of its numbers of healthcare professionals, category by category. The number of GPs was given more importance than any other, such as dentists, nurses and physiotherapists. Those where overall healthcare deficiencies are particularly alarming are recognisable by a score of between 0-1.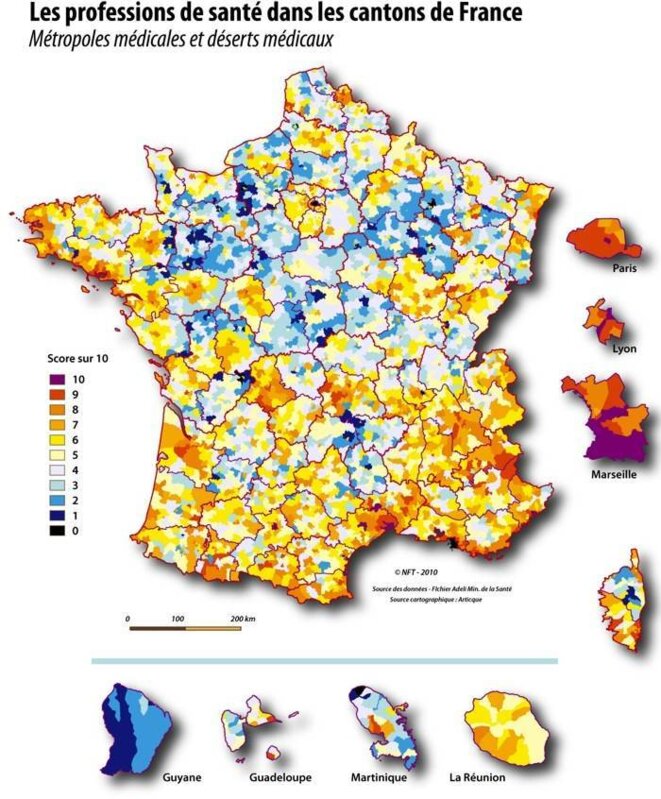 © Emmanuel Vigneron, Nouvelle Fabrique du Territoire, 2010