The conviction on Monday March 1st of former president Nicolas Sarkozy in the so-called 'Paul Bismuth' affair reveals the reality of a country riddled with corruption.
It is important that we take stock of the importance of this historic event. For not only was a former president of the French Republic convicted of corruption – the most ignominious of offences for someone in public office – for the first time in this country's legal and political history. It was also the second time that this country's justice system has convicted a former head of state for actions which violated public probity.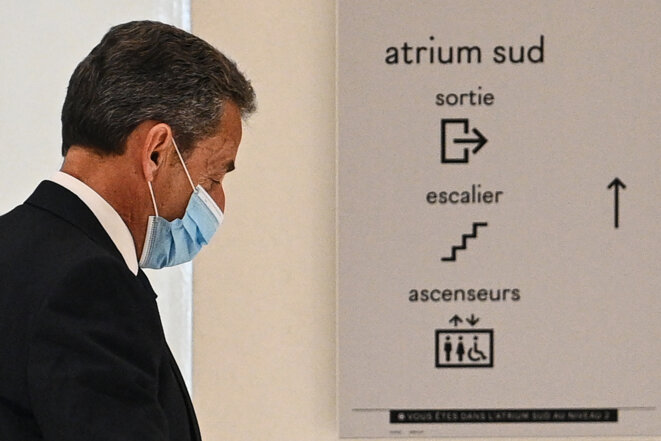 Nicolas Sarkozy arriving at the court in Paris on Monday 1st March 2021. © Anne-Christine POUJOULAT / AFP
One does not have to go back far, either, to find the previous case. For it was only in December 2011 that Jacques Chirac – Nicolas Sarkozy's predecessor in the Élysée – was found guilty of embezzling public funds and abuse of trust in a case involving fictitious public sector jobs at city hall in Paris.
From a legal point of view Nicolas Sarkozy and Jacques Chirac also have something else in common. Their prime ministers – François Fillon in the former case and Alain Juppé in the latter – have also been ensnared in the judicial system, with each of them getting convicted over offences linked to their duties in public office.
Politically, all of them have, to varying degrees, been supporters of zero tolerance for crime – except for white collar crime. And all, to varying degrees, indulged in some crazy conspiratorial flights of fancy when anti-corruption detectives and judges got a little too close to them or their friends.
But there is undeniably a legal micro-climate surrounding Sarkozyism, a deadly particularity concerning this political movement. And it is one that, like the Silvio Berlusconi era in Italy or Trumpism in the United States, risks leaving behind it the stigmata of a clan suspected of privatising the collective good for private ends. Of a group that is suspected of having helped itself to the state rather than having helped the state.
It involves a system that is unique of its kind when examined through the prism of the countless legal cases that now surround it. There is no close associate of Nicolas Sarkozy who has not had a run in with the law in recent years.
When you look down the list it is really quite dizzying. There are Sarkozy's mentors (former interior minister Charles Pasqua, former prime minister Édouard Balladur), his prime minister (François Fillon), his friends from teenage days (Brice Hortefeux, Patrick Balkany), his advisors (Patrick Buisson, Boris Boillon), key ministers (Claude Guéant, Christine Lagarde), his treasurer (Éric Woerth), his long-time partner in a law firm (Arnaud Claude), his own lawyer (Thierry Herzog), his top spy (Bernard Squarcini), the witness at his wedding (Nicolas Bazire), the woman who stood in for him as a local Member of Parliament while he was a minister and then president (Joëlle Ceccaldi-Raynaud), and so on.
Some have been convicted, others are still to be tried, while yet others are 'only' under formal investigation in ongoing probes. But taken as a whole, and given the nature of the allegations against them, it all raises terrible suspicions in a democracy such as France. It raises the suspicion that the citizens have been preyed upon, undermining their trust in democracy and raising doubts about their money too. And that this has happened with scant regard for the basic rules of public decency and restraint which should apply in the posts that each of them has occupied.
In the case of the 'Paul Bismuth' affair, in which Nicolas Sarkozy was sentenced to three years imprisonment, two of them suspended, for corruption and influence peddling – and against which he is appealing – the reasoning of the judgement by the court presided by judge Christine Mée needs to be read and re-read. Only then can one measure the significance of the scars that, according to the judges, have been left by the former president and his accomplices.
The skilfulness of Nicolas Sarkozy's defence and, it should be said, the strange fascination that it provoked among some journalists, changed nothing. The ebb and flow created to stop you seeing the seabed does not change the nature of the seabed. It is true that this skilful defence did, during the trial, muddy the waters, gave rise to alternative narratives and created chaos in public debate so that no one could understand what was going on. But the facts were there from the start and they were simple, very simple.
To recap, the former president was accused of having used his friend and lawyer Thierry Herzog, and a senior judges at the top appeal court the Cour de Cassation, Gilbert Azibert, to illegally obtain information on ongoing judicial investigations in 2014. In return, he agreed to back Azibert's application for a coveted job in Monaco. Many telephone taps of conversations between Sarkozy and Herzog showed this.
The court's verdict on Monday on Nicolas Sarkozy spoke of actions that were "particularly serious, having been committed by a former president of the Republic who was the guarantor of the independence of the justice system."
"He used his status of former president of the Republic and the political and diplomatic relationships that he had developed when he was in office to reward a judge, serving his personal interests. What is more, Mr Nicolas Sarkozy is a lawyer and was thus perfectly aware of the ethical obligations of this profession," added the court, which said that the "corruption" had "seriously damaged the rule of law".
But the conviction of the former president, who will soon go on trial in the so-called Bygmalion affair involving the financing of his 2012 election campaign, and who is under formal investigation on four counts in the probe into alleged Libyan funding of his 2007 election campaign, has wider significance than the 'Bismuth' affair itself. It sits at the very heart of the decay in French public life that some politicians and some media, owned by billionaires close to Nicolas Sarkozy, do all they can to hide.
Is Nicolas Sarkozy not a member of the supervisory board at the Lagardère group, which owns in particular Le Journal du Dimanche newspaper and Paris Match magazine where some writers see a "plot" behind the former president's legal misfortunes in the Libyan funding affair? Within the Lagardère group, is Nicolas Sarkozy not responsible for being the broker between the two big beasts of French capitalism, Vincent Bolloré and Bernard Arnault, themselves very involved in the world of French media?
Has the former, Vincent Bolloré, who owns Canal+ satellite channel and the CNews news channel which employs Éric Zemmour (who has been been convicted of incitement to racial hatred several times), not pleaded guilty in a corruption case involving Africa? Did the latter, Bernard Arnault, who owns Les Échos business newspaper and the daily newspaper Le Parisien, not hire the former head of domestic security under Nicolas Sarkozy, Bernard Squarcini, in order to carry out all manner of intrigues, as Mediapart has reported?
This intertwining of financial, political and media power is indeed one of the legacies of the triumph of Sarkozyism, a phenomenon which helps prevent us from scrutinising ourselves when these scandals and affairs occur.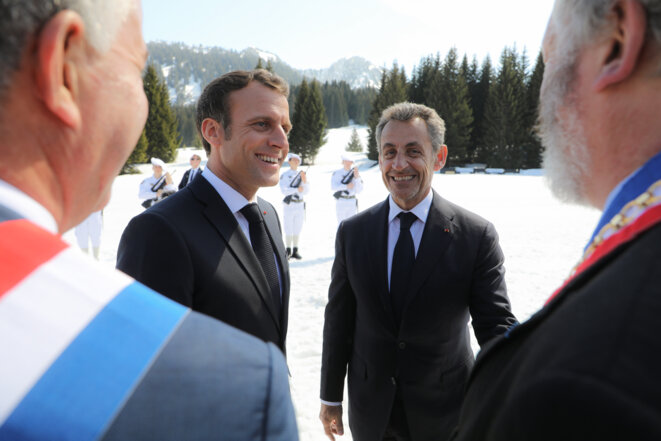 Emmanuel Macron and Nicolas Sarkozy at the Glières Plateau in eastern France in March 2019. © Ludovic Marin/Pool/AFP

In this respect, one has to wonder at the game of bluff that is being played out between the current French president, Emmanuel Macron and Nicolas Sarkozy since the former's election in 2017. Even though Nicolas Sarkozy has been under investigation in several large-scale political-financial cases, the former president has received numerous favours from, and the symbolic support of, Emmanuel Macron. Indeed, President Macron has made the ex-head of state his personal ambassador at official events in several foreign countries.
Can one for a single second imagine that a man suspected of numerous robberies, muggings or sexual assaults would have been granted the privilege of representing the country abroad by the highest authorities in the land without that sparking an outpouring of debate, anger and complaints from all directions? Clearly not.
So why is white-collar crime so privileged? The Élysée has sought to justify its decisions by pointing to the presumption of innocence, one of the cornerstones of any democracy. But the issue of presumed innocence, which is often touted by politicians in trouble in order to silence discussion about embarrassing cases, cannot explain everything. In law this presumption means that you cannot be portrayed by anyone as legally guilty before you have been convicted by a court. That is a basic requirement.
But it is also worth noting that if someone is presumed to be innocent – a key legal notion in all self-respecting democracies – that is precisely because they are a suspect. To put it another way, after months or years of investigation judges have come to the view that there is a "convergence of serious and consistent evidence" that has justified that person being placed under formal investigation. Or even – once the investigation period is over – come to the view that the "charges" against them are sufficient to justify sending them for a public trial.
Faced with respect for the presumption of innocence that is naturally due all those who are under suspicion (and not just for white-collar crime), Emmanuel Macron has deliberately ignored the most elementary principle of precaution in relation to a man whom the legal system has, today, judged to be guilty of corruption.
And what can one say of the current justice minister Éric Dupond-Moretti, who has spared no effort in heaping criticism on the financial crimes prosecution unit the Parquet National Financier (PNF) who brought the 'Bismuth' case against the former president? And the fact that one of Sarkozy's co-accused was Thierry Herzog, whom the justice minister has himself described as an "old friend"?
The minister's actions, which have sparked unprecedented uproar about the ranks of the judiciary and prosecutors, are today at the heart of an investigation by the Cour de Justice de la République (CJR) – which deals with claims of misconduct by ministers while in office – into alleged "conflict of interest". This is the same court which will this week, on Thursday March 4th, give its verdict in the trial of former prime minister Édouard Balladur, one of Nicolas Sarkozy's mentors.
Is this a story without an end - or the end of the story?
---------------------------------------------------------------------------------
The original French version of this article can be found here.
English version by Michael Streeter