Pupils across France went back to school on Tuesday for what education secretary Najat Vallaud-Belkacem described as a year of "consolidation" after recent major reforms. The next large-scale changes – involving the middle schools or collèges and the curriculum – will not come into effect until next year. The only exception concerns nursery schools, where a new syllabus does come into force for this 'rentrée scolaire' or return to school.
However, there are nonetheless some important new aspects to French school life this year. The most high-profile is the introduction of new moral and civics teaching in all schools. These compulsory lessons are a direct response to the terror attacks in France in January and their impact on society as a whole.
The changes in the length of the school day, meanwhile, which were introduced in full last year have now bedded in, even if an interim report suggests that the reform has yet to live up to what was promised when it was announced in 2012. As for the pledge by President François Hollande to increase the number of teaching posts by 60,000 over five years, the figures show that just over half of these positions have been created so far, with two years left to go in the presidency. Less high-profile reforms, such as changes to the way local education authorities are funded, and changes to education priority zones, also come into effect this year.
Below, Mediapart examines the changes taking place this year, the reforms in process and the upheavals to come in the near future in France's schools.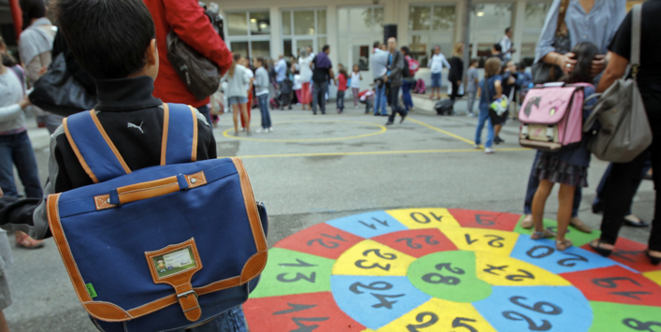 Rentrée scolaire © Reuters
Moral and civics teaching
From this September compulsory enseignement moral et civique (EMC) – moral and civics teaching – will take place in all schools from primary to secondary. This teaching replaces other forms of civic, social, moral and legal education that have been taught previously, and will involve an hour-long lesson a week in primary schools and an hour a fortnight in middle schools (collèges) and secondary schools (lycées).
According to the education ministry the aim of these lessons is to "make children responsible and free citizens", and to develop their ability to "live together in a Republic that is indivisible, secular, democratic and social" as well to develop their "critical mind". These lessons are a direct response to the terror attacks that hit Paris in January 2015, which subsequently led to unprecedented street marches. After those attacks there were a small number of incidents in schools involving pupils who appeared to express support for the terrorists involved, or where some pupils refused to observe a minute's silence for the victims. François Hollande himself said that teachers were on the "front line" in the fight against home-grown terrorists.

As well as teachers, schools will also be able to call in individuals and organisations who have signed up for the so-called 'réserve citoyenne' or 'citizens' reserve' which was set up on May 12th, 2015. This provides a chance for ordinary people to become volunteers and help others either in one-off or in ongoing projects. The idea of the scheme was to tap into the groundswell of public opinion seen during the marches on January 11th.
These individuals and institutions can take part in the EMC lessons, says the ministry, to "support teachers in better getting across the Republic's values to pupils". A dozen or so large organisations have already signed up, such as the prestigious academic institution the École Normale d'Administration (ENA), the body representing the heads of French universities and the national federation of firefighters. Individuals who will be involved include the Nazi hunters Béate and Serge Klarsfeld, the mother of one of the soldiers killed by Toulouse gunman Mohammed Merah in 2012, Latifa Ibn Ziaten, and the actor Robin Renucci.
The lessons have not met with universal approval. The main union for primary school teachers, the SNUipp, thinks that the content of the lessons is "too vague and not very successful". The union tried, without success, to get the lessons pushed back until the 2016 academic year.
The main union for secondary school teachers, the SNES-FSU, claims that the moral and civics teaching is being put in place for secondary school teachers "without the promised training having taken place". A spokesman for the union complained: "In the technology curriculum it is not even being funded. The secondary schools have to dig into their overall funding at the rate of an hour a week per class." This means that each school will have to arrange itself which teacher carries out this teaching – the ministry has said that anyone can take charge of it.


New nursery school curriculum
Planned changes in the curriculum for nursery schools also come into effect this September. The education ministry says their objective is to "give pupils a desire to go to school to learn, to assert themselves and for their personalities to blossom". In an effort to halt the recent trend at nursery schools which has seen them increasingly treated simply as preparation for primary school, with an emphasis on learning to read and write at an earlier age, play will now have a key role, as will language and physical and artistic activities so pupils can "learn together" and "live together".
There is broad backing for this reforms but the SNUipp union is worried about how they are being implemented. "These new syllabuses have attracted wide support but nothing has been done to allow teachers to get hold of them," says the union's general secretary Sébastien Sihr. The trade union says that it has asked the ministry on several occasions to send out a small booklet. "Even one copy per school would have been a political signal," says Sihr. But by the end of June only a digital version was available. As for the teaching support documents deemed "essential" for implementing the syllabus, they will only be available some time during September.
Reform of priority education areas
The government's 2013 law to "reorganise" the school system involves changes to 'priority education' areas, whose aim is to ensure pupils from disadvantaged backgrounds get a good educational start. From this year, following a pilot scheme in 2014, there will be 1,089 education priority networks ('réseaux d'éducation prioritaire' or REPs) across the country made up of 739 REPs and 350 REP+s. An REP+ is for areas which have the greatest educational difficulties. REPs replace the previous priority education zones or 'zones d'éducation prioritaires' (ZEPs), which were first created in 1981, though they have since undergone some name changes.
Each local network comprises a middle school – collège – and surrounding feeder primary schools in areas where the majority of pupils come from poorer and disadvantaged backgrounds. This geographical-based system covers one in five of all school pupils in France and the new system is intended to be "fairer" and better equipped to "fight inequalities". The maps for these REPs will stay the same for four years and will then be reviewed "to adapt regularly to social changes on the ground".
The ministry of education has also announced new measures for teachers to enable them to develop their collective work in the REPs, their relations with parents and the monitoring of pupils. Teachers in middle schools involved in these networks will see their teaching time cut by an hour-and-a-half a week and by 18 half-days a year. They will also get three days extra training a year. Teachers in the priority education networks will also be paid more. They will receive an extra 144.45 euros a month in REPs – a 50% increase on the old ZEP additional payment – and 192.60 euros a month in REP+s, which is double the previous 'bonus'.
The SNUipp union, however, is calling for an "enlargement of the perimeters of priority education". It claims the current boundaries are excluding some primary schools where the local collège itself is not in an REP "even though [the primary schools] meet the criteria to be included". The union has calculated that there are "at least" 500 primary schools who miss out on being in an REP in this way.
As for the 18 annual half-day reductions in teaching commitments, the union says that 770 positions overall have been set aside to ensure that there are replacements for teachers who benefit from this measure. Yet the SNUipp insists some education authorities have not taken up such posts and will instead draw on their regular supply teachers "who are already insufficient in number to cover for sick leave, for example".
The SNES-FSU points out that though with the recent reorganisation some 285 schools have been put in priority education areas for the first time, 283 others have been removed from them. "The actual perimeters of priority education remain virtually the same as the previous system," it says. "Yet there was justification for extending the map, if only because the particular situation of Mayotte [editor's note, an overseas département] has at last been taken into account with 15 schools entering into priority education." A spokesman for the union continued: "The ministerial order to keep the perimeters almost identical has led to a lack of transparency during the compilation of the new map. Some schools that meet the national criteria have been excluded from the measure. Secondary schools have been excluded from priority education, which is not acceptable."
After a chaotic introduction, the reform of the length of the school day and week should cause less controversy this year than in 2014. The funding of extracurricular activities for pupils – which take place in time freed up by the changes – was made permanent in June, even though it was supposed to be temporary. Some 463 million euros of this come from central state coffers, with 430 million euros coming from social security funds. Overall, 82% of local councils – who run primary schools – have set up a local-based education plan that allows them to tap into those support funds.
However, according to an interim report published by the education ministry in June, nearly half of all local councils are asking families for a financial contributions to the cost of laying on extracurricular activities. This contrasts with the promise made in 2012 by then education minister Vincent Peillon that all such activities would be free. Though the ministry is vague on the subject, the fact also remains that many local communes – towns and villages - provide no extracurricular activities during the time freed up by the changes to the length of the school day.
The Association des maires de France, which represents such councils across France, said in a statement that the organisation of new extracurricular activities "results in major new costs for communes and inter-commune authorities, notably extra running and staff costs". Yet the level of state funding, said the association, still fails to match "the expenditure committed to by the communes and their associations, which have been estimated by several studies and reports at more than a billion euros".
The new system of school hours was brought in to improve children's ability to learn, but the jury is still out on how effective it has been. The education ministry has announced the setting up of two evaluation procedures this year. One of them, to involve 15,000 pupils, will show if the new school day has indeed brought "educational benefits". The other will look at the different ways the new hours have been implemented in various parts of the country to see which approach is the most effective.
The education ministry says that it has already created just over half of the new jobs promised by François Hollande, in other words 31,627 positions out of the 54,000 pledged for the schools system (6,000 of the 60,000 overall new teaching jobs promised will be in higher education). This September the equivalent of 2,511 full-time positions in primary schools have been created, with 2,550 more for secondary education.
However, the teaching unions say the rate of recruitment will have to be accelerated if the target of 60,000 jobs is to be met by the end of President Hollande's term of office in 2017. The SE-UNSA union says it is a bad sign that the 'emplois d'avenir professeurs' scheme has been ended. This was set up by Vincent Peillon to broaden access to the teaching profession to people from all walks of life and involved a form of work-based training for would-be teachers. However in practice it has not worked well since it was launched.
The education ministry has also announced that since 2012 it has created around 25,000 new places for children under three. The proportion of children under three in some form of reception or education class fell threefold between 2001 and 2012, from 35% to 11%. "The proportion of under threes going to school has thus increased for the first time in ten years and has now gone up to 11.7%," proclaimed the ministry. However this figure means that the rate of under-three schooling has gone up by a mere 0.7% since François Hollande took office.
Another measure, this one to boost teaching in primary schools, will see 500 extra posts created this year, compared with 580 last year and 1,310 in 2013. However, the scheme's objective of a total of 7,000 posts for the five years of Hollande's presidency is still some way off.
Reform in allocating resources to local education authorities
From this academic year the allocation of education posts to the different education authorities or académies will be based not just on population numbers but also on social criteria such as households' taxable income and the classification of urban areas provided by state statistical agency INSEE. The education authorities will then apply the same criteria to establish the resources given to départements or counties within the authority, then to determine the means given to individual schools. The sharing out of resources will mean winners and losers. For example, the Aix-Marseille education authority in southern France will this year have 2,810 extra pupils and will gain 227 teaching posts while Paris, where the number of pupils is down by 1,523 this year, will lose 29 posts.


The already controversial reform of middle schools ('collèges') due next year is based on three main changes: greater teaching independence for schools, more individual monitoring and support for pupils, and interdisciplinary teaching - in other words, combining different subjects. This year teachers at middle schools will have eight days of training in preparation. Three days will be devoted to the "structural themes of the reform", mainly "personalised support, the interdisciplinary teaching practices, the smaller groups of pupils". Two days will focus on the new syllabus.

The Snes-FSU union is strongly opposed to the changes and says it regrets that so many resources have been put aside for training which, they say, could end up simply being "sermonising in favour of the reform".
After a major row over plans for a new curriculum, in particular for history, the government has asked the national curriculum body the Conseil Supérieur des Programmes to "develop" certain aspects of it. A new version will be submitted at the end of September.
----------------------------------------------------------------------
The French version of this article can be read here.
English version by Michael Streeter