"It came from Riad Salamé", "It's Riad Salamé who's behind this operation", "You'll have to ask Riad Salamé". When questioned by fraud squad detectives, Ukrainian company manager Anna Kosakova, aged 46, made constant reference to the role of the governor of Lebanon's central bank the Banque du Liban (BDL), the man she described as the "love of my life". Her responses came as she was asked to justify the financial arrangements from which she had benefited along with her daughter, E., who is now aged 16 and whose father is Riad Salamé.
Anna Kosakova, who in French legal documents is described variously as the bank governor's "partner" and "ex-partner", was placed under formal investigation by Paris-based judge Aude Buresi on June 14th 2022 for "criminal conspiracy", "money laundering" and the "aggravated laundering of the proceeds of tax fraud", according to documents seen by Mediapart. The case concerns the alleged misappropriation of funds belonging to the Lebanese state.
The company manager is the first person to face proceedings in a French criminal investigation that began in Paris in July 2021. The probe followed a complaint deposed by the Lebanese fraud victims' group the Collectif des Victimes des Pratiques Frauduleuses et Criminelles au Liban (CVPFCL) and the Paris-based human rights NGO Sherpa, which initiates proceedings concerning illegally-acquired property that involve political figures abroad.
Placed on bail and banned from leaving French territory, Anna Kosakova has had to hand over her Ukrainian passport to the judicial authorities. She has also been temporarily removed as a manager from the companies BET, ZEL and Eciffice who are implicated in the alleged money-laundering schemes. The allegations are that she fraudulently obtained several properties in Paris – two apartments on Avenue Georges-Mandel, and three commercial properties with an area of 220m2 de 220 on the Avenue des Champs-Élysées – with money that came from the Banque du Liban (BDL). These properties, as well as others belonging to Riad Salamé and his brother Raja, were seized in March this year on the order of the Paris-based judges heading the probe.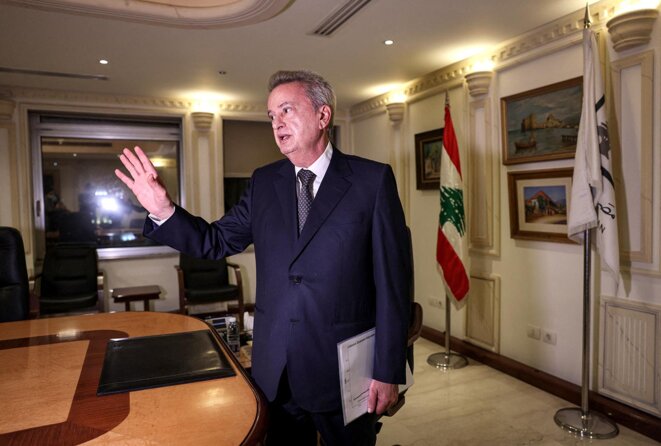 Riad Salamé in his office at the Lebanese central bank in Beirut, December 20th 2021. © Photo Joseph Eid / AFP
According to investigators, the misappropriation of funds of which Riad Salamé is suspected was carried out via a front company called Forry Associates Ltd, based in the British Virgin Islands, of which the governor's brother Raja Salamé was the stated economic beneficiary. In May 2022 Raja Salamé himself was charged in Beirut with "collusion in acts of unlawful enrichment" and "money laundering".
In accordance with a financial 'brokerage' contract granted by the Banque du Liban to this company – a deal signed by Riad Salamé – more than 326 million dollars were paid into a Forry account at the HSBC Private Bank in Geneva between 2002 and 2014. Following these payments, the French judges noted in a report, some "246 million was transferred almost immediately into a personal Swiss HSBC account belonging to Raja Salamé".
"The functioning of the Forry bank account in no way corresponds to that of a company; there are no salary payments, no rent payments, no bills paid. All of the outgoing transfers are to Raja Salamé and Riad Salamé, via his brother or offshore companies," state the judges in a seizure order seen by Mediapart.
According to this document the "monies paid from Banque du Liban special account 01260632009 to the Forry account at the request of Mr Salamé, the governor of the Banque du Liban" were sent to "fulfil a contract that was legally non-existent" ….. "which did not correspond to any real service performed by Forry for the third parties who made the payments" and which had "benefited Riad Salamé and those close to him without the knowledge of his employer, the Banque du Liban".
In August 2022, when questioned in Beirut by the deputy court prosecutor in charge of the investigation there, Riad Salamé admitted to "transfers from Forry's account in Switzerland of which he was the beneficial owner". But he insisted that these transfers concerned monies paid "as compensation" for the "sums that were owed to him by his brother in Beirut". Before he joined the bank the governor is said to have paid 15 million dollars to his brother Raja and the latter then apparently reimbursed him with accumulated interest via Forry. But this defence - which still has to be confirmed - does not remove the questions over the legality of payments made by the Banque du Liban to the offshore company.
Meanwhile, the accusations against Anna Kosakova make the governor's defence more difficult.
'It was Riad's money that went in'
The Ukrainian citizen was one of the beneficiaries of the payments from Forry, via a company that she created in Cyprus in 2004 under the similar name of Forri (short for First Overseas Relation for Realty and Investment Ltd). "I was going to negotiate on behalf of farmers to sell abroad but it didn't work," she explained to detectives.
But though her plan – to "sell the rights to crops in Ukraine" - never got off the ground the money still came in. "There was no turnover," she said. "I got nothing personally. It was Riad who helped me, he invested in this company. He told me that his brother owed him money, so over five years he sent around a million euros [editor's note, in reality it was 1,343,611 dollars and 183,075 euros]. The account was only replenished by Riad. You asked me how it was dealt with in the accounts, these funds were considered to be my investment."
A detective asked her: "All the money received by your company Forri came from Forry. Can you explain why? Was there a contract between these two companies?"
"I don't know," replied Anna Kosakova. "It was Riad's money that went into the account. Riad told me 'I'm going to give you a hand' (with the company)."
The issue of where the money came from did not concern her. "It was his brother's company who paid on behalf of Riad," she said, insisting that she was unaware that Forry had a contract with the Banque du Liban. "I trusted Riad Salamé," she repeated.
"So the names of the two companies, that's just a coincidence?" asked the detective.
"Yes, it's a coincidence," she replied. "My company was not registered under the acronym Forri and I don't know why Raja's company is called Forry."
The governor of the Banque du Liban is suspected of having built up a property portfolio "using laundered monies", "during the period that the Forry contract operated".
According to the French judges these "regular and continued acquisitions over the period 2007-2016 led to large flows of cash from the Luxembourg accounts of [his] companies". In France these property purchases came to 17.1 million euros between 2002 and 2015, with a further 6.5 million euros worth of purchases in Belgium in 2012, around 41.4 million euros in the United Kingdom between 2012 and 2016 and 4.1 million euros in Germany in 2015.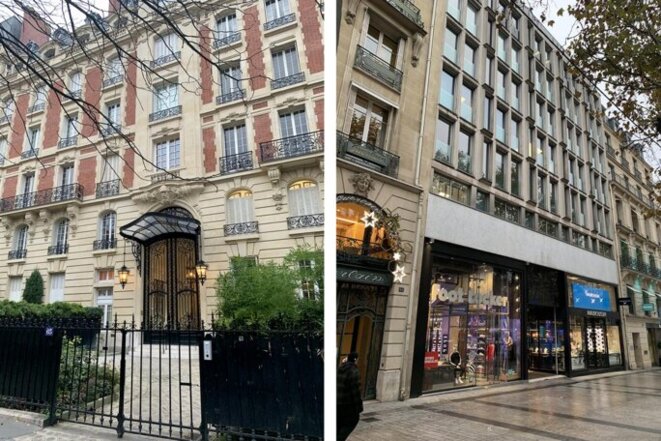 The buildings housing the apartment on Avenue Georges-Mandel, left, and the offices on Avenue des Champs-Élysées © Documents Mediapart
In France Riad Salamé purchased, via companies run by his brother Raja, two apartments on Avenue Georges-Mandel in Paris for 5,499,000 euros, and several commercial premises on the Avenue des Champs-Élysées for 8,752,750 euros. The purchases were made through a property management company called ZEL, itself owned by a Luxembourg company BET SA.
"Analysis of the bank flows of the Swiss accounts of Forry, of Raja Salamé, and the Luxembourg accounts of BET SA allows us to establish a past sequence of transactions that involve equivalent or nearly equivalent sums from the Swiss account of Forry Associates right through to the company ZEL," the judges say. "Each operation is typical of a piling up phase in a laundering operation through the proliferation of successive banking transactions involving several accounts and people, and in different countries."
During questioning in Paris in October 2021, Raja Salamé had said he had become manager of ZEL at his brother's request. "My brother told me that he wanted to invest in France … This company's purpose was to buy property in France. The company ZEL was acquired by a Luxembourg company, BET, whose main shareholder was my brother." Raja claimed he did not know about other matters. "I don't know who occupies the property on Avenue Georges-Mandel, and 66 Avenue des Champs-Élysées," he said. "But I think that these apartments and offices are rented out."
A craving for property
Appointed manager of the ZEL property management company in 2015 – after a gift from Riad Salamé that same year – Anna Kosakova acknowledged that she had done "some research" to find the first apartment on Avenue Georges-Mandel in 2007. "I spoke to Riad Salamé about it as it's his apartment into which we moved," she added. "It was for us. It's the apartment we live in," she explained.
After the first apartment was bought for 2.4 million euros in May 2007, the couple opted to buy a second, six-roomed apartment in the same building in June 2009, at a cost of 3 million euros.
The detective questioned Anna Kosakova: "Didn't you notice the lack of economic logic in Riad Salomé buying properties in France via a Luxembourg company which did not operate as a business and which lent money to a French property management company, ZEL, when he had a bank account in France? Wouldn't it have been logical for him to buy this property directly through his French bank account? Why use so many front companies if not to hide the origins of the funds or the true owner?"
She replied: "I think that it was due to tax advantages. But it's for Riad Salamé to explain the economic logic. We needed accommodation for our family."
This explanation of possible 'tax reasons' is at least credible, given that Riad Salamé already owned three properties in France; a villa on the Mediterranean sea at Antibes, an apartment in the well-heeled Paris suburb of Neuilly-sur-Seine and land in the Pyrénées. The value of this property portfolio is estimated at 8.9 million euros, part of which he and his wife Nada passed to his four children in what is known as 'bare ownership', but on which he pays property wealth tax.
From 2016 the Banque du Liban governor also paid rent to the property management company (672,500 euros between 2016 and 2020), money which was thus sent to his girlfriend who ran it. In 2015, meanwhile, Anna Kosakova had taken over Riad Salamé's shares in BET SA, thus becoming the economic beneficiary of the Luxembourg holding company. She also acquired the capital in another of the banker's companies, Stockwell Invest SA, which owned two shops in Munich.
"In 2015 you took over the shares of three companies, BET SA, SCI ZEL and Stockwell Invest SA without having spent a single euro," the detective noted.
"It came from Riad Salamé, it was for our daughter. You asked if the amount shocked me, I can tell you that, in light of his career at [editor's note, investment bank] Merrill Lynch before being governor of the BDL, that corresponds to what he might have earned in the past."
An unregistered 'emergency centre'
Riad Salamé's craving for property led him to purchase offices on the Avenue des Champs-Élysées in central Paris. Once again, it was the property management company ZEL which bought them. In December 2009 ZEL bought the fifth floor of building A at 66 Avenue des Champs-Élysées for 2,452,750 euros. In May 2011 it acquired the third floor of the same building for 2,600,000 euros. And in March 2014 it paid out 3,700,000 euros for the fourth floor and two parking spots. And, once again, the money came from the commissions received by Forry.
The management of these offices, which were turned into business centres and a place to register business addresses, fell to Anna Kosakova. In April 2010 the Ukrainian created a dedicated company for the purpose called Eciffice, thanks to the payment of 250,000 euros sent to her Swiss bank account by an offshore company controlled by Riad Salamé, Amanior. Eciffice rented the offices from ZEL property management company and then sub-let them to the Banque du Liban.
According to Riad Salamé's explanations to the deputy prosecutor in Beirut, the BDL had decided to get offices in Paris so it could have an "emergency centre for external operations". That decision was taken by the bank's central council and he had "nothing to do with the building being rented by the bank" he told the Lebanese prosecutor.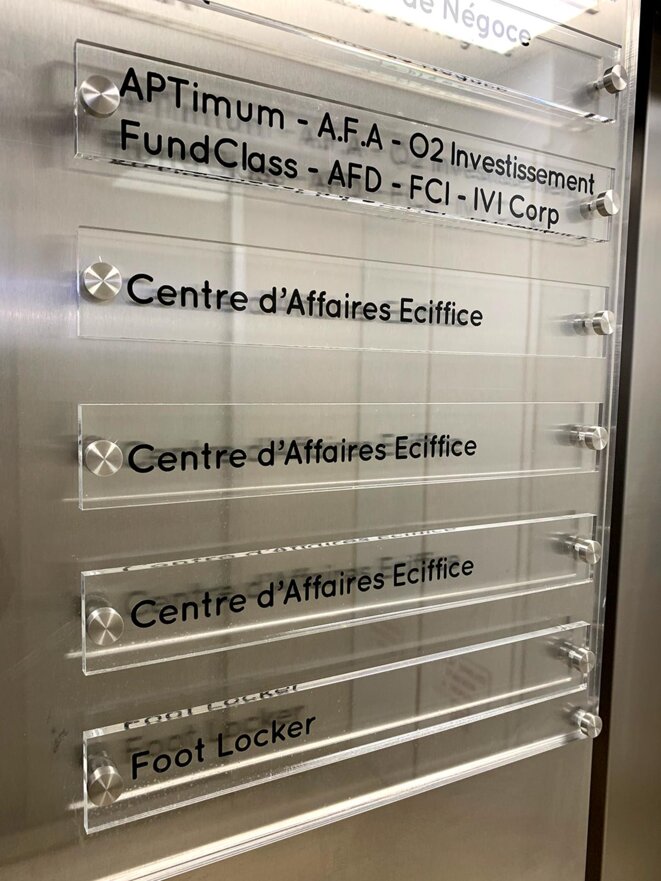 The name board for the companies at the building on Avenue des Champs-Élysées in which Riad Salamé bought offices. © Document Mediapart
However, the fact remains that the bank paid a total of 4,849,787 euros to Anna Kosakova's company to rent those offices.
"The search carried out in the offices allocated to BDL revealed the presence of computers connected to a network but offices that were empty of any occupants or any documents, and indicated very limited use of the computers, leaving a presumption that the rental was just a facade aimed at justifying the improper payment of these sums," the judges said.
Moreover, any foreign banking institution that wants to operate on French territory must make a formal request to do so, and the Banque du Liban never made such a request to the Bank of France.
"The Banque du Liban has no representative office in France and cannot operate there or be able to carry out any activity whatsoever there that requires authorization from the Bank of France or the ACPR [editor's note, the banking watchdog the Autorité de Contrôle Prudentiel et de Résolution]. The Bank of France and its governor have never given their agreement to the Banque du Liban," France's central bank said.
Anna Kosakova insisted that the BDL had chosen her offices because she was "competitive". She said: "I had scalable space to accommodate them." She said the BDL had 100m2 in the fourth floor offices. However, "complete use of the space" was limited to "around four weeks a year". She added: "The signatories to the contract were Riad and myself." She had "looked at" the decision of the BDL's board of directors on this issue, she insisted.
"As manager of the company ECIFFICE, you accepted funds that came from the Banque du Liban, a total of nearly 5 million euros, which allowed this company to operate and to pay out a salary for you of close to 3,000 euros a month from 2012 to 2021," the detective said to her. "Do you think that a central bank can subsidize a private company? Isn't it a disguised means for you as Riad Salamé's partner to receive money for yourself, and thus to be involved in the education of your daughter whom you had with the governor of the Banque du Liban?"
"I don't know," Anna Kosakova replied. "That's your analysis."
Riad Salamé, who benefits from a presumption of innocence, has not yet been questioned by the French judges in this case. He has simply sent statements to them via his Paris-based lawyer Pierre-Olivier Sur. The lawyer did not respond to Mediapart's requests for comment.
-------------------------
The original French version of this report can be found here.
English version by Michael Streeter
-------------------------
If you have information of public interest you would like to pass on to Mediapart for investigation you can contact us at this email address: enquete@mediapart.fr. If you wish to send us documents for our scrutiny via our highly secure platform SecureDrop please go to this page.
-------------------------