"The Macron supporters from the area? They've all gone to La Baule!" is the reaction, referring to the upmarket resort on France's Atlantic coast. It was certainly hard to find them when Mediapart visited the affluent city centre of Le Mans in central western France one Thursday in early August. The junk mail piled up on the doorsteps in Rue Prémartine were testament to the fact that the local inhabitants had gone off on holiday. There was just Alain, who had a sun hat on and was patiently painting his top shutters white. The retired literature teacher says, a tad ironically: "Everyone's gone to the coast. The classic bourgeoisie: a pied-à-terre in Paris and another at the seaside!"
His house looks out on the Jardin des Plantes, which is the centre of Le Mans's 'golden triangle'. Here the fronts of the 'mancelles' – as these houses typical of the city are called – hide spacious gardens. Alain uses the end of his brush to point to a neighbour's gates. "You can't see it from the road but it's a thousand square metres," he says. His own house is more modest but still comfortable.
These fortunate homeowners were at the heart of Emmanuel Macron's electoral support in last year's presidential election. The building a few metres along from Alain's home, at number 170, served as a polling station which that recorded one of Macron's largest votes in the Sarthe département or county. The head of the En Marché movement received between 30% and 35% of the vote in this well-heeled area in the first round of the 2017 presidential election, compared with 20% across the département as a whole, which generally preferred its local candidate François Fillon.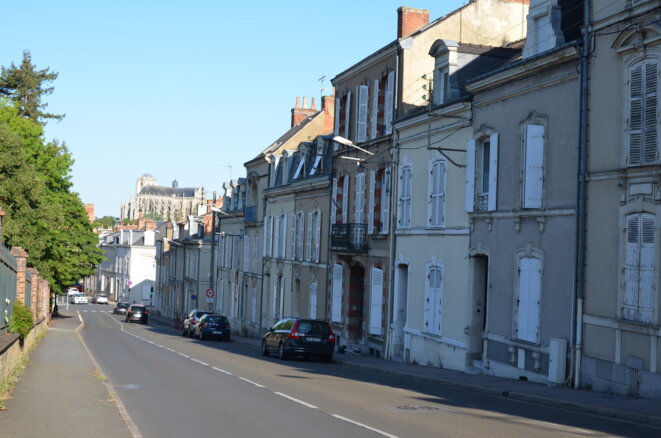 Rue Prémartine in the area of Le Mans where Emmanuel Macron recorded some of his highest voting in 2017. © Justine Brabant
Alain was one of them. Like a number of his neighbours, this veteran of the
events of May 1968
in France voted for Macron the former merchant banker. "Because I was annoyed by the fossilised aspect of French society," explains this youthful pensioner, who describes himself as a "liberal but in the old sense". He has been following the Benalla affair –
Emmanuel Macron's security advisor
Alexandre Benalla
beat up May Day dem
onstrators while passing himself off as a police officer – on television for the past few weeks. The saga has not caused him to regret his vote. "Macron just proves that he's a man of power like the others. It's gone to his head, he has his courtiers and his secrets," says Alain. "The Élysée
phone-tapping affair
under [
President François
] Mitterrand was no different. But for me what matters is the measures he's taken and their effects." And for the moment Alain agrees they have been quite beneficial to him. "With the abolition of the wealth tax and the rest, yes, frankly: these people are earning me a lot of money!"
As for the Benalla affair, the pensioner refers both to Macron's "error" in relation to Alexandre Benalla and also the "circus" of politicians who "try to score points from it". While he does not directly accuse journalists of having made too much of the affair and of being disconnected from the preoccupations of "real French people", leading figures locally in the ruling party the La République en Marche (LREM) most certainly do.
Local LREM figures play down the affair
The most prominent of these local voices is equalities minister Marlène Schiappa, who built her political career here alongside former mayor Jean-Claude Boulard and who is still a city councillor. She was first off the blocks when at the end of July she declared: "Whether they're at the market, in playgrounds, in the street ... this isn't a subject that interests the people."
Willy Colin, a Schiappa ally and former Parliamentary candidate for LREM in the Sarthe département, goes further. "It's all being kept going by the press!" says Colin, himself a journalist for the public broadcaster France 3. "It's been blown out of all proportion, it's been turned into a soap opera, it's become 'Plus belle la vie!' [editor's note, a popular French soap opera] while people in Sarthe have other problems: the heatwave and its consequences for farmers, the lack of doctors in rural areas ..." Meanwhile the LREM Member of Parliament Pascale Fontenel-Personne says: "A small microcosm wanted to make it an affair of state, but in my constituency people are more worried about the heatwave and the 80kmh speed limit [editor's note, recently reduced from 90mph on certain roads]."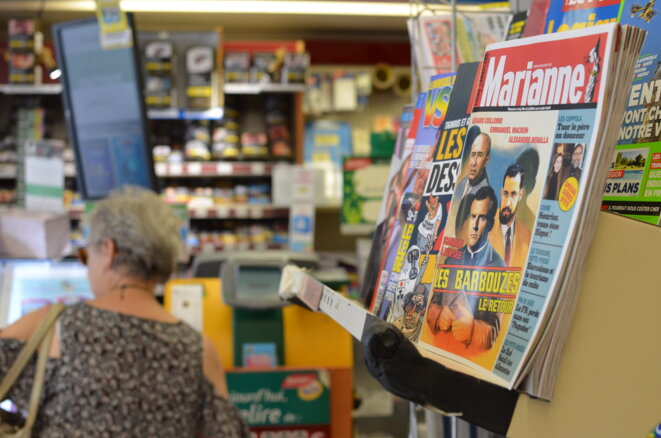 A newsagent in Le Mans, August 1st, 2018. © Justine Brabant
Another Macron loyalist, the former prosecutor for Le Mans, Christian Elek, says: "The soap opera has gone on long enough. What worries the people of Le Mans and Sarthe? Quite honestly, it's the holidays."
View from the beach– the media have made 'too much' of it
The tourists basking on Coco beach 50km north of Le Mans are certainly on holiday. This lakeside beach surrounded by forest, and which lies at the end of a road often jammed up with tractors, attracts locals seeking to cool down, whether for the day or for a week. One part of the lake's shoreline has been transformed into a sandy expanse. By 11am the first parasols are up and by 4pm the water is full of children sitting astride rubber rings shaped in the form of a unicorn or a pizza. During the summer this little village called Sillé-le-Guillaume - which otherwise would be a quiet place concedes Willy Colin, a local resident – becomes a tourist resort.
"There's not just a beach at Coco beach," explains Katy, before listing the activities enjoyed by her eight-year-old son. They include cycle rides, tree-top adventure activities and even a laser game in the forest. Katy, who is in her fifties, and who is camping at one of the site forest sites, starts her day with a walk in the woods. She is a carer in a centre for handicapped older people in the city of Tours to the south of Le Mans but comes to Coco beach every year for her holiday. Like Alain, she also voted for Emmanuel Macron, in both rounds "because he was young and the anthill needed a good kick".
The Benalla affair? 'Sorry to speak bluntly but it hacked me off'
Unlike Alain, however, Katy has little to gain personally from the Macron presidency. "I've done this job for 13 years, I work one weekend in three and I earn 1,500 euros net a month. Macron hasn't changed much there," she says. Her partner, a dairy farmer, makes 1,200 euros a month. She pauses then adds: "We're suffering a bit. But we tell ourselves there are people worse off: in retirement homes the carers work one weekend in two." To ease day-to-day life she would like President Macron to "do something for the health sector. We need to be better paid." She pauses again. "But not 2,000 euros either, eh?".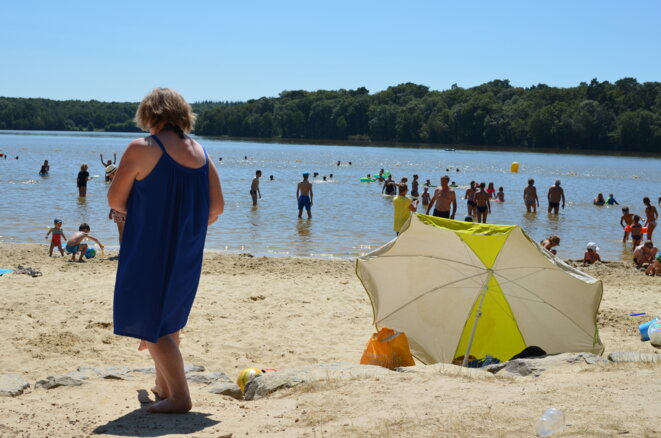 On the lakeside Coco beach at Sillé-le-Guillaume in central west France, opinion about the Benalla affair was divided. © Justine Brabant
In other respects she is satisfied with the first 13 months of the person she voted for. "Sometimes tough things have to be done for things to get better. That's why I voted for him. Because things had to change," says the carer, who had voted in 2012 for Nicolas Sarkozy for "the same reasons".
As for the Benalla affair, she saw the videos of the May 1st demonstration at the heart of the affair on the news channel BFMTV, but has not followed it since. "After a while, and sorry to speak bluntly, but it hacked me off." She was critical both of Alexandre Benalla's actions and the way that the press and political opposition handled the issue. "A lot worse things happen in companies," she says. "The truth is that it's a story got up to harm him," adds Katy, who criticised politicians who sought to "rub [Macron's] nose in it, from [far-right leader Marine]Le Pen to [radical left leader Jean-Luc] Mélenchon".
The anti-system periphery
This does not mean that people consider the Benalla affair unimportant. Some initial and perhaps not entirely robust polls – based on samples of around a thousand people – suggest that just over 70% of LREM sympathisers say they are "shocked" by the affair, despite their disapproval of the actions of the press and opposition. But a certain number of Macron supporters, like Katy at Coco beach, seem to prefer to judge the man they voted for on his policies. From this perspective Emmanuel Macron remains the person who "dares to kick the anthill".
As Katy readjusts her sports rucksack ready to complete her forest tour, the beach goers continue to arrive. Several beach volley balls are flying around and the smell of chips and sun cream mingle in the air. It it not just LREM supporters on the beach, however. "In the last 30 years we've seen the disappearance of the traditional east-west split in this département with the east more Republican left-leaning and the west more with the Catholic Right, to be replaced by a town centre/outskirts split," says Jérôme Fourquet, political analyst for pollsters IFOP and who is originally from Sarthe. In fact, on the electoral maps Sillé-le-Guillaume forms part of those local outskirt, peripheral areas that snubbed Macron, preferring Fillon or the far-right candidate Marine Le Pen at the last election. But the feeling of being left behind in society does not just lead to people voting for right-wing candidates. It also increases the number of people who abstain.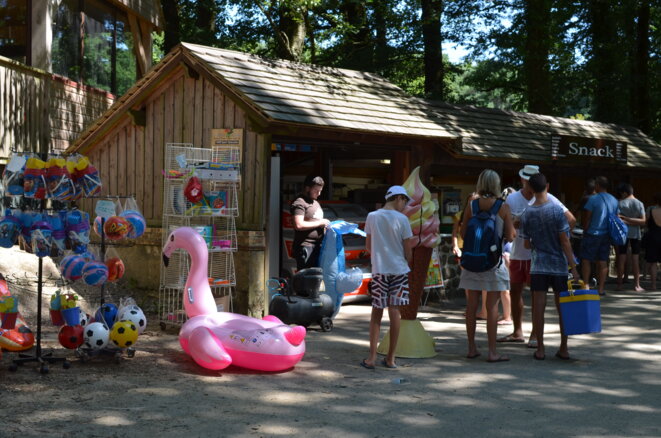 Next to the lakeside beach at Sillé-le-Guillaume in central west France, August 2nd, 2018. © Justine Brabant
On the terrace of the 'Refuge du Trappeur', the bar-restaurant that looks out over the beach, Jean-Marie is sipping a Coca Cola with his two children. This sturdily-built parks and open spaces maintenance worker with cropped hair has come from the neighbouring village Saint-Rémy-de-Sillé, and is here for the day. On the phone to his wife he is sorting out their children's day; tree-top activities at 2pm followed by the beach.
Jean-Marie is the son of a Fillon-supporting mayor and as a lad he recalls "putting up posters for Giscard", a reference to Valéry Giscard d'Estaing, who was president from 1974 to 1981. And then, he says, three or four years ago he had a kind of revelation. "I started to look at things on the internet. And I discovered the story of the 'New World Order' [editor's note, a conspiracy theory about a plot to create a totalitarian world government]. I said to myself, that explains everything," he says calmly. "I think that the United States run everything and that they have the means to silence those who don't agree." Jean-Marie does not like bankers much either. "That's also the system. The sole logic in our world is to look where the money is. Nothing else matters. With Macron we've elected a banker, it's no longer even hidden," he says, finishing his drink.
So he no longer sees any point in voting. Jean-Marie gets by on his part-time job earning 896 euros net a month and devotes nearly all his spare time to his passion, photography, because he thinks that "at least that makes people happy".
'It's an affair involving a Merovingian government'
At former minister Stéphane Le Foll's local bar: "Macron and Benalla, they should lock them up!"
At the counter in 'Le Derby', a sports bar in Le Mans, Stéphane Le Foll is also having a drink, but not a cola. It is 11am, the time for an aperitif he decides, as he orders a glass of rosé wine. He shakes the hands of the regulars. It was barely a month ago that this former spokesman for President François Hollande's government and agriculture minister gave up his position as an MP to become mayor of Le Mans following the death of Jean-Claude Boulard. But he already seems at home in his new position. The socialist politician had agreed to an interview at a café in his area of the city, Pâtis-Saint-Lazare. The day before he had been on national radio to give his opinion on the Benalla affair – a "battle for democracy and the balance of powers", as he saw it.
Some local councillors point out that the former socialist minister has not always been so severe in his judgement of the ruling party, La République en Marche, whose supporters are sometimes called 'marcheurs'. "Right till he was a [editor's note, unsuccessful] candidate to be first secretary of the [Socialist Party], Stéphane Le Foll was the leading Marcheur in Le Mans, certainly a more taciturn Marcheur next to Marlène [Schiappa] who is a noisier Marcheur," is the ironic verdict of Alexis Braud, a green town councillor in Allones, south of Le Mans, and once a member of the executive bureau for the EELV environmental party.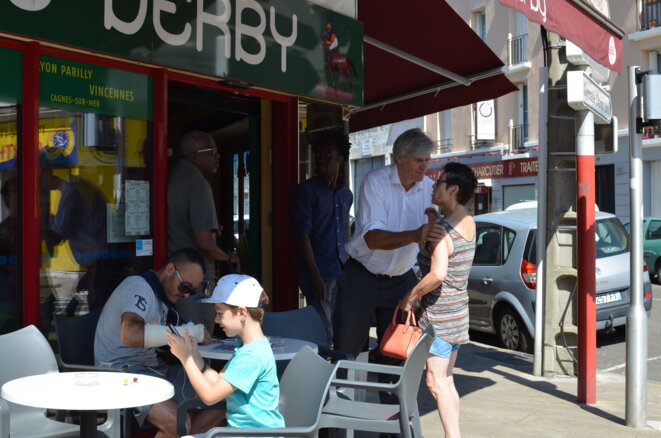 Mayor of Le Mans and former minister Stéphane Le Foll, second from right, greets a regular at 'Le Derby' sports bar. © Justine Brabant
But at Le Derby, Le Foll is more combative about the current presidency which he calls an "authority which is making a spectacle of itself". And he is more combative towards its staff, too, starting with Alexandre Benalla, with Le Foll saying that they "feel full of this omnipotence". A local pensioner greets the new mayor. In Pâtis-Saint-Lazare there are a number of former workers from the local Renault factory. "The working vote can change very quickly," says Le Foll, pointing to the large votes for Marine Le Pen's far-right party in recent elections. The man who approaches him to shake his hand used to work at an abattoir. With this mayor the greetings are informal and red-blooded.
"So, Stéphane, you're not saying hello to me any more?"
"Ah, I didn't see you, you were at the back!"
The conversation quickly turns to politics.
"So, what do you think of the Benalla-Macron affair yourself?"
"Them? They should lock both those bastards up," says the pensioner. He then mimics taking aim with a rifle. "You know what, me, I'd shoot them!"
There is scarcely time to ask for whom the pensioner voted. "I won't tell you that! But it was the first time I voted that way," he says, before turning on his heels.
Criticising scandals, including the Benalla affair, while at the same time not giving further ammunition to those who believe that all politicians and people in power are the same, is not an easy task. Le Foll says: "You have to pay very careful attention to the way you express yourself. To find a way to oppose, to keep one's calm, to criticise without shouting."
'A Merovingian government'
The Sarthe has two Socialist Party MPs, in addition to Le Foll who is mayor and head of the greater urban authority, and the party is trying to work the political terrain. One of the party's MPs, Marietta Karamanli, is also a member of the legal affairs committee at the National Assembly and she has discussed the Benalla affair with her voters.
"At the start people did indeed say to us: 'Haven't you got anything else to do? There are more important issues!'" she says. "And it's true. People are worried about employment, crime, housing and health," the MP admits. "But when you explain it and bring it back to fundamentals that works. It interests them." A teacher by profession, Marietta Karamanli has found a role that suits her. "The fundamental thing is that we have an affair involving a Merovingian government," she says, referring to the old Frankish dynasty that existed from the fifth to the eighth century CE. "A centralised, family power which relies on vassals. I'm better able to speak about that, given that I teach that to my students at uni..."
Back at Coco beach, Jean-Marie, too, uses a medieval comparison in his own way. "This government couldn't care less about the people. But, you know, a subjugated people is nothing new. They tell us they've abolished slavery. But when like me you earn 896 euros net a month and that other guy [editor's note, Benalla] has every privilege, do you really think we've abolished slavery?"

-------------------------------------------------------------------------
The French version of this report can be found here.

English version by Michael Streeter