When Abdel – not his real name – first related how he had come face to face with Moroccan police during questioning at the Barbès police station in the north of Paris no one believed him. "You've taken too many drugs!" his friends said. Even the local youth workers raised an eyebrow. "Are you sure you didn't confuse them with interpreters?" they asked him. But in the end they all had to accept the evidence. This summer, under pressure from France, Morocco sent over six officials, four of them police officers, to lend a hand to the French authorities who have been overwhelmed by the presence of these Moroccan youngsters on the streets. Known in the jargon as 'Unaccompanied minors' or MNA in French, they are roaming the Goutte d'Or district in the city's 18th arrondissement.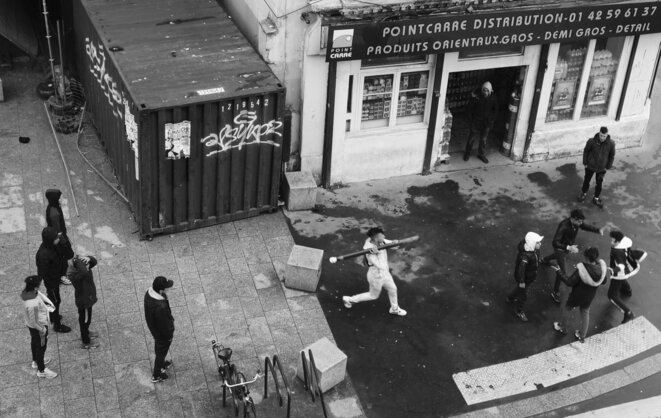 Moroccan youths fight among themslves in the Goutte d'Or district of Paris. © Rachida El Azzouzi
This unusual policing co-operation with kingdom of Morocco, which aims to identify and send some youngsters "back home", worries a number of local associations who help foreigners in the area. They are anxious to ensure that France respects its legal and international obligations in relation to youngsters who enter the country without their family; their obligation to take them in and protect, not remove them.
It has to be said that these adolescents, most of them heavily addicted to more than one drug and who are violent towards others and also themselves, have caused health and social problems in the Goutte d'Or district. Though there are perhaps only around 40 at the moment, some 300 have squatted in the area since the end of 2016.
"It's overwhelmed what child protection measures can do," admits Dominique Versini, an assistant mayor at City Hall in Paris in charge of solidarity. For two years the child welfare service - the ASE - and family court judges have found themselves helpless faced with these maladjusted youngsters, some as young as 11 or 12. Both victims and authors of violent assaults, they refuse to be placed in care or shelter, thwarting all attempts to offer educational help and often using a raft of different names to stop any follow-up checks on them.
Shooting up on solvents and Rivotril – a drug used for controlling seizures – distressed and unpredictable, they seem to have been exploited by local criminals since their arrival in the district. These well-established gangs 'subcontract' the youngsters in a variety of tasks, including pickpocketing and burgling homes in the suburbs.
The rumour of the Moroccan police's arrival in early July dropped like a bombshell among the youngsters in the area. For many it revived fears of the Makhzen, the feared Moroccan state apparatus. No one had warned them in advance and within a few hours of the news breaking the Moroccan youngsters had all left the Goutte d'Or area, before later returning. Even the association given the task of helping the youngsters by the city in December 2017, the Centre d'Action Sociale Protestant(CASP), was not informed of the police initiative. This is despite the fact that it has youth workers and nurses on the ground all day, manages a dedicated night shelter nearby and is working hard to direct these minors towards receiving state assistance, for which the city has a budge of 700,000 euros.
How was it that the Ministry of the Interior ended up secretly calling in foreign police officers? What is their role? And who exactly are these youngsters who seem to have overwhelmed the French authorities and who have caused exasperation to an entire district even though it is used to foreigners - and is itself the product of successive generations of immigrants? Mediapart has spent some time looking into this phenomenon which is unprecedented in France and which is more reminiscent of the situation of 'street children' in Delhi or Rio de Janeiro. It is a phenomenon which also seems to be emerging, on a smaller scale, in other French cities, too, such as Montpellier in the south and Brest in the west.
For more than a year now, residents say that life inside the Goutte d'Or has become "hellish". Having changed their base several times, the youngsters took refuge this summer in a square in front of Saint-Bernard church, one previously used by families who have now abandoned it. In these rundown streets, where there was already poverty and drug trafficking, the local residents live with the "fear of being attacked", of having their mobile phone, necklace or bag snatched from them when they go to the market, go to buy bread, go to work or pop out for a coffee.
The majority of these unaccompanied minors or 'MNA' as they are known in French do not know a word of French and only speak the Moroccan dialect darija or a little Spanish. That is because it is on the Iberian peninsula they have spent much of their time or in the Spanish enclaves of Ceuta and Melilla which are surrounded by Moroccan territory and seen by many as a gateway to Europe. The youngsters are very mobile and come and go through France and across the European Union and stopping, according to their needs and the dangers they face, from Barcelona to Stockholm, Brest to Frankfurt. They might stay for just one day or three weeks, making the task of social workers even harder.
"They seek a certain freedom and each country is analysed according to its advantages and disadvantages," says a study commissioned by City Hall from an association that specialises in monitoring shanty towns and squats, Trajectoires, and carried out by a sociologist and legal expert. "Child protection is sometimes perceived [by them] as a service. These young people can, in turn, talk about Germany and the payment of a small sum of money in a help centre, of Spain where it is possible to get [official] papers, Sweden to get an apartment etc," it says. When they re-emerge in the Goutte d'Or it is always in the same state; tripping, stumbling, in a bad state and angry.
Not a day goes by without violence. The fights are either between rival internal gangs – for a long time it was the Fassi who come from Fez in Morocco against youths from Tangiers – or against local gangs. Recently, and in front of the packed terraces that are around the Saint-Bernard church square, one youth was beaten up by a migrant from sub-Saharan Africa, who was furious that the young Moroccan had stolen his entire worldly goods – his mobile phone. The next day, in a street a little further away, a police patrol reprimanded five youths after a violent altercation with an Algerian grocer. "Aren't you fed up with annoying the whole district?" they were told.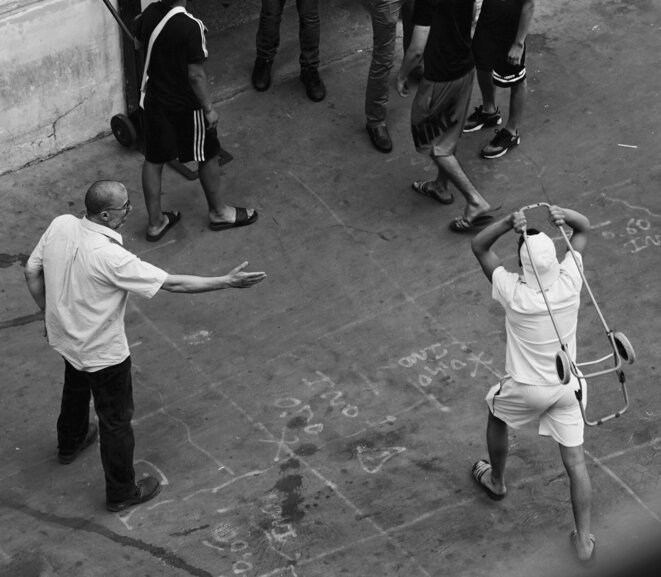 Moroccan youths attacking a local trader in the Goutte d'Or, Paris, July 2018. © Rachida El Azzouzi
Anything can be used as a weapon; sticks, traffic cones, pieces of glass or glass bottles. Sometimes the police use tear gas on one or two of them to stop their altercations; and those same officers will then buy bottles of cola to sooth the youngsters' eyes – as well as their own.
The youngest and most fragile of them are able to seek shelter at night in the CASP shelter near the Bastille district in Paris, for a meal, a shower, a camp bed and use of a washing machine. These trips to the shelter are not without incident either. "Some days there are extraordinary moments when they get on with passers-by, with mothers, other days it's very hard, they are so smashed that you physically have to carry them, and we struggle with a minority who are trying to snatch a phone or steal from a shop under our noses," says one of the youth workers at CASP.
Around three months ago Mediapart met some of these youngsters in the middle of Ramadan, to talk with them, taking advantage of a calmer atmosphere in that period. During the Ramadan fast the mood is "radically different, they're much calmer. Less aggressive between themselves and towards us," youth worker Sofiane Karouri said at the time. "I never thought they'd keep Ramadan and that they'd be capable of not taking drugs between the rising and the setting of the sun, or to take a lot less..."
In the shelter no solvents are allowed, nor is Rivotril, only cannabis is tolerated. "Without that most of them wouldn't know how to calm down and to sleep. These young people force us to revise our codes as social workers. We're forced to move the lines," admits Chansia Euphrosine, who runs the project at CASP, as a group of youths ended the fast with a large joint and a glass of milk.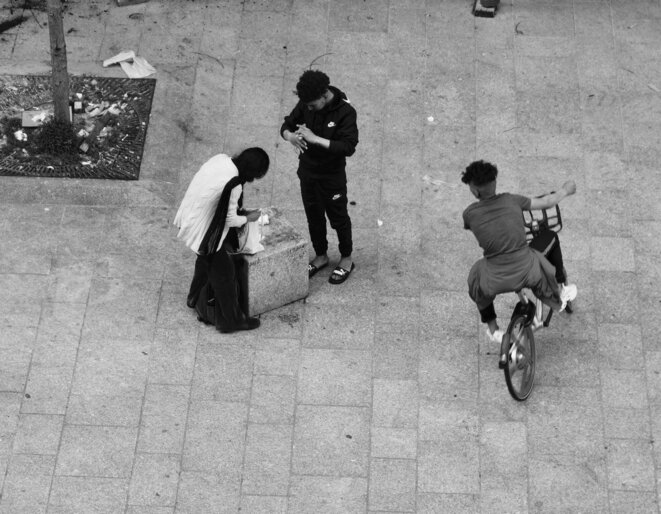 A Moroccan youth being treated in the Goutte d'Or area of Paris. © Rachida El Azzouzi
'I can see their living conditions so I can understand their extreme anger'
Samir – not his real name – prefers to sit down to eat some ritual soup, the harira. Wearing flip-flops and a light blue football kit, his arms scarred as a result of taking Rivotril which numbs pain and fear, he is transformed by Ramadan. A youth who has exhausted social workers and youth protection workers in the past, he is unrecognisable as he teases the youth workers at CASP, a smile on his face. "The last time I saw him, he was close to being in a coma, he'd almost been crushed by a lorry and thirty Algerians wanted to lynch him - we had to call the fire brigade," recalls Chansia. "Last week he ended up in a psychiatric unit having been found stoned, sleeping with others in a car in the Seine-et-Marne [editor's note a département or county just east of Paris]."
On this particular evening Samir is describing how he has just come back from Brussels with his gang. Some shared a car to come back, others hid in the toilets on the train. "When they are looking to change cities in general they carry out a series of thefts to give them some resources," says Marine, a youth worker. "Then one morning they set off, showered and well-dressed, with bags on their backs. If they're moving country, sometimes it's to escape a court summons."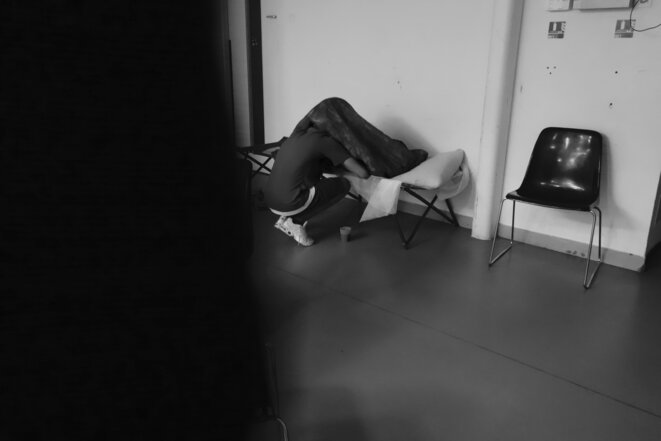 The youngest and most struggling being given shelter in a centre in the 11th arrondissement of Paris, May 2018. © Rachida El Azzouzi
Omar, who is originally from Fez, talks proudly of his "Europa" tour – Spain, France, Germany and Belgium. He speaks with rather more difficulty of the day he left home and said: "Mum, I'm going to make a success of us in Europe." Looking at his feet he admits: "Leaving her was already like dying a bit." After he left home Omar spent some chaotic months in the mountainous Rif region of northern Morocco, then "an eternity" in Melilla. Finally he risked the "adventure" as they term it, crossing the narrow straits from Africa to Europe clandestinely, at great personal danger. In Omar's case he hid in the trailer of a lorry, while others haul themselves up on anchor chains on the ferries that carry the lorries. Yet others use
pateras
, small boats that often founder on the journey.
With his unusual profile, as someone who is half in, half outside the gang, Omar is one of the rare youngsters in this position who does not bear visible wounds or scars. Sporting slicked-back hair, he only smokes cigarettes and "never" takes drugs. On this evening he is chatting on Facebook with a mate who stayed on the Costa Brava in Spain, another youngster from Fez. "Tomorrow morning I'll take the train to Spain without a ticket," Omar announces, prepared to miss his appointment with the centre in Paris where the authorities assess the age of unaccompanied minors, mostly by tests on their bones. He himself swears that he is 16. He he said came to this part of Paris, Barbès, because "everyone comes to Barbès. When you leave they say to you: 'Good luck in Barbès.' You can quickly make good money and here it's like back home".
Mounir, not his real name, the youngest, who is scratching himself because of scabies, agrees. He has dishevelled hair, is wearing a designer tracksuit and his face and body bear the marks of fights. He left a poor area of Tangiers and crossed the Straits of Gibraltar several years ago by clinging onto a lorry on a ferry. He says he is 12 years old and never speaks about his family. He apparently discovered Rivotril when part of a gang of thieves in Montpellier and came to Paris as an "addict".
According to the youth workers, Mounir has aged recently and lost his boyish looks. It is probably a result of the large doses of drugs he has taken. He is a veteran when it comes to snatching items from people in the street and has been in police custody at least a dozen times. After Mediapart met him he ended up being put in custody for a few days before being sent to a closed education centre – a CEF in French – at Rouen in northern France.
When you look at the criminal background of the Moroccan youngsters the numbers start piling up. According to the Paris prosecutor's office, Moroccan youths from this area were put in police custody on 813 occasions in 2017 - this does not include those under the age of 13 – leading to 482 appearances before examining magistrates. So these youngsters take up a disproportionate amount of the time of specialist judges.
"The local prosecutor's office is called every night by the police services or associations," says Laeticia Dhervilly, who is an assistant prosecutor and head of the juvenile section in Paris. "While the first offences in 2016 were criminal damage [editor's note, for example they broke into cars used in the Autolibsystem to sleep in them] the situation has got worse, they have got the measure of the pace; snatching items, theft on transport systems, breaking and entering for some of them," she says. "There is a community organisation: the oldest use the youngsters, in return for Rivotril or a squat." This maintains and worsens addiction.
In 2017 prosecutors called for a form of detention in 27 cases involving the Moroccan youngsters, mostly concerning youngsters under the age of 16. This was largely for the breach of existing youth measures (for example placement in a closed education centre or bail conditions) or for repeat offences. A few involved very serious offences. Earlier this year one Moroccan minor was placed under formal investigation for attempted murder and remanded in custody after a series of attacks on passers-by in February. "I was walking towards my place when I saw him hurtle up with a knife," recalls Bernard Kalaora, 72, an anthropologist who has lived in the area for 25 years and who is himself the son of an immigrant. The knife attack damaged one of his kidneys. "In this district we endure all the problems of globalisation and the residents are used to acting together, to helping each other, as again in 2015 with the arrival of refugees. But what are the public authorities doing?"
His first reaction was to want to "make a formal complaint against the state" to "highlight the authorities' responsibility". But this was not necessarily the view of other victims, at least not of the five Mediapart asked. "There were also two illegal immigrants who suffered wounds to their arms and who left when the police arrived," says Bernard Kalaora. "It was they who sheltered me in a café." Though in the end the anthropologist decided not to take legal action against the state – it was too complicated, he said – he tries to see both sides in his comments. "I can see their living conditions, I see them ill, roaming day and night, sleeping in the launderette, so I can understand their extreme anger. And I consider that I am a victim of both an act of barbarity and of the authorities' negligence."
The term "negligence" is not one that pleases prosecutor Laetitia Dhervilly. Since 2016, and in a bid to protect these children, judges have sought to put many of them in temporary placements, for example foster homes arranged by social workers. But whether they are youngsters of 12 or teenagers of 15, they run away. "Though an Arabic-speaking foster home was found in Brittany for one of them, they only stayed there for five days," says Laetitia Dhervilly.
Healthcare is also a problem issue. "When you get them admitted to hospital, the paediatric services aren't able to keep them," says the prosecutor. "The other day some medical students found a youth unconscious on the metro and he was immediately admitted to Necker [editor's note, a children's hospital in central Paris]. The hospital called me the following morning to tell me that he had removed his tubes and run off." In France compulsory hospitalisation is only possible where psychiatrists have established "mental problems".
Laetitia Dhervilly continues: "In the end, the one who came out of it the best was a youth whose leg was amputated after an accident on a railway line. He was hospitalised and cared for over a long period and we were able to have daily contacts under child protection rules. He ended up telling us 'I want to get out of this.'"
Even lawyers who specialise in helping unaccompanied minors admit it is a difficult task. "These youths are capable of jumping from a car on the ring road to escape the youth worker who's taking them to a place of treatment," says lawyer Catherine Delanoë-Daoud. "The legal system is poorly-equipped faced with this refusal of protection."
"The priority, in this case, should be to attack the predators and the recipients [editor's note, of stolen goods]," says the lawyer. "I am staggered that in such a restricted geographical area that we haven't managed to catch the individuals who employ these youngsters, who pay them, who give them drugs. It's because on the police side, neither the [editor's note, specialist anti-crime units] BAC nor the youth protection brigade nor OCRIEST [editor's note, the national unit fighting against illegal immigration] is bringing to bear sufficient resources, or they haven't had the orders!".
When asked about this, prosecutor and head of the juvenile unit Laetitia Dhervilly insisted that "police resources are indeed employed in Paris to observe and eventually identify adults liable to give orders or to incite others to commit offences. But it's very time-consuming and you have to establish links of trust for these kids to settle down and give evidence." So far none has reported violence committed on them by adults.
There have been questions about the possible existence of a network of "human traffickers" operating out of Morocco, a crime punishable by 20 years imprisonment if committed as part of a group and involving minors. But Laetitia Dhervilly says the immigration crime unit OCRIEST, whose speciality this area is, has not passed any cases on to them as yet.
----------------------------------------------------------------------------------------------------------


This is an abridged version of a longer article in French which can be found here.
English version by Michael Streeter.
Si vous avez des informations à nous communiquer, vous pouvez nous contacter à l'adresse enquete@mediapart.fr. Si vous souhaitez adresser des documents en passant par une plateforme hautement sécurisée, vous pouvez vous connecter au site frenchleaks.fr.