Mediapart has obtained a graph prepared by French Football Federation (FFF) officials earlier this year that identified in yellow the players in its national youth and senior teams who, because of their family origins, were "susceptible at any time to play for another sporting nation" by obtaining dual nationality.
On April 28th, Mediapart exclusively revealed how senior FFF officials were hatching a secret ethnic quota selection plan for young players entering national training academies. The revelations were based on evidence obtained of discussions among FFF National Technical Board (DCN) staff, notably a meeting in Paris on November 8th 2010, when the plan was discussed in detail with France team coach Laurent Blanc.
Following publication of Mediapart's verbatim account of that meeting, National Technical Director François Blaquart was suspended from his duties pending the results of two separate ongoing official enquiries launched by the FFF and the French Ministry of Youth and Sport on May 2nd.
On April 27th, one day before Mediapart published its first report on the scandal, we interviewed Blaquart about the quota plan and the graph that he himself drew up and which we publish below.
Blaquart, Blanc and other officials expressed concern at the number of players trained in FFF academies who become eligible to play for a foreign team because they hold dual citizenship. The plan to impose a 30% cap on young players of African and North African Arab origins entering training academies was justified as a means of filtering those who might eventually play for national teams abroad.
The argument is flawed, as pointed out by others within the DTN who opposed it, because the vast majority of those players who do later choose to play for a foreign national team make the decision after failing to be selected for the France team from among the pool of talent that emerges from the training academies.
The graph, reproduced exclusively here, concerns all those selected for the national team squads, from the Under-16s up to the Under-21s. It uses a questionable choice of colour - yellow, associated with betrayal - to indicate players who might choose dual nationality.
Importantly, these include players, as young as 15 years-old, who hold French - and no other - citizenship. This raises the question over how the DTN estimated their "susceptibility" to opt for a second nationality.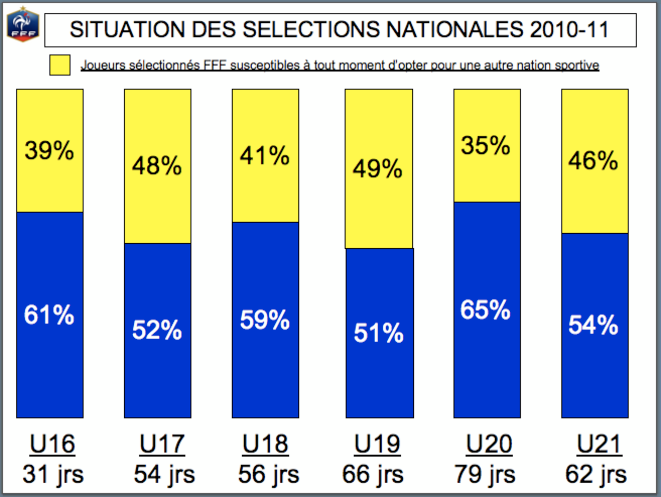 © FFF
Editor's note: their dual nationality or potential to opt for it] given the media coverage of players."
'It's linked to the name, for example'
During the DTN meeting of November 8th last, presided over by National Technical Director Blaquart and revealed in verbatim by Mediapart, national first team coach Blanc said he was "completely favourable" to the idea of "limiting" the number of children, from the age of 12, who are French nationals of foreign origin who, after having been trained in France, he said could, by using dual nationality "go off to play in North African or African teams".
"But it must not be all the players who can do that," added Blanc later in the discussion. "Because all the blacks, if you take out the Antillais [from the French Caribbean], they are of African origin. So, African, they are going to be able to play in an African team."
"Our study is not 100 percent categorical," said Blaquart. "It might be 90 percent valid. We are simply raising a problem issue." When pressed further, he said: "Look, it's not hard to know. It's linked to the name, for example." He then said the DTN estimations were also based on "the living experiences" of the players.
Blaquart refused to say whether the DTN held a list of names of players of dual nationality, or potential dual nationality. However, during the November 8th 2010 meeting he was recorded as saying: "We could trace, on a non-spoken basis, a sort of quota. But it must not be said. It stays as action only. There you are, we be careful. We have the lists, at some point in time."
The French commission responsible for upholding civil rights concerning the compilation and use of personal information by third parties, the Commission nationale de l'informatique et des libertés (CNIL), told Mediapart that it had no knowledge of any FFF list concerning the ethnic backgrounds of players. Under French law, a list drawn up by an official organisation of named people that contains details of their family history must be made known to those concerned.
The graph that is presented here contains no ethnic or racial details and therefore cannot be described as representing statistics of ethnic backgrounds, however dubious the criteria employed may have been. As its creator - Blaquart - himself told Mediapart, no precise methodology was employed. Being "susceptible" to choosing dual nationality does not mean that a person has dual nationality, and covers a very wide area that is impossible to define with precision given the different regulations worldwide concerning eligibility to dual citizenship.
The graph, above all, illustrates the FFF's attempts to identify two separate types of French player, those of foreign origins and the others. Whether the issue concerns players of dyual nationality or those "susceptible" to obtain dual nationality, any filtering of these groups is a discriminatory one, being designed to prevent access of opportunity.
-------------------------
English version by Graham Tearse
Si vous avez des informations à nous communiquer, vous pouvez nous contacter à l'adresse enquete@mediapart.fr. Si vous souhaitez adresser des documents en passant par une plateforme hautement sécurisée, vous pouvez vous connecter au site frenchleaks.fr.