'Sometimes I arrived with fear in my stomach'
One of the issues that runs through Karine Isambert's account of Luc Besson's behaviour, and which is recurrent in others given to Mediapart, is the prevalent imbalance of power in relations between one of French and European cinema's most powerful figures and those who are young and hopeful of starting out on a career in the film business.
That is also highlighted in the story of another person who says she was a victim of the filmmaker's unwanted attentions. Emmanuelle (whose real name is withheld at her request), who began working at EuropaCorp as an intern in the early 2000s, has previously spoken in part about her experiences in an interview with French weekly L'Obs. She told Mediapart that she became concerned to avoid finding herself "alone in a room with him", referring to Luc Besson. "He would come around for his morning hug, always asking for 'a little kiss'," she said. "You are 22-years-old, you give him a peck on the cheek, he takes the opportunity to pass his hand under my T-shirt, on my tummy. I found that a bit weighing, and I always put myself in this position," she said, placing her arms crossed over her chest.
After her internship, Emmanuelle was given a permanent job at EuropaCorp, where she said she sidestepped an invitation by Besson to have lunch together. She recalled how on one occasion she emerged from the office kitchen "with a cup of tea and photocopies – and so my hands full" when, she said, Besson arrived and kissed her "on the lips" and taunted her in a childish manner that she could do nothing about it. "And I did nothing," she said. "I should have thrown my cup of tea over him. And after that you come back to your office like an idiot, humiliated."
Arthur, the former EuropaCorp employee cited earlier in this report, told Mediapart he remembered how Emmanuelle had that day arrived in his office in tears. "She had just been kissed against her will by Besson," he said. Emmanuelle had also recounted the alleged incident to another person, Coralie (real name withheld), who had worked with Besson. Coralie said she told her of the forced kiss during the period when the Harvey Weinstein scandal was erupting: "She told me about all that saying, 'It's now that we should talk about Luc Besson'," Coralie told Mediapart.
The allegations concerning Besson's behaviour have also raised concerns at the cinema scriptwriting and directing school founded by him at the Cité du Cinéma film industry complex he created in a north Paris suburb. The Cité du Cinéma project, led by Besson, was planned to be a competitor to major European cinema studio centres such as Pinewood in Britain. A number of students at the higher education school he opened in the Cité in 2012, called the École de la Cité, set up a dedicated email account this year for those who had complaints about the producer-director's behaviour. Their move followed the formal complaint for rape levelled against the filmmaker by actress Sand Van Roy in May. The email account is called "metooedlc", after "MeToo École de la Cité".
After Besson's former casting director Amandine (see page 1) wrote to the Paris public prosecution services in July to formally complain of being sexually assaulted by him, police also questioned, in July, another of his casting directors. The latter had appealed to past and present students of the school, as well as more generally people employed in cinema production, to come forward if they have knowledge of inappropriate behaviour by Besson.
Two former students from the École de la Cité, both in their 20s, came forward with allegations against Besson. One of them accepted to be interviewed by Mediapart, on condition her name was withheld. For the purposes of this report she is called 'Laura'. She gave a statement to police in July this year, denouncing what she described as "sexual harassment" by Besson. She said she recognised her experience to have been similar to those recounted by others in Mediapart's report in July, but said she has refrained from lodging a formal complaint because she is "not sure to have the necessary energy" to take part in the judicial procedures that would ensue.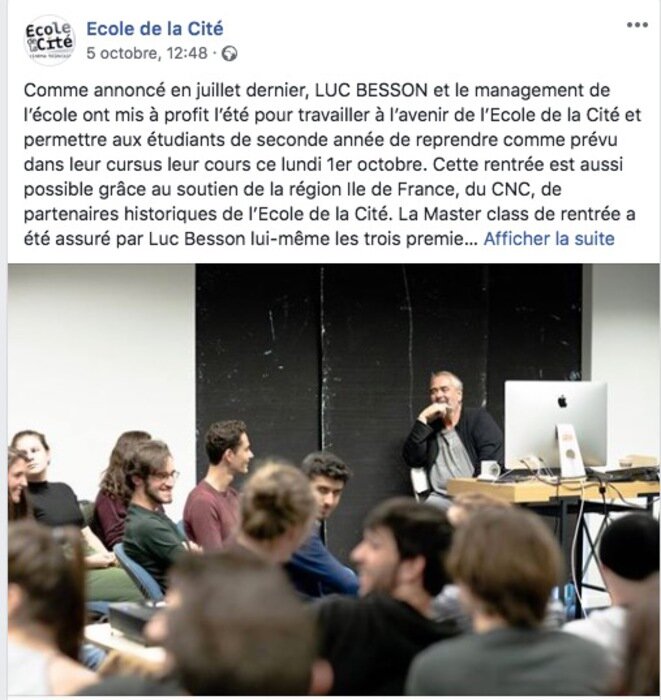 Facebook post showing Luc Besson leading a class at the École de la Cité in October 2018. © Facebook page of the Cité du Cinéma school
She told Mediapart that following the complaint for rape filed against Luc Besson by Sand Van Roy in July, she expected that other complaints would "rain down". But, she said, "there was no tidal wave" of denunciations. "Nothing was said, nothing was done," she commented. Now, she says, she has overcome her "fear" and wanted to stay true to her principles. "I could not declare myself a feminist every day, arguing that women must speak out, that this kind of thing must stop, and on my side keep quite when I had something to say," she told Mediapart. She accepted to be interviewed by Mediapart after coming across a photo published this October on the Facebook page of Besson's École de la Cité. The photo shows Luc Besson beaming a smile at students taking part in a Master's course class (see right).
Her account concerns events she said happened in 2015. She was then in her second year at the school when, she said, she became the object of Besson's interest during workshops for the preparation of his then next film, Valerian and the City of a Thousand Planets. She said she had made efforts to "really work hard, to be super-present, professional, because we knew that if he noticed us we could eventually afterwards have a job on Valerian". She retains a happy memory of the sessions. "Luc was very demanding, but very pedagogic, caring," she recalled.
Six months later, Besson recruited her to work as an intern on his feature film. While all the students in her year had the possibility of a week-long internship during the filming of Valerian and the City of a Thousand Planets, Laura was chosen as the lead intern among five "referent" interns who were given a month-long presence on the filming.
Her internship on the shoot took place in January 2016. She said the events she now complains of "began after a lunch break", when she said she was positioned in a small space behind a partition, where she had a table, a kettle, and her notebooks. Besson, she said, made a sign to her to come over to him. "He asked me how the internship was going and said to me, 'You haven't yet given me a kiss today?'," she recalled. "We had never set up this rule. I gave him a kiss [on the cheeks] and he gave it back." Laura said the same situation occurred "two or three times" again. In what is a similar account to others given by women to Mediapart, Besson then began to "make me sit on his knees", subsequently "kissing me in a more and more affirmed manner, then after a moment in the neck".
Laura's account is supported by that of another person working on the shooting of Valerian and the City of a Thousand Planets. Victor (whose real name is withheld at his request) said he rapidly "felt an uneasiness" regarding what he described as the "abnormal" behaviour of the director. "Besson was extremely tactile with [Laura], a bit too much," he told Mediapart. "I had already noticed that with certain actresses and [female] bit players. He was smarmy, making them sit on his knees, giving them hugs, but especially with her. He often asked her for hugs, as soon as she came past he opened his arms." According to several accounts received by Mediapart, Besson did not behave in the same way with others in the production team. According to Victor, the filmmaker could show himself – and notably with male staff – to be "extremely tough, verbally violent, rather sharp, very unfriendly".
According to Laura, there was a "change of attitude" on the part of Besson "between the moment when we were alone and the moment when people were around", and notably on two occasions.
She said the first of these took place in the corridor of the lodges within the Cité du Cinéma. "Luc came out of his lodge with Virginie, his wife," she recounted. "They passed in front of us, he gave a very sober greeting, in the usual manner." She said the director then came back a few minutes later "on his own" and, from the door of his lodge, gave her a "silent sign to come over", while hidden from the view of a nearby location manager. "I approached," Laura said, "he gripped me in his arms, he kissed me in the neck, but in a very firm way, and at that moment I said to myself, 'But is he going to push me into his lodge?'." She said that after the experience she thought that she should never again find herself alone in his presence. "Sometimes I arrived in the morning with fear in my stomach, it was the thought of what could happen, and that I had no means of stopping it," she told Mediapart.
Laura said the second occasion was on the last day of her internship, when she encountered Besson alone as she stepped out of the lift. "He placed a foot in the lift and told me to come along," she recalled. "I said no, that I was leaving. He insisted, I didn't dare refuse a second time, I got into the lift and over the time it descended he took me in his arms, breathed in my hair, kissed me in the neck. It made me extremely uneasy, I left distressed."
A while after, said Laura, she met him again in a lift, when he was this time accompanied by his daughter and when, she said, he "absolutely" did not inopportune her. "He introduced his daughter, he spoke to me very normally," she recounted. "There, no kisses, no hugs."