'It happened before my eyes, it shocked me'
Laura said she saw Luc Besson again on a few occasions, in the corridors of the Cité du Cinéma, but never alone with him. She said he continued to maintain a relationship that suggested to her she was a "privileged" acquaintance. "Sometimes he held my hand a bit at length, which he didn't do with others," she said. "He spoke to me as with a young girl, with a little voice, and as a result I heard myself answering with a child's voice, which I found completely stupid." The attitude of the filmmaker described by her was similar to that recounted earlier this year to Mediapart by actress Sand Van Roy and her entourage.
After finishing her studies at the school, Laura spoke of Besson's behaviour on two occasions with its then director, Laurent Jaudon. The first time she did so was in an informal manner during a private event. The second time was at the school in mid-July this year, when she announced that she had decided to give a statement to the police. That was confirmed to Mediapart by a former assistant to the school's management, Timothée Stanculescu.
Contacted by Mediapart, both Laurent Jaudon and the school's current vice-president Isabelle Agid declined to be interviewed. However, Jaudon did provide Mediapart with the following statement: "As everyone must have told you, including [Laura], if, in the framework of my responsibilities, I had knowledge or even conscience of inappropriate behaviour I would have taken action accordingly and in all morality. That is what I have always done in the field of my responsibilities and throughout my career."
Another former student of the Cité du Cinéma school, 'Pauline' (whose real name is withheld at her request), told Mediapart of two occasions involving Besson which left her feeling "very uneasy", although she says she was caused no serious distress. According to her, on the sidelines of a school event, the filmmaker "sort of rubbed" himself against her in a narrow corridor. "I was eating," she said. "He approached me abnormally, so much so that his chest touched mine, and he made a comment in reference to my physical appearance, something like 'That needs to eat, eh?'. It was furtive, but extremely embarrassing, I didn't know what to say. I fudged by offering him a bottle of water."
She said that a few months later, during her internship on the shooting of Valerian and the City of a Thousand Planets, Besson placed "a hand" on her buttocks as he passed behind her while she was in conversation with another intern, then "gripped" her "by the waist" while inviting her to visit the film set. The other intern, Benjamin (not his real name), confirmed the incident to Mediapart. "It happened before my eyes," he said. "It shocked me, Besson behaved as if he was with his girlfriend. We were both students, it was strange that he only took her." At the time, the young man expressed his surprise with a rough joke. "I was blushing all over," said Pauline. "I was humiliated because there was a gigantic team all around."
Both Pauline and Laura say they did not know how to react towards the behaviour of Besson. They each say that they put it down to a sort of "paternalism", and a "big teddy bear" attitude. "I am quite naïve, I was in denial, I said to myself, 'He's a father, he has daughters of our age, he couldn't do that, he is used to working on film shoots'," said Pauline. "One always finds a way of minimising these attitudes that are not normal. Women's bodies are not a public space."
Laura said she wondered how to "say no" to Besson "because of his status", and that because "until then I hadn't said 'no', I had remained quite docile because it grew very progressively, how can one say 'no' now?".
Victor said that in face of his questioning about Besson's behaviour, Laura had told him that it was "not serious", but that she later opened up. "It is recently that she said she hadn't dared to speak about it," he said. "A sort of pressure was imposed by the status of Luc Besson. He took a great deal of advantage from his influence. Because it's him, nobody said anything, but if it was someone else it would have passed off less easily."
Benjamin, the former management assistant at the Cité du Cinéma school, said it was "almost impossible" to complain to Besson about his attitude. "He was an untouchable statue, a quite awesome figure who you can hear bellowing when he gets angry during shooting," he said, adding that the filmmaker had an "overwhelming hierarchical status". Benjamin said Laura "told us that it was very delicate, because she was doing an internship on his shoot, that it was Luc Besson, that he was the president of her school".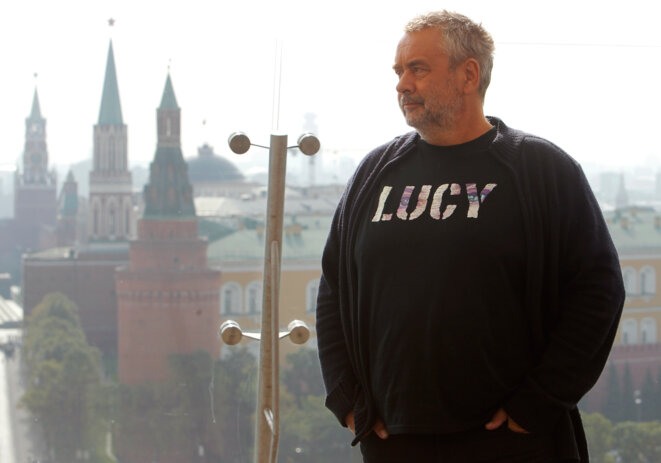 Luc Besson in Moscow on a visit to promote his science fiction film Lucy, September 9th 2014. © Reuters
The accounts given by Karine Isambert, Emmanuelle, Laura and Pauline present significant similarities with those revealed in July by Mediapart. Then, Amandine, Besson's former casting director, spoke of a "very sexualised climate", a "physical proximity" that made her uneasy, a "permanent sexual and moral harassment", but also of physical gestures and inappropriate behaviour on the part of Besson which she described as "sexual aggression". In her letter to the Paris public prosecutor's office in July this year, which Mediapart has seen, she spoke of "forced" kissing, in which "his tongue was in the mouth", of petting to "breasts" and "buttocks" – notably during encounters in lifts – and that she was "forced" to sit on his knees.
Cited in that July report, 'Alice' (whose real name was withheld at her request), a EuropaCorp employee, told Mediapart of how hat at her workplace, and against her wishes, Luc Besson kissed her on the mouth, put his hand on her bottom and, in the lift, made a sexual proposition. "He hears when you say 'no' but it doesn't last because he will start again. Each time he tries to go to a new level," she said. "Once he pulled me onto his knees for a cuddle. At the time I didn't really know what to do, so I gave a forced laugh and I got up," she said. Her account was confirmed by a former colleague at the company.
Also interviewed for that report in July was 'Mona' (real name withheld at her request), an actress living in the United States. She described in a phone interview how she had known Luc Besson at the beginning of the 2000s when her agents organised a meeting with the celebrated filmmaker in Los Angeles. At stake was a leading role in one of the films produced by Besson. At a second meeting in Paris, she told Mediapart, Besson "hadn't even finished closing the door when he threw himself on me, to touch or kiss me […] I was against the wall so the only way to get out was to drop to the floor. And I remember that really very well because I dropped to the floor and went on all fours right up to the door so I could get up and run out."
In an article published last month in French weekly Le Point, former French trial court judge Michèle Bernard-Requin argued that cases of sexual violence, and notably rape, are "among the most difficult to judge". She underlined: "There are rarely witnesses. The events are most often vigorously challenged by the accused. The behaviour of the victims is often ambiguous." As Mediapart reported in July, Luc Besson's behaviour in a professional context is perceived differently by the many people we spoke to. While all agreed he is someone who is "tactile", physically touching others, some found this to be "abusive" and "intrusive", while others read this behaviour as being that of "a big kid", of a harmless cuddly nature.
"Each one has their own experience," said Swan Pham, a female casting director who has worked with Besson for the past 20 years and who remains close to him. "With me, in any case, he never displayed a gesture or anything else that was improper. It was always very professional." She described Besson as someone who is "precise", "steady", and who "can become quickly annoyed if we are not precise ourselves". She added: "Sometimes, he sees people one-to-one about a role, like all directors. A person needs to be wanted to appear in a film of his. Visually, he likes actresses who have an androgynous and slender side." She said that she "sometimes had to hold back young women" who "wandered into his private office to see him".
Contacted by Mediapart, Luc Besson declined to be interviewed, as he had also turned down requests for an interview in July. At the time, his lawyer Thierry Marembert told Mediapart: "The subjects you mention are the object of an ongoing investigation […] You will therefore understand that Mr Besson is keeping his answers for the investigators to who he has made himself available in order for his innocence to be proven."
Since the emergence of the rape, sexual aggression and misconduct accusations against him, Besson, questioned by police for the first time on October 2nd, has remained publicly silent about the cases. His public appearances have been limited and he has ceased posting on social media. His Instagram account, on which he was previously very active, has been closed.
female
] former EuropaCorp collaborators, but not only. Do you want to be part of the group? Let's talk. Thanks, Philippe."
Contacted by Mediapart, Philippe Kempf displayed a certain irritation when asked if women were behind the creation of the support committee. He said it was set up by "several people within EuropaCorp" and that it was composed of "people who have worked with [Luc Besson] and who appreciate him", adding: "There are lots of them, contrary to what you write everywhere." Pressed further, he said, "That's none of your business, carry out your investigation".
-------------------------
The original French version of this report can be found here.
------------------------------------------------------------------------------
If you have information of public interest you would like to pass on to Mediapart for investigation you can contact us at this email address: enquete@mediapart.fr. If you wish to send us documents for our scrutiny via our highly secure platform please go to https://www.frenchleaks.fr/ which is presented in both English and French.
------------------------------------------------------------------------------