A self-fulfilling prophecy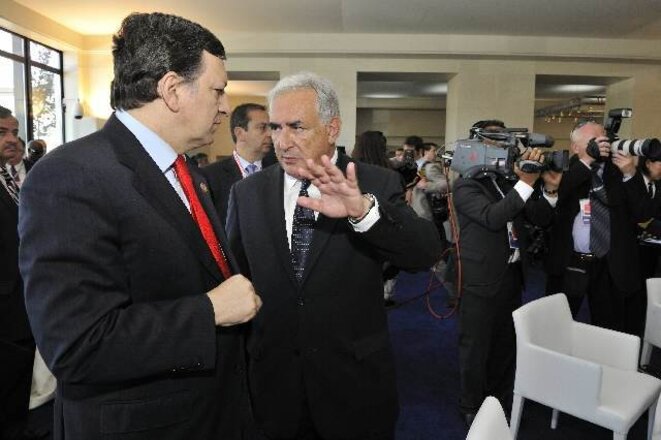 DSK with EC President José Manuel Barroso. © EU.
Gérard Grunberg is emeritus researcher at the French National Science Research Centre, the CNRS, and is a regular political commentator for the media. He noted among the IMF managing director's qualities, his "crisis management" abilities, the fact that he belongs "to the moderate wing of the Socialist Party - the centre of gravity of French opinion," and that he left "a good impression as finance minister." All of which are constantly highlighted in the media. Grunberg is convinced that the DSK phenomenon is not artificial but rather shows that "in such a serious crisis, people are looking for a leader other than Nicolas Sarkozy."
"This isn't a media phenomenon. This is not a public relations strategy," explained François Kalfon, opinion poll expert for the Socialist Party, and a DSK ally. "It is the institutes and the media that are commissioning [the opinion polls]. This is a much more serious trend. For the past year and a half, the players have not changed very much with two of them clearly out front" (DSK and Aubry), he added. But he also admitted that the opinion polls in no way "predict" the outcome of the ballot and that they are, in part, a "self-fulfilling prophecy".
"We are not duped by our tool, and manipulation is possible," admitted Fourquet. "But we don't write the editorials, we question people. The opinion poll measures a balance of power, it can reinforce a trend but in no way can it create one." This view is shared by Dominique Reynié: "I can't imagine imposing something on an entire complex society composed of people rooted in their self- interests and their own ideologies," he said. "If we want to impose something on them, it fails. It only works if the supply corresponds more or less to the demand."
Meanwhile, the pollsters and the pundits are gearing up for the next episode in this political saga. Undoubtedly the impatience of commentators to know if Strauss-Kahn will or not run will become increasingly pressing. This will likely lead to further questions about the lengthy Socialist Party primary timetable and to speculation over a supposed weariness of the French public at the Socialists' shilly-shallying.
-------------------------
English version: Patricia Brett