UPDATE November 14th: French President Nicolas Sarkozy has re-appointed François Fillon as prime minister, and the long-awaited ministerial reshuffle has been announced. The president hopes it will turn a political page on a volatile social crisis and the scandals that are rocking his presidency.
In this article originally published in the run-up to the announcement, Mediapart's Laurent Mauduit argues that the stage-managed media rumours about the composition of the new government and an abscence of political debate speak volumes about the president's attachment to democracy as well as the extent of a crisis within his own political camp.
Given the minor role that has become that of the prime minister and the government, a ministerial reshuffle in France is never of any great importance. For any French president, the operation is most often the opportunity for a little policy re-orientation, usually in economic or social areas, or the pretext for a few human adjustments. It is as if it were a part of the genes of the Fifth Republic.
But it would be a mistake not to take a closer look at Nicolas Sarkozy's stage managing of his upcoming reshuffle. The president so uses and abuses the exorbitant powers given to him by the Fifth Republic's neo-Bonapartist institutions that the approaching manoeuvre is a parody, a mediocre communications operation caried out with the -– vain - hope that it will turn the page on a social crisis (that created by the pension reforms) and scandals of state (the Karachi and Bettencourt affairs). A farce then, which will allow him to occupy the news agenda and give the impression that he has things under control.
This forthcoming reshuffle says a lot about 'Sarkozy-ism', the troubling elements driving it, and the liberty it takes with our democratic institutions. But it also reveals the ever-deepening crisis that is developing within the French conservative Right.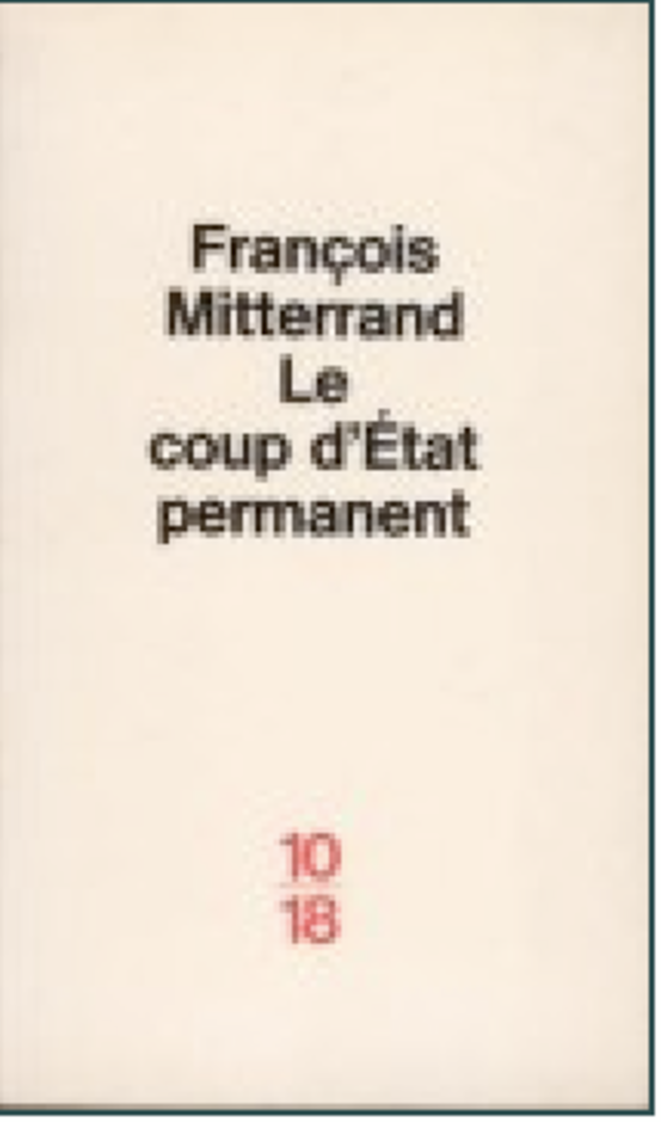 The secondary role played by the office of prime minister since 1958 was best described by
François Mitterrand
, well before he became president. In his book '
Le Coup d'Etat permanent
' (The permanent coup d'état), written in 1964, he protested at the vast powers enjoyed by the French president. "The prime minister is his aide-de-camp, the others his orderlies. None of which prevents him from watching closely over his little world and to keep a squad of dark and diligent attachés who orientate and control ministerial actions from within the Elysée Palace. Members of government know that their fate depends upon a whim, and to adapt to this they allow themselves to be tamed in a manner that bends backbones. Most of them succeed without changing character. Others suffer, but claim extra merit in meeting the difficulty they have to show their servility."
These words written 46 years ago could have been describing the 'Sarkozy-ist' use of institutions. "There are ministers in France," Mitterrand sarcastically observed. "It is whispered that there is even a prime minister. Only the president of the republic orders and decides. Ministers are, of course, ritually called upon to give him help and advice. But, like the cherubims of the Old Testament, they hold only a modest seat in the hierarchy of elected servants, and only occupy their grand office after waiting for the call."
What Mitterrand describes as a "permanent coup d'état" and the ministerial taming that "bends backbones" has been taken to its highest level, caricatured even, by Nicoles Sarkozy. Previously, amid successive governments led by the Left or the Right, ministers with strong personalities have made their disagreements known. But not since Nicolas Sarkozy became president. Petty officiousness has been elevated into a political principal. Only one real man in front, all the others behind. There is no true government left standing, transformed into an assembly of courtesans.
Mitterrand: poacher turned gamekeeper
In the past, some reshuffles had strong significance, despite the effect of the institutions created by General de Gaulle, when a new prime minister would lead a partially renewed political programme or, at least, one that has changed in its areas of emphasis.
That was notably the case under the Left. That said, one of the greatest failures of the Left while in power, and which they are still paying for, was to submit to the institutional system established under the Fifth Republic. Mitterrand himself, after having denounced with flair the "permanent coup d'état", scandalously profiteered from the powers afforded him when he himself was president, between 1981 and 1995. During his two terms in office, there were indeed many ministers who illustrated the backbone bending he once wrote of.
There were also, however, a few exceptions. The government led by Prime Minister Pierre Mauroy between 1981 and 1982 had very different policies to that of his successor Laurent Fabius in 1984. Similarly, when Mitterrand appointed Michel Rocard prime minister in 1988 it was a symbolic appointment that announced a new political direction (at the time described as "ni-ni", or nor-nor –- neither privatisations nor nationalisations).
The same can be observed, at certain periods, under the Right. There have even been reshuffles when, without any change to the prime minister, economic policies have been given a clear change of direction. President Jacques Chirac's first government, beginning May 1995 and led by Prime Minister Alain Juppé, introduced policies that embodied Chirac's election promise to reduce the "social divide", by raising the minimum wage and increasing the limits of a "social solidarity" wealth tax (which caused and still causes the ire of the business world). The second Juppé government, the result of a reshuffle in November 1995, took on a quite different character, with its policies focussing on deficit reduction. It is worth noting also that the former Gaullist Right held a number of currents in its midst, from that of Philippe Séguin to that of Edouard Balladur, which were led by personalities who were not tamed by their participation in government.
Thus it is that 'Sarkozy-ism' is the caricature of a system that is, in itself, already a caricature. He could not care less about the democratic breath-taking and reflection, real or apparent, that a reshuffle offers. Meanwhile, among the leading groups of his ruling UMP party there is no debate about political orientation, about the urgent issues facing France and there is no inter-ministerial debate. Everything happens as if those close to Sarkozy are nothing more than puppets in a show, bouncing around to a script.
A mediocre theatre of shadows
The questions that have filled the news coverage over recent weeks illustrate a system without substance, one that excites the closed salons of Paris chattering classes but which have no true interest for the country at large; with his new hairstyle, had Jean-Louis Borloo1, tipped by some to replace current Prime Minister François Fillon, adopted the look of a potential prime minister? Did Fillon accompany the president during his last official visit and does that signify that he has a chance of staying in his job?
It is all a staged show, directed by Nicolas Sarkozy in order to attempt a get-out of the deep social crisis that has now openly flared up with the pension reforms protests. That crisis will not end with the recent adoption of the pension reform bill, and it is increasingly shaking the regime in power, one that is also stained by the Karachi and Bettencourt scandals (with the Wildenstein affair waiting in the wings).
François Fillon and Jean-Louis Borloo, the two main actors of this theatre of shadows, are as mediocre as the script. Who could, for one moment, pretend that they incarnate policies of any real political sensitivity or significance?
The milestones along Fillon's professional path show him to be a follower of Séguin one day, of Chirac another and of Sarkozy the next. Since 2007, he has accepted without protest every humiliation inflicted by the Elysée - and there have been many! Others would have resigned, but he has submitted to them all, showing himself capable of the most extraordinary bending of the backbone.
With regard to Jean-Louis Borloo, battalions of spin doctors could be employed to conjure up an appearance of a man who carries an interest and sensitivity for social policies, but their best efforts would be entirely in vain. His close links with Bernard Tapie, a former client of Borloo's when he was a lawyer, have seen him lobby behind closed doors in favour of his multi-millionaire friend during his legal battle with the Crédit Lyonnais bank. Yet he was presented to us as someone close to the humble and poor of this world.
In truth, the reshuffle is already pre-announced as a derisory and pathetic event, and some on the Right are worried about it. Among business leaders - who are hardly usually prepared to make public their views but who have become concerned by the current crisis surrounding Sarkozy - these include his old friend Martin Bouygues, head of the French construction giant Bouygues, and Henri de Castries, head of the Axa insurance group.
Another indication of the malaise was the thunderous outburst by former French Prime Minister (under Jacques Chirac) Dominique de Villepin, a longstanding bitter rival of Sarkozy within the UMP party, who on Sunday November 7th told French radio station Europe 1: "I say that Nicolas Sarkozy is today one of France's problems […...] and it is time to close the political parentheses that we have lived with since 20072." Two days later he was back on the attack: "Nicolas Sarkozy is not my problem, he is one of France's problems, which means that we are no longer in an anti-Sarzozy period, we are beyond 'Sarkozy-ism'", he told news radio station France Info.
Of course, one could see this outburst as one nourished by a fury towards the president who remains Villepin's main rival. But there is more to it than that. Let us put aside for a moment the jealousy and internal wars within the UMP party. If possible, let us forget Villepin's dashing Bonapartist style on the international stage, and the less flamboyant one that is muddled regarding internal policies. Dominique de Villepin sums up the feeling of urgency which, for diverse and sometimes contradictory reasons, is sweeping the country both Left and Right.
"Nicolas Sarkozy is today one of France's problems," he says and that is indeed what transpires from the social crisis and the state scandals that have engulfed his presidency, and what is expressed in the waves of strikes and demonstrations that have swept France these past weeks.
--------------------------
1: Until the November 14th re-shuffle, Jean-Louis Borloo, 59, was Minister of State, and Minister for Ecology, Energy, Sustainable Development and Fisheries.
2: Nicolas Sarkozy was elected as president in elections held in May, 2007.
English version: Graham Tearse