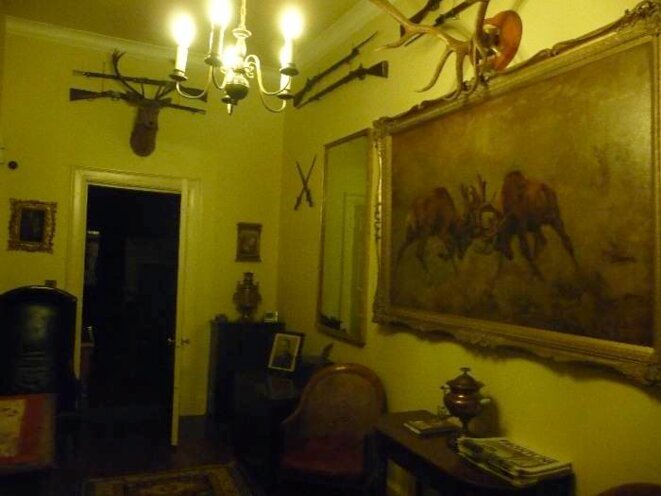 Le hall d'entrée et ses divers trophées.
Ellingham Hall, a Georgian country manor house surrounded by 600 acres of woods and fields, is bathed in the eccentric atmosphere of some other world that only the British upper classes can create. It is the property of Vaughan Smith, a former Grenadier Guards officer who became a freelance journalist, and whose family has owned the estate for more than 200 years. In 2003, Smith founded the Frontline Club, based in Paddington, London, as an establishment created to champion independent journalism and, explainsits website, "in honour of colleagues at the Frontline Television News agency who died pursuing their work". The Frontline TV agency was created by Smith after he left the army.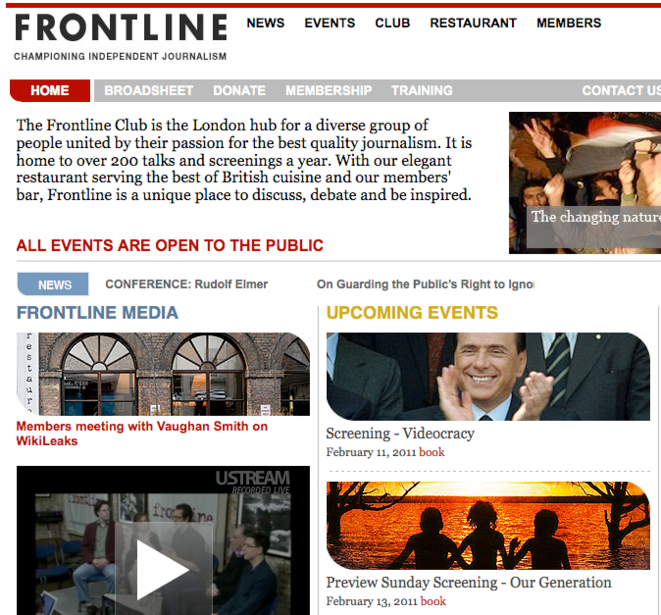 La page d'accueil de Frontline.
Photos of Smith's not-so-distant military career line the walls of the downstairs toilets. The manor is decorated by many old portrait paintings, which include men in uniform sporting numerous military medals. Among them is probably that of John Smith, an army officer and ancestor of Vaughan who served in colonial India, and who inherited the property in 1846. He is said to have brought back to Norfolk the remains of six out of the 99 tigers he shot while serving in Asia.
On the morning of the day of our arrival at Ellingham Hall, while Assange was interviewed by other journalists, the grounds were the scene of the last pheasant shoot of the season, when 28 birds were bagged. Late that same day, when the moment of our departure approached, in the vast kitchen where we had interviewed the WikiLeaks founder, the 'lord' of the manor came in to pay his respects, dressed in knickerbockers and tall red socks. Then, leaving us to our computers set up on the table, he sat down to a meal on his own, a cream-covered cake of sorts, along with a glass of Bordeaux wine.
That Monday January 31st proved to be an amusing escapade. Our meeting with Assange had been organized with elementary precautions and strict timings. They were, however, calculated without dialing in the unpredictable, privatised British railway system; our train left late from London's Liverpool Street Station, making us miss the planned connection at Ipswich. Back on track, we took the long, slow-train up to Saxmundham, then took a collective taxi ride to our final destination amid the deserted countryside. All in all, we had left London at 2p.m.to arrive at Ellingham Hall at 6 p.m.
The late arrival flustered us but no-one else. We had expected to find ourselves amid a hive of computer activity, all agitation and stress. We discovered a relaxed and peaceful Julian Assange, chatting as if he had all eternity before him, which was apparently uncontrived.