Dusk was falling when the minibus carrying Carina, Sandrine, Nasrin and Valérie followed the winding country road in the Drôme département (equivalent to a county) in south-east France, heading towards a gîte where they would spend the next five days. The four women are all victims of domestic violence, and their stay at the rented house was organised by an association called Femmes répit (literally, "Women respite") which offers them and others like them a chance to disconnect from their distress.
"I had the feeling that there was another form of accompaniment missing from that which existed," explained Justine Louis, a co-founder of the association. "We are two co-founders, who both took part in several stays offering rest to children who were receiving palliative care, and we sought to adapt the concept to women victims of violence."
The project is unique in France, and aims to help the victims begin the long process of reconstructing their lives. During the five days, they take part in activities like hiking, equine therapy – soothing activities in contact with horses – dance lessons and creative classes, all of which are designed to bring back a feeling of joy. The costs of the five-day sojourn are entirely met by the association, which raises the funds through crowdfunding and public subsidies.
"This human warmth, this kindness, is not what I have been used to," commented one of the four women, Valérie, speaking of the volunteers who accompany the women during their stay. "I have not evolved in such a world, and it does good to see that people like that exist." The experience is in stark contrast to the usual path for recognised victims, involving lengthy medical treatment and the navigating of a legal maze. "We even forgot why we were here," commented fellow domestic violence victim Sandrine.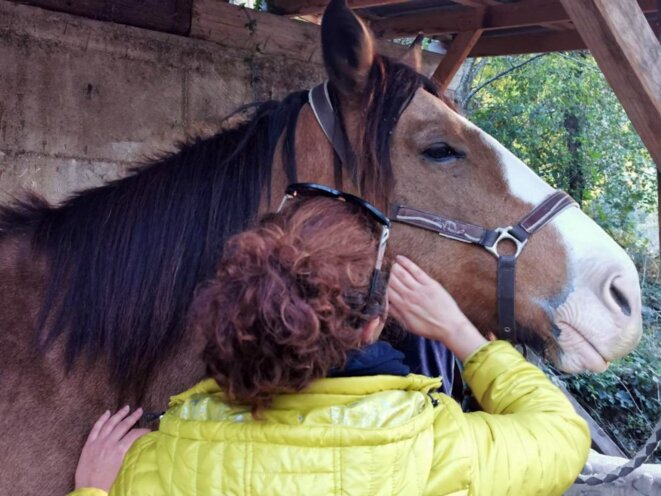 The association 'Femmes répit', based in the Drôme, offers women victims of domestic violence a five-day sojourn in the countryside with activities to relieve their distress, including 'equine therapy' which involves the soothing close contact with horses. © DR / Femmes répit
In this same département is another association, Les Chouettes, also offering help to women victims of violence, situated in an area called Le Diois which lies at the foot of the Vercors chain of mountains and plateaux. To counter the problem of rural isolation in which victims can find themselves, far from public services, Les Chouettes provides a support network to give assistance in cases of emergency. The association, which also organises workshops, operates on shoestring budget; it has no office and its volunteers meet victims at their own homes, where they also often provide storage for the belongings of those who have been forced to move out.
"We have around fifteen people who act as relays," said Françoise Mar, co-president of the association based in the small town of Die, lying in a valley that attracts large numbers of tourists. "Here, the 'hippy' town is also a violent town and very little attention is paid to the young, very little to the elderly and to handicapped people, who are over-exposed to violence."
Marie-Pierre Monier, a socialist senator for the Drôme, has long been concerned by the issue of domestic violence. Vice-president of the French Senate's women's rights delegation, she and seven other senators published a report last October on the issue of inequalities for women living in France's rural regions. The report (in French, here), which involved ten months of research, included the issue of domestic violence. It found that about half of all murders of women in France occurred in rural regions, a disproportion given that rural regions account for one third of the country's female population.
The report noted that women in rural areas "are faced with an accumulation of gender and territorial inequalities" which it identified as "a lack of individual and collective mobility, more limited professional opportunities, often unstable employment, difficulties with access to public services, the abandoning of healthcare in face of gynaecological and medical deserts, isolation in face of domestic violence".
The senators also noted that none of the 181 measures set out in a 2019 government plan to improve living conditions in rural areas, a so called 'Rural Agenda', involved the specific problems faced by women, including domestic violence. For Monier, the fact that an estimated 80% of day-to-day mobility in rural regions is dependent upon the use of a car represents the "the nub of the problem".
Indeed, most of the work of the volunteers with the association Les Chouettes consists of accompanying women victims of violence in getting about by road, such as for administrative appointments or moving home.
It was at the end of their five-day sojourn with the Femmes répit association that Carina, Sandrine, Nasrin and Valérie were introduced to equine therapy, with a visit to a riding school. One aspect of this is how contact with horses can help a person to reflect upon their self-regard and their relationships with others. "In our situations, even if we've all lived through different things, I think there is a common point about the limits that we can't manage to set, or think we've set, about the firmness that we don't manage to keep," said Sandrine.
She settled in the Drôme several months earlier, where she has begun rebuilding her life and developed a certain feminist view of her situation. "Along the path I've followed for a year now, I have realised that women are conditioned into having to accept, to be in a certain role," she observed. "There is a sort of powerlessness that is learnt and passed on. During this stay, along the way, Femmes répit has offered us freedom."
But the long-term prospects for the women are challenging. "You need means to reconstruct yourself," commented Françoise Mar, co-president of Les Chouettes. "Most of them cannot take up therapy. It's as if women who had an accident are left on the side of the road, and are told 'You're going to go back home on your own, and you'll stitch yourself up and care for yourself, on your own'."
Leaving the family home or filing a complaint for violence is notably difficult in rural areas where neighbours might be friends, and where the anonymity of city life is non-existent. The initial contacts to which women victims of violence turn are most often gendarmes, doctors or local public representatives, like mayors or councillors. Senator Marie-Pierre Monier argues for the creation of a post of a gender equality representative on each local council, and among the villages of Le Diois two mayors have come forward to propose taking on such a role. Both of them – Valérie Joubert, mayor of Poyols with a population of 71, and Joël Boeyaert, mayor Aucelon with a population of 20 – say they have already had to deal with cases of domestic violence.
The gendarmerie services in the Drôme have been given training on dealing with domestic violence cases, and have been instructed to no longer accept what are called 'mains courantes', which are recorded notifications of behaviour which do not require investigation, but instead to encourage the registering of a formal complaint. The public prosecution services in the Drôme's principal town of Valence have now taken a similar approach, and which in 2020 led to 288 cases being brought against suspected perpetrators of domestic violence, compared to 123 in 2018.
While in 2020 the French government created 1,000 lodgings to provide emergency shelter to women victims of violence, which was followed by another 1,000 last year, the numbers are woefully insufficient; just 61 of these have been created in the Drôme, while in other notably large rural départements, ten were created in the Ardèche, nine in Lozère, and five each in the Cantal and Hautes-Alpes.
As a result, the local authorities have taken their own initiatives to shelter victims. In the Drôme, the council for the département provides 20,000 euros per year to a network of households which volunteer to shelter victims. But for Senator Marie-Pierre Monier, the associations involved in organising support for victims face an uphill challenge. "I have warned about the fact that the associations in the field are small and don't have the human means to carry out significant projects," she said.
-------------------------
The original French version of this report can be found here.