The Senate, France's upper parliamentary chamber, has recently put online a list of its members' outside interests. The aim is to provide transparency and reduce the risk of a conflict of interest when senators are involved in legislating on subjects they have a personal or financial stake in.
So we learn, for example, that Roger Karoutchi, senator for the Hauts-de-Seine department west of Paris, is also "an advisor on a potential television series" and that René Vestri, senator for the Alpes-Maritimes in the south-east of France, owns shares in a private beach at Saint-Jean-Cap-Ferrat, an exclusive resort on the Côte d'Azur. The register of members' interests also reveals that André Gattolin, a former director of marketing for the daily newspaper Libération and another senator for the Hauts-de-Seine, is a "consultant in journalistic services" and that Ronan Dantec, a senator for the Loire-Atlantique in the west of France, is an "author of illustrated history books".
It's far from clear that these particular details will make a major contribution to preventing conflicts of interest among senators. But for those elected representatives with many and extensive outside activities such as billionaire businessman Serge Dassault, senator for the Essonne department south of Paris, and financial expert Philippe Marini, who is president of the Senate's finance committee and a senator in the Oise, north of Paris, the exercise does represent more of an inconvenience. The listing of their many different positions in private companies in this way inevitably raises questions.
Below in French is the declaration of interests from Serge Dassault: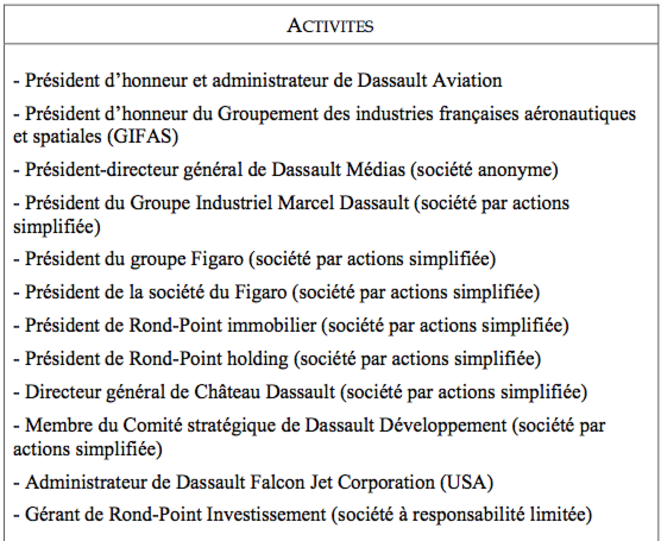 This is the declaration by Philippe Marini::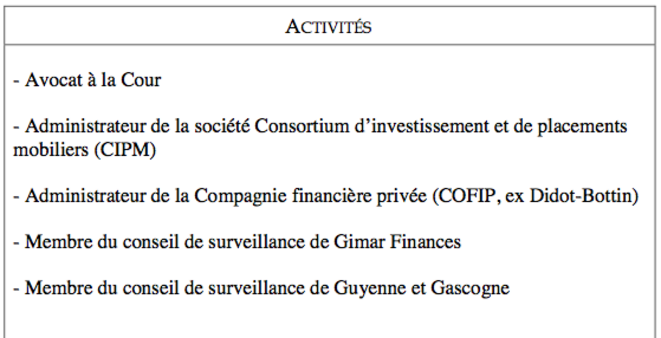 In particular the online declaration of members' interests will be hard for a series of elected politicians - largely unknown to the general public – who have until now lived a hidden double or even triple life sheltered from media scrutiny.
The 348 senators were asked by the new Left majority in the Senate - brought about by last September's Senate elections - to produce a declaration that listed in one section their "professional or general interest activities, even if not paid", and in another their "financial involvement" in businesses. This means shares and securities above a value of 15,000 euros. The aim is that this transparency will not just make journalists and the public take note of their activities, but also fellow parliamentarians too.
Up until now only government ministers have been subject to a similar procedure, as Members of Parliament - députés – have preferred to make their declarations of interests just to an internal ethics commissioner, and no one else.
Within ten days of the list going online just a couple of senators had still not completed their declaration. Many of the senators – doubtless a majority – have simply replied "Nil" to the question about their other financial interests. As for example the former sports minister and current Paris senator Chantal Jouanno.
The Senate has not, it is true, put in place any sanction for those members who might "omit" to reveal their private interests. In the same way the authorities ask for no information on the payments themselves. So, for example, it is impossible to know what salary Pierre Charon – the former advisor and confident to Nicolas Sarkozy and now a senator for Paris – pays himself as head of Janus Consultant, his communications consultancy business.
In the end one imagines that a number of senators - whose CVs have not been examined by journalists up to now – will merit being placed under greater scrutiny each time Parliament legislates on their sector of activity. For example Daniel Laurent, senator for the Charente-Maritime in the west of France who is chief executive of a transport company, Transpost Océan, which turned over 3.7 million euros in 2010; François Zochetto, senator for the Mayenne in north-west France and shareholder in a group – Grevet Prévosto – specialising in restoring old buildings; Alain Chatillon, senator for the Haute-Garonne in south-west France and boss of Ramses, a holding company with a stake in a cosmetics laboratory, Biocos Marketing Développement, and a pharmaceutical laboratory, Top Pharm; Ambroise Dupont, senator for Calvados in north-west France, horse breeder and a member of several racing businesses; Marcel Deneux, a senator for the Somme in northern France, who is "vice-president of Alliance, an agri-food company".