His name has dominated political discussions and gossip in recent weeks. Would environment and energy minister Jean-Louis Borloo fulfil a dream, and be made the next prime minister of France in President Sarkozy's reshuffle, which was finally announced this weekend? In the event, François Fillon was re-appointed prime minister, leaving Borloo's political future uncertain.Was it all political bluff, or was there something that always made Borloo a prime-minsiterial candidate who never could be chosen?
The qualities claimed by Borloo's supporters were that he is strong on "social" issues, that his instincts as a centrist politician are inclusive, to bring together different sections of society, including trade unions.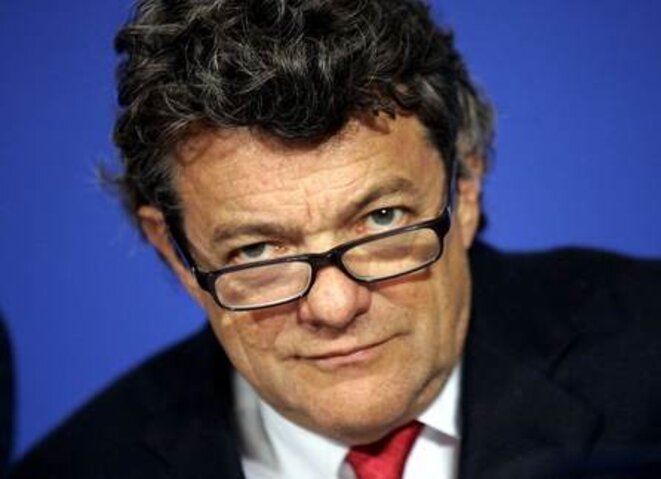 Going up or out? Jean-Louis Borloo. © dr
But none of those opinions are shared by François Chérèque, general secretary of the CFDT and one of the most powerful trade union leaders in France. ""I can see absolutely no 'social' side in someone who has not said a word about the blocking of social dialogue in the last six months," commented Chérèque, referring to the anger among French trade union anger at the way they feel the government's controversial pensions reforms were bulldozed through without proper consultation.

Chérèque also recalled that Borloo, 59, was the employment minister in 2006 when the government, under then prime minister Dominique de Villepin, tried to introduce a controversial and largely unpopular new work contract for young people called the CPE(Contrat de première embauche). It was eventually withdrawn after huge protests. "So we're used to Monsieur Borloo, who uses doublespeak, who says nothing when he has responsibilities," added Chérèque.

© dr
The minister has a rare ability to dodge bullets and questions about his life, to hide embarrassing facts. There is just one biography of him - '
L'Impossible Monsieur Borloo
' by Vincent Quivy -– despite the fact that he has occupied an important place in politics for more than 20 years.
Borloo does not engage in re-writing history, or telling lies - he simply has a selective memory. Just as he loves to recall the time when he was mayor of Valenciennes, a town in the
département
of the Nord, where he discovered the real world, so too he has buried his previous existence as a wealthy commercial lawyer. Yes, he admits he was the lawyer for the controversial politician and shamed businessman
Bernard Tapie
for ten years. But that is all in the past; "I was thirty and I was a little twat," Borloo told
L'Expansion
magazine a decade ago in an attempt to draw a line under the period.
But that period has relevance today. Some of France's current billionaires started to make their fortune in the 1980s with the help of Borloo's legal firm. The current number two in the government was one of the important cogs in a financial system associated at the time with the Crédit Lyonnais the bank that nearly went bust in 1993. It was at this time, too, that Borloo amassed his own personal fortune, developed friendships and networks, and built the foundations of his political career, adopting the style and image of a dabbler, one that has served him so well.
The method was simple: 'Pure financial technique'
When talking about his beginnings, Borloo emphasises his degree in philosophy and history, as well as his legal studies. His official biography also happily recalls his trip to China at the start of the 1970s when he succeeded in meeting with Mao Zedong. On his return to France, Borloo, who had also studied at the top business school HEC (L'École des hautes études commerciales), opted for a career in commercial law. He joined the law practice of Philippe Saigne, who would later become, and remains, his law partner.
In 1978 he was given his first major case, saving a building firm that had built more than 4,000 houses known as "'chalandonettes"' after a former housing minister Albin Chalandon. This was one of the great housing scandals of the 1970s in which thousands of families had been encouraged to become homeowners by buying houses that were hastily built and which were subsequently found to be full of defects.
Jean-Louis Borloo very quickly began to specialize in bankruptcy law. As a result of the second petrol crisis thousands of businesses, and even some business empires, were collapsing. The young lawyer had a key advantage over his colleagues; he knew all the financial practices, he could read a balance sheet and he understood the possibilities that the 1967 bankruptcy law offered as long as one did not adopt too legalistic an approach to it. Indeed, the 19th-century French writer Honoré de Balzac wrote long ago about the fortunes to be made amidst the rubble of collapsed businesses. Borloo very quickly became one of the lawyers of choice for those using the commercial courts.
However, the real turning point for Borloo came in 1982 when he led the legal dossier to save Terraillon, a well-known firm making weighing machines in the Haute-Savoie, from closing. The firm interested SDBO (Société de la banque occidentale - one of the affiliate banks of the Crédit Lyonnais) and more particularly its director, Pierre Despessailles, Bernard Tapie's mentor since 1977.
Click here to see INA archive footage of Bernard Tapie and Jean-Louis Borloo together during a conference at the French Higher Business School, in 1983 (and pictured below).
© INA
Borloo hit it off with Tapie, who had already gained a certain notoriety after his takeover of a firm called Manufrance in 1980. Borloo did all he could to help Tapie acquire Terraillon. Tapie abandoned his long-time lawyer Claude Colombani for Borloo with who he worked over the following ten years, becoming models of what was called the 'new spirit of enterprise'.
However, the Terraillon case meant more for Borloo than just linking up with Tapie. He became the contact point with the SBDO bank, and became part of the Crédit Lyonnais system. This was a secretive system, with SBDO boss Pierre Despessailles at the centre of it. He was so powerful that even Jean Deflassieux, president of Crédit Lyonnais between 1981 and 1986, could not get rid of him, despite numerous attempts.
Pierre Despessailles is also the author of a book that became a reference work on the subject of banks and bankruptcy. In 1977 he became a judge, and from 1981 he was president of the first chamber of the commercial court of Paris. That is where all the economically important cases were heard. Because of his position, Despessailles had first knowledge of the court cases and would see which ones could threaten his bank, would spot the most interesting ones and knew which levers to pull to help support a likely candidate for a takeover.
The arrival of Jean-Louis Borloo on the scene completed the picture. The lawyer was surrounded by accountants and tax experts able to dissect the files. When they arrived for a hearing everything was already in place. The method was simple. First of all they had to be sure that the company concerned still had valuable assets. Then a takeover bid was put together for a symbolic one franc –- it was rarely more –- and creditors were asked to give up all or part of their claim. Then new money was put up, either in the shape of increasing the capital to get rid of remaining shareholders (who could become troublesome) or as a form of bank credit to pay off any remaining debt. The sale of the assets was used to pay off the loans, there would follow a series of restructuring plans and the company would finally be sold with the owner and his associates pocketing the difference. "The technique is always the same for everyone, it's pure financial technique," Jean-Louis Borloo later commented.
'Corrupt system'
A third stage of the system was later added to ensure that everything went without a hitch. It was important to ensure the goodwill of the judicial administrators, appointed by the commercial court to watch over the takeover plans. The officials became directly implicated in the 'system'; if they entrusted the capital funds of the companies they were responsible for with the SBDO, the Vernes bank or the Rivaud bank, the returns were well below par. But in return for doing so, the administrators were granted personal loans well below usual rates (4% - 5% as opposed to 15% -18%). Occasionally, the banks did not even insist on the loan repayments.
These practices went on until the collapse of Crédit Lyonnais in 1993 and were only finally judged in court in March 2008. ""An examination of the facts reveals that [Pierre Despessailles] has put in place a truly corrupt system with which a good number of administrators acquiesced, with a greater or lesser degree of voracity"," the court's judgement read. It handed out suspended prison sentences to several of them. Pierre Despessailles escaped justice, having died in July 2007. The parliamentary committee of inquiry into the Crédit Lyonnais in 1994 never questioned Pierre Despessailles, though he was implicated on numerous occasions. Neither did the committee quiz Jean-Louis Borloo, who was never formerly implicated in the scandal.
Meanwhile, the law firm 'Saigne, Borloo et associés', based at 4, rue Brunel in the17th arrondissement of Paris, was visibly prospering. It was involved with Bernard Tapie's takeovers, including Terraillon, Testut, Look and Wonder. Often these takeovers were carried out with the very strong support of local politicians unable to avoid the bankruptcy of a business in their area. As for the employees of the different businesses, they would soon discover the bitter reality of the takeover plans put forward by Tapie and drawn up by Jean-Louis Borloo.
Less high-profile takeover specialists followed the same route. One was Michel Coencas, a close friend of Borloo, who expressed his admiration for a businessman able to decide on a deal on the basis of a simple phone call. And the lawyer put a lot of business his way.
Michel Coencas came from a family of scrap metal dealers, and quickly built up a business empire by buying up companies in difficulty. His main focus was in areas that did not attract much attention – scrap metal, foundries and sub-contractors in the car industry. Soon he became head of Valfond, a group worth several billion francs. Like Tapie, Coencas had problems with the tax authorities who asked questions about the to-ing and fro-ing of assets of businesses taken over. When he was given a tax bill of 11 million francs (about 1.7 million euros), he found help with Nicolas Sarkozy, then budget minister, thanks to an introduction from Christian Estrosi (then an MP, now industry minister). The tax bill was miraculously erased. Coencas, like Tapie, would later become involved in football and showbiz. Sentenced to two years in prison in 2006 for fraud, he was released in October 2007.
Meanwhile many of the 'great entrepreneurs' of the 1980s were making their way to Borloo's law firm on the rue Brunel. Among them was François Pinault, now one of France's wealthiest businessmen, then a timber merchant. Pinault quickly understood the advantages of Borloo's methods, particularly if the business concerned was in a region represented by a leading political figure. Another man to visit the law firm was Vincent Bolloré, a former pupil of the lycée Janson de Sailly secondary school in Paris at the same time as Borloo. Henri Morel, head of the company Société française de participations industrielles (SFPI), made a fortune with the help of the law firm. In fact many leading businessmen saw the merit in having Jean-Louis Borloo as their lawyer, a notable exception being Bernard Arnault, head of the LVMH group. Borloo had the keys to smoothing the way at the commercial courts and gave access to the Crédit Lyonnais and its affiliates.
___________________________________
AT A GLANCE
Jean-Louis Borloo's political career:
Mayor of Valenciennes 1989-2002.
Co-founder Génération Écologie 1990.
MP for constituency in the Nord département 1993-2002 (re-eleted in 2002 but resigned to take up ministerial position).
President of the Valenciennes metropolitan authority 2000-2008.
Minister for the City and Urban Renewal 2002-2004.
Minister for Labour, Employment and Social Cohesion 2004-2005.
President Radical Party 2005-current day.
Minister for Employment, Social Cohesion and Housing 2005-2007.
Minister of Economy, Finance and Industry May-June 2007.

Minister for the Environment, Energy and Sustainable Development 2007 - November 2010.
Big gains, low point
Jean-Louis Borloo enjoyed all the trappings of power and money, with friends in showbiz and summer holidays in Saint-Tropez. His practice is now one of the biggest in Paris. For while Borloo has cultivated his image as an unconventional, unorthodox character, he has not neglected his own interests. His practice employs 50 people and turns over more than 20 million euros a year. ""I'm not a lawyer, I'm a company boss,"" he commented in the middle of the 1980s. The lawyer has been careful to take advantage of his own advice; in each takeover deal he works alongside the person doing the takeover and gets a small percentage cut. For the record, Bernard Tapie made more than 600 million francs (91.5 million euros) in capital gains through the sale of Look, Wonder and so on. Borloo naturally took his cut.
In 1988, Borloo even took a 25% stake in the creation of a new company, called A. Finances, based in Neuilly, a wealthy suburb of Paris. Its purpose is to take a stake in all kinds of industrial or commercial businesses, building projects, sales contracts and so on. Several of his partners in the law practice are also involved in the company. It also received the support of two major financial partners. The first was Pallas Gestion, an offshoot of the Pallas Stern bank that spectacularly went bust in 1994. The second was a Swiss holding of Italian origins called Sasea which was later involved alongside Italian businessman Giancarlo Parretti in his takeover of Pathé, and then the Hollywood film studio MGM, before itself going bust in 1991. Since it was set up, A. Finances has never filed accounts at a commercial court, but neither has it been struck off the commercial register.
It was from about this time, however, that Jean-Louis Borloo began to put some distance between him and his life as a corporate lawyer. In 1986 he was approached in his capacity as a lawyer to have a look at a takeover deal involving Valenciennes football club, which was in serious difficulkties. Like his friend Bernard Tapie –- who had taken over Olympique Marseille football club a few months earlier –- he decided to take the plunge and invest in it himself. From the football club he moved on to become mayor of Valenciennes, in 1989, and began to invest in social projects. According to his own statements, a large portion of his personal fortune - between 20 and 30 million francs –- was poured into these different projects.
At the time of the infamous 'thrown' match between Marseille and Valenciennes in May 19931, Borloo was no longer president of the football club. The president then was one Michel Coencas. But once again Borloo remained untarnished. "The prosecutor [Eric de Montgolfier] looked for three years and never found anything,"" Borloo later remarked.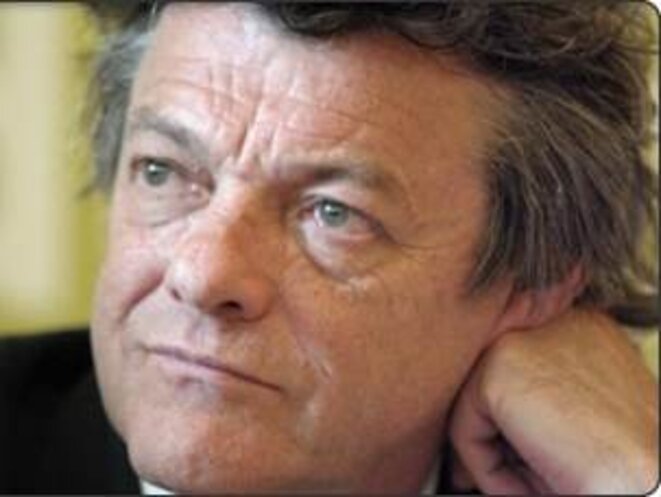 Future-gazing: Jean-Louis Borloo.
At the start of the 2000s, Borloo hit a low point, when had abruptly severed his links with failed presidential candidate and head of the centrist UDF party François Bayrou, for whom he had been spokesman. His various political adventures –- he helped found the environmental political movement Génération écologie in 1990 before joining the UDF -– had failed to give him the role he craved. In Valenciennes, things were not progressing as quickly as planned. For a time he considered returning to his law firm in which he still had a stake. He took an interest in the Moulinex case –- the kitchen appliance maker was declared bankrupt in 2001 –- and offered free advice on the takeover of the airline Air Lib. But things had changed, and the winning times of the 1980s had gone.
Returning to politics, Borloo became involved in urban and environmental issues. More discreetly he worked hard to torpedo a plan to reform the commercial courts, which followed a parliamentary committee of inquiry into the subject led by MPs François Colcombet and Arnaud Montebourg in 1998. The law would never be enacted. "I could draw a map of masonic lodges, court by court," François Colcombet said later, believing that masonic involvement was the reason for the reform plan's failure. Jean-Louis Borloo defended the commercial courts, the court-appointed administrators and the takeover specialists as being "pretty good guys", adding: "You should not judge people, but actions."
-------------------------
1: A Valenciennes player alleged that he had been offered a bribe to throw the game, which Marseille won 1-0, virtually guaranteeing them the league title. Tapie, who had been a government minister, was eventually jailed for match-fixing as well as defrauding his own club. OM was stripped of its league title.
English version: Michael Streeter
Si vous avez des informations à nous communiquer, vous pouvez nous contacter à l'adresse enquete@mediapart.fr. Si vous souhaitez adresser des documents en passant par une plateforme hautement sécurisée, vous pouvez vous connecter au site frenchleaks.fr.