Big gains, low point
Jean-Louis Borloo enjoyed all the trappings of power and money, with friends in showbiz and summer holidays in Saint-Tropez. His practice is now one of the biggest in Paris. For while Borloo has cultivated his image as an unconventional, unorthodox character, he has not neglected his own interests. His practice employs 50 people and turns over more than 20 million euros a year. ""I'm not a lawyer, I'm a company boss,"" he commented in the middle of the 1980s. The lawyer has been careful to take advantage of his own advice; in each takeover deal he works alongside the person doing the takeover and gets a small percentage cut. For the record, Bernard Tapie made more than 600 million francs (91.5 million euros) in capital gains through the sale of Look, Wonder and so on. Borloo naturally took his cut.
In 1988, Borloo even took a 25% stake in the creation of a new company, called A. Finances, based in Neuilly, a wealthy suburb of Paris. Its purpose is to take a stake in all kinds of industrial or commercial businesses, building projects, sales contracts and so on. Several of his partners in the law practice are also involved in the company. It also received the support of two major financial partners. The first was Pallas Gestion, an offshoot of the Pallas Stern bank that spectacularly went bust in 1994. The second was a Swiss holding of Italian origins called Sasea which was later involved alongside Italian businessman Giancarlo Parretti in his takeover of Pathé, and then the Hollywood film studio MGM, before itself going bust in 1991. Since it was set up, A. Finances has never filed accounts at a commercial court, but neither has it been struck off the commercial register.
It was from about this time, however, that Jean-Louis Borloo began to put some distance between him and his life as a corporate lawyer. In 1986 he was approached in his capacity as a lawyer to have a look at a takeover deal involving Valenciennes football club, which was in serious difficulkties. Like his friend Bernard Tapie –- who had taken over Olympique Marseille football club a few months earlier –- he decided to take the plunge and invest in it himself. From the football club he moved on to become mayor of Valenciennes, in 1989, and began to invest in social projects. According to his own statements, a large portion of his personal fortune - between 20 and 30 million francs –- was poured into these different projects.
At the time of the infamous 'thrown' match between Marseille and Valenciennes in May 19931, Borloo was no longer president of the football club. The president then was one Michel Coencas. But once again Borloo remained untarnished. "The prosecutor [Eric de Montgolfier] looked for three years and never found anything,"" Borloo later remarked.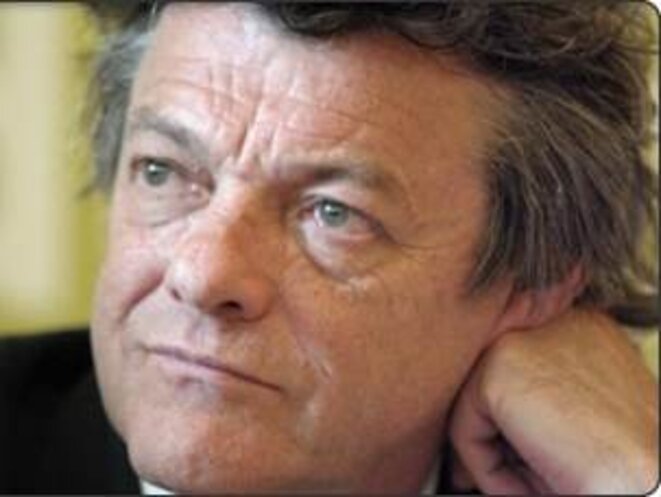 Future-gazing: Jean-Louis Borloo.
At the start of the 2000s, Borloo hit a low point, when had abruptly severed his links with failed presidential candidate and head of the centrist UDF party François Bayrou, for whom he had been spokesman. His various political adventures –- he helped found the environmental political movement Génération écologie in 1990 before joining the UDF -– had failed to give him the role he craved. In Valenciennes, things were not progressing as quickly as planned. For a time he considered returning to his law firm in which he still had a stake. He took an interest in the Moulinex case –- the kitchen appliance maker was declared bankrupt in 2001 –- and offered free advice on the takeover of the airline Air Lib. But things had changed, and the winning times of the 1980s had gone.
Returning to politics, Borloo became involved in urban and environmental issues. More discreetly he worked hard to torpedo a plan to reform the commercial courts, which followed a parliamentary committee of inquiry into the subject led by MPs François Colcombet and Arnaud Montebourg in 1998. The law would never be enacted. "I could draw a map of masonic lodges, court by court," François Colcombet said later, believing that masonic involvement was the reason for the reform plan's failure. Jean-Louis Borloo defended the commercial courts, the court-appointed administrators and the takeover specialists as being "pretty good guys", adding: "You should not judge people, but actions."
-------------------------
1: A Valenciennes player alleged that he had been offered a bribe to throw the game, which Marseille won 1-0, virtually guaranteeing them the league title. Tapie, who had been a government minister, was eventually jailed for match-fixing as well as defrauding his own club. OM was stripped of its league title.
English version: Michael Streeter
Si vous avez des informations à nous communiquer, vous pouvez nous contacter à l'adresse enquete@mediapart.fr. Si vous souhaitez adresser des documents en passant par une plateforme hautement sécurisée, vous pouvez vous connecter au site frenchleaks.fr.