As in almost every case of suicide by an inmate of France's prisons, which in July recorded a total population of close to 71,000, the prison authorities have provided little official information about that of a 48-year-old man found dead in his cell last week at the Fleury-Mérogis jail, situated in the southern Paris suburb of the same name.
According to the public prosecutor's office, no "disturbing element or factor of explanation" has yet been established for the man's act. What is known is that the man, accused of rape and placed in preventive detention, was in a quarter of the prison – Europe's largest with a total of around 4,300 inmates – reserved for newly arrived prisoners and, because he was regarded as psychologically fragile, was the object of regular surveillance.
His death apparently from hanging was discovered at about 7am on August 7th, one hour after the last check on his cell by guards. It was the 11th reported suicide in the prison, including that of a woman, since the beginning of the year (although the family of one inmate included in this total, who died on July 21st, have challenged the finding that he took his own life).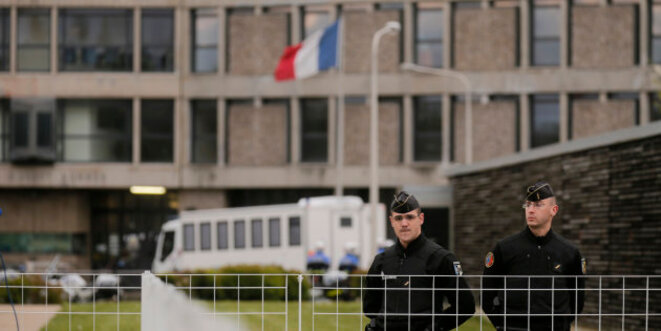 Police officers stand guard outside Fleury-Merogis prison, south of Paris, which is the largest in Europe. © Reuters
In January this year, Mediapart published an investigation of suicides in French prisons (see here, in French), with an analysis of both the figures of inmates found dead in detention and also of the causes of the problem as identified by prison staff and management and other professionals in contact with prisoners. It found that in 2017, while awaiting final official data, there were at least 72 suicides among inmates (67 men and five women). The youngest was aged 16, and the oldest was aged 70, while the average age was 37.9 years.
That provisional figure, based on limited information and which Mediapart concluded probably fell well short of the real toll, compared with 113 deaths officially recorded as suicides among inmates for the 12-month periods of both 2015 and 2016. Added to these were the deaths in similar circumstances of another 11 people who were on conditional bail (such as those wearing electronic bracelets).
The prison authorities and associations concerned with prisoner rights are at a loss to explain the alarming number of suicides at Fleury-Mérogis this year, which already surpasses the total of recorded suicides during the previous two years. But the multiple problems in French prisons, including security conditions and the ability to ensure adequate surveillance of at-risk prisoners, the notorious overcrowding of French jails (the population of inmates at Fleury-Mérogis is currently at 143% of its official capacity) and a shortfall in prison staff numbers, have been regularly highlighted, not least by a national strike by prison guards in January.
"To talk of a wave or series [editor's note: of suicides], there must be material elements, details about each case, which would permit the identification of structural dysfunctions," commented François Bes, coordinator of the investigation department of the France-based prisoners' rights NGO l'Observatoire international des prisons (International prison observatory). "That's not the case today because the prison administration says nothing."
Contacted by Mediapart in the preparation of our report published in January, the French national prison authority, the administration pénitentiaire, underlined that in 2016 it recorded a total of 1,166 suicide attempts across prisons in France, which suggests that it prevented the vast majority – at least more than 90% – of those attempting to take their lives from succeeding, an argument that the OIP does not challenge. But, questioned by Mediapart, a spokesperson for the NGO noted that, "The problem is that the administration only seeks to prevent the act [of suicide], and saves people in extremis, while relationships with the close entourage [of prisoners], perspectives, should be developed, to work on the basics".
According to the most recent published statistics by the European Union (EU) Council's agency for annual statistics on penal affairs, called 'SPACE', and which date from 2014, France has one of the highest numbers of suicides among inmates recorded among the 15 'historic' pre-2004 member states of the EU – in effect meaning the most developed EU nations – with an average of 13.6 suicides recorded for every 1,000 inmates over the period between 2010 and 2014 against an average, among the 15 pre-2004 member states, of around eight per 1,000 inmates.
Roch-Étienne Noto-Migliorino is a former prison nurse who has published a study on the organisation of medical care of inmates based on his eight-year professional experience, including at Fresnes, another major prison in the Paris region which had one of the highest suicide rates among French jails in 2017, when five inmates took their own lives. He is also a member of a pressure group "Les morts de la prison" (The prison dead) formed by several leading French charities and NGOs dedicated to fighting social exclusion. "At the Fresnes prison, where I was, there were sometimes months that went by when nothing happened then, suddenly, within a few weeks, two and then three inmates ended their lives, without one really knowing why," he said. "Among inmates who have psychological problems, the act of another person can be a trigger."
Several of the 11 prisoners who are reported to have taken their lives at Fleury-Mérogis prison this year were placed there in preventive detention. The early days of incarceration of those on remand is considered to be a time when some are most vulnerable to harming themselves because of both the trauma of finding themselves in jail and the uncertainty of how long they will remain behind bars. "Today, the most critical moments for inmates are properly identified: we know that the entry into prison, the moment of a trial, the placement in disciplinary blocks and the moments preceding release are those more prone to [suicide] acts," said François Bes.
In 2014, France's National Institute for Demographic Research, INEDS, a public body working under the auspices of the higher education ministry, published what is still today the only thoroughly researched study of the problem of prison suicides in France, which concerned the period 2006-2009. It underlined that the principal causes of distress leading to inmates taking their lives were provisional detention (remand), the placing of prisoners in disciplinary blocks, the lack of access to exterior social links, the weight of the accusations (i.e. eventual charges) against prisoners, and the hospitalisation of inmates.
One of the 11 recorded as having committed suicide at Fleury-Mérogis prison this year was Lucas H. (last name withheld), whose family reject the conclusion that he took his own life and who have lodged a complaint to that effect with the prosecution services prompting new investigations. The 21-year-old, who was found hanged on July 21st, was due to be freed in September. His family say that shortly before he was found dead he had received a visit from his mother when he appeared in good spirits and was preparing for his release. But whatever the outcome of the investigation, Roch-Étienne Noto-Migliorino agreed with Bes that it is not rare for prisoners to attempt suicide as they approach their release date. "For some, the difficulty in finding one's place again within the family following detention, the weight of guilt regarding [their] crimes and anxiety over the possibility of reinsertion can appear insurmountable," he said.
In 2003, the French government commissioned a study into how to reduce the growing number of suicides in prison, led by one of the country's prominent psychiatrists, Jean-Louis Terra, of the Vinatier hospital in Lyon. He and his panel's subsequent recommendations centred on introducing far greater monitoring of the psychological condition of inmates, significant improvements in living conditions, and access to medical help. That was followed in 2008 by another government-commissioned study of the problem, presided by Dr Louis Albrand (assisted by Terra) which, reporting back in 2009, drew broadly similar conclusions, but which also underlined the need for greater training of prison staff for the detection of prisoners at risk (meanwhile, both reports suggested that media coverage of suicides in prison had a detrimental effect on prisoner morale). "The recommendations of the report by professor Jean-Louis Terra in 2003, then the Albrand commission in 2009, were not put in place, essentially because of the lack of means and the state of overcrowding in French prisons," commented François Bes. "It is obvious that these types of measures are not considered by politicians to be very promising. The talk is of firmness, and everything that would improve the daily lives of inmates is regarded as being soft."
Noto-Migliorino agreed. "The French have little understanding of their prisons, and one still too often hears the argument that has it that 'It serves them right!'," he said. "Prisons continue to be seen not as a place to educate and avoid re-offending but rather as a place where the inmates must be given a hard time to pay for their errors. That's regrettable."
-------------------------
English version by Graham Tearse