A Member of Parliament from President Nicolas Sarkozy's ruling UMP party caused uproar across the political divide this week after denouncing homosexuals as over-represented "at the heart of power", likening gay relationships to incest, dismissing the deportation of homosexuals from France during German occupation of the country in World War II as a "great legend", and describing homosexuality as a state of "narcissism" built on "a stupid theory of genders".
Christian Vanneste, MP for a constituency in the Nord département (county) of north-east France, has caused a major embarrassment for Sarkozy, caught in the controversy just as he officially announced he was standing for re-election and which coincided with a newspaper interview in which the French president came out firmly against the idea of extending the institution of marriage to homosexual couples.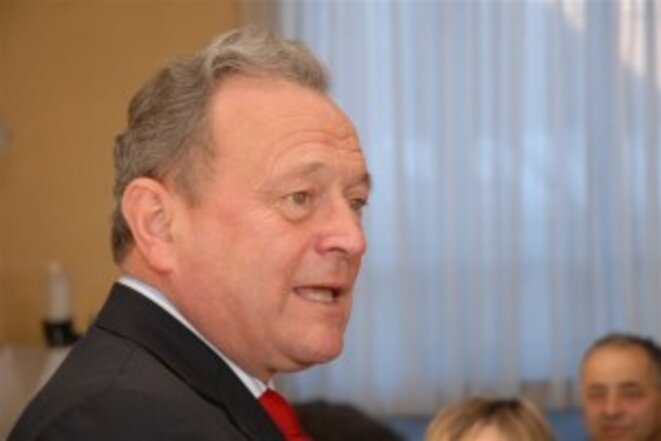 © DR

Vanneste was speaking in a lengthy video interview published on French website Libertépolitique.com, a right-wing Christian think tank, in which he described homosexuality as being a state of "narcissism", bordering on "egoism" and built on "a stupid theory of genders". He said marriage between homosexuals was "an anthropological aberration", akin to incest.
"Forbidding incest is the forbidding of the same [sexual group]," he said. "The key to humanity is exchange, the act of looking for one's partner in another group than that of oneself."
The interview was widely reported during Wednesday, hours before Sarkozy finally announced his candidature in the two-round presidential elections that begin in April. It was originally put online on February 10th, the day before publication of an interview Sarkozy gave to Le Figaro Magazine.
Asked his position on extending the status of marriage to homosexual couples, the French president replied: "I am not in favour of it", adding: "In these troubles times where our society needs points of reference, I don't think we should blur the image of this essential institution that is marriage."
Announcing his re-election bid on French TV channel TF1, Sarkozy was asked to comment on Vanneste's interview. "I would so much like that, in political life, on the Left like the Right, we stop these injurious comments that lead nowhere," he said. "I [feel] horror about anything that could, in one way or another, appear homophobic."
While Vanneste's interview rapidly began to overshadow Sarkozy's programmed announcement that he was entering the presidential race, senior UMP members moved swiftly to condemn the MP's comments. UMP secretary-general Jean-François Copé described Vanneste's remarks as "profoundly shocking and intolerable", and announced that the party would meet next week to decide on whether to expel the MP.
However, Vanneste, 64, a veteran member of the conservative UMP party and its Gaullist forerunner, the RPR, has regularly caused controversy with his outspoken attacks against homosexuals. A leading member of the UMP parliamentary group Droite populaire, which espouses hardline views on the issues of national identity, immigration and security, he has until now had the public support of the UMP, which he has argued should form a broad rightist alliance with the Far Right Front National party.
During the video interview with Liberté Politique, Vanneste said: "The media are in power. We are in a mediocratic society, a society where the media is the power. In the same way, there is a reversal regarding the situation of the [influential] weight of homosexuality in society. It is quite fascinating. It was a discreet, a marginal activity, sometimes the subject of jokes, and which did not have a significant role, even if one knew it existed. Today the situation is quite different, in as much as it lies at the heart of power, where it uses its numbers within power, it enjoys a role that has nothing in common with that which it has in the larger population."
YouTube
"In the larger population it continues to be extremely marginal, to the order of 2% or 4% at its most. At a media level, it is extremely present in events, and also [regarding an] image. Because when you have lots of people who live in a certain manner within a group, that group is naturally favourable towards them. Which is why you have great difficulty today in meeting someone who comes from the media and who is not favourable towards homosexuality," he said.
Vanneste denounced "the great legend about the deportation of homosexuals", referring to the deportation of French homosexuals to Nazi concentration camps. "In Germany, there was a repression of homosexuals and deportation which amounted to almost 30,000 deportees," he said. "And there were none elsewhere. And notably, outside of the three annexed [French] départements [equivalent to counties]. In France there was no deportation of homosexuals."
"One could even say, if one wanted to be wicked […] that when a certain number of French intellectuals were to present their respects to Monsieur Goebbels, there were all the same half of them who were homosexuals. And notably, leading them, [occupied France collaborationist leader Marshal] Pétain's minister, Abel Bonnard, who everyone knew was homosexual and who the Resistance members called 'La Gestapette', in a way that one might, accordingly, find funny, or not."