Wearing a grey suit and white shirt with no tie, an impassive Jérôme Cahuzac left the Court of Appeal in Paris on Tuesday May 15th, 2018, without saying a word. Instead he left it to his lawyer Éric Dupond-Moretti to speak to the waiting media scrum and he was careful to avoid any sense of triumph.
But there was little doubt that the verdict of the Court of Appeal had been a victory for Jérôme Cahuzac, the budget minister who resigned in 2013 after Mediapart exposed his tax fraud carried out via secret bank accounts in Switzerland and Singapore. For though Cahuzac's guilt is not in question – he was found guilty in 2016 of tax fraud and money laundering the proceeds of tax fraud and has admitted the facts – the Court of Appeal has now reduced his sentence from three to two years imprisonment. Under French law this means that President François Hollande's former minister is eligible for an adjusted sentence, which would see him escape having to spend a single night in prison. Instead he would have to wear an electronic tag.
Tuesday's verdict came despite demands from the chief prosecutor, advocate general Jean-Christophe Muller, who had urged the court not to reduce the original prison sentence. Addressing Cahuzac, Muller said: "You thought you represented the general interest, the law. In the end, you will make case law."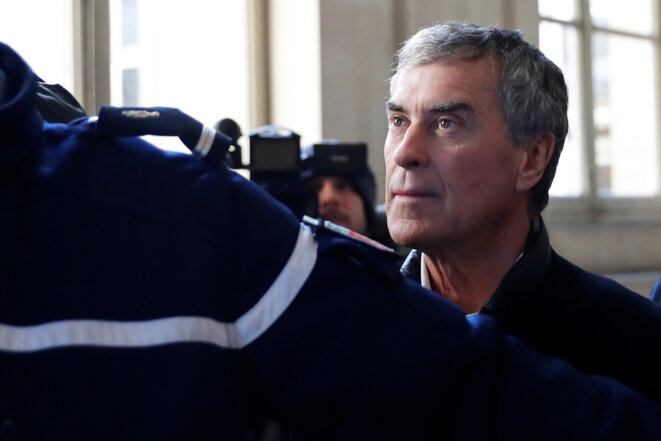 Will he escape jail time? Tax fraud Jérôme Cahuzac at the Court of Appeal in Paris on February 12th, 2018. © Reuters
However, the court's ruling that Cahuzac should receive a prison sentence of just four years, two of them suspended, paves the way for an unexpected escape from prison time for Hollande's former minister. Cahuzac's case will now go before a special sentencing judge – a
juge de l'application des peines
or JAP – to decide formally on how his sentence will be applied.
In theory Jérôme Cahuzac could still go to prison. But in practice, say legal experts, that seems unlikely, even if it is always difficult to make predictions in such cases. After the verdict the prosecution authorities issued a statement in which they declared: "The prosecution, which is in charge of enforcing sentences, is thus going to send the court's verdict to the competent JAP [editor's note, judge] who will verify if there is a possibility of a modification [editor's note, of the sentence] (for example, in the form of an electronic bracelet) depending on Mr Cahuzac's character. If, after an adversarial hearing, the JAP thinks that a modification is not possible, the sentence will be put into effect in a prison establishment."
In other words, the fraudulent former minister is not certain to serve time in prison, as he would have done had he not appealed against his initial three-year sentence in 2016. In his judgement the Court of Appeal's president Dominique Pauthe highlighted how Cahuzac's actions "came up against the republican principle of equality before the law which should be at the heart of the concerns of an elected national figure", which he was as an MP. But the judge refused to condemn the former minister to mandatory jail time, arguing that an adjustable sentence already represented a "significant warning intended to prevent the risk of the events being repeated".
The appeal court's judgement, which followed neither the original trial verdict nor the pleadings of the advocate general, is an undeniable victory for Jérôme Cahuzac and his lawyer at the appeal hearing Éric Dupond-Moretti. But is this happy news for Cahuzac as an individual also good in the wider sense of legal fairness? The answer is no.
It is a complicated debate but one worth having nonetheless. No one wishes prison on anyone. French prisons are scandalously overpopulated, some are considered to be in a disgraceful state of repair, rehabilitation procedures are sometimes poor and the removal of someone's liberty is something so serious that sending a person to prison is a decision that no judge must take lightly.
Yet, at the same time, how can one not see the Paris Court of Appeal's verdict other than as a form of leniency towards Jérôme Cahuzac? How can one not be tempted to think that some are more equal than others in the eyes of the law? The figures speak for themselves. On the day Cahuzac's verdict was announced, the website Les Jours published data from the Ministry of Justice on the number of people who have been imprisoned for tax fraud as of January 1st, 2018. Out of a total prison population of 64,000 in France, that figure was just ten.
Viewed from afar, tax fraud is a crime without violence. Yet the reality is very different. In terms of concrete impact, a tax fraudster is like someone who goes into a hospital and breaks up beds, who goes into a police station and burns bullet-proof vests, who goes into a primary school and rips up books. They are someone who, for their own personal enrichment and by declining to pay taxes, impoverishes all those around them, and along the way destroys the idea of an organised society. In May 1937 the American treasury secretary Henry Morgenthau Jr. compared tax fraud to "civilization at a discount".
And what can one say when the tax fraudster concerned was a member of the French government with a specific mission to fight relentlessly against such fraud, as Jérôme Cahuzac was? Fraud and tax evasion are not problems at the margins of the French economy any more than the scandals that occur can simply be dismissed as the seasonal colds that all democracies suffer. From an economic point of view, tax fraud and evasion deprives the French state of up to 70 billion euros, equal to the country's annual public deficit.
The sums involved in the Cahuzac case were not derisory either. According to calculations made by the national fraud prosecutions office, the former minister hid more than 600,000 euros in an account in Switzerland. Then, through the magic of offshore set-ups, the money was moved to Singapore, passing via the Seychelles. Jérôme Cahuzac also defrauded the tax authorities by putting 239,000 euros into his mother's bank accounts which were also used to evade tax. There was also a third account in his wife's name, opened in the Isle of Man, for which he had granted power of attorney.
The money that was hidden came from both his activities as a hair transplant surgeon and from lobbying services he carried out for pharmaceutical firms after a spell in the health minister's private office in the late 1980s government of prime minister Michel Rocard.
Jérôme Cahuzac is far more than a simple fraudster. He's a symbol. Because of the public responsibility he had, because of his repeated tricks designed to hide the truth after Mediapart's revelations, Cahuzac has joined the gallery of senior figures whose actions have contributed to the democratic fatigue felt by many citizens. Not to mention disgust.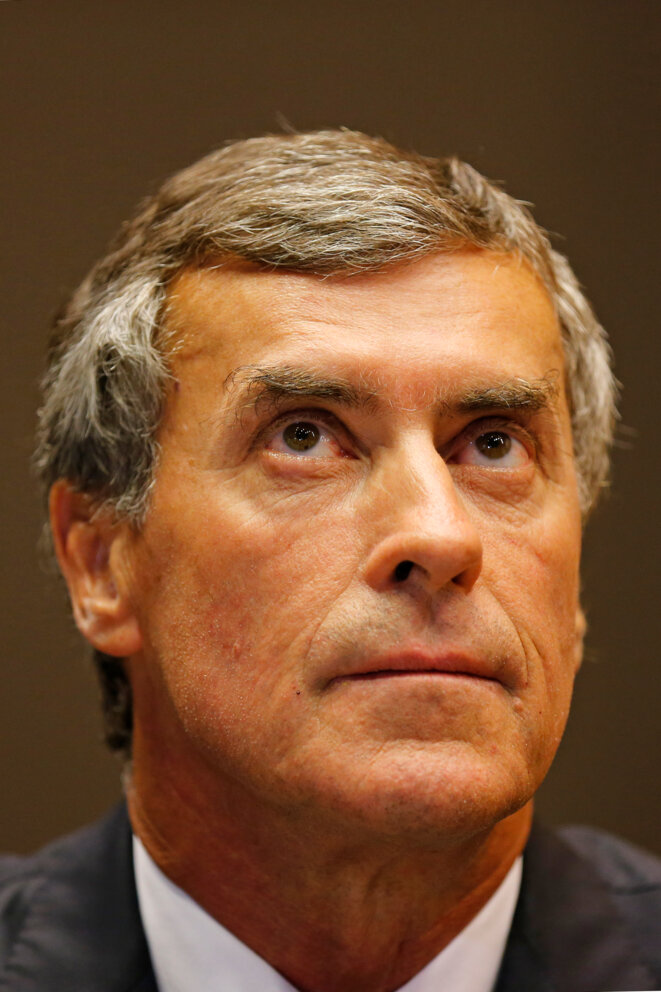 Jérôme Cahuzac giving evidence to the 2016 Parliamentary inquiry into his tax fraud. © Reuters
To avoid this being an insular French debate, it is worth looking at how so-called white collar crime is dealt with elsewhere. The lesson from other countries is that jailing such criminals is not a taboo nor is it seen as a sign of an overly authoritarian state.
In France, however, you have to go back a long way – more than 20 years – to find a politician found guilty of a breach of public probity who ended up doing time in a prison. Some past cases include that of Alain Carignon, mayor of Grenoble in south-east France, who was jailed in 1994; the mayor of Nice in southern France, Jacques Médecin, who served a year in prison in the mid-1990s, and the former junior minister for local government and one-time mayor of Angoulême in south-west France, Jean-Michel Boucheron, who was jailed in the mid-1990s. There have been no such cases since then.
In 1847, as the July Monarchy in France was being shaken by the major Teste-Cubières corruption scandal, the writer Victor Hugo warned in his journal : "When the crowd look at the rich through those eyes, it's not thoughts they have in their minds but events."
--------------------------------------------------------------------------
The French version of this article can be found here.

English version by Michael Streeter