One must keep a sense of proportion, even in this current state of euphoria, because we know only too well from where we've come. Let's savour the exploits of Didier Deschamps' team and salute this quite singular coach, who is neither charismatic nor a great tactician but rather a cub leader, head of a team of talented youngsters – even, it might be said, young footballing geniuses.
Happiness is too rare a thing to dampen with reservations, just at a moment when it is expressed with such an exceptional fervour that is so pleasing to witness. A mass party of this people of France, of France as it is today, a tricolour population of black-blanc-beur ("beur" being French people of North African family origins) as it was described when the country last won the World Cup in 1998, who after the final on Sunday rushed out to fill the same streets and to celebrate the same achievements as those of 20 years ago. They are there, under our eyes, and it's a comforting sight.
A man celebrates France's victory in the World Cup on Sunday in the Goutte d'Or neighbourhood of Paris' 18th arrondissement. © Rachida El Azzouzi
All across France, one million, or two million, or even three million – perhaps more still – turned out to celebrate. This was such an exceptional event that no-one should dare turn up their noses at the scenes. Just think how many political leaders would see themselves as the most important in the world if ever they were capable of attracting a turnout in the streets of just a tenth of such numbers.
With no hidden meaning here, this demonstration of jubilance evokes the same sentiment that French writer Albert Camus leant to Jean-Baptiste Clamence, the central figure of his book La Chute (The Fall): "Still now, the Sunday matches, in a jam-packed stadium, and the theatre, which I love with unequalled passion, are the only two places in the world where I feel innocent." It similarly recalls the phrase of Italian Marxist philosopher Antonio Gramsci when, on the subject of football, he wrote of "this kingdom of human loyalty exercised in the open air".
But that having been said, and without any reservations, and also while blowing into a trumpet and setting off the foghorns, shouting "Champions of the world" to the point of losing one's voice, we shouldn't confuse the stage of a football stadium, even a World Cup final, with the realities of a country that is worn by the rejections of racial and cultural 'identity', increasing social inequalities, and a serious placing into question of – even a rage against – politics and politicians.
It is pointless to bestow on those artists of "The Beautiful Game", who so thrilled us, any further honours than those they are capable of receiving. Our thanks to them, but they are after all only football players, grossly overpaid, and not the prophets of a new society in which problems are sorted out by spectacular dribbling or incredible saves. Even if just now they are walking on water, they didn't invent the circenses that might multiply the panem (to coin and butcher the 'Bread and circus' phrase of Roman poet Juvenal).
It is pointless to take to social media, as did the ardent French far-left NPA party militant Philippe Poutou, to compare the profound anger of political demonstrations and the instinctive fervour of those celebrating the World Cup victory. The popular Philippe simply caused a buzz. What good did his Tweet do, which was in the end cruel for both the political world and himself, neither of them capable of rousing such crowds. "[Is this] an awakening of the population that is at last mobilised against redundancies and for welcoming refugees?" he asked sarcastically. As if political engagement, profound and difficult, had anything to do with one day's popular reaction to a football match.
It is pointless to dust down the mandolins from France's first World Cup victory in 1998, when the country was supposedly witnessing a miraculous rallying together, whereas in fact it remained divided: the face of Zinédine Zidane did not change people's minds.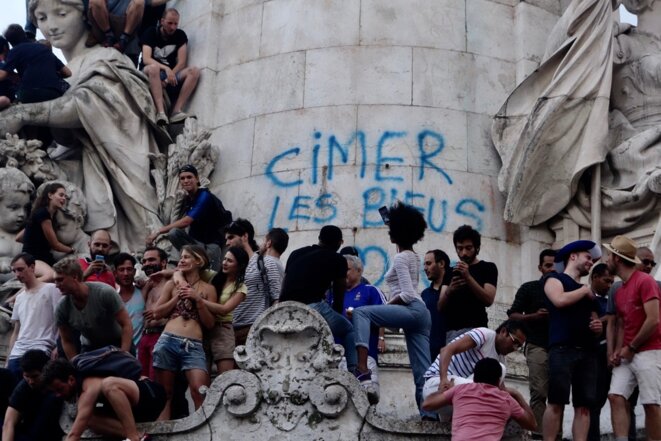 Jubilant crowds invest the Place de la République in central Paris on Sunday evening. The word "Cimer" is French slang, an inversed "Merci", meaning "Thanks" to Les Bleus, the national team. © Rachida El Azzouzi
The streets of France on Sunday evening displayed the same enthusiastic atmosphere as those after France won its semi-final game against Belgium last Tuesday. Because France has again become world champion, with citizens of all colours and origins united together in the same joyous mood. But in three days' time, or three weeks or even three months, the same distrust and suspicion between communities will continue to be expressed, just as they were following 1998.
It is not with a kick of the ball that a country's problems are solved, it is rather through educative political policies, investment in needy urban areas, by tackling discrimination, and with means that are not cut back.
It is pointless to pretend, even during the brief moment of this superb sporting adventure, that we have lived through a sort of truce regarding social and racial exclusion, or what might even be better described as ignominy. The rejection of others has been rife right along the way, ever since when France qualified for the final. Far-right writer Renaud Camus dared to say this about the match between France and Croatia, and the presence of black footballers in the French team: "I like the Africans, but for the match between Africa and Europe they wouldn't hold it against me that I support my people, the Europeans."
Camus sifts those who are grey, black, and white and chooses his side, just as, during the occupation of France by Germany, collaborators, concerned with national regeneration, chose the Third Reich in the name of that same "Europe".
It is pointless, lastly, to attempt savant analysis of the possible consequences of France's win on the popularity of politicians. The victory will perhaps, and most probably, have some influence on the reigning mood and might over a few weeks drive up the score of President Emmanuel Macron in opinion polls. But it won't change the results of the different future elections – European, municipal, regional and, in four years, presidential.
People arrive to celebrate France's World Cup victory at the La Chapelle district of north Paris on Sunday July 14th © Rachida El Azzouzi
How can one be so sure? Because never in a long while has any sporting event in which France has shone had any effect beyond a few days at an economic, social or political level. The most pertinent example – and the most cruel given that we were many to believe in our dreams – is naturally that of the World Cup in 1998. On July 12th that year, the day of the final against Brazil, France had the benefit of three favourable elements. The first was that the team was playing at home, the second was that the players were united around Zinédine Zidane like two toes on the same foot, and third was that the Brazilian star Ronaldo suffered a serious malaise the on the eve of the match and was included in the team only at the last minute – when he was not informed of the coaching staff's instructions to mark Zidane during set pieces.
Zidane went on to score twice in the first half with headers from corners, while Emmanuel Petit wrapped up the debacle for Brazil with a third goal in extra time after the second half, prompting the supporters' now celebrated chant, "Et un, et deux, et trois zero!" Then French conservative president Jacques Chirac waved the blue France jersey, while his austere socialist prime minister Lionel Jospin celebrated in his own more reserved manner. Across the country, there was a mass outpouring of happiness and which, for several days, joined together men and women of all origins, France's Blacks, Blancs, Beurs – and the phrase became legendary.
That summer, between June and August, Chirac's popularity in opinion surveys (Kantar TNS-Le Figaro Magazine) climbed by 14 points, while that of Jospin rose by nine points. The major loser was Jean-Marie Le Pen, founder and head of the far-right Front National party, who appeared to have been sent off the political pitch by this multi-coloured movement of jubilation.
But we know of course what happened next: less than four years on, during the first round of the 2002 presidential elections, Chirac garnered the lowest score until then of any president seeking re-election, with 19.88% of votes cast, and Jospin's score was so low he was eliminated from the race. Meanwhile, Le Pen caused a political earthquake by coming second behind Chirac, the two men moving on to the final second round playoff. "Et un, et deux, et trois zero!"
At this present moment of national jubilation, let there be no political commentator or analyst who forgets that after the inebriation comes the hangover. If the France which took to the streets honking car horns just now says anything about itself, it is that while it answers present for the mass rejoicing, it abstains from elections, and that this is a serious problem.
We should not mix up momentary jubilation with the future of a country. The rejoicing will be short-lived? Well, that's another reason for making the most of it. Here I leave you, or rather join you as we party together.

-------------------------
English version by Graham Tearse