Air Canada chief operating officer Benjamin Smith, 46, was on Thursday appointed as the new boss of the Air France-KLM group, replacing previous CEO Jean-Marc Janaillac who resigned in May after failing to reach agreement with staff unions over a long-running pay dispute.
While Smith had the enthusiastic backing of the French government – the French state holds a 14.3% stake in the group – his nomination has outraged almost all the staff unions at Air France. They fear that he will attempt to shakeup the airline's labour relations model, and that while staff are locked in a bitter dispute over pay demands, Smith's opening salary, at more than 3 million euros per year, is around three times higher than that of his predecessor. But they also notably complain that their new boss is not French.
Negotiations over the staff unions' pay demands have been placed on hold since Janaillac left the company, and they represent one of the first major challenges for Smith, 46, after his arrival next month. Meanwhile, the unions have expressed anger at the manner in which his appointment was made by the Air France-KLM board on Thursday.
"To have a consultation on the name of the new Air France boss on August 16th, with a section of board members at the beach, and at the same time to announce a tripling of his future salary is totally scandalous," said Karine Monsegu, joint head of the Air France branch of the CGT union, one of the largest all-trades unions in France.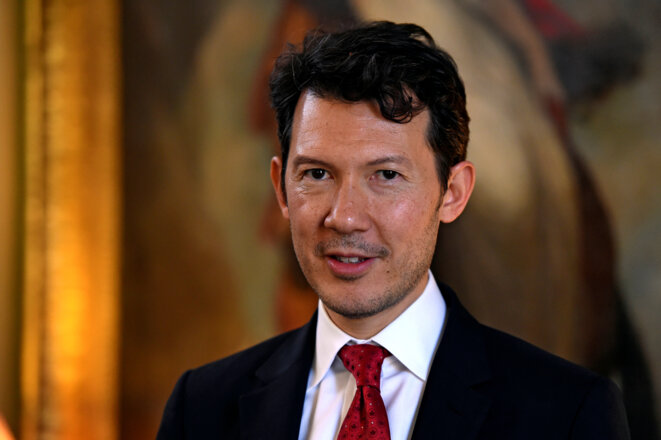 Benjamin Smith at the 2016 International Air Transport Association annual general meeting and World Air Transport summit in Dublin, Ireland, June 2nd 2016. © Reuters/Clodagh Kilcoyne
As a foreigner, Smith's appointment as the new CEO of Air France-KLM was even described as "inconceivable" in a joint statement by most of the carrier's staff unions, although that representing the largest number of ground staff, the CFDT, did not immediately react to the news.
"On the eve of a cross-union meeting this is obviously not of a nature to bring us calm," added Monsegu. The joint meeting of representatives of all nine staff unions at the airline is planned for August 27th, and some are already talking of renewed strike action, after the 13 days of rolling strikes over pay demands this spring (which the company estimated had cost losses of 335 million euros) and which ended with the resignation of Smith's predecessor Jean-Marc Janaillac, 65, who had been in the job for less than two years.
Janaillac had staked his job on the result of an all-staff referendum he called for over his proposed new pay deals that set out a 7% increase over four years. After a majority of staff rejected the offer Janaillac announced his resignation on May 4th, since when Anne-Marie Couderc, an independent administrator of the company, has served as his interim replacement as non-executive chairwoman.
Among the unions' grievances over Smith's appointment is the expected size of his salary, which is understood to be, with bonuses, at least a yearly 3.3 million euros – three times more than his predecessor Jean-Marc Janaillac. That notably jars with staff unions because of the rejection until now of their demands for an immediate 6% increase in salaries – which they argue simply keeps up with inflation. Meanwhile, interim boss Anne-Marie Couderc will continue, at least in the short term, in her role as non-executive chairwoman of the Air France-KLM and Air France boards with a yearly salary of around 1.2 million euros.
The appointment of Smith was announced at the end of a special meeting of the Air France-KLM board of directors on Thursday when, at the height of the French summer holiday period, not all members were physically present. Those on holiday took part in the proceedings by phone – "feet in the water" mockingly commented CGT union official Karine Monsegu, who said the urgency of Smith's appointment was difficult to understand given the length of time that the company had taken to find a replacement for Janaillac.
But beyond the issue of Smith's remuneration, what has particularly upset the unions is the fact that he is not French. Air France and Dutch carrier KLM merged in 2004, creating a holding company for the two airlines headquartered in France, and it is the first time that the group has appointed a non-French CEO. Similarly, Air France, since its creation in 1933, has always been run by a French national.
"It is inconceivable that the company Air France, French since 1933, falls into the hands of a foreigner, whose candidature might be driven by an industrial group that is a competitor" said a statement by the company's cross-union joint committee, in a reference to Delta Airlines, which has an 8.8% stake in Air France-KLM. "In a context where each country seeks to fiercely defend its economic interests and those of its companies, where the Trump presidency itself shows with what arms the economic war will be led, the choice of a candidate should be about defending the interests of our national company," wrote the unions.
Interviewed on radio station Europe 1, the head of the powerful French airline pilots' union SNPL, spoke of Smith's "little legal knowledge, be it only on the question of labour laws, little economic knowledge about the state of the market and competition, and little knowledge about labour relations and dialogue".
Vincent Salles, who is joint leader of the Air France CGT union branch alongside Karine Monsegu, told France Info radio that, "We think he [Smith] is here to widen the low-cost [flight division] within Air France," adding that, "There is a strong risk of strike action if Benjamin Smith is not capable of holding dialogue with the unions". Meanwhile, the pilots' union have already threatened "15 days" of strikes if Smith fails to convince staff unions of his future plans.
"That he be Canadian, American or Martian is not the problem," insisted Karine Monsegu. "But the labour model touted across the Atlantic doesn't make us dream, and we've had enough of ungrounded management which does not understand what is happening in the field. The departure of Janaillac was the glaring demonstration of this."
'A loss of sovereignty'
There is little in common between former Air France boss Jean-Marc Janaillac and his successor Benjamin Smith. In the May 4th staff referendum called by Janaillac, who had staked his job on the result, more than 55% of those who took part rejected his pay proposals, sending him packing (but also leaving the French government and the CFDT union, which had both supported his plan, in an embarrassing position). Janaillac, a graduate of France's elite administration school ENA and a former senior civil servant, spent much of his career – like many leaders of top French companies – jumping between political appointments to public enterprises notably in the transport and tourism sectors. Before his appointment in May 2016 as CEO of Air France-KLM, his experience in the aviation sector had been as a board member of Air France from 1989 to 1994 and later, between 1997 and 2000, when he served as an executive of the now defunct French airline AOM.
Smith, meanwhile, has spent almost his entire professional life in aviation. After joining, in parallel with his university studies, the customer relations department of Air Ontario, he founded a corporate travel business in 1992, also taking on a consultancy role with Air Canada. After joining the company fulltime in 2002, he successively managed two low-cost subsidiaries of the group, Tango and Rouge. While his mother tongue is English, he is also a French-speaker.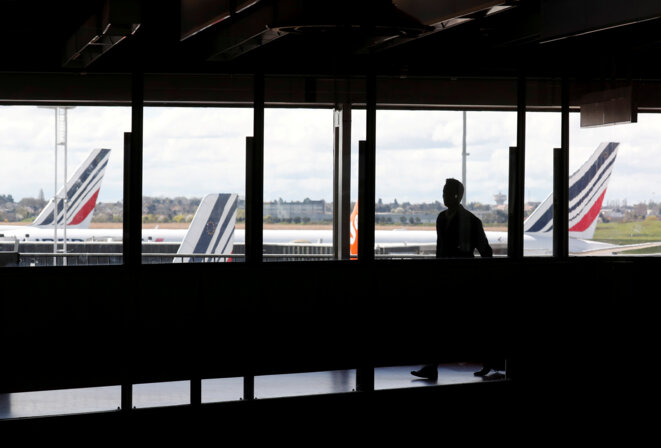 Air France planes docked at Orly airport, April 2018. © Reuters/Gonzalo Fuentes
But the competence displayed in his CV has not impressed Air France staff unions who are above all suspicious of the reasons behind his appointment. According to French financial daily La Tribune, Delta Airlines, through its 8.8% stake in Air France-KLM, strongly supported the choice of Smith over and above other French candidates in the running, including Philippe Capron, the former finance director for French utility giant Veolia, and Thierry Antinori, a former director with Air France who moved to German carrier Lufthansa and who in 2010 became sales director for UAE company Emirates. Antinori was, according to La Tribune, the preferred choice of the SNPL pilots' union. Also among the French candidates was Fabrice Brégier, former boss of Airbus Commercial Aircraft and a board member of EADS.
Meanwhile, KLM has long been urging a profound shakeup at Air France, which the Dutch partner sees as financially underperforming, in part due to its labour agreements. While latest yearly turnover figures reported for Air France operations stand at around 15 billion euros, those of KLM are at about 10 billion euros, but KLM's profit margins of 10% are twice as much as Air France. In an interview with BFM TV, Paul Farges, the representative for Air France's pilot shareholders on the group's board, suggested that KLM and Delta Airlines were allied in a plan to reform the situation at Air France. "We are fearful of a transfer of destinations to Amsterdam and KLM," Farges said. "There is a risk of a diversion, for reasons of costs, of fluxes of Air France's customers via Amsterdam airport." He claimed the supposed weakening of Air France to the benefit of KLM would represent "a loss of sovereignty".
But the French state, with a 14.3% stake in the group, backed Smith's appointment during the vote of the board on Thursday. French economy and finance minister Bruno Lemaire, on a visit to the Netherlands on Thursday, told the media that Smith had an "excellent profile" to become the group's boss, and that he fulfilled what Lemaire said were three "conditions" his government had set out for the successful candidate, namely good knowledge of the airline business, a proper understanding of market competition and professional experience with a large airline.
In its announcement of his appointment on Thursday, the Air France-KLM group issued a statement in which it underlined Smith's competence in dealing with labour relations. "Throughout his career, he has developed strong skills in management, strategy, labour relations management, marketing, and financial and operational management," it read. "In particular, he was the man behind Air Canada's growth and modernization."
Smith was involved in negotiations in 2015 and 2016 with Air Canada's flight attendants and those of its subsidiary Rouge, which ended with an agreement on new working conditions in exchange for an increase in salaries and staff bonuses in the case that the company's financial objectives were reached.
But the background to this is a situation that is very different to labour relations in France. In 2012, Air Canada was facing a desperate financial situation. The airline planned a drastic cut in salaries which escalated into a stand-off with unions which deteriorated to the point that the management threatened a lock-out. The federal government, led by conservative prime minister Stephen Harper, pushed through parliament a bill which outlawed any strike action at the national carrier. The new legislation imposed that labour disputes at the company should be submitted to a process of official arbitration, and the dispute in 2012 was settled largely in favour of the airline management, leaving the staff unions enduringly weakened.
The situation for Benjamin Smith will be very different in the increasingly probable case of a stand-off with unions at Air France, where no such arbitration requirement exists, who are already threatening strike action in the late summer if their pay demands are not rapidly addressed.
-------------------------
The French version of this article can be found here.