Riding high in opinion polls, IMF Managing Director and veteran French Socialist Party heavyweight Dominique Strauss-Kahn was until last weekend on course to sweep Nicolas Sarkozy out of office in next year's presidential elections. But the one event that his slick communications team had not allowed for, and to which they admit having no answer to, was his arrest in New York on sex assault charges. Karl Laskereports on the grounded spin strategists.
-------------------------
They form a group of high-flying communications experts, all working for the world's fifth-largest marketing and communications agency, Euro RSCG. Once dubbed, tongue in cheek, by the French media as 'the Four Muskateers', they had envisaged just about everything - except for the scenario of the cataclysmic fall from grace of the man they were championing to become France's next president, Dominique Strauss-Kahn.
They are Stéphane Fouks, Euro RSCG Executive co-Chairman, Ramzi Khiroun, a freelance consultant for Euro RSCG employed fulltime as spokesman for the Lagardère media and armements group, Gilles Finkelstein, head of research studiesat Euro RSCG Worldwide and Anne Hommel, assigned as Strauss-Kahn's press attaché.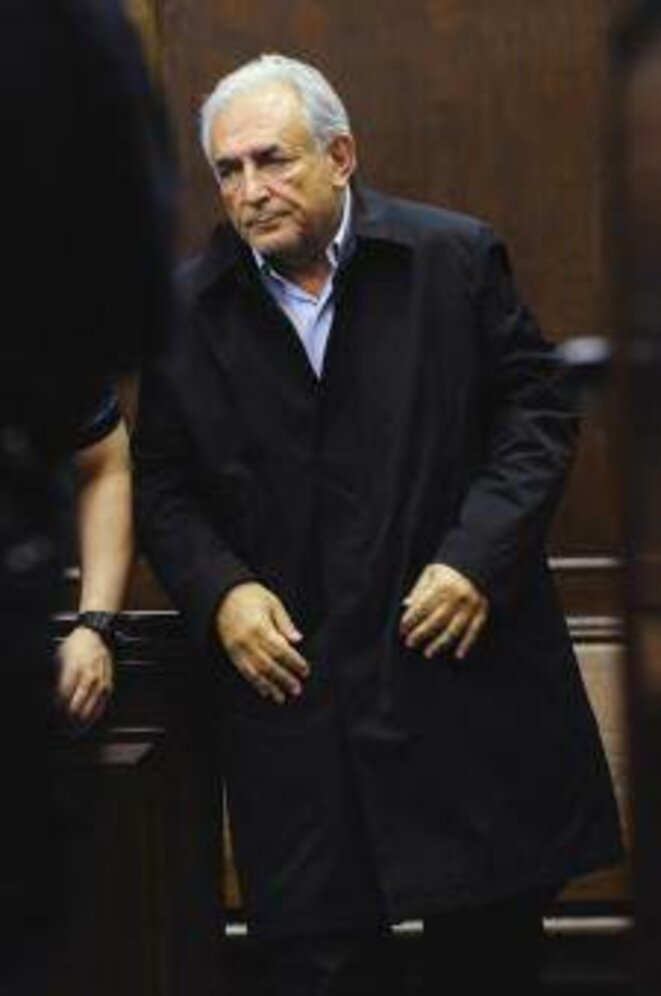 © Reuters
"It's in the United States that things are being decided," commented Léon-Lef Forster, a former French lawyer for Strauss-Kahn. "That's what makes the situation difficult. Communicating here can have effects over there. It's dangerous to improvise." That analysis met with agreement at Euro RSCG, where an executive-level source close to Strauss-Kahn's PR campaign, speaking on the condition of anonymity, admitted: "There is no media strategy [...] You don't play the French media against the American justice system."
Stripped of any communications armaments with which to affront the scandal crisis, Strauss-Kahn's advisors can only echo those comments of his close political circle at the French Socialist Party, principally the MPs Pierre Moscovici, Jean-Marie Le Guen and Jean-Christophe Cambadelis, who have all said the alleged sexual assault of a maid at the Sofitel hotel in New York on Saturday does not fit the man they know. "There are people who cannot believe it, because they know him," said a Euro RSCG source, speaking on condition of anonymity, adding that the US justice system "is violent and painful". (click here for full official text of complaints filed and here for Mediapart's coverage of his arrest).
"We have just one object, we're helping a friend," he continued. "It is the American justice system that will decide his future from every point of view. American justice will clear or convict him. The problem of the Socialist Party is completely secondary for us. We don't care about it."
Officially, there is only one precedent in his private life which his advisors were called on to deal with, although it was not a judicial case. This was Strauss-Kahn's affair with Piroska Nagy, a married Hungarian economist with the IMF, and which was made public in 2008. With the long build-up to the 2012 French presidential elections already begun, an incident concerning his private life was, for his advisors, predictable, if not certain. The IMF set up an internal inquiry during which she accused him of "abusing his position" to coerce her into the relationship. An IMF internal enquiry was opened, and Euro RSCG communications consultants were sent to Washington to handle Strauss-Kahn's defence campaign in the media. He was eventually cleared of misconduct by the IMF, (she was made redundant by the IMF).
Strauss-Kahn, 62, recently chose, undoubtedly advised, to open up a little to the media about his private life, in an interview with French television channel Canal Plus and, more notably, in an off-the-record chat with journalists from French daily Libération. Following Strauss-Kahn's arrest, Libération chose to publish what he said, infuriating his advisors, during which he spoke of how he "liked women" and referred to "photos of swinging parties that have never come out."
According to the Libération article, he above all claimed that he feared becoming the victim of a plot, suggesting a scenario whereby a woman might accuse him, "for 500,000 or a million euros", of raping her in a car park. "One element of his force is not to have lied about himself," commented the Euro RSCG source.
His team of communications advisors were involved in anticipating, clearing the road ahead of mines. A book dedicated to the IMF chief and still undeclared presidential candidate, written by Michel Taubmann and entitled Le Roman vraide Dominique Strauss-Kahn (The true novel of Dominique Strauss-Kahn), appeared to fit their tactical plan. "Taubman presenting Strauss as a grand seducer is a bit wild," commented a Socialist Party official, also speaking on condition of anonymity. "Physically, he's no Apollo [...] All these communication elements leaves one with the impression, all the same, that sex is the problem in his life."