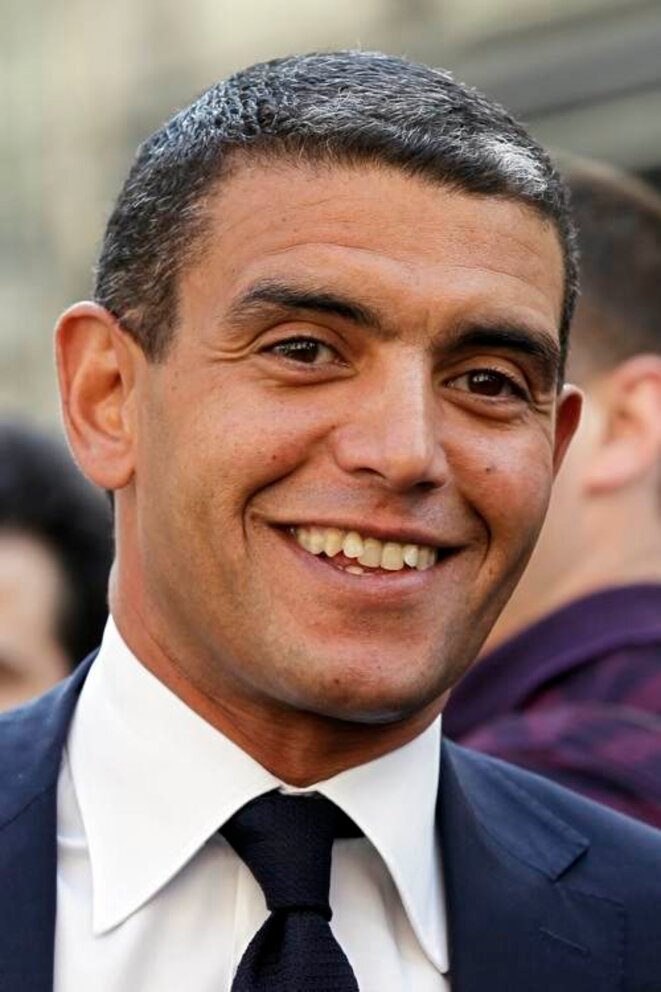 R. Khiroun © (Reuters)
During a visit to Paris at the end of April, pictures emerged in the media of Strauss-Kahn cruising around Paris in a top-of-the-line Porsche, Panamera saloon owned by the Lagadère group. It fuelled criticism of his wealthy detachment from the Socialist Party grass roots, coming shortly after the publication by Terra Nova, a think tank close to him, of a study claiming that the working class is no longer the electoral base of the left.
But it also raised questions about the ambiguous nature of his political network. Ramzi Khiroun, who has the use of the 150,000-euro Porsche in question, is an advisor for Strauss-Kahn and a consultant for Euro RSCG, while also being employed fulltime as spokesman and member of the management committee of the Lagardère group, led by Arnaud Lagardère, a member of President Nicolas Sarkozy's close entourage.
"For the Porsche, you have 89% percent of Socialist voters who [just] shrug their shoulders," said the source at Euro RSCG, dismissing the importance of the pictures. However, that was not the opinion at Socialist Party headquarters, where there was concern about the make-up of those leading Strauss-Kahn's now abandoned presidential campaign.
"Do you find it normal that Khiroun is paid by Euro RSCG and Lagardère?" asked a party official, again speaking on condition of anonymity. "And when he must choose a communications agency, how does he go about it? And how can one explain that Anne Hommel is paid by Euro RSCG when she is the FMI chief's press attaché?"
The communications agency naturally had a ready answer to that: "When things take a certain amount of time and people have to be taken care of, it's [Strauss-Kahn's wife] Anne Sinclair who pays," commented a Euro RSCG executive, who asked not to be named. "When Ramzi Khiroun was recruited by Lagardère, [RSCG co-Chairman] Stéphane Fouks sought Arnaud Lagardère's agreement to be able to continue to pay him so that he could still follow up with his clients and to continue to work with him as an advisor. He spoke with both of them about it." Thus it was that Khiroun was on call for Fouks and Strauss-Kahn, for whom his trips to Washington were paid. Euro RSCG insist that it is Anne Sinclair who pays the agency for the services.
The legal situation of Khiroun's freelancing could become a subject of concern for Lagardère shareholders, for whom the detachment of a senior executive to serve Strauss-Kahn could be interpreted as illegal. Concerning Euro RSCG, the situation was reportedly the subject of an official approval.
It wasn't until Tuesday that the ruling conservative-right UMP party gave anything other than brief comment upon Strauss-Kahn's arrest in New York on Saturday. First to break silence was French Prime Minister François Fillon, who told a meeting of UMP Members of Parliament: "If the events for which Dominique Strauss-Kahn is accused of were to be proved true, we will be before a very grave act that allows no excuse." Some interpret the relative discretion shown by the French President's office as due to the criss-crossing world of people close to both Sarkozy and Strauss-Kahn.
In video footage published on French news site LePoste.fr in December 2009, President Sarkozy can be seen joking with a meeting of UMP party faithful about how he had decided to become "the director of human resources" of the Socialist Party. "Strauss-Kahn?" he asks, "off to Washington." Referring to former socialist bigwig Bernard Kouchner, who accepted to become his foreign minister, he continued: "Kouchner? With us," before mentioning former socialist minister Jack Lang: "Lang? With me."
In an interview published shortly before Strauss-Kahn's arrest on the website of French news weekly Le Nouvel Observateur, Sarkozy's press attaché Frank Louvrier described Ramzi Khiroun as "very judicious". Referring to Sarkozy and Strauss-Kahn, he added: "We often talk together about our two mentors, and their similarities."
-------------------------
English version: Graham Tearse