The 'Karachi affair' took a dramatic turn this week following the revelations of former French defence minister Charles Millon when he testified before examining magistrate, Judge Renaud Van Ruymbeke earlier this week.
It has had the effect of a political bombshell, with demands that President Nicolas Sarkozy should now volunteer to be questioned by the judge about an affair that he has until today denied any involvement in.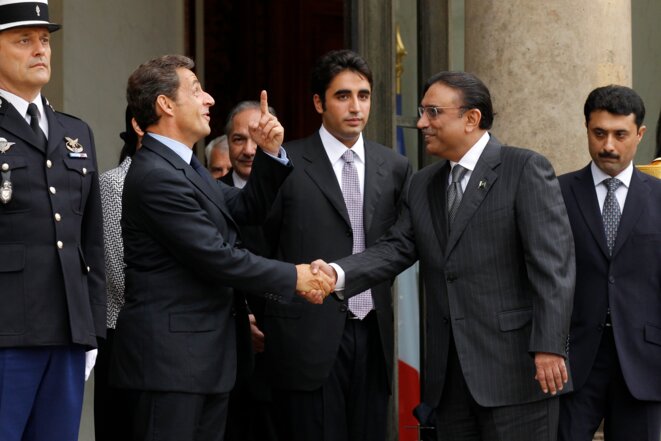 President Nicolas Sarkozy hosting Pakistani Presidnt Asif Ali Zardari, August 2010.
Further below here we reproduce Millon's testimony in full, and for the first time in English. Previous Mediapart articles detailing this very involved affair can be found here, and here and also here.
Judge Van Ruymbeke is leading an investigation into suspected payments of illegal kickbacks from the sale of three Agosta submarines by France to Pakistan, concluded in 1994. The so-called 'retro-commissions', which are sums of money paid as bribes, described as commissions, to secure a deal but which return to France through complex financial routes, are suspected of having financed the presidential election campaign of former French prime minister Edouard Balladur, in post at the time of the deal.
Importantly, Nicolas Sarkozy was Balladur's budget minister and election campaign spokesman. He has dismissed accusations that he was involved in the organisation of the alleged retro-commissions, and has also dismissed the suggestion that Balladur benefited from such a system. As has also Balladur.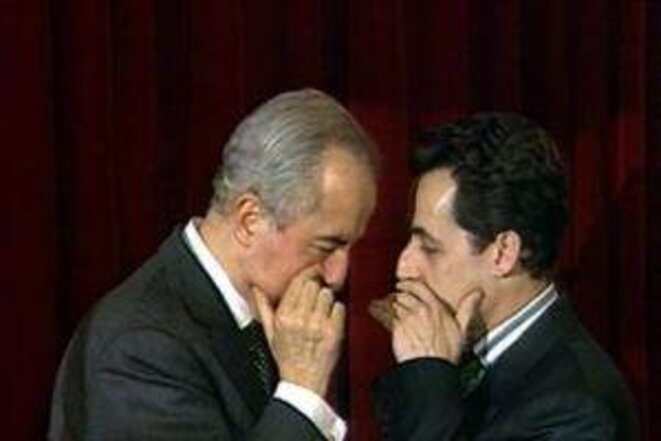 Confidential: Nicolas Sarkozy and Edouard Balladur.
The importance of the existence or not of the retro-commissions is founded in an ongoing Paris-based enquiry led by another investigating magistrate, Judge Marc Trévidic, into the deaths of 11 French naval engineers in a bomb blast in Karachi, on May 8
th
, 2002. They were working on the construction of the submarines, and Trévidic now believes the attack was in reprisal for the non-payment of bribes that had been promised, back in 1994, to local intermediaries.
The payment of commissions to local intermediaries was, at the time of the deal, legal. What was and remains illegal is the return of kickback cash to France. Balladur's political rival Jacques Chirac won the 1995 presidential election that Balladur fought and Millon served as Chirac's defence minister from 1995 to 1997. In his testimony here, Millon confirms that Chirac ordered the halting of commission payments, although he did not say this was to starve Balladur of political funding.