Mediapart: How many are there in France and in Europe? Are we talking about immigrants who settle or people who come and go?
J-P.L.: The Roma and the Travellers represent ten to twelve million people in Europe and around 400,000 in France. Their existence and their linguistic and cultural originality, after a thousand years of difficult history, negation and dispersion, are the proof of the strength of their culture, which is composed of far more than what is generally said. They are ready, if you give them the opportunity, to contribute to the economic, political and cultural dynamism of a Europe that is today distinguished by the diversity of its populations.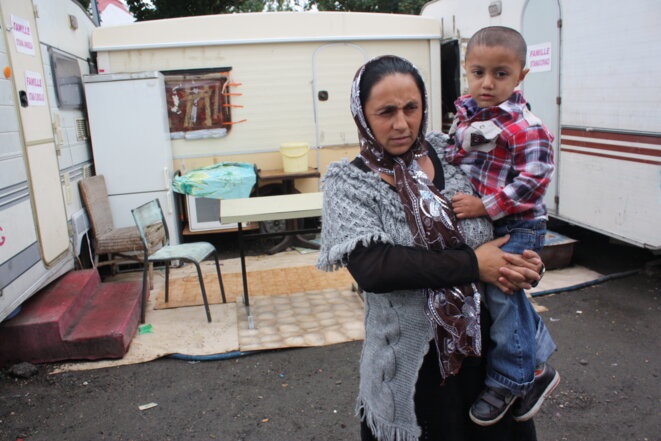 Roma reinsertion camp in Montreuil, near Paris. © E. Berthaud
The majority of families have tended to settle in one place. We have to distance ourselves from the nomad image that has attached itself to them, and, when it is appropriate, speak of mobility rather than nomadism, because often this mobility is only adapting to the living conditions that they have been given. These families didn't ask to be evicted several times a month, but they have to adapt. They didn't ask to be sent back to the border for centuries, but the wish to settle in better living conditions, or simply to survive, has led them to return to the place from which they were deported.
That said, history has dispersed families over several states, and their wish to travel comes from a desire to stay in contact through visits. This illustrates the situation that is developing today in Europe, which is marked both by an increase in mobility for various reasons - economic, family, retirement to a warmer climate - and by the emergence of minorities. These two facts are united in the Roma, who perfectly embody today's European ideal and who lived it before the European Union was even formed. Despite this, they find themselves in a paradoxical situation, as the most frequently rejected of all European populations.
Mediapart: What awaits them when they return to Romania and Bulgaria?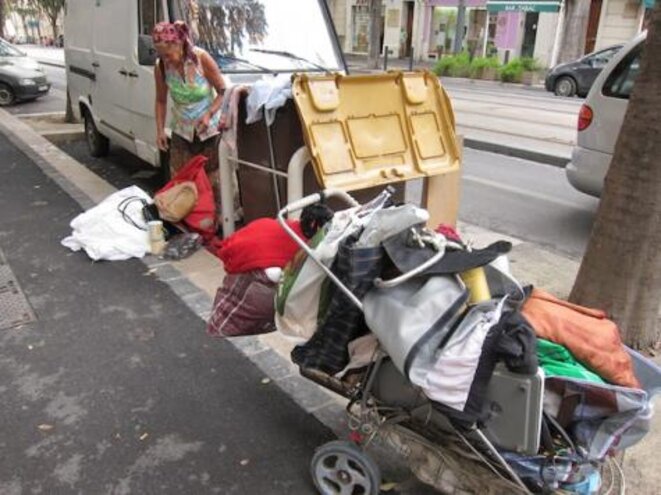 Roma woman searching bins in Marseille. © L.F.
J-P.L.:
A difficult economic situation, which only exacerbates a latent rejection that is quick to manifest itself. This makes it difficult to find work because discrimination is very active there. In these states and elsewhere, the Roma easily become scapegoats in every domain because they are in a weak position. All the more so since the families that have come to France, in the difficult conditions we know of, were in their country of origin among the poorest, the worst housed and the worst employed when there was any employment [...] What's more, in November 2008 the Senate Finance Commission was already worried about the cost of sending them back across the border. Sending them back works out at 20,970 euros per person. The cost of sending back 100 people, which works out at two million euros, could therefore have been used to start a positive policy of sustainable integration in France.