Mediapart: The French government rejects any responsibility for Romania and its lack of a policy of integration for the Roma, while the Romanian authorities argue that 'the Roma problem' is now a European issue. How can we resolve this debate?
J-P.L.: It's true that there are more than two million Roma in Romania, which shows that it's a question of scale. Ten percent of the Romanian population is Roma. It's as if there were more than six million Roma in France and the government said it didn't want 10,000 of them. It's true that they have encountered difficulties in Romania, for economic reasons as well as discrimination. But it's a mistake to raise a hue and cry against Romania, to blame it for all ills. It has its share of responsibility but not all the responsibility. It is developing several initiatives in favour of the Roma, and it's the first state in Europe to have innovated in several domains, such as instigating a network of education inspectors, Roma health and education mediators, distance learning for Roma teachers, development of specific teaching materials, and so on.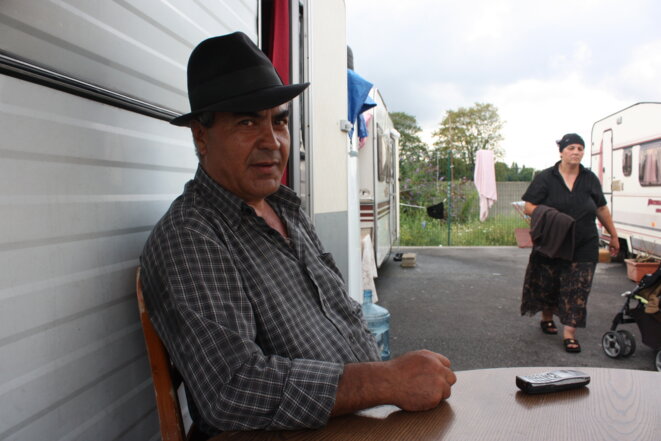 Romanian Rom in Montreuil reinsertion camp. © E. Berthaud
It recognises the Roma as a minority, unlike France. It has signed and ratified the Framework Convention for the Protection of National Minorities and the European Charter for Regional or Minority Languages, both fundamental texts in this field, unlike France. The debate is thus skewed: how can a state that doesn't recognise the Roma or any other minority begin to reproach another state that has put in place several initiatives for minorities? It's true that funds are limited, that the political and administrative management leaves a lot to be desired, that the level of discrimination is very high, that the extreme right nationalist political parties are growing stronger, which is also the case in Bulgaria, Hungary and elsewhere, that the police and judicial authorities are not very active in pursuing sometimes violent acts committed against the Roma. All this is a major impediment to putting reforms in place to improve the situation.
Mediapart: Is it then the European Union's job to resolve this question?
J-P.L.: The Romanian authorities' stance of sending back the 'Roma problem' to Europe, shared by France and other countries, is a mistake. The Roma population, which is larger than the population of half of the states in Europe, amounts to less than 10 to 12 million people. It does not have the support of a state behind it in terms of, for example, providing educational material in its language, while other minorities can simply borrow from another state. For example, the German minority in Slovakia can borrow from Germany, the Romanian minority in Hungary from Romania, and so on. The European institutions therefore have a role and a responsibility to support the Roma, and work has been underway in this field for 40 years.
But above all it's about respecting the international conventions adopted by the member states, respecting the rights that go with them, launching pilot projects that could inspire national initiatives, making connections work so as to pass good practice from one state to another, to stimulate thought and exchange between national players and across frontiers, without appropriating the role of states. Citizenship is a legal bond that links an individual and the state of which he is a citizen, and it is thus a mutual responsibility.
In addition, this sudden wish to transfer expertise and responsibility from a state to a European organisation goes against the states' wish to protect their prerogatives, and it's hard to see how this can be suddenly and uniquely abandoned for their Roma citizens. These are states that have always insisted on the principle known as subsidiarity, and they have often defended it. This principle stipulates that decisions and actions must remain as local as possible.
The Roma concern all the European states. They are present across Europe, and embodied Europe before it was even politically formed. I've highlighted that Europe is today distinguished by an increased mobility of populations, for several reasons, and by the emergence of minorities.
All states must learn to operate in the intercultural and multicultural approach that is developing. In this perspective, the Roma take on the character of a paradigm. The initiatives that concern them open up pathways of thought and action that have consequences for all the other minorities and for all populations. In the context of the free movement that they desire, all states must together consider how to set cooperative and lasting projects in motion, must take action to put structured measures in place, rather than reacting once again with short-term propositions that are ill-adapted and have no future, as well as being economically costly and humanly devastating, responding to immediate facts manipulated for political ends.
-------------------------
English version: Alison Culliford