In a private conversation on July 21st 2009, secretly recorded by the matriarch's butler and published online by Mediapart last year (see links below), Patrice de Maistre explained to the millionaire that on the phone that morning he had spoken to Patrick Ouart, "the judicial advisor, at the Elysée, who I see regularly for you." Maistre said the conversation had been about their efforts to block her daughter's complaint against Banier, which was officially the subject of a preliminary investigation led by Public Prosecutor Philippe Courroye. "He told me that Prosecutor Courroye will pronounce, normally on September 3rd, that your daughter's complaint is inadmissible," continued Maistre, "so the case will be closed." Indeed, so it was that, on September 3rd 2009, the high court in Nanterre threw out Françoise Bettencourt-Meyers's civil complaint.
Despite this attempt to gag the case, it eventually became a major affair of state and, ultimately, the subject of a judicial investigation today closed after a settlement between Liliane, Françoise and Banier, who returned a large amount of the wealth he had acquired from the matriarch.
3: Sisters and mercy

On June 9th 2008, French Prime Minister François Fillon approved the extradition to Italy of Marina Petrella, a former member of the Italian terrorist Red Brigades group. Petrella had fled to France in 1993 after she was sentenced by an Italian court to life imprisonment for murder, kidnapping and other crimes in connection with her terrorist past.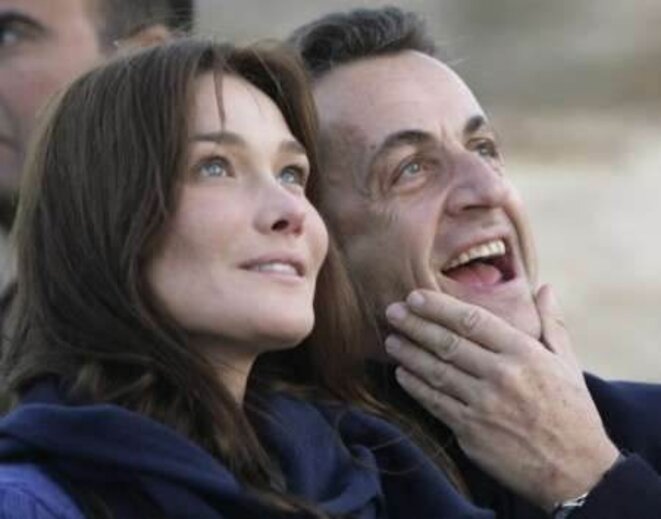 Carla Bruni and Nicolas Sarkozy. © Reuters
French first lady Carla Bruni-Sarkozy's sister, Valeria Bruni Tedeschi, took up the cause for Petrella calling for the extradition to be annulled. In Carla's own words, Valeria "frequently spoke of this subject with my husband."
In October that year, Carla Bruni-Sarkozy told French daily Libération that she and Valeria had visited Petrella in hospital in Paris with a message from President Sarkozy that "You will not be extradited to Italy". Five days after the visit, on October 11th 2008, the president's office announced that Fillon's June extradition decree had been overturned for "humanitarian reasons", leading to a storm of protest in Italy.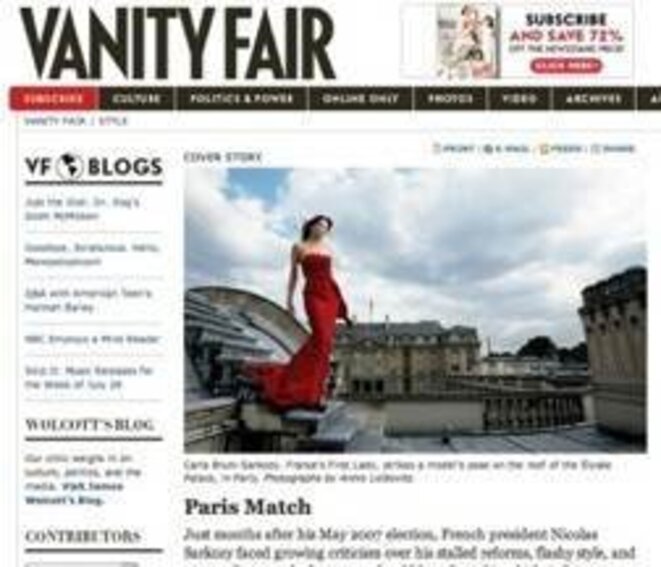 Three months earlier, anecdotally but most symbolically, Carla had posed in a superb red dress on the roof of the Elysée Palace (pictured right) for American photographer Annie Leibovitz. In the photo shoot for the magazine
Vanity Fair
, the French presidential palace was made her stepping-stone.
4: Banking on, and with, friends in high places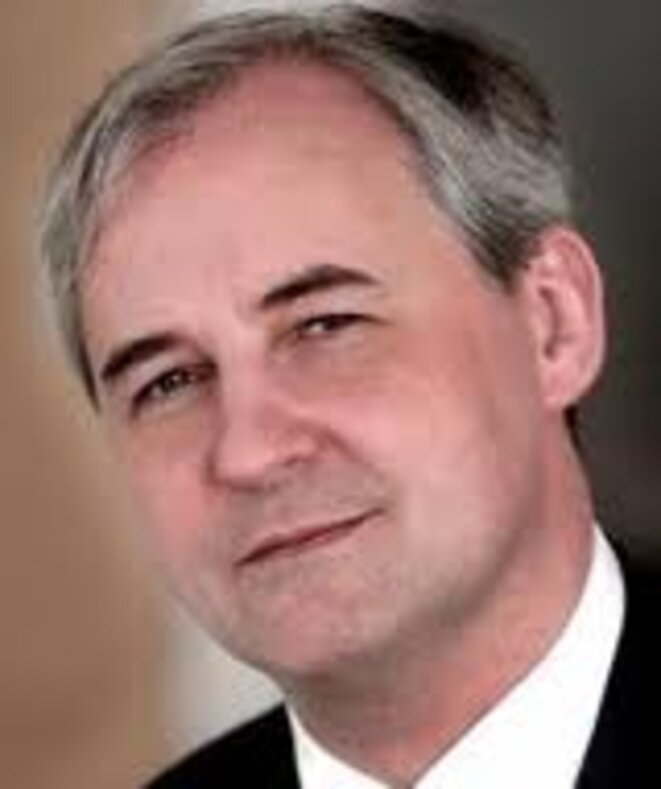 In February 2009, François Pérol (pictured left), deputy secretary-general (chief-of-staff) of the French presidency, was appointed head of the newly-formed BPCE banking group, a merger of two large French banks, the Banques Populaires and Caisses d'Epargnes. The nomination unleashed a storm of controversy and protest from both the opposition and among President Sarkozy's ruling UMP party. The French national ethics commission, la Commission de déontologie, had not been consulted as it should have been, despite the French president's surprising comments to the contrary. Two civil suits were filed by militant taxpayers' and anti-corruption associations for suspected conflict of interest, which the Paris prosecutor's office later dismissed.
For in 2006, Pérol was a managing partner of the Rothschild bank and worked on the creation of Natixis, a corporate, investment and financial services operation for the Banques Populaires. Moreover, in his capacity as deputy secretary-general of the Elysée, it was he who piloted the merger of the Caisses d'Epargne and Banques Populaires, bringing the chairmen of the two establishments in his office to organise the merger.
As Mediapart was the first to reveal, Pérol awarded himself a salary increase in 2010 of 247%, bringing his total yearly earnings at the BPCE to 1.6 million euros. That same year, he was also graced with the Légion d'honneur, France's highest award for civil merit.
5: Top job hotline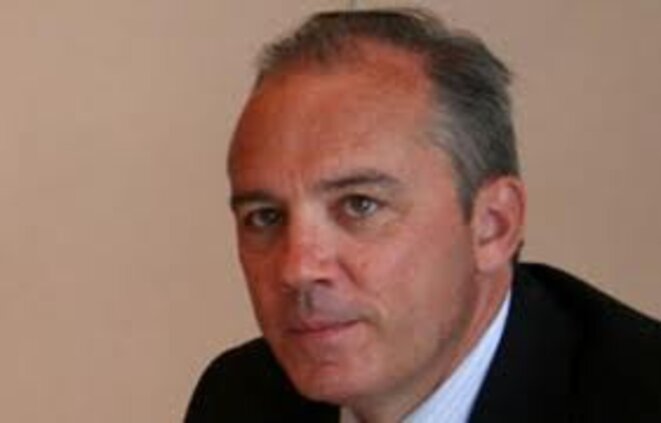 The case of Stéphane Richard (pictured right) largely passed under the media radar. In 2007 this apparatchik par excellence became principal private secretary to then-economy and finance minister Jean-Louis Borloo, and was maintained in the post by Borloo's successor Christine Lagarde. That same year, he was ordered to pay a tax adjustment of 660,000 euros, including a 5% penalty for "mauvaise foi" - in short, dishonesty. That didn't stop Nicolas Sarkozy from awarding him the Légion d'honneur with the words: "You've succeeded well, you are rich, perhaps one day I'll make it like you."
Stéphane Richard is a close friend of the president, a confidant who, in May 2009, was propelled by Sarkozy to the management board of France Télécom without any consultation with the board itself. He then became director general for international activities on January 1st 2010, before succeeding Didier Lombard as CEO.