The disastrous meltdown at the tsunami-hit Japanese nuclear power plant of Fukushima in March threw the future of the nuclear industry worldwide into doubt amid public concern over the vulnerability of plants to natural disasters. But a lesser-publicized danger inherent to nuclear plants, and dismissed by industry experts for decades, is that of the low-level radiation they constantly emit. A recent and largely-overlooked report published by the French nuclear safety authority, the ASN, has confirmed the potential hazard of low-level radiation to local populations, and the implications are alarming. Patricia Brett reports.
-------------------------
Last month, the French nuclear safety authority published a report in which it recognised that the existence of a leukaemia cluster around the nuclear waste reprocessing plant of La Hague, in Normandy is "possible". The study by the Autorité de Sûreté Nucléaire (ASN) was highly significant because radioprotection experts in France and abroad have long regarded the dangers of low-level radiation as negligible.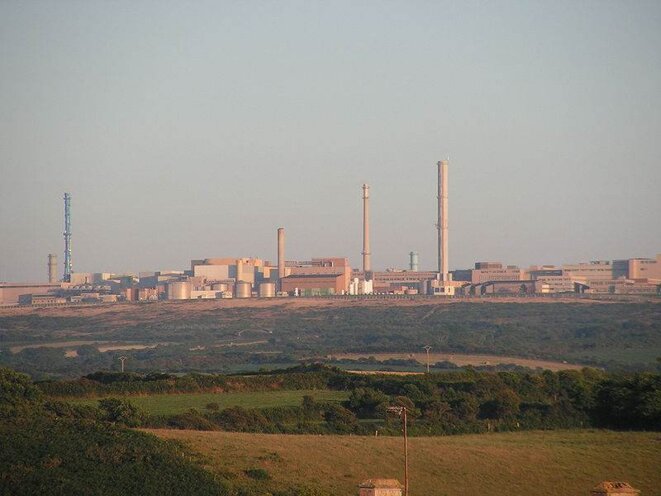 © Truzguiladh
At La Hague, the principle threat -albeit officially regarded as potential - comes from tritium, a low-level radioactive hydrogen regularly released by the plant. But the "possible" serious health effects at La Hague is cause for wider concern, because tritium is released by a range of nuclear installations, including the 19 nuclear power plants across France, and its production and release into the environment is expected to rise in the future.
In their report, entitled Nuclear Installations and Childhood Leukaemia, the ASN experts examined the findings of 198 studies in ten countries. They confirmed that leukaemia clusters had been found around the British nuclear reprocessing plant of Sellafield, at the now-shut Dounreay test reactor in Scotland and Germany's Kummel nuclear power plant.
The ASN called for international cooperation to improve the methodology of studies because, it found, current available data is difficult to assess. Indeed, closer examination of the sometimes wildly different methods and conclusions of international studies make that call an urgent one.
The admission that exposure to low-level radiation may be placing populations close to nuclear plants at a serious health risk comes after decades of denial. "It's a false problem," said Jean-Pierre Moroni, then-deputy director of the Service Central de Protection Contre les Rayonnements Ionisants, a predecessor of the ASN, in a US radio documentary in 1989 (1). Low doses of radiation were not harmful, he continued, "like it is not harmful to drink just a drop of wine. When you drink just a drop of wine what is the danger? [...] of course there is no danger. And so it is for radiation".
Studies 30 years ago which raised the dangers of low-level radiation were discounted because they "did not fit the paradigm" says Dr. Patrick Smeesters, a Belgian radioprotection expert who sits on the Euratom Committee of Experts, advisors on nuclear standards to the European Commission.
Radioprotection of the public was originally based on two assumptions: that serious accidents resulting in large scale contamination are improbable and that exposure to low-level radiation causes insignificant damage. The first of these was eroded by the accidents at Three Mile Island (1979), Chernobyl (1986) and Fukushima (2011). The second is seriously undermined by a growing body of evidence, much of it from Chernobyl-contaminated pockets of Ukraine and Belarus, which shows that the potency of low-level radiation is underestimated by those charged with protecting the public - especially those most vulnerable to radioactive damage, infants and babies in the womb.
The Institut de Radioprotection et de Sûreté Nucléaire, IRSN, the ASN's technical arm, has been studying the long-term effects of the 1986 Chernobyl nuclear plant disaster. ''We expected leukaemia in children. Instead we found that infants were more prone to thyroid cancer - and much sooner than we'd expected, only five years after the accident rather than 10 to 15 years as we'd thought,'' Jean-René Jourdain, head of internal dosimetry at the IRSN told the International Herald Tribune in 2008.
Some studies in Chernobyl-contaminated Ukraine show a connection between chronic exposure to low-level radiation and the risk of birth defects, especially neural tube defects which range from treatable spinal cord disorder to the fatal condition of failure to develop a brain (anencephaly). A high rate of conjoined or Siamese twins was also detected in the area studied.
Other data found that children in the contaminated areas of southern Belarus showed higher ingested doses of radioactive caesium 137 and suffered from more chronic and more severe diseases than children in non-contaminated areas. "Recurrent respiratory and gastrointestinal infections as well as endocrine disorders and cataracts are common," the IRSN study reported. "Other frequent findings include increased fatigue or apathy and chest pain associated with cardiovascular symptoms, such as unstable blood pressure or arterial hypertension." the study says.
-------------------------
1: 'Full Steam Ahead: French Nuclear Power', produced by Patricia Brett for Soundprint.