France's independent advisory commission on digital affairs, the CNNum, was this week left rudderless after its president and most of its 30 board members resigned over the government's move to evict from the body Rokhaya Diallo, an outspoken feminist and anti-racist activist.
The CNNum, which is officially politically independent, is tasked with advising the government, parliament and professional institutions on measures and policy strategies concerning digital activities in society and the economy. Its president, who is nominated by the government, chooses the commission's members who make up three equal groups from the academic and economic spheres and civil society.
Diallo was among a group of new board members appointed to the commission on December 11th, after the nomination of the CNNum's new president Marie Ekeland, an entrepreneur specialised in the financing of start-up businesses. But Ekeland's decision to include Diallo among the 30 independent advisors, along with her appointment of French rapper Axiom, immediately met with vigorous attacks from far-right and conservative politicians who were notably outraged at Diallo's repeated denunciations of "institutional racism" in France. They were joined by others, notably former socialist prime minister Manuel Valls.
At a press conference when she announced the composition of the new members of the commission on December 11th, Ekeland underlined that she had chosen "a plurality of opinions" which reflected French society. "We want the CNNum to be a crossroads, a place where there is this confrontation of ideas, this constructiveness, by integrating the complexity of French society," she said. "It is this plurality of opinions which will be the guarantee of our freedom of thought."
But two days after the presentation of the new CNNum panel, Valérie Boyer, a Member of Parliament (MP) for the conservative Les Républicains party, wrote to French Prime Minister Edouard Philippe to demand that both Diallo and Axiom be evicted from the commission. Boyer argued that Diallo and Axiom were "two divisive figures who are contemptuous of a large part of the population", citing Diallo's criticism of institutional racism, and notably complaining of what she said were Diallo's positions defending the wearing of the Islamic veil and her support of an "Afro-feminist festival this summer that was barred to Whites".
Concerning Axiom, whose real name is Hicham Kochman, Boyer said he "associated the French with pigs", quoting a line from one of his songs, "I'm called Hicham and not Stéphane, that's what bothers the pigs".
Kochman, 42, who is a member of an association campaigning against against racial profiling by police, was chosen by Ekeland to join the commission in part because of his experience as an entrepreneur who created the Keakr app, which he describes as a "social media of urban cultures".
The move by MP Valérie Boyer fired a bitter controversy that led to a decision by digital affairs minister Mounir Mahjoubi to dismiss Ekeland's team of advisors and to proceed with the appointment of a new panel. "The national digital commission has need of tranquillity to work, and the recent exchanges about the composition of the commission underline that these conditions are not entirely met," read a statement issued last week by Mahjoubi. "I have therefore asked the president of the CNNum to propose a new formation of the commission."
But on Tuesday this week, Ekeland announced her resignation. "The project I led for openness, independence of thought and of diversity was put to the test immediately after it began," she said in a statement. "Today I do not see how to continue to lead it while maintaining its essence and good chances of succeeding." Hours later, 25 members of the 30-strong commission resigned in solidarity with Ekeland.
While the government excluded Diallo from the commission, Hicham Kochman, aka Axiom, was allowed to remain. However, he was among the 25 who resigned on Tuesday, and in the interview below with Mediapart's Jérôme Hourdeaux, he speaks of his anger and frustration at what he sees as an intolerable campaign of stigmatization led against him and Diallo that reflects a wide exclusion of racial minorities in French society. "I'm an entrepreneur. I give work to 18 people, I have no criminal record. And I'm told to get lost?" he says. "In what way are they more French than us?"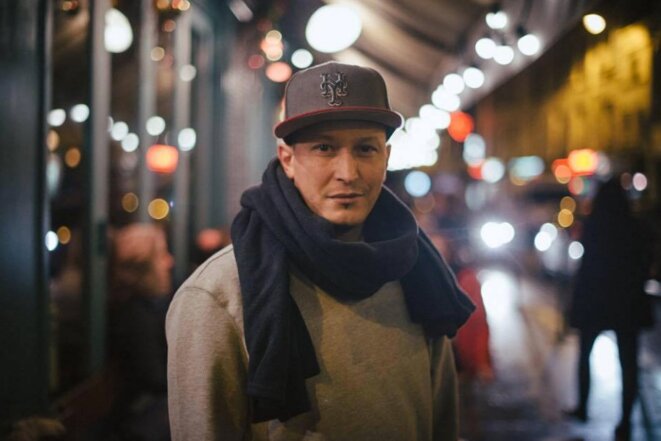 "My grandfather fought in the war. My father was a miner. If to die for France and to build it has not been sufficient, what more can we do?": Rapper and digital start-up entrepreneur Hicham Kochman, aka Axiom.
Mediapart: How was the decision for the collective resignation taken? Were there discussions between the members of the CNNum?
Hicham Kochman: Marie Ekeland is someone who is very democratic. She spoke about it to everyone. The good news to come out of all this is that people showed solidarity. But I think it was an obvious thing for all of us.
Mediapart: You yourself were targeted by a letter sent to the prime minister by MP Valérie Boyer about the lines in one of your songs. You announced on Twitter that you intended to file a complaint. Do you confirm this?
Hicham Kochman: Today I say 'enough'. A red line was crossed. I am taking action against Valérie Boyer for defamation. She bases her information on a far-right website which has since deleted its article. The night of the Bataclan attacks [the November 13th 2015 Paris terrorist attacks which left 130 people dead] I lost ten friends who were at the Belle Équipe bar on the rue de Charonne. I should have been with them that evening, but I couldn't get there. So they're not going to give us pain about the terrorist attacks as if we owe something to anyone on the pretext of our origins or our religions. We are the target just as much as the others, and sometimes even more so.
I dedicated a song, Ludo, to one of my friends who died protecting a girlfriend that evening. But Valérie Boyer preferred to quote, out of context, a phrase from one of my songs about which anyone would understand by listening to it that it was a piece of fiction. But no, this cheap essentialism works. Whatever happens, we are the losers. These networks have yet again won.
Mediapart: What "networks" are you talking about?
Hicham Kochman: What we've seen at work these last seven days is a proper league, ranging from the traditional far-right to this sort of falsely secular-like Left represented by [former socialist prime minister] Manuel Valls and the [leftwing secular militant movement] Printemps républicain. On Twitter, we saw the eviction [from the CNNum] of Rokhaya [Diallo] tweeted by [essayist and prominent critic of Islamism] Caroline Fourest, re-tweeted by Manuel Valls and re-tweeted by [mayor of southern French town Béziers, allied to the far-right Front National party] Robert Ménard. That says everything.
This league with a high media profile has real networks and an agenda, and a clear one. It should be remembered that there were, during the same week, coordinated attacks against [French-Moroccan comedian] Yassine Belattar. I note that these two campaigns came from the same networks.
Whether it be with Yassine Belattar, Rokhaya Diallo or even with [French footballer] Karim Benzema, whenever a Black or an Arab dares to show their face we see this same sequence repeat itself, orchestrated by these same networks. Their message remains simple: if you are Black or Arab, if you come from certain neighbourhoods, however competent you might be you have no chance of succeeding.
I have no hesitation in stating that what we've just seen is not without parallels to the Dreyfuss affair. Not in all aspects, of course. But the sequence of events we've just had carries the same stigmatisations. Beyond the events, which are different, we are truly in the presence of the assignation of an identity imposed on a part of the population. And since the terrorist attacks, we also have to adopt a collective guilt. But with the eviction of Rokhaya Diallo, a historical line was crossed over: the government lent its ears to these people. They broke hope. It must be duly noted.
Mediapart: What do you mean by "duly noted"?
Hicham Kochman: These people have made a theory of confrontation. They never stop attacking us and allow us no respite. But we never answer. I say 'stop, that's enough', we're sick of it. There will be no negotiation, no discussion. This is a declaration: we will no longer accept being 'essentialised'. These are our lives, our neighbourhoods. This is in no way a physical threat, far from it, I'm anti-militarist and against violence, but rather a clear and democratic appeal. We must use every necessary means to shut them up. This message I send to all progressist forces and to neighbourhoods. We don't occupy the political space, that must change. There must be a move in return.
It's enough, because we have children. Must they also live through all this? Will they be asked to justify themselves all their lives? I say 'no'. My grandfather fought in the war. My father was a miner, he built France and took part in union struggles of the time. If to die for France, and to build it, has not been sufficient, what more can we do?
I'm an entrepreneur. I give work to 18 people, I have no criminal record. And I'm told to get lost? In what way are they more French than us? I'd like that to be explained to me. I am totally in agreement for debating about notions of institutional racism, racism produced by the state, systemic racism. If we don't agree, let's discuss it. But who filed a complaint against [French philosopher and polemicist Alain] Finkielkraut? Why does he remain at the Académie française? Once again, why is it always the same ones who are removed from society?
Mediapart: What do you hope for with the CNNum? What do you think you bring to it?
Hicham Kochman: Did I want to contribute to the good of my country? Yes, of course. I love this country. All of the people, the thinkers, the language, the food, and the culture that I love are here. Like everyone, you vibrate, and you cry, for France. What makes me sorry is that France deprives itself of 30 brains [members of the CNNum] of which some were brilliant. While our country is full of talent and there are at the moment lots of opportunities. In face of Trump's America and Brexit, France has before it a real opportunity. But there we're giving a disastrous image of our country.
On top of that, the eviction of Rokhaya Diallo is supposed to be to ensure the 'tranquility' of the actions of the council. Whereas it hadn't even begun to get to work. That raises questions about its independence.
The digital sector is subject to very numerous potential pressures. If it is not independent, who will protect the CNNum when, for example, it works on crypto-money, against pressure from the banks? What confidence can one have in an institute which gives way as soon as a pressure group plays the flute?
-------------------------
The French version of this article and interview can be found here.
English version by Graham Tearse