It paints an unedifying portrait; of run-down homes rented out by slum landlords, of workers laid low by muscular-skeletal problems, a wall of silence over the health impact of pesticides, a growth in and misuse of seasonal contracts, and the dominance of all-powerful lobby groups.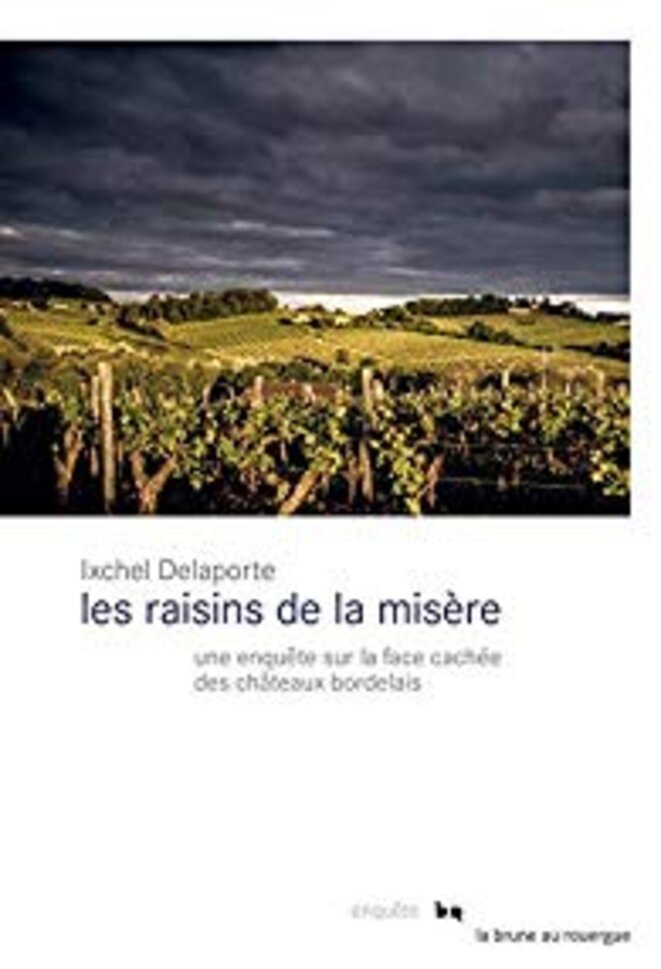 This description of one of France's most prestigious wine regions, Bordeaux, comes in a book by journalist Ixchel Delaporte, and is sharply at odds with the standard glamorised image of an area known for both its wine and its wine-related tourism.
Delaporte wrote Les Raisins de la misère. Une enquête sur la face cachée des châteaux bordelais ('The Grapes of Poverty. An investigation into the hidden face of the Bordeaux Châteaux') published by Éditions du Rouergue, while working for the newspaper L'Humanité. She spent a year in the most prestigious of the region's wine areas, the Médoc, and travelled up and down what France's statistical agency INSEE has called the "corridor of poverty", producing a series of pen portraits of villages and people which tell the flip side of the glamour and wealth usually associated with the great Bordeaux wines.
The poverty and lack of security faced by the people who work for the wine châteaux - the industry dominates local employment - makes them so vulnerable that the author has changed most of the names of the people she spoke to. One of them is Pierrot who is employed by Château Haut-Bergeron, which makes the prestigious Sauternes wines, but who is nonetheless accommodated by a local winemaker in a former bike garage and who is badly exposed to exhaust fumes.
Other characters include Vincent and Amandine, a couple in their 30s on part-time, seasonal and short-term contracts, who are employed in a prestigious property in the renowned Saint-Émilion area. Here they help show tourists around one of the flagships of French wine for between 1,000 and 1,500 euros a month net between them. This is despite the fact, as Ixchel Delaporte writes, that "wine tourism, which is at the vanguard of cultural and gastronomic tourism, taps into an enormous market". Indeed, France welcomes around 10 million wine tourists who in 2016 led to an industry turnover of 5.2 billion euros.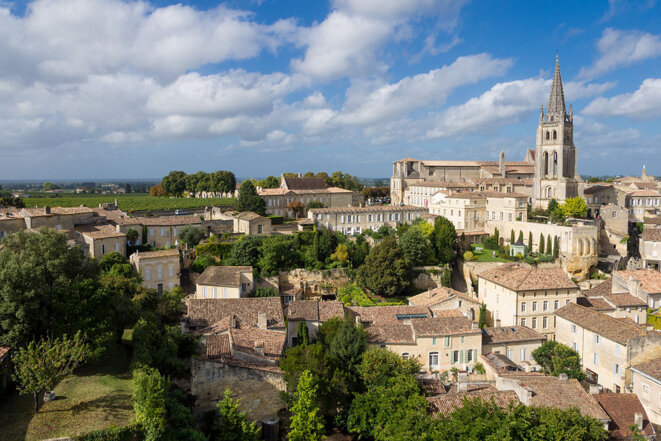 Picture postcard scene: the medieval village of Saint-Émilion.
The book also takes us to the streets of Castillon-la-Bataille, a small town of 3,000 inhabitants just 13 kilometres from Saint-Émilion but which itself has become one of the "main nerve centres in the corridor of poverty" with its high-level of poorly-paid seasonal workers, its poor families who have formed part of an urban exodus from Bordeaux, its insanitary housing, its drug dealing, and the fact that a quarter of its adult residents aged under 65 are on tax credits or benefits. These are problems that are "unimaginable" viewed from the "lofty heights of Saint-Émilion", writes the journalist.
Readers are also introduced to the wine-making property owned by producer Alain who says he, like 80% of fellow small-scale wine producers, "subsists on what he produces". On his small property he employs his two sons and a couple of Moroccan workers. They are hired from January to July as "prix-faiteurs" or "piece workers" a term used exclusively in this region meaning that the work is paid by the job, leading them to "increase the pace of their work, whatever the weather conditions, to earn more. Which has caused an increase in work-related sickness, in particular an explosion in the number of muscular-skeletal problems".
The journalist's starting point for his book was to wonder how it was possible that "a region so verdant and abundant can contain such deep-rooted poverty". She notes how according to INSEE figures the areas with the highest unemployment and greatest number of people on benefits coincide with "our best vineyards, our most beautiful lands".
The town and commune of Pauillac is the most emblematic of this unseen paradox. This area contains three of the four premier cru wines in the Médoc - Lafite-Rothschild, Latour and Mouton-Rothschild – where the price can exceed 1,000 euros a bottle. Yet, writes Ixchel Delaporte, the only "prestigious" aspect of Pauillac is its wine label or appellation.
She describes in detail the disintegration of a town where three quarters of the 6,000 inhabitants do not earn enough to pay income tax and where local shops have vanished to the point that in the old commercial centre streets artwork has been designed to hide the absence of shops and ensure that tourists still come to the town. The journalist sees something symbolic in these window stickers and displays. "I found there, in a condensed form, those things which it is now fanciful to expect to find in a small French town; an art gallery, a bakery, a greengrocer's, a chocolate maker, a delicatessen, a charcuterie...."
In Pauillac the journalist came across Brahim, a man from Mauritius aged 45 who shares his accommodation with five other immigrants, who sleeps on a mattress on the floor and who earns 7 euros an hour working in the vines because here "the bosses do what they want".
Ixchel Delaporte explains that in fact "foreign workers are the final link in an economic chain that has constantly dragged working conditions down. For 15 years or so lots of vineyard owners have taken advantage of people retiring and of the sick leave taken by their permanent employees to use seasonal and occasional workers." This practice is made even more profitable for the large-scale wine producers because employing a temporary worker entitles them to be exonerated from many employer social contributions and to be exonerated from contributing to a bonus that is paid to poorer workers.
This situation is possible because of accommodating employment laws but also thanks to the particular status accorded to wine in France. When last spring the health minister Agnès Buzyn dared to suggest on television that wine was "alcohol as dangerous as others, contrary to what the wine industry suggests", President Emmanuel Macron took it upon himself to respond directly during a visit to the agricultural show in Paris. "I drink wine at midday and in the evening," he declared. "I very much believe in [former president] Georges Pompidou's slogan: 'Don't annoy the French people'."
This status is strengthened by the presence of two powerful wine lobby groups, the Académie du Vin de France and Vins & Société. The former director of the latter body, Audrey Bourolleau, was named as an advisor on agriculture, fisheries, forestry and rural development to the presidency after Macron's election victory last year, as revealed by Mediapart.
Emmanuel Macron met Audrey Bourolleau – whose achievement was to bring about a relaxation of the French law on advertising alcoholic drinks by opening the gates to "advertising based on wine tourism" - when he was working at the merchant bank run by David de Rothschild. David de Rothschild is the cousin of Philippe de Rothschild, who is one of the leading figures in the Bordeaux wine industry and for whom Audrey Bourolleau had also worked.
Wine accounts for 60% of alcohol consumption in France, which kills close to 50,000 people a year. The author Ixchel Delaporte quotes a doctor who is an expert on addiction who makes clear the two-track approach of the owners of the leading Bordeaux wine châteaux, who also make cheaper wines sold in supermarkets. "The alcohol producers, whoever they are, hide behind the big alcohol labels which are associated with pleasure and luxury. They use this image to sell 90% of alcohol," says the expert. "Two thirds of French people drink little, but the other third consume 90% of the alcohol sold."
A good illustration of this point is the Castel Group whose founding president Pierre Castel is one of the ten richest men in France and who has lived in Switzerland since 1981. It owns both Château Beychevelle, one of the great wines of the Saint-Julien area of the Médoc, and a major stake in cheaper wines. These include the Baron de Lestac range of wines – Lestac is an anagram of Castel – which are the most popular wines in France selling for under four euros a bottle.
The flagrant disconnect between the prestige and image of this great wine-producing area and the reality on the ground lies at the heart of what the mayor of one small village, Saint-Yzans-de-Médoc, told the book's author: "The engine driving the great wines has gone off on its own. The others remain on the side of the road. Rothschild make a billion euros in profit," he declared. "Speculation is at a peak. A hectare [2.47 acres] of vineyard costs up to two million euros in Pauillac. We never see the colour of the money of all the wealth that is created in the Médoc."
--------------------------------------------------------------------------
The French version of this article can be found here.
English version by Michael Streeter