BetweenBetween 2005 and 2010, the number of people living with no fixed abode, either living homeless or in precarious conditions of accommodation, totalled 250,000, according to a report published this month by the French National Institute of Statistics and Economic Studies, INSEE. Another 2.9 million live in accommodation without comfort and/or overcrowding, reported INSEE.
The term 'without comfort' is defined as a lodging situated in buildings that are insalubrious, close to falling into ruin, or with at least two of the following defects: insufficient heating installations or inadequate insulation, water leaks, sub-standard electrical wiring, no toilets or designated kitchen area.
One-in-five people in France fear they will in the future find themselves in insalubrious living conditions, according to a recent IFOP poll , highlighting the extent of both the housing crisis and the increasingly unstable economic circumstances of many. According to INSEE, 43% of the population living in sub-standard accommodation in France are employed, including managerial staff.
Next month, the far-reaching Loppsi 2 security bill will be submitted for adoption by parliament, when it is expected to be adopted as law after minor modifications. The bill includes a provision allowing for police to evict people squatting property or living in illegal circumstances (such as in vehicles or caravans parked on public property), without first seeking a court order.
The provision targets immigrant camps but also a wide category of people who are increasingly forced to survive in such conditions. Mediapart's Elodie Berthaud has travelled France to meet them, tradesmen, unemployed, seasonal workers and students who, as of February, may become forced from the last step of the descending social ladder.
Some of the people interviewed preferred to remain anonymous, and are identified here with a first name and an initial for their surname.
A Van in Vincennes
The motor of a white van starts up on the forecourt of the Chateau de Vincennes on the eastern outskirts of Paris. The vehicle isn't going anywhere. It is the home of a 59 year-old man - single, a former accountant from the Ile de France region [which Paris is a part of]. He explains that he is recharging his car battery because it supplies the electricity for his TV and radio in the evening. As for light, he uses candles. The back of his van is set up like a rudimentary camper van with a little bed, chemical toilet, gas cooker and petrol heater. He bought it for a song from a friend, and has been living in it for two years.
Christian J. sums up his situation calmly: "You leave your job, you lose your home, and then it's all down hill." He punctuates his speech with frequent "Yeah"s, followed by shrugs and silences. His gestures speak volumes about his lassitude.
Christian told of how he left the work market about a decade ago, when he was an accountant. "You couldn't find work temping anymore. I'm from the post-war boom. All that's over." The downhill spiral he is talking about landed him in hostels, a solution he swiftly rejected, preferring to "get by" on his own. "Hostels meant sleeping next to loonies, alcoholics, the dregs of society," he says with a tense face.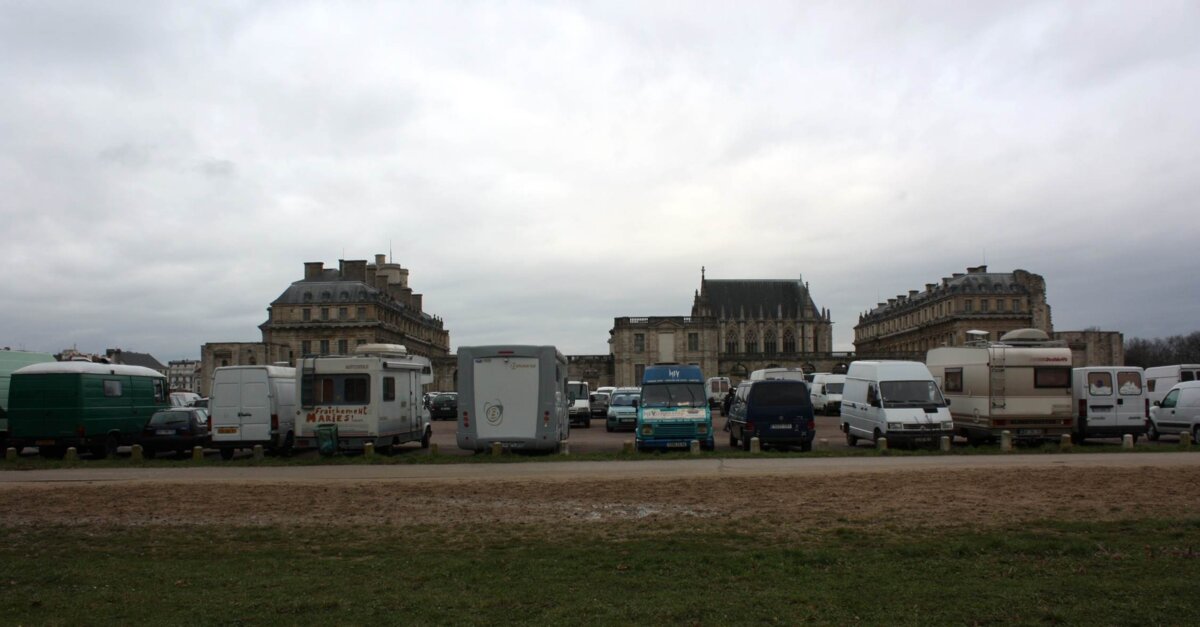 Christian lives on just 466 euros a month - the RSA (a mimum benefit payment for those in poverty conditions called the Revenue de Solidarité Active, meaning Active Solidarity Revenue).
Thirty or so vans and camper vans are parked on the esplanade. Some are used by prostitutes as makeshift brothels, others are camper vans awaiting holidaying owners. The great majority are inhabited.
A sign propped up on the dashboard of a van reads 'I'm homeless. I live in my vehicle. Please be indulgent. Thank you'. The owner is in a car just next to it. His first gestures express distrust; he has already met with journalists. "They didn't respect what I said," explains this 56 year-old man, whose melodious southern French accent softens the anger. "They came looking for misery, took close-ups of my hands to illustrate the cold, and went away." Little by little André tells his story. "For five years I've been living in my vehicle... I mean... I've been on the street for five years." Following a break-up, he left Marseille, where he lived, leaving behind his job as well as his home. From the age of 18, this qualified plumber had worked in the building industry. Today he has no work and says he is living on his savings.
"When I arrived in Paris, I parked my car in a street. I was depressed. I almost never got out. Little by little I set foot outside and got back on track. I filed a request for social housing with the [Paris] 12th arrondissement town hall. I indicated my situation several times, specifying where I was living. They gave me a parking ticket. Two weeks later they towed my car away. Instead of coming to people's aid, they fine them," he complains.
To wash, he goes to public showers, for heating he turns on the gas stove for a bit. "I wrap up warm. When I sleep, only my nose sticks out," he jokes. Stuck between inaccessible private housing, "You have to earn four times your rent and have guarantors," and public housing estates overwhelmed by demand, André tries to stay patient and avoids isolating himself. "I have friends, I go out. I go dancing." He also has a computer with a 3G USB stick.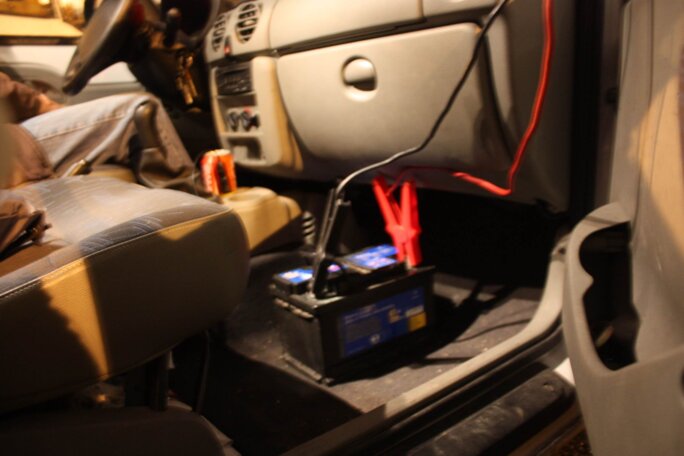 Like Christian, he is hanging on to one hope: a retirement pension. "I only have 11 months to go," specifies Christian, as if he were counting the days too. A pension would mean a guaranteed income, with a chance of obtaining social housing. "We're not unhappy," he says, before conceding, "It's true that the situation isn't right. We're forced to live in these conditions."
The mounted policemen of the Carnot district who patrol the margins of the Bois de Vincennes woodland brush up against the vehicles. "Here, we're tolerated. Tolerating is neither authorising nor banning. This means things could change, that we might be told to leave from one day to the next. So we stay discreet," says Christian.
People who live in their vehicles, at least those encountered, generally fall into two age groups, those of 20-30 year-olds and 50-60 year-olds. The oldest generally describe a downward spiral following a break-up, the loss of a job, a serious illness. The stories told by the younger generation are more nuanced. Many of them speak of a need for freedom, a desire to be footloose, to move on. They take responsibility for their lifestyles, while admitting that their choices are also connected to budgetary concerns. To live in a van is a way of not playing extortionate rent, of putting money aside in order to travel or, in the long term, to buy a house or a piece of land.
A converted van in Rennes
A van is parked in the Villejean district of Rennes, the administrative capital of Brittany, in western France. Inside, a bed on a raised wooden platform is converted into a lounge area, next to a tiny kitchen with a sink, two big water drums and a gas stove. "I have the essentials," considers Camille Montoir, the 27 year-old owner and permanent resident of the vehicle.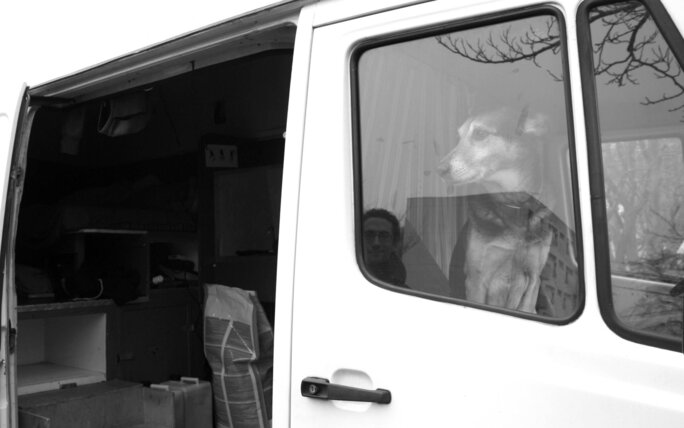 "The toughest part is the winter cold, getting out from under the duvet in the morning." For heating he uses a "firebrick system": he places an upside-down clay flower pot over the gas stove flame and the burning-hot pot is then put next to the bed, radiating heat. "It warms you while you fall asleep. The van cools down fast, even though I've insulated it with polystyrene panels and wood." What does he do for a shower and toilet? He finds camping sites in the summer, friends' places during the winter.
Camille Montoir hit the road at the dawn of his 20s, leaving behind his graphic design studies, considering that he wasn't cut out to work behind a desk. His car, with a mattress on the back seat, was his first mobile home. He then opted for a van, more comfortable, in order to follow the seasonal work route: apple picking in the South, plums in Corsica, grape picking... thanks to his CAP (Certificat d'Aptitude Professionnelle - Professional Aptitude Certificate), he became a stone-cutter.
For three years he has been moving around southern Brittany for a company specialising in the renovation of historical sites. His current vehicle, a Mercedes 208, provides him with transport and a cheap roof over his head. His parents, whom he regularly goes to see, have always respected his decisions, wanting his personal fulfilment. "At first I had a thirst for freedom. Now I'm beginning to want to settle down a bit. I'd like a house to do up."
Klement Ciannarella has a similar profile. A carpenter, he has been living in a comfy van in Paris for two years. "The Loppsi 2 Law scares me. Some people in precarious situations get by as best they can by living in vans or caravans, and then there are also people who chose to live differently. The law is unfair in both cases." For him, living this way offers the possibility of "letting the old grey matter breathe a bit."
"I've come to realise there are loads of networks being set up, loads of people living differently, very well, with different ideas. At the end of the day, you realise they aren't the problem, it's stupid laws that are."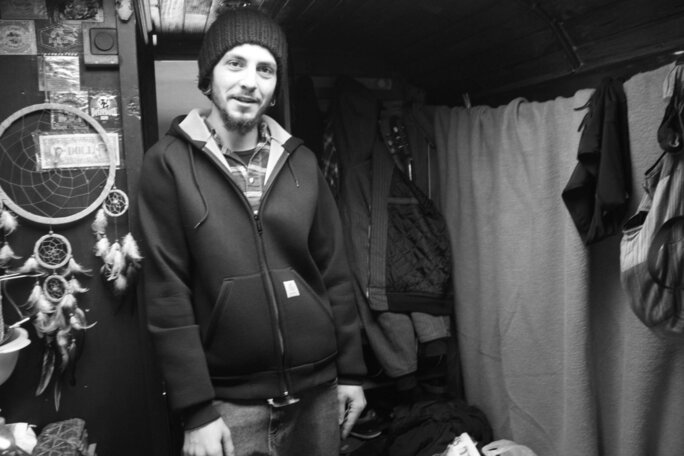 This position doesn't stop the 26 year-old from questioning his way of life today: "I'm going through a phase where I'm not so sure what to do anymore. Should I stop living like this? Would it be better for me to settle down? Is all this an adolescent, or hippy, trip? Do I have a choice? That's the main thing. In Toulouse, for example, you can't live in a van, you can't park anywhere, you end up on the outskirts, next to the football stadium. Without being picky, that's not so great"
A log and straw cabin, Tours
On the outskirts of a wood in the countryside east of Tours, centre-west France, Nadège T. lives in a cabin. In 2007 this 40 year-old farmworker parked a caravan on a piece of land she had bought. Since then, she has enlarged her living space by building a cabin divided into two rooms measuring about 20m2 each. For the walls: two layers of wooden cladding stuffed with straw and cardboard insulation. The roof is equipped with solar panels; rainwater is gathered for the washing up; heating is provided by a wood stove; and there is a composting toilet.
Nadège T. spent a dozen years travelling around the regions of France where she could find seasonal work, harvesting grapes, cherries, apricots, pears, apples, plums. She too lived in a converted van. "What counted for me was not to be dependent on assistance. I managed very well doing seasonal work. When I turned 40, I felt like settling down, travelling less." But there was a lack of means. "Building a cabin is a way of housing yourself while remaining independent."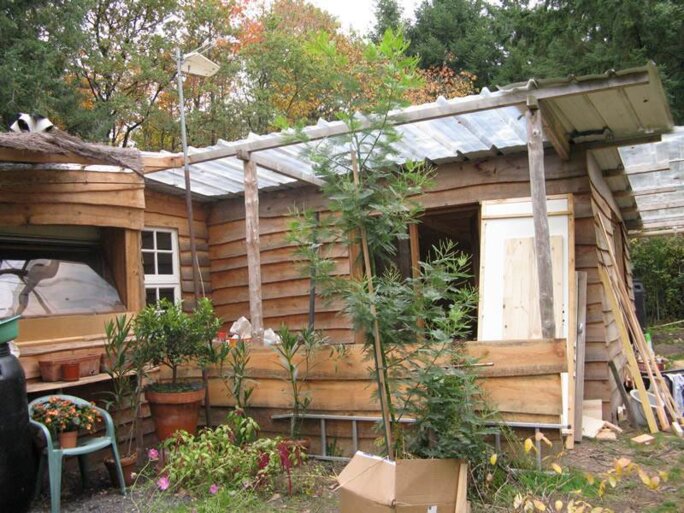 "I consider that I cost society a lot less than if I were in social housing," she explains. "My home's eco-friendly, and my nearest neighbours, who I've spoken to, have told me I'm in nobody's way." The town hall sees things in a different light. It is against the land being used for leisure purposes, and has requested the removal of the caravan. The case is being taken to court, as Nadège has no intention of leaving.
Caravan refuge in Nantes
In Nantes, western France, in the shadow of the humanities faculty, on the edge of a park, are three stationary caravans. A few months ago, Gregoire O. found refuge in one of these caravans, which he bought for 50 euros. The furniture inside is covered in a layer of grime. The air smells stale and of wet dog. For lighting he has to wait for nightfall and the lighting of the street lamps. His electric radiator is plugged into the nearest one.
This 28 year-old has known the street, entrance halls, squats. "I know people in Nantes. I was born here. But I prefer to get by on my own," he explains. "Here I have my own little pad, it's better than being at my parents' or friends' places." Trained as a lorry mechanic, Grégoire worked in that field between the ages of 16 and 21. Family problems and financial problems led to heroin, a form of escape.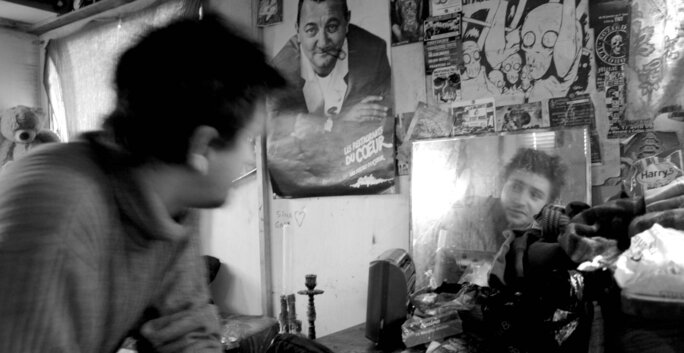 Shantytowns in Montreuil
On the plateau of Montreuil, a suburb east of Paris, makeshift homes nestle behind the high walls that used to shelter vast fish farms. To access this informal village, which has housed as many as 150 people, wooden planks have been laid down to form a bridge across the mud. For over two years, Roma from Romania have settled down there on four narrow strips of land.
On 20 December 2010, they received a summons from the Bobigny family court for the illegal occupation of a piece of land, following a complaint filed by Montreuil Town Hall. The hearing is due to take place in chambers on 28 January, an expulsion procedure that article 32.3A will render more expeditious, reducing delays and no longer requiring a judge to order the eviction.
Afraid of being chased out, the majority of inhabitants have already left the place. There now remain 50 or so people, including several children. "A few days ago, three people, including two local police officers, came here ordering us to leave within three days," explains Cesar Ciurar, opening the doors to his house.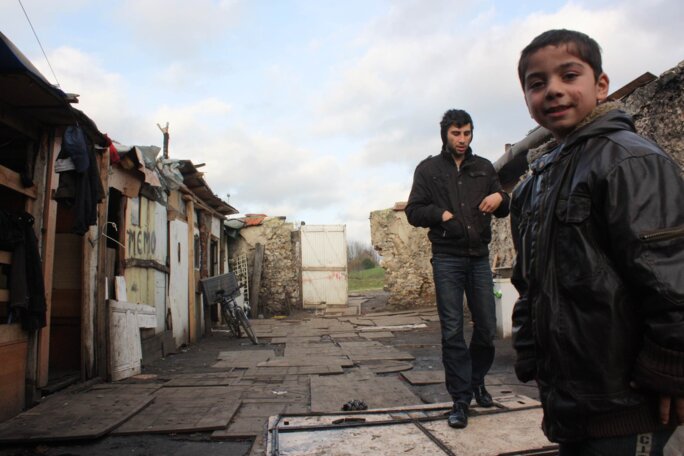 Inside there is a clean, tidy kitchen, a bedroom with a few pieces of furniture, and a wood stove. "When we arrived two years and three months ago, we cleared up and quickly built these houses," explains this 27 year-old man who, in his nine years in France, has drifted from one piece of waste land to another in the Paris suburbs in Saint-Denis, Le Bourget, La Courneuve and Argenteuil. The shacks are made from material salvaged from local dumps: wooden planks, sheet iron, pieces of lino and carpet.
Cesar Ciurar's family has packed its bags and is waiting for the hearing on the 28th. The improvements they had planned are no longer relevant: clearing the land to chase away the rats that have been reigning there, rebuilding the shacks, and cultivating a plot of land with the help of an organisation called Ecodrom.
-------------------------
English version: Chloé Baker