Between 2005 and 2010, the number of people living with no fixed abode, either living homeless or in precarious conditions of accommodation, totalled 250,000, according to a report published this month by the French National Institute of Statistics and Economic Studies, INSEE. Another 2.9 million live in accommodation without comfort and/or overcrowding, reported INSEE.
The term 'without comfort' is defined as a lodging situated in buildings that are insalubrious, close to falling into ruin, or with at least two of the following defects: insufficient heating installations or inadequate insulation, water leaks, sub-standard electrical wiring, no toilets or designated kitchen area.
One-in-five people in France fear they will in the future find themselves in insalubrious living conditions, according to a recent IFOP poll, highlighting the extent of both the housing crisis and the increasingly unstable economic circumstances of many. According to INSEE, 43% of the population living in sub-standard accommodation in France are employed, including managerial staff.
Next month, the far-reaching Loppsi 2 security bill will be submitted for adoption by parliament, when it is expected to be adopted as law after minor modifications. The bill includes a provision allowing for police to evict people squatting property or living in illegal circumstances (such as in vehicles or caravans parked on public property), without first seeking a court order.
The provision targets immigrant camps but also a wide category of people who are increasingly forced to survive in such conditions. Mediapart's Elodie Berthaud has travelled France to meet them, tradesmen, unemployed, seasonal workers and students who, as of February, may become forced from the last step of the descending social ladder.
Some of the people interviewed preferred to remain anonymous, and are identified here with a first name and an initial for their surname.
A Van in Vincennes
The motor of a white van starts up on the forecourt of the Chateau de Vincennes on the eastern outskirts of Paris. The vehicle isn't going anywhere. It is the home of a 59 year-old man - single, a former accountant from the Ile de France region [which Paris is a part of]. He explains that he is recharging his car battery because it supplies the electricity for his TV and radio in the evening. As for light, he uses candles. The back of his van is set up like a rudimentary camper van with a little bed, chemical toilet, gas cooker and petrol heater. He bought it for a song from a friend, and has been living in it for two years.
Christian J. sums up his situation calmly: "You leave your job, you lose your home, and then it's all down hill." He punctuates his speech with frequent "Yeah"s, followed by shrugs and silences. His gestures speak volumes about his lassitude.
Christian told of how he left the work market about a decade ago, when he was an accountant. "You couldn't find work temping anymore. I'm from the post-war boom. All that's over." The downhill spiral he is talking about landed him in hostels, a solution he swiftly rejected, preferring to "get by" on his own. "Hostels meant sleeping next to loonies, alcoholics, the dregs of society," he says with a tense face.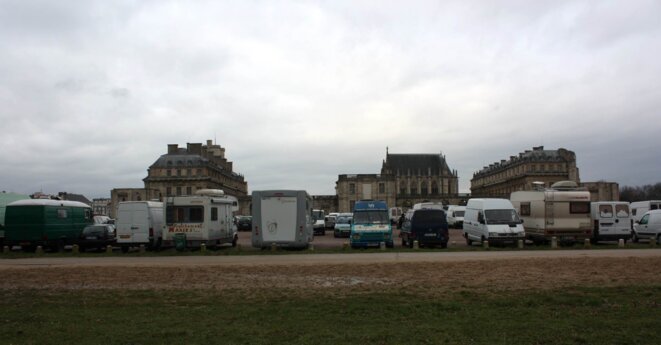 Esplanade du Château de Vincennes. © E. Berthaud.
Christian lives on just 466 euros a month - the RSA (a mimum benefit payment for those in poverty conditions called the
Revenue de Solidarité Active
, meaning Active Solidarity Revenue).
Thirty or so vans and camper vans are parked on the esplanade. Some are used by prostitutes as makeshift brothels, others are camper vans awaiting holidaying owners. The great majority are inhabited.
A sign propped up on the dashboard of a van reads 'I'm homeless. I live in my vehicle. Please be indulgent. Thank you'. The owner is in a car just next to it. His first gestures express distrust; he has already met with journalists. "They didn't respect what I said," explains this 56 year-old man, whose melodious southern French accent softens the anger. "They came looking for misery, took close-ups of my hands to illustrate the cold, and went away." Little by little André tells his story. "For five years I've been living in my vehicle... I mean... I've been on the street for five years." Following a break-up, he left Marseille, where he lived, leaving behind his job as well as his home. From the age of 18, this qualified plumber had worked in the building industry. Today he has no work and says he is living on his savings.
"When I arrived in Paris, I parked my car in a street. I was depressed. I almost never got out. Little by little I set foot outside and got back on track. I filed a request for social housing with the [Paris] 12th arrondissement town hall. I indicated my situation several times, specifying where I was living. They gave me a parking ticket. Two weeks later they towed my car away. Instead of coming to people's aid, they fine them," he complains.