To wash, he goes to public showers, for heating he turns on the gas stove for a bit. "I wrap up warm. When I sleep, only my nose sticks out," he jokes. Stuck between inaccessible private housing, "You have to earn four times your rent and have guarantors," and public housing estates overwhelmed by demand, André tries to stay patient and avoids isolating himself. "I have friends, I go out. I go dancing." He also has a computer with a 3G USB stick.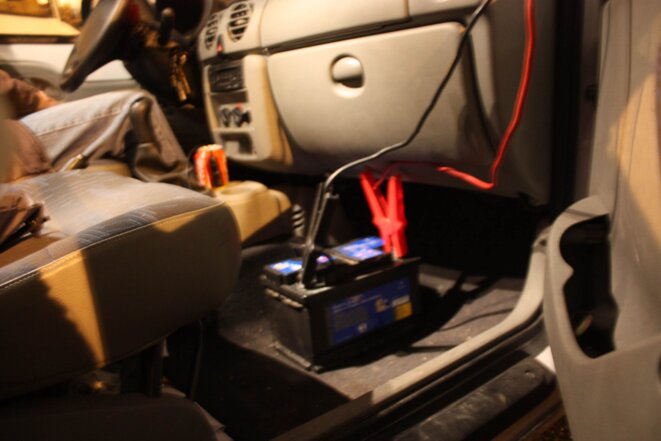 La batterie de sa voiture charge celle du camion où habite André S. © E. Berthaud.
Like Christian, he is hanging on to one hope: a retirement pension. "I only have 11 months to go," specifies Christian, as if he were counting the days too. A pension would mean a guaranteed income, with a chance of obtaining social housing. "We're not unhappy," he says, before conceding, "It's true that the situation isn't right. We're forced to live in these conditions."
The mounted policemen of the Carnot district who patrol the margins of the Bois de Vincennes woodland brush up against the vehicles. "Here, we're tolerated. Tolerating is neither authorising nor banning. This means things could change, that we might be told to leave from one day to the next. So we stay discreet," says Christian.
People who live in their vehicles, at least those encountered, generally fall into two age groups, those of 20-30 year-olds and 50-60 year-olds. The oldest generally describe a downward spiral following a break-up, the loss of a job, a serious illness. The stories told by the younger generation are more nuanced. Many of them speak of a need for freedom, a desire to be footloose, to move on. They take responsibility for their lifestyles, while admitting that their choices are also connected to budgetary concerns. To live in a van is a way of not playing extortionate rent, of putting money aside in order to travel or, in the long term, to buy a house or a piece of land.
A converted van in Rennes
A van is parked in the Villejean district of Rennes, the administrative capital of Brittany, in western France. Inside, a bed on a raised wooden platform is converted into a lounge area, next to a tiny kitchen with a sink, two big water drums and a gas stove. "I have the essentials," considers Camille Montoir, the 27 year-old owner and permanent resident of the vehicle.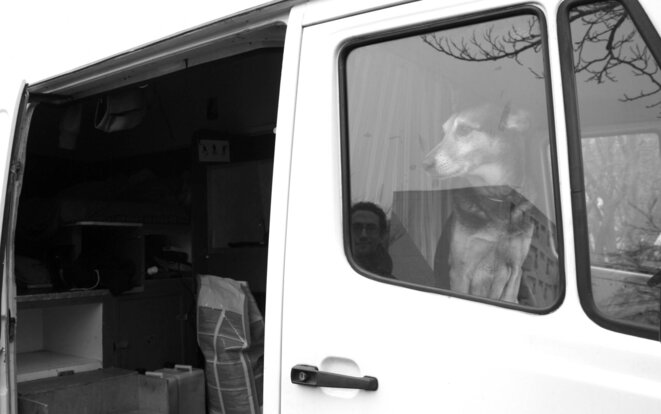 Dans son camion aménagé, Camille Montoir vit toute l'année © E.B
"The toughest part is the winter cold, getting out from under the duvet in the morning." For heating he uses a "firebrick system": he places an upside-down clay flower pot over the gas stove flame and the burning-hot pot is then put next to the bed, radiating heat. "It warms you while you fall asleep. The van cools down fast, even though I've insulated it with polystyrene panels and wood." What does he do for a shower and toilet? He finds camping sites in the summer, friends' places during the winter.
Camille Montoir hit the road at the dawn of his 20s, leaving behind his graphic design studies, considering that he wasn't cut out to work behind a desk. His car, with a mattress on the back seat, was his first mobile home. He then opted for a van, more comfortable, in order to follow the seasonal work route: apple picking in the South, plums in Corsica, grape picking... thanks to his CAP (Certificat d'Aptitude Professionnelle - Professional Aptitude Certificate), he became a stone-cutter.
For three years he has been moving around southern Brittany for a company specialising in the renovation of historical sites. His current vehicle, a Mercedes 208, provides him with transport and a cheap roof over his head. His parents, whom he regularly goes to see, have always respected his decisions, wanting his personal fulfilment. "At first I had a thirst for freedom. Now I'm beginning to want to settle down a bit. I'd like a house to do up."