Klement Ciannarella has a similar profile. A carpenter, he has been living in a comfy van in Paris for two years. "The Loppsi 2 Law scares me. Some people in precarious situations get by as best they can by living in vans or caravans, and then there are also people who chose to live differently. The law is unfair in both cases." For him, living this way offers the possibility of "letting the old grey matter breathe a bit."
"I've come to realise there are loads of networks being set up, loads of people living differently, very well, with different ideas. At the end of the day, you realise they aren't the problem, it's stupid laws that are."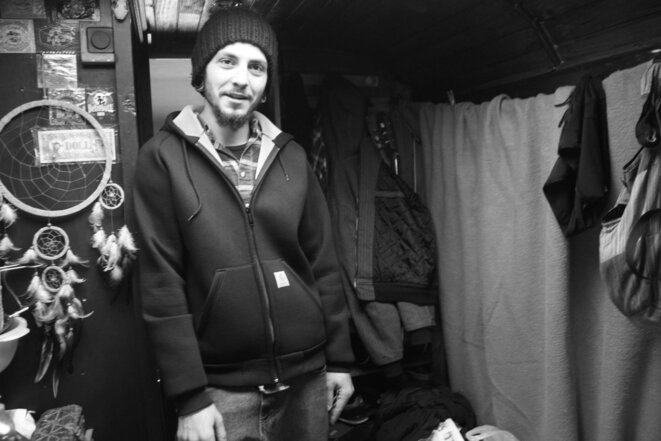 "Habiter un camion et travailler, c'est une bonne solution pour vivre en France" © E. Berthaud.
This position doesn't stop the 26 year-old from questioning his way of life today: "I'm going through a phase where I'm not so sure what to do anymore. Should I stop living like this? Would it be better for me to settle down? Is all this an adolescent, or hippy, trip? Do I have a choice? That's the main thing. In Toulouse, for example, you can't live in a van, you can't park anywhere, you end up on the outskirts, next to the football stadium. Without being picky, that's not so great"
A log and straw cabin, Tours
On the outskirts of a wood in the countryside east of Tours, centre-west France, Nadège T. lives in a cabin. In 2007 this 40 year-old farmworker parked a caravan on a piece of land she had bought. Since then, she has enlarged her living space by building a cabin divided into two rooms measuring about 20m2 each. For the walls: two layers of wooden cladding stuffed with straw and cardboard insulation. The roof is equipped with solar panels; rainwater is gathered for the washing up; heating is provided by a wood stove; and there is a composting toilet.
Nadège T. spent a dozen years travelling around the regions of France where she could find seasonal work, harvesting grapes, cherries, apricots, pears, apples, plums. She too lived in a converted van. "What counted for me was not to be dependent on assistance. I managed very well doing seasonal work. When I turned 40, I felt like settling down, travelling less." But there was a lack of means. "Building a cabin is a way of housing yourself while remaining independent."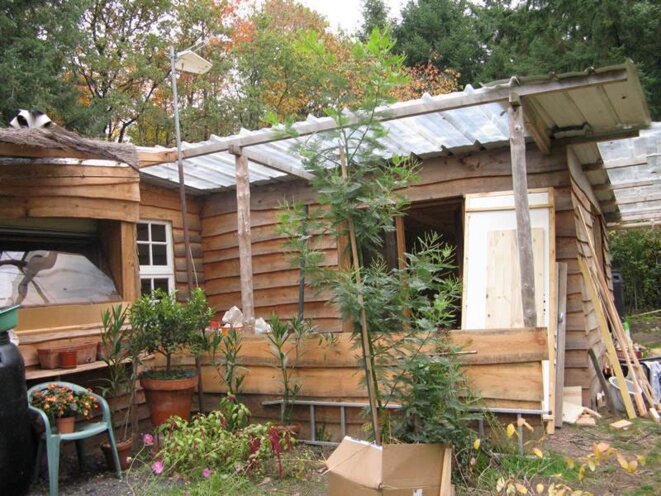 Une cabane plutôt qu'un HLM pour Nadège T., ouvrière agricole. © E. Berthaud.
"I consider that I cost society a lot less than if I were in social housing," she explains. "My home's eco-friendly, and my nearest neighbours, who I've spoken to, have told me I'm in nobody's way." The town hall sees things in a different light. It is against the land being used for leisure purposes, and has requested the removal of the caravan. The case is being taken to court, as Nadège has no intention of leaving.