Caravan refuge in Nantes
In Nantes, western France, in the shadow of the humanities faculty, on the edge of a park, are three stationary caravans. A few months ago, Gregoire O. found refuge in one of these caravans, which he bought for 50 euros. The furniture inside is covered in a layer of grime. The air smells stale and of wet dog. For lighting he has to wait for nightfall and the lighting of the street lamps. His electric radiator is plugged into the nearest one.
This 28 year-old has known the street, entrance halls, squats. "I know people in Nantes. I was born here. But I prefer to get by on my own," he explains. "Here I have my own little pad, it's better than being at my parents' or friends' places." Trained as a lorry mechanic, Grégoire worked in that field between the ages of 16 and 21. Family problems and financial problems led to heroin, a form of escape.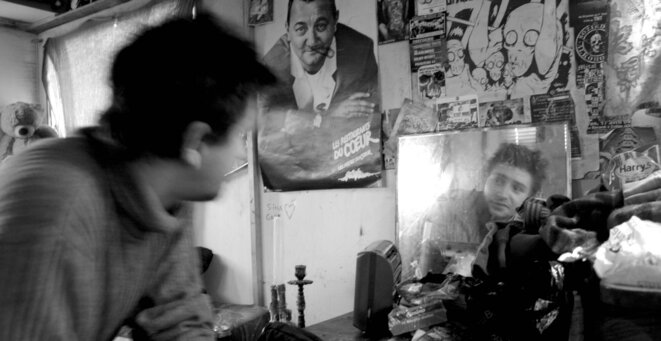 Grégoire O. a connu, les halls d'immeubles, les squats. © E. Berthaud.
Shantytowns in Montreuil
On the plateau of Montreuil, a suburb east of Paris, makeshift homes nestle behind the high walls that used to shelter vast fish farms. To access this informal village, which has housed as many as 150 people, wooden planks have been laid down to form a bridge across the mud. For over two years, Roma from Romania have settled down there on four narrow strips of land.
On 20 December 2010, they received a summons from the Bobigny family court for the illegal occupation of a piece of land, following a complaint filed by Montreuil Town Hall. The hearing is due to take place in chambers on 28 January, an expulsion procedure that article 32.3A will render more expeditious, reducing delays and no longer requiring a judge to order the eviction.
Afraid of being chased out, the majority of inhabitants have already left the place. There now remain 50 or so people, including several children. "A few days ago, three people, including two local police officers, came here ordering us to leave within three days," explains Cesar Ciurar, opening the doors to his house.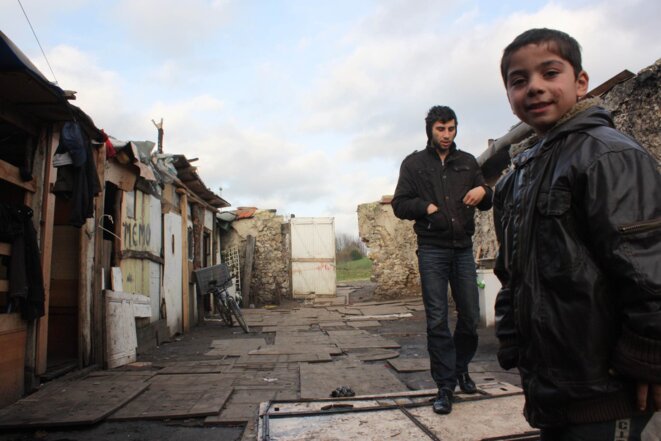 Le secteur dit des Murs à pêches à Montreuil (93) abrite des Roms originaires de Roumanie. © E. Berthaud.
Inside there is a clean, tidy kitchen, a bedroom with a few pieces of furniture, and a wood stove. "When we arrived two years and three months ago, we cleared up and quickly built these houses," explains this 27 year-old man who, in his nine years in France, has drifted from one piece of waste land to another in the Paris suburbs in Saint-Denis, Le Bourget, La Courneuve and Argenteuil. The shacks are made from material salvaged from local dumps: wooden planks, sheet iron, pieces of lino and carpet.
Cesar Ciurar's family has packed its bags and is waiting for the hearing on the 28th. The improvements they had planned are no longer relevant: clearing the land to chase away the rats that have been reigning there, rebuilding the shacks, and cultivating a plot of land with the help of an organisation called Ecodrom.
-------------------------
English version: Chloé Baker