TheThe privately-owned, 1960s-built 'Chêne Pointu' housing estate in the run-down Paris suburb of Clichy-sous-Bois contains 1,500 apartments. Slumlords rule the roost here, where more than two-thirds of inhabitants live below the poverty line and insalubrious, overcrowded flats are rented, room by room, for as much as 1,800 euros per month. The local authorities complain that they are largely powerless to combat the blatantly illegal practices. Edouard Zambeaux investigates.
-------------------------
"Going, going, gone!" In a chamber of the district court of Bobigny, a suburb north of Paris, the usher launches the next round of bids, keeping an eye on the rack that holds three wicks, the extinction of which, one by one, marks the end of bidding.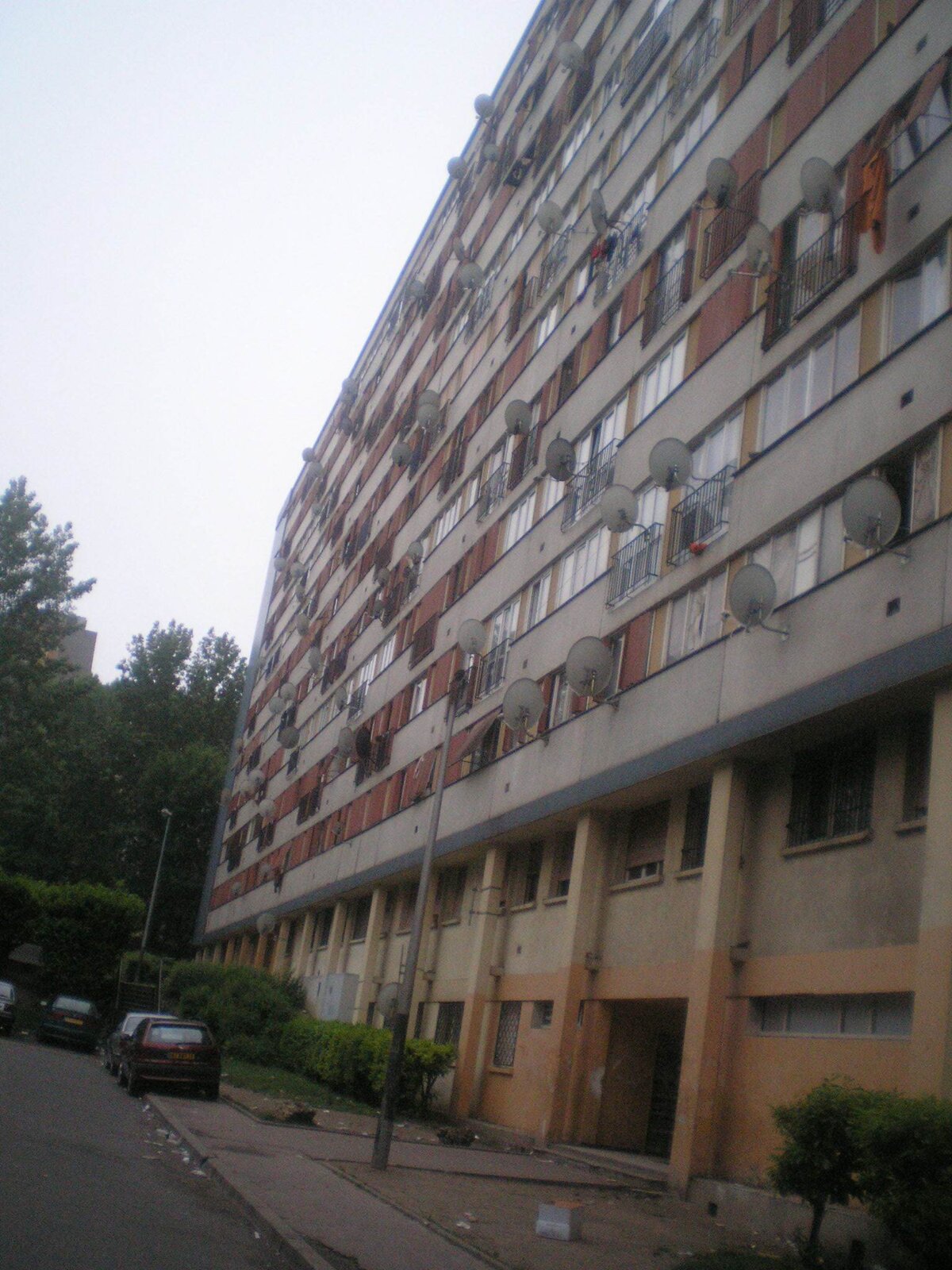 The third flame is extinguished and the property is sold. The lawyer approaches, signs and gives a cheque as a guarantee. The president of the court repeats the agreed price of the transaction and the name and social status of the buyer. This January 11th, real-estate is on the cards. And once again it is property in Clichy-sous-Bois, a district of Seine-Saint-Denis, a département on the northern outskirts of Paris, that represents the lion's share. Eight out of the twelve homes auctioned today are situated in this pauperised suburb, on the Chêne Pointu (Pointed Oak) housing estate, classified as "degraded" - a euphemism in view of its dilapidated state.
The buyers here are not in search of roofs to put over their own heads. In the auction room, property developers, estate agents, and established speculators shelter behind their lawyers, the only ones authorised to bid. Today, also seated on one of the court's benches is François Taconet, president of Habitats Solidaires (Solidarity Housing). This association tries to buy back apartments in order to allow their tenants to stay in them while paying acceptable rents.
Initially, Solidarity Housing concentrated on apartments confiscated from owners who lived in them. The association bought them back with borrowed money in order to keep the owners-turned-tenants in their homes, their rent reimbursing the loan. Thus insolvent inhabitants, whilst losing their properties, at least don't find themselves on the street. Now the association also tries to prevent 'slumlords' from taking over apartments auctioned in court in order to let them at extortionate prices, sometimes room by room.
So Taconet is a philanthropist. Seated next to his lawyer, he is safe in the knowledge that he will be walking off with all the goods. Earlier on in the morning he spoke to Claude Dilain, the Socialist Party mayor of Clichy-sous-Bois, the district that was the focus of international media attention in the 2005 suburban riots. The MP said he would be supporting him in this sale, and so Taconet is quietly confident that he will be able to snap everything up.
Nobody around him is aware of this situation, so their appetites are whetted. Cynical, sometimes racist comments can be heard, uttered in heated conversation. There is talk of speculation, rental yield, resale prices, return on investment, big money to be made fast and easy on the backs of those with the most insecure lives: those without legal papers like residency permits, people who work on the black, single mothers.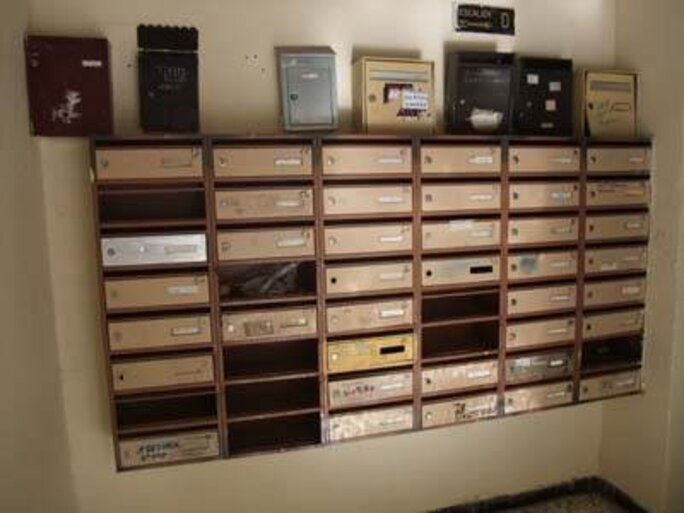 Olivier Klein, the deputy mayor, also in the room, becomes angry when one of the property developers delivers a series of trite comments according to which the "behaviour" of the "African tenants" is the cause of overcrowding and the degradation of homes. The Town Hall and mayor are also accused of "stigmatising" these "worthy" property developers as "slumlords".
For the time being the action is in another court room, where an apartment located in another district of Seine-Saint-Denis is for sale. This is a classic sale, at a 'normal' price: 90m2, four rooms, sold empty, with bids starting at 28,000 euros and a deal struck at 164,000 euros - of no interest to the developers and estate agents, who are lusting today after the eight apartments in Clichy.
'rapid return on investment'
Six of them belong to the same landlord and are being sold at the behest of the judicial administrator of the Chêne Pointu housing estate. The owner is one of the commune's most infamous slumlords. In the heyday of his real estate empire, he owned 49 apartments in Clichy-sous-Bois, and had built up a debt of 336,155,74 euros in arrears on service charges by October 10th 2009. The property management agency wants to recover these liabilities. Hence the sale of the apartments. Nobody knows exactly how many homes the slumlord still owns, but estimates converge around the figure of 30. Approximately 15 of these are already registered for future sales.
The six apartments, each about 60 m2, are sold occupied. But at a low price, between 3,900 and 5,200 euros per square metre. Each of them, according to a lawyer who addresses the assembly at the beginning of the auction to present the lot, generated a monthly rent of between 880 euros and 1,140 euros.
The bidding for the first lot is launched at 5,000 euros. It will reach 22,000 euros. Buyer: the Habitats Solidaires association. The second will be sold for a bit more to the same buyer. The third appears to attract some more interest: one of the developers slips a few hushed words to Taconet.
"Would you leave that one to me?"
"How would you administer it?" replies Taconet, ironic.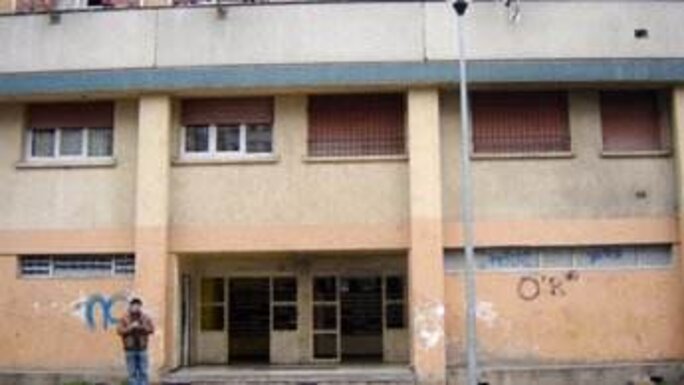 The two men know each other. The real estate developer purchased a property in 2009, which now houses two families. He renewed the lease of this flatshare at the beginning of 2010. Taconet's association managed to extract one of the two families from this overcrowded apartment on January 1st.
Moreover, stresses the Town Hall, this property developer is the owner "of at least three homes" under surveillance by the housing service. He also owes 6,700 euros for service charges on lot 825, adds the municipality, to back up its point. "There are names that ring bells", adds the person in charge of the city town hall's housing service. "There are about 15 of them. Together they own roughly 100 apartments," specifies Olivier Klein, deputy mayor.
The sale resumes. "Going, going, gone." The apartment situated on the fifth floor of a staircase on the Allée Pierre-et-Marie-Curie: 47,000 euros. Buyer: Habitats Solidaires, once again. Morality is intact, but at a cost.
This apartment represented a worthwhile investment for speculators. The tenant was declared to have been there for several years, paying a monthly rent of 1,140 euros. That works out as an annual rent of 13,680 euros for an investment of 47,000 euros - a yield of 30% a year.
'High profitability guaranteed' would be an apt sales cry for a salesman pedalling such miraculous financial products. Indeed, real estate websites do often highlight this aspect ('rapid return on investment') in their adverts for properties in Clichy-sous-Bois, stressing 'excellent rental returns', or specifying certain properties are 'ideal for an investor'.
But even at 47,000 euros, very short-term profitability is elusive. Here it is a question of making money even faster, before trouble comes along. Developers are effacing themselves behind the 'philanthropists'. The next three apartments sold at the auction also go to the association for between 25,000 euros and 40,000 euros each. At the end of the day, Habitat Solidaire's bill adds up to 207,000 euros, which will have to be found by turning to others, taking out 30-year loans to be paid back to the Caisse des depots ('deposit fund office' - a public group serving both the general and economic interest) in a social housing context.
More than 70% of inhabitants live below poverty line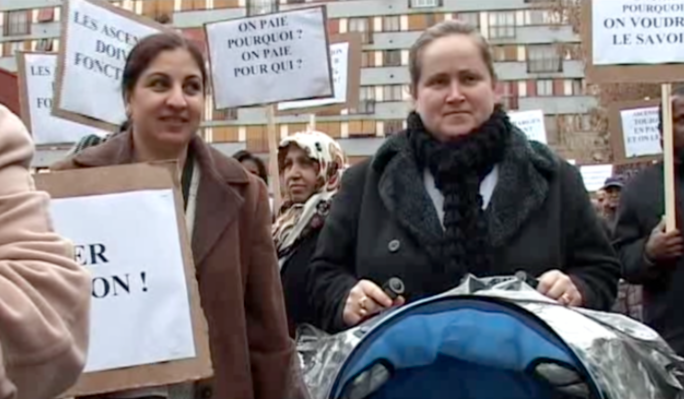 The Clichy-sous-Bois ttown hall recognises that the practice of buying property in auctions is not a proper solution. Habitat Solidaires owns about 30 apartments in the Chêne Pointu housing estate, but its organisation is not big enough for this.
"What's needed is a structure that would allow the large-scale purchase of apartments with public finance to get Chêne Pointu out of the rut it's in," says the manager of the Mayor of Clichy's office. "Between 300 and 400 apartments would need to be bought," she says. For, according to the Town Hall, nearly 70% of Chêne Pointu's inhabitants are living below the poverty line (with an income of less than 880 euros per person, per month).
In the 1960's, this estate and it's twin, the Etoile du Chêne (Oak Star), represented the property owner's dream: 18 buildings designed by a famous architect, awarded the Grand Prix de Rome. It has green areas, a variety of shops and services, caretakers, and 1,523 homes altogether, sold to aspiring property owners. The wealthiest buyers soon put their properties up for sale again, having realised this great project would fail to live up to its promises. The others found themselves bogged down in an increasingly troubled neighbourhood, imprisoned in a jointly-owned property with everything falling apart, struggling more and more to pay service charges.
AUDIO REPORT: An inhabitant describes how the residence has changed over time (in French only):


Inhabitants are caught up in the cogs of an infernal machine. The solvent ones leave. Those who remain see their service charges increase. Newcomers are ever more economically vulnerable. The arrears of unpaid charges pile up. It is a vicious circle. On average, 60% of charges are unpaid today - and the contagion is spreading. Those who do pay their bills can wonder why they bother.
Today Chêne Pointu owes approximately 2 million euros in unpaid service charges, plus over a million euros to the Véolia utilities company for water consumption charges. Last year's heating bill is unpaid. The elevator company Otis wanted to break its lift maintenance contract at the end of 2010, but the Mayor and the local Prefect intervened to obtain a reprieve. Now the debt is only 43,000 euros, compared to the 114,843-euro peak it had reached at one point. However, more than half the lifts in the 10-storey buildings are out of order, some of them for more than 18 months.
On the long-closed 'terrace' rooftops, vegetation is taking over. The top floors are as damp as sponges thanks to numerous leaks.
To try to pay the debts, the judicial administrator created a solidarity fund. Thus 70 euros are added to the tri-annual service charge for a four-room apartment. For example, one owner, who lives in his four-room property, received a 1,513-euro bill for service charges on December 28th last year.
Some slumlords accumulate debts amounting to tens of thousands of euros: 71,672 euros for one of them, 53,000 euros for another. There is yet another who owes a record-breaking 300,000 euros spread over several estates. Of course, such debts don't stop some investors from continuing to invest.
Two rooms for 1,800 euros per month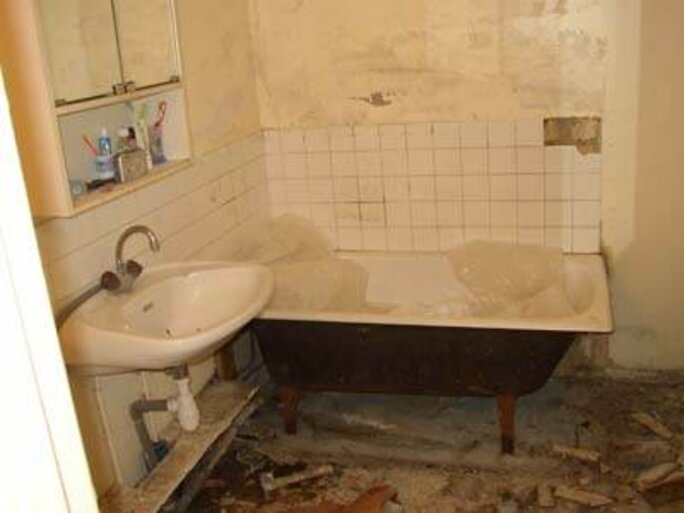 In this 'dream' collective housing estate, 60m2 four-room apartments are rented for 1,000euros, 1,200 euros and even 1,800 euros per month. For the most expensive of them, rooms are rented individually, 450 euros each, (720 euros for double living rooms), with just one bathroom. The regional health authority has published edifying reports, carrying descriptions of "imminent danger to the health and safety of inhabitants due to electricity, notably risk of electrocution and/or fire" and "absence of windows".
AUDIO REPORT: Deputy mayor Olivier Klein leads a visit of a 60 m2 flat housing 16 people (in French only):
Injunctions against the insalubrious conditions are filed, but the residents remain on the premises. At best they stop paying rent, unless, as has happened, the landlord comes knocking with threats, demanding his rent in cash. Everything is rented in Clichy-sous-Bois. The town-planning services fear that, with growing poverty and job insecurity, the phenomenon may spread beyond the tower blocks to a neighbouring area of detached houses. Anne Laure Jaurrey, who works in the housing service, is concerned to see 'converted' cellars and garages appear on the rental market. "A garage is 700 euros," she adds.
For a long time, a former medical centre composed of 13 rooms was rented to 13 families. It was located at 1, Allée Jules-Védrines. People living there were as cramped as if piled into the cockpit of the pioneering aviator the alley is named after. It took three years to re-house the inhabitants of this space. More recently a pseudo-hotel was established in Clichy. Rent: 1,800 euros a month for a tiny, two-room living space. Seven families still live there. A lawsuit has been filed.
So goes the poverty racket in this municipality (commune) that each year finds itself ranked atop the 'poorest in France' table and which, from the taxes of its 30,000 inhabitants, needs to educate the number of pupils normally associated with a population of 50,000. Close to 300 school children have no official address. They are housed by a third party, or share an apartment with several families on a single lease and are unable to provide the proof of address required for enrolment in a school. That figure of 300 children would make up a large primary school.
Indeed, it is often via the education services that the Town Hall gets word of apartments that are carved-up and rented room by room. More and more frequently it is the tenants who report their situations, as a result of a campaign led against slumlords by the local municipality. The campaign unites representatives of the town, the prefecture, social services, the regional health board, the family benefits office, the public prosecutor and the police. Its goal is to identify slumlords and check the health and safety conditions the tenants are living in.
This is the most pressing issue: protection from fire hazards, and obtaining health and safety injunctions that at least allow tenants to stop paying rent. Because, as far as re-housing is concerned, the mathematics are simple: there are 2,000 social housing requests in Clichy-sous-Bois, while people are attributed 40 to 60 homes "in a good year" regrets deputy mayor, Olivier Klein.
Slumlords sell to each other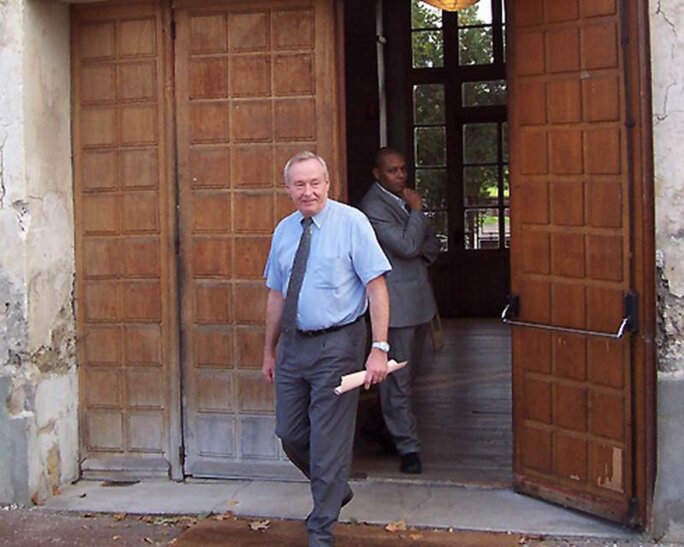 Powerless, the mayor, Claude Dilain, can do little more than sound the alarm bells. He signed an article in the opinion pages of the daily Le Monde entitled 'I am Ashamed'. Following a fire that broke out in the stairwell of the housing estate, he was given a tour of the 40 flats concerned. One of them was an overcrowded home on the 4th floor, with "walls black with damp, windows broken." He described the district as "A vertical shantytown".
Clichy is already the commune that benefits most from the region's urban renewal scheme. But Chêne Pointu and Etoile are privately-, jointly-owned residences, where intervention by public services is more delicate and more costly.
As a point of comparison, another degraded residence in Clichy, La Forestière, mobilised 160 million euros for 500 homes. In the lower reaches of Clichy, the problem involves 1,500 homes.
A 'safeguard plan' was nonetheless signed a year ago. This should allow urgent work to be started on roofing and lifts, largely financed by public funding. But all expenditure entails a cost, if marginal, for residents, as is reflected on their service charge bills.
On a judicial level, a campaign is under way, and which has already claimed an initial victory. At the end of December 2010, the sentence of one slumlord brought to trial was delivered: six months in prison with a 4,000-euro fine, a few hundred euros for the families who were the victims, and 800 euros in damages for the municipality. While these figures are symbolic, the victory does open the way for case law.
The owner was found guilty of the charge of "subjection of vulnerable persons to disgraceful housing conditions". In this insalubrious and dangerous apartment, rent was divided up thus: 700 euros for the 20m2 living room, and 420 euros for each of the two bedrooms. The slumlord was receiving a monthly revenue of 1,540 euros from an apartment bought for 32,000 euros in December 2009. The business is booming on the backs of the poorest, which makes it all the more despicable, deplores Matthieu Hénon, lawyer for Clichy Town Hall (audio below).

AUDIO REPORT: Clichy town hall lawyer Matthieu Hénon explains why he believes there is an organsied network of slumlords (in French only):
Two other court cases are pending. One of the suspects is currently in Senegal. The other showed up at the Bobigny court on December 17th. He owns three apartments that house ten families. His lawyer explained to us on the phone that this is a "situation he inherited, he didn't initiate it." He says that his client let one of his friends, "a former colleague", use the premises, and that this person moved the exploited tenants in. He deplores "the fact that the police didn't carry out the necessary investigations to summon this person". Basically the facts have been proven, but the 'crime' is not one that benefits the accused party.
There is a lot of talk of organised networks. The slumlords often sell their properties to one another. This is attested to by the obligatory DIAs (Declaration of Intention to Alienate), that the mayor has to sign if he chooses not to pre-empt. Some protagonists continue to splash out wholesale. The most recent available figures date back to 2009. That year 169 apartments - more than one out of ten- were sold in the two collective housing estates of lower Clichy. Two 'investors' drew a lot of attention to themselves. Mr K bought 16 homes for almost a million euros. Mr S. bought only ten for 672,000 euros. Misery is also good for business.
------------------------
English version: Chloé Baker