More than 70% of inhabitants live below poverty line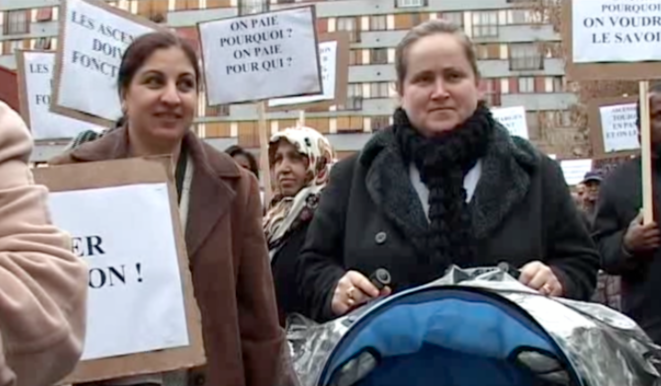 The Clichy-sous-Bois ttown hall recognises that the practice of buying property in auctions is not a proper solution. Habitat Solidaires owns about 30 apartments in the Chêne Pointu housing estate, but its organisation is not big enough for this.
"What's needed is a structure that would allow the large-scale purchase of apartments with public finance to get Chêne Pointu out of the rut it's in," says the manager of the Mayor of Clichy's office. "Between 300 and 400 apartments would need to be bought," she says. For, according to the Town Hall, nearly 70% of Chêne Pointu's inhabitants are living below the poverty line (with an income of less than 880 euros per person, per month).
In the 1960's, this estate and it's twin, the Etoile du Chêne (Oak Star), represented the property owner's dream: 18 buildings designed by a famous architect, awarded the Grand Prix de Rome. It has green areas, a variety of shops and services, caretakers, and 1,523 homes altogether, sold to aspiring property owners. The wealthiest buyers soon put their properties up for sale again, having realised this great project would fail to live up to its promises. The others found themselves bogged down in an increasingly troubled neighbourhood, imprisoned in a jointly-owned property with everything falling apart, struggling more and more to pay service charges.
AUDIO REPORT: An inhabitant describes how the residence has changed over time (in French only):


Inhabitants are caught up in the cogs of an infernal machine. The solvent ones leave. Those who remain see their service charges increase. Newcomers are ever more economically vulnerable. The arrears of unpaid charges pile up. It is a vicious circle. On average, 60% of charges are unpaid today - and the contagion is spreading. Those who do pay their bills can wonder why they bother.
Today Chêne Pointu owes approximately 2 million euros in unpaid service charges, plus over a million euros to the Véolia utilities company for water consumption charges. Last year's heating bill is unpaid. The elevator company Otis wanted to break its lift maintenance contract at the end of 2010, but the Mayor and the local Prefect intervened to obtain a reprieve. Now the debt is only 43,000 euros, compared to the 114,843-euro peak it had reached at one point. However, more than half the lifts in the 10-storey buildings are out of order, some of them for more than 18 months.
On the long-closed 'terrace' rooftops, vegetation is taking over. The top floors are as damp as sponges thanks to numerous leaks.
To try to pay the debts, the judicial administrator created a solidarity fund. Thus 70 euros are added to the tri-annual service charge for a four-room apartment. For example, one owner, who lives in his four-room property, received a 1,513-euro bill for service charges on December 28th last year.
Some slumlords accumulate debts amounting to tens of thousands of euros: 71,672 euros for one of them, 53,000 euros for another. There is yet another who owes a record-breaking 300,000 euros spread over several estates. Of course, such debts don't stop some investors from continuing to invest.