A second scandal involving allegations of child sexual abuse by a priest has hit the diocese of Orléáns, south of Paris, and could have ramifications in other regions of France too. On April 13th, 2018, prosecutor Nicolas Bessonne revealed that 58-year-old priest Olivier de Scitivaux de Greische had been placed under formal investigation over allegations of sexual abuse of a minor. Olivier de Scitivaux was rector of the basilica at Cléry-Saint-André, 100 hundred miles south of Paris, from 2013 until the end of March this year when he was removed from his post by the Bishop of Orléans Jacques Blaquart.
Examining magistrate Arnaud Desplan put the priest under investigation – one step short of charges being brought – for the indecent assault of a 15-year-old boy. He is suspected of having touched the victim inappropriately over a period of several years in a choir in Orléáns and at the Quinquis holiday centre run by the diocese at Perros-Guirec in western France.
But judges and gendarmes fear there was more than one victim. Before the Bishop of Orléans Jacques Blaquart referred the case to the authorities, he had been told of allegations of rape by the same priest on a man who is now 45. Those claims relate to the same holiday camp at Perros-Guirec in the 1980s but because the events took place so long ago they can no longer give rise to a prosecution, according to a source close to the investigate. According to some witnesses Olivier de Scitivaux visited the Quinquis centre over three decades, from 1977 to 2007.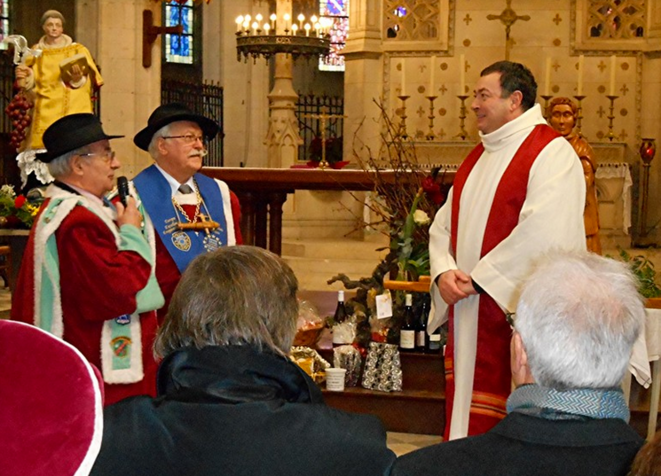 Under investigation for indecent assault: Father Olivier de Scitivaux, right. © DR
News of the investigation into Olivier de Scitivaux, who was also chaplain at several middle and secondary schools in Orléans in the 2000s, has provoked considerable reaction. The association
Notre Parole Aussi Libérée
, set up by victims of another alleged paedophile priest in the area, Pierre de Coye de Castelet, see a possible link between the two scandals. Some witnesses say the two priests were both present and very active in the Scouts of Europe movement, in Orléáns and elsewhere.
Pierre de Coye de Castelet himself was placed under formal investigation in November 2012 for the sexual abuse of children who were under his charge, with the events occurring in a holiday camp in 1993. Several days ago lawyers Edmond-Claude Fréty and Martin Pradel, who are representing three victims who have lodged formal complaints against the priest, wrote to the examining magistrate in charge of the Castelet case, Laurent Sousa, asking him to delay wrapping up his investigation into the affair. They want him to obtain from the Orléáns diocese all the archives that relate to Pierre de Coye de Castelet, Olivier de Scitivaux de Greische and every priest in the diocese who was allegedly protected by their superiors over claims of a similar nature.
Three successive bishops in the diocese, René Picandet, Gérard Daucourt and André Fort, are said to have been involved in hushing up paedophile priest scandals between 1993 and 2010. In June 2017 Judge Sousa placed André Fort, Bishop of Orléáns from 2002 to 2010, under investigation for failing to report the sexual abuse of a child of 15.
Having been alerted by a former victim of Father Castelet in 2010 that the priest was still in contact with young people, the bishop did not alert the judicial authorities and simply asked the priest to go and see a psychiatrist. André Fort had acted in the same way when he was Bishop of Perpignan in southern France, when he failed to alert the authorities to a paedophile priest who nonetheless went on to be convicted.
Father Castelet was supposed to have been moved by his superiors many years ago and to be stopped from having any contact with children. But this did not happen. "I accept that when I was bishop in Perpignan and then Orléans I never sought to go through the priests' files and I stuck to what I was able to know of them (observing, listening) and I didn't look at Pierre de Coye de Castelet's file," André Fort said during questioning in the office of the examining judge on June 8th, 2017. "I basically knew Pierre de Castelet through the legal thesis that he supported, he had been nominated as the diocese's Official [editor's note, ecclesiastical judge]. In contrast, what he was up to otherwise with young people escaped my notice, I was not alarmed or had cause to question him. When I read the letter from Mr Savignac [editor's note, one of the priest's victims] I was flabbergasted."
The examining magistrate reminded the former bishop that failure to report such matters can lead to a three-year prison term, and asked him: "Don't you think that your inaction allowed Pierre de Coye de Castelet to go unpunished but also, to an extent, saved the Church's image?"
"I acknowledge that the reading you've just given of the [criminal] Code prescribes an obligation to report, I wasn't fully aware of that, I hadn't appreciated that there was a strict obligation," replied André Fort. "It's true that I was sad and felt ashamed for Pierre de Castelet, but I was also deeply touched by Mr Savignac's suffering. I didn't think it was for me to take that initiative. He was 30, he was fully able to do it or to ask me to do it. I wasn't aware, in any case, that the law obliged me to do it. At the time there wasn't all this media coverage around such events which has contributed to awareness of the seriousness of such things."
Decades of impunity and victims who were ignored
Aged 82, André Fort is today in retirement and has moved to another region of France. "His position has not altered. He hasn't sought to hide things, nor act with a desire to harm anyone," says his lawyer Benoît de Gaullier, who points out that his client benefits from the presumption of innocence. The lawyer said his client had not discussed Olivier de Scitivaux's case with him.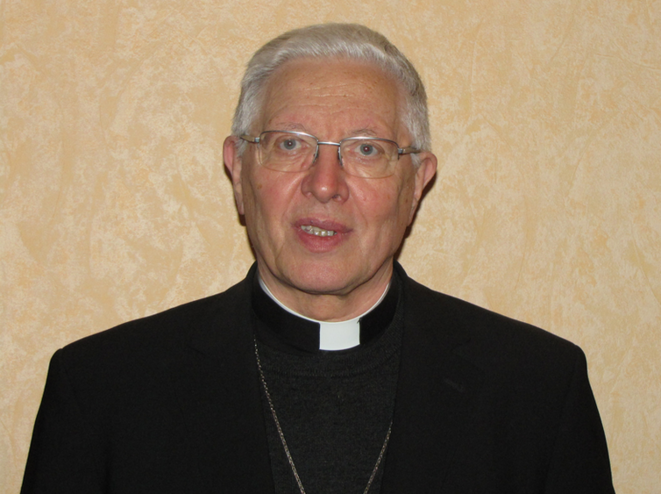 Former Bishop of Orléans André Fort. © DR
However, the former bishop's superior, the Archbishop of Tours, Bernard-Nicolas Aubertin, who was questioned as a witness by police in Tours in central western France on July 11th, 2017, was rather more forthright in his comments. The archbishop said he did not precisely remember being alerted by a letter about the Pierre de Castelet affair, but he did recall that there had indeed been "some rumours" about the priest, that he had apparently "touched up some young people".
And he told the police about one encounter with André Fort that related to the priest concerned, Father Castelet. "There was a meeting of Cubs and Brownies at Gizeux Château [editor's note, west of Tours], in other words children aged 8 to 10, there was an enormous number of participants. Monseigneur Fort was still Bishop of Orléáns. I'd come for a group photograph and I was supposed to stay for five minutes. Father Castelet was this camp's chaplain. And it was at this time that there were just rumours concerning this Father. And I was astonished by his presence. I remember having said to Monseigneur Fort, some days after, that I didn't understand how this man could still have responsibilities in Scouting. I was brushed off; in effect he was saying, that gossip again! And the tone was the same. He was very unhappy, as if to say: why are you getting involved?"
The Archbishop said it had been a Scouts in Europe weekend camp some time in 2009 or 2010. The police officer interviewing him noted that Bishop Jacques Blaquart – Fort's successor as Bishop of Orléans - had reported the events to the legal authorities in December 2011, while he, the Archbishop, had done nothing after seeing father Castelet with children.
"You took the risk of exposing other children to him, if he was still in his post?" asked the officer.
"I didn't determine so at the time," replied the Archbishop.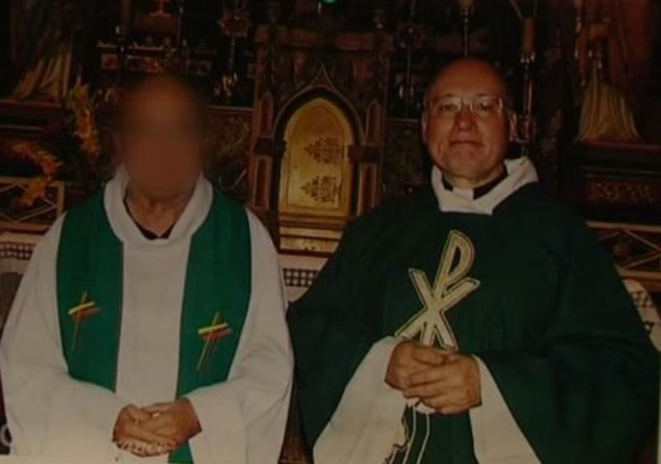 Father Pierre de Castelet, right, who is under investigation for sexually abusing around ten young boys in 1993. © DR
Pierre de Castelet is suspected of having indecently assaulted around ten boys aged 11 to 13 in July 1993 during a holiday camp run by the Catholic youth group the Mouvement Eucharistique des Jeunes (MEJ) at Arthez-d'Asson in south-west France. Warned that the priest was seeking to be on his own with young boys and that he was touching "willies", a female organiser at the holiday centre surprised him in his bedroom in the process of closely examining a boy who was lying down and wearing just his underpants.
At the time Pierre de Castelet was director and chaplain at the camp but he also passed himself off as a doctor and said he was the camp's nurse, though neither claim was true. After a swift inspection by the MEJ's national chaplain the priest was simply removed from the holiday camp – and shunted off to another camp with teenagers who were scarcely much older.
While he was in custody and then when he was questioned by the examining magistrate, Pierre de Castelet acknowledged the facts of the case. "I got them to come for a medical reason, for medical visits," he said. "They came into my office. There was furniture, a table, a bed, a trunk, a coat rack, a desk. It was always in the same room. They came in shorts and a pullover. I made them take off their tops, they were in shorts. I had a chat with them on their health, their food, how camp was going. In the course of this chat I had contact with their body, and sometimes I lowered their shorts or their trousers and I touched their genital organs. They were laid on their back, I don't remember having touched their bottoms."


Related articles
The priest said it was a "moment of intimacy, of gentleness, an emotional moment". He said: "I knew it was wrong. But what I didn't know was that it was harming the child. I thought that this moment was perceived as a good one by the child."
Several witnesses have confirmed to gendarmes in Orléáns that they suffered this treatment but do not want to make a formal complaint. The three men who have joined their names as civil litigants to the criminal proceedings against the priest have described the psychological problems and the episodes of depression that they have experienced since these sexual assaults. In the end the three men alerted Bishop Blaquart after learning that the Catholic hierarchy, warned by several families and the MEJ after the 1993 camp incidents, had done nothing about it since and that Pierre de Castelet was still in contact with young people, contrary to promises made at the time.
Though he had been an organiser and assistant director in other holiday camps, Father Castelet assured the judge that he had never committed similar offences, neither before 1993 nor after. "I'm absolutely sure that there were no other victims. After that camp I kept my distance," he declared. However, in 2011 his accusers found evidence that he had been chaplain to a Scouts of Europe troop and was a member of a committee of experts on the problems of paedophilia in the Orléans diocese.
-----------------------------------------------------
If you have information of public interest you would like to pass on to Mediapart for investigation you can contact us at this email address: enquete@mediapart.fr. If you wish to send us documents for our scrutiny via our highly secure platform please go to https://www.frenchleaks.fr/ which is presented in both English and French.
-----------------------------------------------------
The French version of this article can be found here.
English version by Michael Streeter
Si vous avez des informations à nous communiquer, vous pouvez nous contacter à l'adresse enquete@mediapart.fr. Si vous souhaitez adresser des documents en passant par une plateforme hautement sécurisée, vous pouvez vous connecter au site frenchleaks.fr.