He mimes the scene at the same time as he speaks: "It's a suitcase like that. It opens like that. And the money is inside." The man talking and miming is Ziad Takieddine, the Franco-Lebanese arms dealer and intermediary who first introduced Nicolas Sarkozy to Libyan leader Muammar Gaddafi in 2005. For the first time, in a recorded interview with Mediapart and television news agency Premières Lignes, Takieddine has revealed how in late 2006 and early 2007 he personally handed three suitcases containing a total of 5 million euros from the Libyan regime to the then French interior minister Sarkozy and his chief of staff Claude Guéant.
The interview, which corroborates the testimony of another key witness, lends strong support to the claims that the Libyan regime funded Sarkozy's 2007 presidential campaign to the tune of up to 50 million euros. The latest claims were first made by Takieddine on October 18th, then recorded in front of a camera at his Paris home on Saturday November 12th. In the recording Ziad Takieddne describes in detail how he delivered suitcases of Libyan cash to the French Ministry of the Interior at place Beauvau in Paris. On two occasions, he says, he gave the suitcases to Claude Guéant in his office, then on a third occasion in January 2007 he gave a suitcase to Nicolas Sarkozy in person, in the then-minister of the interior's private flat.
Interview with Ziad Takieddine on November 12th, 2016 in Paris. © Mediapart, production Premières Lignes
"I discovered things that should no longer stay hidden," says Takieddine, who says that he now feels able to speak freely and is ready to talk to the French judicial authorities "to tell the facts accurately from the inside". The arms dealer, referring to what he has witnessed "from 1993 to the present day", adds: "I want to denounce the Mafia state in which we are currently living."
The Franco-Lebanese businessman and intermediary has already featured in judicial inquiries into the so-called Karachi affair involving French arms sales to Pakistan and Saudi Arabia between 1993 and 1995, and sales commissions allegedly illegally used to fund the 1995 election campaign of former prime minister Édouard Balladur. Takieddine has already told judges probing that affair that he handed over cash to Balladur supporters. Senior former officials Renaud Donnedieu de Vabres, Thierry Gaubert and Nicolas Bazire, who at the time worked for defence minister François Léotard, budget minister Nicolas Sarkozy and Balladur respectively, have all been sent for trial in relation to the case. However, that case has been delayed by legal wrangles.
In connection with the Libyan funding affair it was Ziad Takieddine who acted as the intermediary between then-interior minister Sarkozy and Gaddafi, preparing the former's visit to Tripoli and his first meeting with the Libyan leader in October 2005. The businessman, who made one or two trips a month to Libya from that time on, was handling the signature of numerous security and oil contracts in permanent consultation with Claude Guéant, as documents published by Mediapart have shown.
The suitcases of money that Ziad Takieddine admits to taking to Paris were, he says, given to him in Tripoli by Libyan spy chief Abdullah al-Senussi, who was also Gaddaffi brother-in-law. On May 9th, 2012, Takieddine had already told judges that he considered "absolutely credible" the "information revealed by the press on the subject of the financing of M. Nicolas Sarkozy's 2007 campaign of up to 50 million euros". A year later, on December 18th, 2013, he had explained to judges that after Nicolas Sarkozy's first visit to Tripoli in 2005, Abdullah al-Senussi had informed him of Sarkozy's financial desires in the context of the 2007 election. Takieddine also said that when in 2006 the Libyans asked him to take the cash to Paris himself, it was done in collusion with Libyan special services, whom Senussi commanded.
Speaking out: Ziad Takieddine in his Paris flat on November 12th, 2016. © Pedro Da Fonseca/Premières Lignes
The events that Takieddine now admits to had already been outlined by Abdullah al-Senussi himself during secret proceedings before the International Criminal Court (ICC), details of which were first
revealed by Mediapart
on November 7th. Yet Takieddine had told exactly the same story to journalist Nicolas Vescovacci several days earlier, on October 18th, a date when the arms dealer could not have known of the existence of Senussi's confidential testimony to the ICC four years earlier.
During Senussi's testimony to the ICC on September 20th, 2012 – which has only recently been sent to French judges – the former Libyan spy chief insisted that he had "personally supervised the transfer" of the sum of five million euros "for President Nicolas Sarkozy's campaign in 2006-2007". He noted that this transfer was carried out "via a French intermediary, in the person of the minister of the interior's chief of staff" and "a second intermediary, named Takieddine, a Frenchman of Lebanese origin based in France".
Sanussi added: "To these comments I must add that Sarkozy had asked me in person to avoid Saif al-Islam Gaddafi [editor's note, Gaddafi's son] or Bashir Saleh [a senior Libyan financial official] being made aware." He continued: "In any case, up to the delivery of the amount, nothing got out. But I confirm that this amount was indeed received by Sarkozy." This is the story that Takieddine himself is now confirming, even at the risk of incriminating himself in front French judges.
Contacted by Mediapart, Claude Guéant said: "My reaction is simple. I have never received cash from the Libyan government, nor from anyone else besides. I have not seen any either. To claim so is lying and defamatory." Aides working for Sarkozy, who was recently humiliated in the Right's primary to choose the 2017 presidential candidature, said they did not wish to comment.
'It's a brown leather suitcase with a zip'
On the Libyan side Abdullah al-Senussi was one of the architects behind the Gaddafi-Sarkozy rapprochement. He hoped that France could grant him an amnesty or at least review the life sentence pronounced against him in Paris in 1999 over his role in a 1989 UTA airliner bombing in Niger that killed 170 people including 54 French nationals. Nicolas Sarkozy and his team not only accepted the principle of helping Senussi, they also handed the case to Sarkozy's personal lawyer, Thierry Herzog, as reported by Mediapart.
Meanwhile the detailed list of journeys made by Takieddine, a list now in the hands of the French judicial authorities, shows the various trips he made between Paris and Tripoli from November 2006 to January 2007. These were on the 16th-17th and 27th of November 2006, December 6th 2006, and the 15th and 26th to 28th of January 2007. Investigators will check the details of those trips but on the face of it they show that the money transfers could indeed have taken place as stated by Takieddine.
The first handover of money goes back to November 2006. It was, says Ziad Takieddine, Abdullah al-Senussi who initially asked him to carry out these deliveries.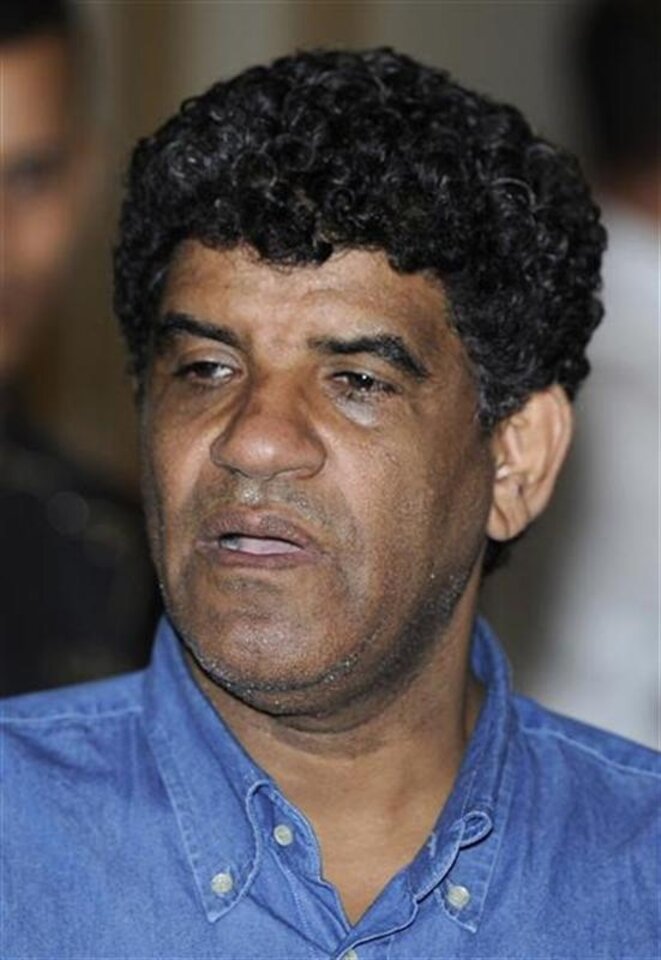 Libyan spy cheif Abdullah al-Senussi in August 2011, just before the fall of the Gaddafi regime. © Reuters
"One day M Senussi asks me if I could be the one to transport these amounts to Claude Guéant at the Interior. At that time I say 'If it's ok, that's fine'. But how does one get that into France? He tells me: 'The Ministry of the Interior will be informed and so you go back, there's no problem,'" says Takieddine. On this first occasion it was Abdullah's brother Hameda Senussi who personally handed the Franco-Lebanese businessman the cash. Abdullah Senussi explained to Takieddine: "So, he'll bring you a suitcase for you to take back to Monsieur Guéant in France tomorrow."
This suitcase contained around 1.5 million euros "in five hundred notes" and "several bundles of two hundreds". The notes were, says Takieddine, "completely new".
The middleman had opened the suitcase and looked to see what was inside. "I didn't count it, I opened [it] and I saw," he says. "I made a plan in my mind to work out what I was going to put on top to hide it, if I had space. He [Senussi] says to me: 'Don't worry, in any case the services have been informed … you return with it, your deliver it to M Guéant and you confirm to us once it's been received!'"
Takieddine was driven to Tripoli Airport by one of Abdullah al-Senussi's security officials, who stayed with him until boarding. He took one of the "normal" daily flights between Tripoli and Paris with Afriqiyah Aiways and arrived in Paris where his chauffeur was waiting for him. He went through customs control with his suitcase in his hand "like any other passenger".
The Libyans had assured Takieddine that he would get through the border controls without a hitch. "Everyone's been told. They're waiting for you," Takieddine says he was told. "So I trusted them. I trusted Senussi."
He continues: "In my car I phoned M Guéant and made an immediate appointment with him." It was accepted straight away and he went to the Ministry of the Interior's offices at place Beauvau in Paris. "And I get out of the car with the suitcase. And I go in by the main door. I give my name. I know that I'm expected. I go in straight away. I was taken to Monsieur Guéant." The suitcase was still in his hand. "It's a brown leather suitcase with a zip. It's a large brown bag."
Ziad Takieddine was familiar with the place. "I go in. In front of you there's the main stairs where the main building is. With the adjacent building and another entrance to the right. Monsieur Guéant's office is on the first floor."
The middleman entered the chief of staff's office. "He comes out from behind his desk," says Takieddine. "We speak a little bit. He sees where I have left the suitcase. And there you go." According to Takieddine's account Guéant had cleary been "expecting" the handover, as he made no comment about it.
Takieddine duly left the suitcase in the official's office. "I left it next to the cabinet there," he says. "It was up to him to deal with it. I've no knowledge of where he was going to put it." In any case, Guéant did not open the suitcase in front of his visitor. Indeed, as soon as he had put the bag down Takieddine says his only thought was to "leave, run away...". He adds: "It didn't interest me at all. I go out and get into my car. And I went to have lunch. That's it."
The second trip was carried out in the same way. When he was at Abdullah al-Senussi's place Takiddine noticed that everything was already prepared. "It was the same suitcase. And I said: 'Do you have suitcases designed for this type … because it was the same!'"
This time the middleman estimated the value of the contents at two million euros. On arriving at the airport in Paris he again called Claude Guéant. "I had a telephone number on which he replied to me all the time. [It's] a telephone number that he kept until the presidency [editor's note, of Nicolas Sarkozy for whom he was chief of staff] and after...which he had promised he would never change for me..."
'I carried a total of 5 million euros'
On this second trip, however, there was a slight change when Takieddine arrived at the Ministry of the Interior. "I was supposed to make my way to M Guéant and there I was told that I had to go elsewhere. And there I see M Guéant who takes us to M Sarkozy. Who is in his office. So I put down the suitcase, the thing ...Guéant takes it. And I see Sarkozy and he tells me: 'The next time you come directly to me!'" The middleman says that he had not expected to see Sarkozy that day.
Claude Guéant left the money in his office. "He never opened the suitcase or at least not in front of me," says Takieddine. "I don't know what he did with it afterwards. He took it to his place...he put it in a safe...I have absolutely no idea."
Takieddine says he had a brief chat with Guéant - "as if there were no suitcase" - on ongoing matters, as this was the period when Takieddine was sending lots of notes to Guéant about various issues. "And then I leave as if there were no suitcase," he concludes.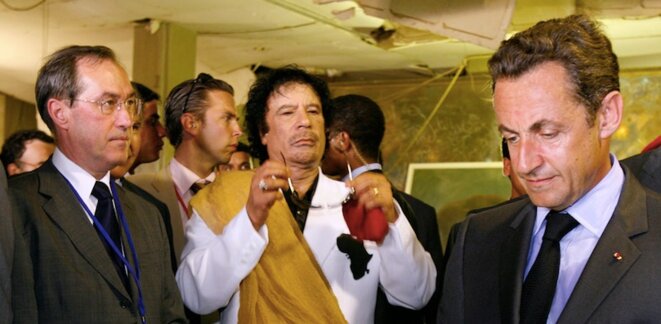 Happier times: Claude Guéant, Muammar Gaddafi and Nicolas Sarkozy together in Tripoli in July 2007. © Reuters
On each occasion that Takieddine delivered Libyan cash he reported back on his trip to Abdullah al-Senussi. "And he asked some questions: 'How did it go? Did he take it? Did he count them?'".
The middleman says he "knows full well" that he "carried a total of 5 million euros in this way for exchanges of services".
This suitcase contained around 1.5 million euros. But Takieddine insists: "I didn't count it, at either end!" This last handover took place in January 2007. "I made an appointment with M Guéant," says the Franco-Lebanese middleman. But this time he went "straight to the top of the first floor" where there was an "apartment". It was the minister's private apartment. It was a place Takieddine knew because he had already met Nicolas Sarkozy there – he had gone there in 2004 for a telephone call that the French interior minister had made to his counterpart in Saudi Arabia Prince Nayef. It was the period when the minister was negotiating to sell a border monitoring radar system to Saudi Arabia, talks that were later stopped on the orders of President Jacques Chirac.
During the January 2007 visit Takieddine and Sarkozy exchanged greetings and spoke for several minutes. "He talks to me, he says: 'What are we doing about these nurses?'" - a reference to the Bulgarian nurses then still imprisoned in Libya over an HIV scandal. Once again Takieddine put down his suitcase.
"At the entrance there's something rectangular, which is very deep, like a living room, longways." The suitcase itself was put "against the wall" in a small living room. Did Nicolas Sarkozy know what it contained? "Indisputably, of course!" says Takieddine. In any case the minister of the interior did not open the bag. "Neither opened or checked, nothing at all. We straight away spoke about other things."
The Franco-Lebanese middleman describes how he reacted to the situation. "As usual I was calm," he says. But what about the minister, did he seem nervous? "No, no he's false! He's false! He's someone who's false!" Takieddine explodes. But he admits: "For me, in 2006-2007 Sarkozy was still a champion." The two men said goodbye and on this occasion Takieddine did not see Claude Guéant.
Ziad Takieddine no longer sees the former president as a "champion". Today the arms dealer criticises Nicolas Sarkozy for the "bloodbath" and the "war unleashed in Libya", referring to France's intervention there in 2011. On March 5th, 2011 Takieddine was arrested by customs officers at Le Bourget Airport near Paris after returning from Tripoli where he had accompanied journalists from the Sunday newspaper Le Journal du Dimanche who had gone to interview Gaddafi. Takieddine was carrying a suitcase containing 1.5 million euros, undeclared money that he said came from his personal business affairs with the Libyan regime.
According to his explanation to judges in May 2012 Takieddine had also been "carrying a message from M Gaddafi for the attention of M Guéant". In essence this message was that France should not interfere in the country, that he, Gaddafi, wanted to stop Libya from breaking up and "avoid a civil war" and that he was going to "quit power". Takieddine adds: "I never passed on the message as I was arrested on my return to Le Bourget. I'm convinced that I was subjected to this arrest and a body search because M Guéant was convinced that I had in my possession proof of this financing." In other words the "details" about the funding of Sarkozy's campaign to which both Gaddafi and his son Saif al-Islam Gaddafi had publicly alluded in the days before the Western offensive in Libya. "Sarkozy must repay Libya the money he took for his election campaign. We financed his election campaign and we have all the details and we are ready to publish them," Gaddafi's son told Euronews TV in March 2011.
-----------------------------------------------------------------------------
The French version of this article can be found here.
English version by Michael Streeter
Si vous avez des informations à nous communiquer, vous pouvez nous contacter à l'adresse enquete@mediapart.fr. Si vous souhaitez adresser des documents en passant par une plateforme hautement sécurisée, vous pouvez vous connecter au site frenchleaks.fr.