On Wednesday March 23rd, they were still selling millefeuilles, orange tarts and St Honoré cakes in the well-heeled districts of Marylebone and South Kensington in London. But by evening on the following day - pay day - staff at the two branches of the highly-acclaimed Pâtisserie des Rêves had left the shops for the last time. The London venture of the exclusive French cake shop chain, co-founded by entrepreneur Thierry Teyssier and renowned pastry chef Philippe Conticini, had come to a sticky end, leaving 22 employees out of work and their last month's wages unpaid.
"It came as a complete surprise, there'd been no prior indication," says a former employee. "The Pâtisserie des Rêves's international manager called on Wednesday March 23rd to announce the closure, asking that we didn't disclose what was going on, so it didn't spoil the Easter weekend which was just coming. But the staff immediately asked Paris for an explanation by email." Even in a British labour market known for its ultras-flexibility, the brutality of the process went down badly. "We're not in the 19th century!" said the former member of staff. "In Great Britain, too, there are procedures, laws, you can't just do anything."
Two days later the shocked staff, who were getting no response from Paris, decided to put up a sign in the window at the Marylebone shop appealing for help from the shop's clientele, many of whom were French expats. Yet in the shop itself the removal men were already at work, putting equipment on pallets to be taken to Paris. "So they knew what they were doing, it was planned," said another former employee. Aurélia Cadot, the former manager of the London shops, who is very bitter about the affair, says: "If the international director had not been dispatched here to do the packing I think that the company would just have restricted itself to a phone call to give us our marching orders."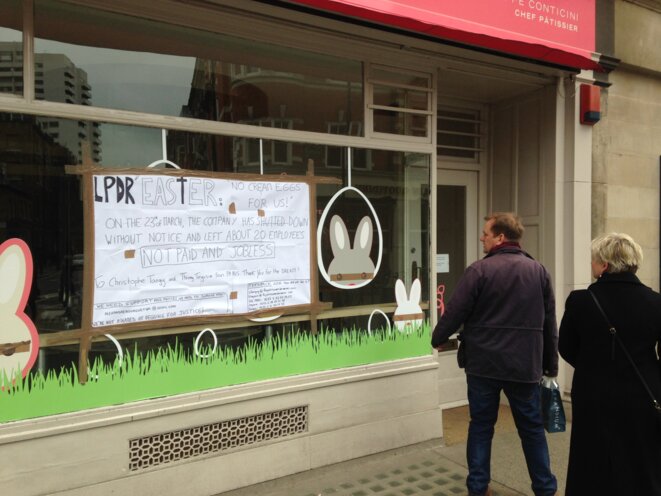 The sign put up by sacked staff at the Marylebone branch of Pâtisserie des Rêves in London. © DR
The staff discovered at the same time that the Pâtisserie des Rêves, whose brand was based on star chef Philippe Conticini, king of the
Paris-Brest pastry
, was not the success they thought it had been in France either. The company, set up in 2009 and which has six shops in Paris, and several others abroad in Japan, Dubai and Abu Dhabi, is in administration in both France and England. Even in Paris the news had been kept confidential.
Thierry Teyssier, who co-founded Pâtisserie des Rêves with Philippe Conticini, confirmed the problems that the business had experienced and that the company had gone into administration. Among the problems were caused by poor sales in London in relation to the major investment that had been made there over the last two years. "We were placed under the protection of the commercial court in France, to give time to find a new investor; that's part of the normal life of a company," he said. But a potential buyer let them down and the problems mounted.
"So in mid-March we were trapped, with rents to pay on one side and salaries to pay out on the other," said Thierry Teyssier. "The English landlords didn't want to give us breathing space, it's not like in France, they sent the bailiffs in straight away. And so to avoid our property being seized we also put the shops under administration in England."
Thierry Teyssier says that in England the officials handling the administration informed the banks who immediately decided to block the company's accounts. "That's the reason we couldn't pay the wages," said Teyssier. "The staff didn't want to work the Easter weekend when they learnt about the closure and I understand them; they didn't have any trust any more. But it was an enormous waste. We wanted to close in the proper way, and we didn't succeed."
Aurélia Cadot, however, is dismissive of such claims. "They're unbelievable! We took 5,000 euros a weekend per shop, maximum. It's not through sums like that that we could have paid the staff! The truth is that we're the last thing that this business was concerned about." She says that the company has no longer been responding to emails or telephone calls for more than two weeks.
In response Thierry Teyssier admitted they made some "big mistakes" and sought to be reassurre. He said the matter was being dealt with and that the missing wages would soon be paid. "It's a passionate profession, we hired a total of 120 people and I am the personal financial guarantor in this venture. Believe me, I'm working on it day and night," he said.
But a month after the closure of the London business there is no sign of a liquidator and those former staff who have approached Companies House – where companies in England and Wales are registered – have come away empty handed. "As far as they're concerned Pâtisserie des Rêves no longer exists. They say to us that without a captain of the ship to identify, they can't do anything," said one former employee. This means that not a single penny from the state's National Insurance Fund, aimed at staff whose company has gone bust, has yet being paid out to staff, whose only documentation is a sheet of paper stipulating the end of their contract.
In desperation some of the redundant cake shop workers have approached chef Philippe Conticini, whose signature adorned the London shops' windows, patisserie boxes and till receipts. But it is clear that all is not well between the Pâtisserie des Rêves and its figurehead. "Yes, Philippe Conticini is indeed the co-founder of Pâtisserie des Rêves with Thierry Teyssier and Conticini SAS is still a shareholder in this company," explained Didier Brudo, the pastry chef's business partner. "But we have no role or financial power in the running of Pâtisserie des Rêves. We haven't been called to a single supervisory board [meeting] for two years, and we learnt about the closure of the shops in London via Facebook."
The pastry chef is bound by a simple "partnership contract" which obliges him to come up with ten recipes a year for the brand, which is somewhat less involvement than was suggested by some of the media coverage when the shops opened in London. "We're being treated like hooligans by the employees, that's unacceptable because we have nothing to do with over there," said Didier Brudo. "Like them we're suffering from the administration [status] in France. We didn't receive our payments in January and February either, yet the Pâtisserie des Rêves represents a large slice of our turnover."
There is also a difference of opinion over the use of the chef's name in all the merchandising for Pâtisserie des Rêves, where Philippe Conticini is still omnipresent. "Pâtisserie des Rêves is a land of creation for food lovers and Conticini is their guide," said Thierry Teyssier. "He creates some recipes, like others. His contract runs until the end of 2017. I don't know if he wants to renew it."
Such niceties hold little interest for the former London staff who say they have been threatened with legal action if they persist in trying to involve the chef in the affair. Most of them have kissed goodbye to the money they are owed and have found other work, the first job available. "In bars or supermarkets, to survive, not for personal development," says Aurélia Cadot with heavy irony. "Given the cost of living in London one wage less is simply catastrophic. I can tell you that quite a few of us have not eaten well for several weeks."
Some of those made redundant have sold their computers to raise cash, others have returned to France. But a number of the former staff are planning to take joint action against the French company, though they will need to put up 800 pounds to start legal proceedings. One ex-employee summed up their feelings: "There's no question of letting it drop. Of course the English [jobs] market is very responsive, it's not difficult to find a job. But this affair must not simply become a bad memory, everyone has a right to their wages."
--------------------------------------------------------------------
The French version of this article can be found here.
English version by Michael Streeter