Michael Haneke's film Amour (Love), starring Jean-Louis Trintignant and Emmanuelle Riva (right), took the top Palme d'Or prize at this year's Cannes film festival awards ceremony held on Sunday. Emmanuel Burdeau, former editor of the French cinema magazine 'Les Cahiers du Cinéma', who has been following the 12-day festival for Mediapart, reviews this year's award-winners and argues why jury president Nanni Moretti ended up eating his own words.
-------------------------
Shortly before the opening of the 65th Cannes film festival on May 17th, the jury president, Italian director Nanni Moretti, had piled on the pressure.
He began by declaring that he hadn't liked The Artist, the international box office success that was present in the competition last year.
He then warned that he wanted to reward a work that brought something new, and not one - if my memory is correct – that has "already been seen 5,000 times".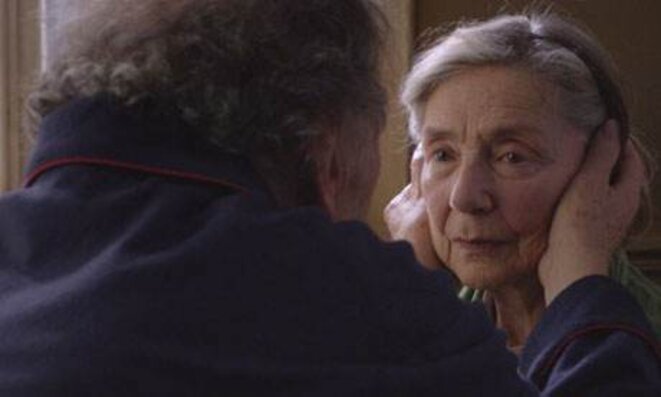 © dr
Yet at the award ceremony held on Sunday evening, the festival's top prize, the Palme d'Or, went to Austrian director Michael Haneke's film Amour (Love). It is a wonderful film, but it is not a new film, other than in the softness of Haneke's singular technique. The Cannes rumour mill had it that Moretti, who has a jealous and competitive temperament, and who himself won the Palme d'Or at the 2001 Cannes festival for his La stanza del figlio (The Son's Room), would not allow Haneke his second golden palm (his first was won in 2009, for The White Ribbon).
Among all the awards handed out on Sunday, there was only one real act of audacity - that of handing a joint Best Actress award to Cosmina Stratan and Cristina Flutur for their lead performances in Beyond the Hills. It was a surprise that these two unknown and debutante Romanians were chosen above Marion Cotillard, whose excellent performance in Rust and Bone had left her tipped to win the title. Beyond the Hills director Cristian Mungiu took Best Screenplay award, and the prize was no doubt a recognition of his perseverance; his film, powerful if not exceptional, picks up on the story of 4 Months, 3 Weeks and 2 Days, his 2007 Cannes film festival Palme d'Or winner.
There was little more than mild audacity in the attribution of best director prize to the Mexican Carlos Reygadas, for Post Tenebras Lux, his fourth film. Often described by critics as 'puzzling', it was a hilarious series of sequences; there's a little girl among horses and dogs, a fluorescent devil, a couple and their children living in rural Mexico, a French swingers' party, some British rugby and more. A specialist in provocation, Reygadas clearly wanted to mix it with the champions of unconventional, beginning with Thai director Apichatpong Weerasethakul, winner of the 2010 Palme d'Or.
While Reygadas' film of jumbled-up bits is nevertheless powerful, was it really necessary to give him a prize that suggests a scenario should be little more than an unusual achievement, one that champions the art of obscuring narration?