Flowers and message cards still adorn the railings along the pavement where Chaolin Zhang fell. Some are in Chinese, others in French: "Let justice be done"; "We have endured too much, enough! " or "Killed for no reason, when will the next one be?"
Zhang, 49, a father of two, was mugged in broad daylight on August 7th in a residential street in Aubervilliers, a suburb just north of Paris with a Chinese community of several thousand. According to the initial findings by the preliminary investigation, his head hit the ground following a blow, probably to the throat, from one of three attackers. He was in a coma for five days and died on August 12th. An autopsy was carried out on August 23rd.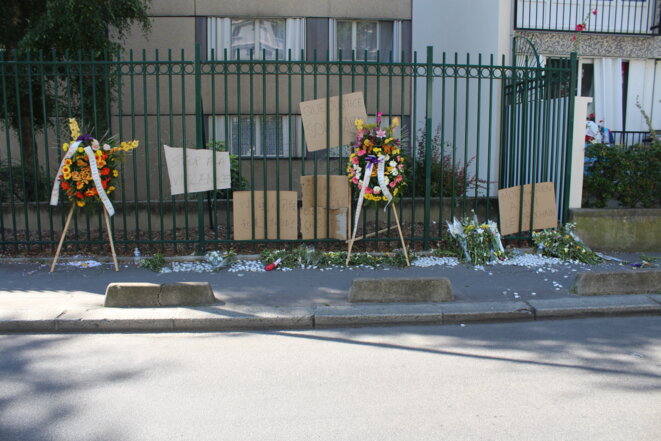 Tributes to Chaolin Zhang lay at the spot where he where he and another man were attacked on the rue des Écoles in Aubervilliers. © AD
When the mugging took place, Zhang was walking with a man, who has not been named, from La Courneuve, another northern Paris suburb, and who carried a backpack that it is thought the three assailants probably intended to steal. After the attack the man was signed off by a doctor as totally unfit to work for five days because of his injuries. He was interviewed for the preliminary investigation on August 18th and took part in a reconstruction at the crime scene. Following that, a judicial inquiry was opened into "robbery with violence causing a death", a crime punishable with a life sentence.
So far the mugging has not been qualified as a racist attack. But the man accompanying Chaolin Zhang, who was also the sole witness – in a state of shock and whose declarations have been translated into French – says he heard the attackers use the words "Chinois" (Chinese) and "argent" (money).
"The image of the Asiatic [1] community is that of people who look downwards, who keep to themselves and above all, who have a lot of money," said Calvin Job, one of two lawyers frepresenting both Zhang's family and the other victim. He says the attack that cost Zhang his life "clearly had a stench of racism" and was "the culminating point of a series of attacks that have become increasingly numerous and increasingly violent." Job underlined that Zhang lived in France in all legality, as do his family.
"Anti-Asiatic racism is the poor relation of the anti-racist struggle, and it is time these questions were taken into account," he added, adding that this was a personal view.
Chinese people in the northern Paris suburbs, however, have no doubt as to the racist nature of the crime. Frédéric Zhou, former owner of an apartment Zhang and his family rented until last January, remembers Zhang as "a quiet person who had been in France for around ten years". He himself had moved away from Aubervilliers for a time, but returned to support the community, he said. "Mr Zhang is the unfortunate representative of a situation that is growing amid indifference. He earned perhaps 1,200 euros or 1,300 euros a month, he was not rich."
Zhou, a businessman who arrived in France in 1991, referred several times to a "cold fury" in the Chinese community. "We do not go burning cars or shops," he said in a veiled reference to the youths of surrounding rundown city suburbs with large populations of North African and West African origins, and who are implicated in many of the attacks. "But a death is a death. We pay the same taxes as everyone else, we are not dogs. We do not want to 'play the victim', we are victims. And no one is doing anything about it."
Several thousand Chinese now live in Aubervilliers, which has a total population of 82,500. The first of them arrived in the 1990s and in the early 2000s. A large number work in the textile industry as wholesalers or semi-wholesalers, concentrated in the Cifa-Fashion Center along Canal Saint-Denis, with at least 1,600 outlets. "Some came to [nearby] La Villette from Paris, others came directly from China," said Mériem Derkaoui, the Communist Party mayor of Aubervilliers. "Commercial activity developed strongly in the area of Porte d'Aubervilliers. They out-did the Sentier." [2]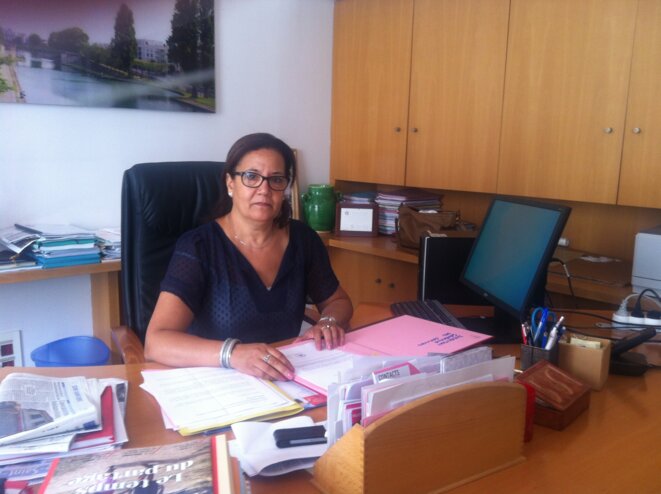 Aubervilliers mayor Mériem Derkaoui in her town hall office. © AD
This This This This Thispopulation was gradually able to buy property in several parts of Aubervilliers, particularly in modern constructions, and to diversify its range of business activities. Aubervilliers is highly cosmopolitan and, according to the mayor, the vast majority of locals have no particular resentment towards the Asiatic community. She added that the problem of clandestine sewing workshops employing illegal immigrants (see this French TV report on the subject) is in the process of being resolved, and several have been dismantled in recent years. "People have other priorities – training applications, a work placement, a housing application that is taking too long – but no one comes to see me to say the Chinese are doing well but I am not," she said.
But few would deny that there is in fact a security problem for the Asiatic minority. On August 17th, Zhang's sister plus seven associations of residents and Franco-Chinese businesses, from both Aubervilliers itself and from the wider Greater Paris Region (Île-de-France), met with police officers in neighbouring Saint-Denis. They want more CCTV surveillance, a greater police presence and better reception in police stations to make it easier to report incidents. Another meeting is scheduled for early September and there will be regular reviews twice a year on the effect of these measures.
The attack on Chaolin Zhang is far from an isolated case. It is part of a series of muggings and attacks that have increased in violence over recent months. The day after the attack on Zhang, two youths from Aubervillers were sentenced to two years imprisonment, of which four months were unconditional, for 11 robberies with violence between April and June against Chinese men and women in the Landy neighbourhood of Aubervilliers, where the textile businesses are concentrated. Three minors were also sentenced by the juvenile court in the same case.
1: In France the term 'Asiatic' is commonly used to refer to minority populations of Chinese, Vietnamese, Thai and Cambodian origin.
2: La Villette sits on the northern perimeter of Paris inside the capital's Périphérique ring road and adjoining Porte d'Aubervilliers, the gateway from Paris to Aubervilliers. The Sentier is the historic Paris rag-trade area, originally set up by Jewish merchants, which is located in central Paris around the metro of the same name.
'There's not one Chinese family untouched by an assault'
In the first seven months of this year there were 105 robberies with violence against people of Chinese origin in Aubervilliers, while in the same period of 2015 there were only 35 similar incidents, according to figures from the Seine-Saint-Denis (département, or county) branch of the Direction Territoriale de Sécurité de Proximité, a community policing unit.
The rise is partly explained by the greater willingness of victims to report such incidents, while it also confirms that the Chinese community is being targeted. In addition, there are recurrent instances of ill treatment of members of the Asiatic community by petty criminals. Local police say each time a report of such an incident has led to an arrest, they have found the perpetrator was responsible for between ten and 20 similar incidents in each case.
Derkaoui, the mayor of Aubervilliers, said the Chinese community has been especially targeted for several months. The deadly attack on Zhang was, she said, "an even more heinous crime because of its sordid motive coubled with racist targeting […] In early 2016 we alerted the authorities – the prefect, the deputy prefect, the commissioner. Every time we talked about security, there was a specific chapter on the Chinese community." She also denounced a shortage of police officers locally, whose numbers have remained at 150 since Aubervilliers had a total of 60,000 inhabitants. Now totalling more than 82,000, the population continues to grow.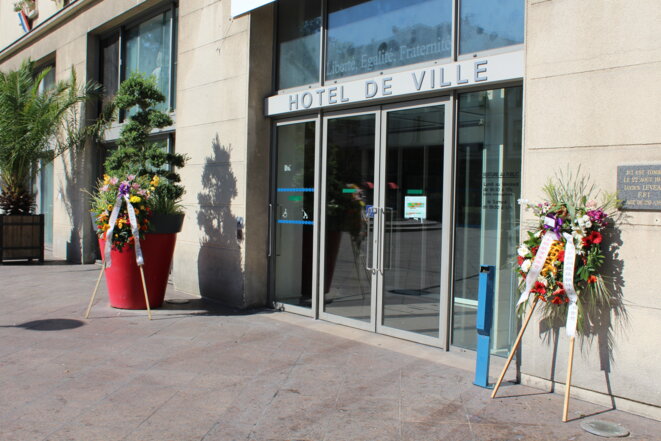 Wreaths of flowers in tribute to Chaolin Zhang at the Aubervilliers town hall. © AD
On July 18th, before the death of Chaolin Zhang, Derkaoui sent a letter to the interior ministry to protest the imminent departure of some 20 police officers from the local police station, in which she described the "anger and exasperation" of the local population over insecurity in the suburb. "I ask to be shown how many police officers there are in towns of more than 80,000 inhabitants," Derkaoui said. Referring to the current row over the burkini bans on French beaches, she added: "When I hear the prime minister talking about what people wear at the beach, I am outraged. We have a man who died, there are people who are wounded and handicapped because they have been attacked." She has asked to be received personally by interior minister Bernard Cazeneuve.
Locals are also making their feelings known. On August 14th, between 2,000 and 4,000 people held a silent march in Aubervilliers in memory of Zhang, and there was another demonstration the following Sunday. By then over 12,000 people had signed an online petition condemning "anti-Asiatic acts" initiated by Sun-Lay Tan, a municipal councillor for the centre-right UDI party in nearby Mitry-Mory. It also condemns "the near-general indifference of the political authorities and the media" to the attacks suffered by the Chinese community. "Some people refuse to believe that there is anti-Chinese racism," Tan told Mediapart. "We do not want Mr Zhang to have died for nothing."
"I am totally angry, we are a sub-community," said Michaël Low. "Media-wise, we don't exist. On the 'silent walk' protest, there were 4,000 people and I saw maybe 20 people who were of non-Chinese origin. Where's the solidarity?"
Low, 33, is one of several people who devised WeChat, a messaging app in Chinese on which he estimates between 5,000 and 6,000 people take part in the discussions. As during the campaigning and demonstrations of the Chinese population of the Belleville district of north Paris in 2010 and 2011, people are speaking up. In the conversation on WeChat, there is talk of the attacks, fear and the feeling of impotence.
Low is angry at the apparent indifference towards the attacks and also the persistent caricatures made of the Chinese. He cites the unpleasant schoolboy jokes he has been hearing since primary school, the sports commentators who make fun of South-East Asian athletes, and comedians who regularly make fun of the Chinese in sketches – humiliations that no-one complains about, unlike for other sections of the population. "Because we are Chinese, there's a right to laugh at us, there's a right to beat us up?" asked Low. "It's always said that we are discreet, but we know how to talk, we have mouths. Today in Aubervilliers, we're living in fear. My mother was attacked and since then she limps. There's not one Chinese family which hasn't been hit by an assault. Sometimes here there are ten assaults in a day, and that's been going on for years."
Tamara Lui is president of the association Chinese of France-French of China, and a member of the support committee that was set up for the family of Chaolin Zhang. She believes most of those behind the attacks think in terms of caricatures. "They think the Chinese have money, don't necessarily speak French and don't lodge a complaint [with police]," she says. "They're easy prey."
Yet anti-racist groups have been tardy in taking a stand alongside the Chinese. One of the largest such organizations in France, SOS Racisme, posted a terse message on its Facebook page on August 14th about Chaolin Zhang's murder. "The frequency of attacks on Asiatics should sound an alert," it read. "The case of this man who died, is it the result of ethnic targeting?"
It was August 16th when another large anti-racist organsisation, the International League Against Racism and Anti-Semitism (LICRA) published its first comment on the attack on Zhang, albeit with more detail and force than that of SOS Racisme. LICRA vice-president Sabrina Goldman told Mediapart she believed that racism against people of Chinese and South-East Asian origin in France was "under treated", and said her organization would closely follow the Zhang case and register itself as a civil party to the case if the victim's family agreed. "In general, anti-Asiatic racism is minimized," said Goldman. "What's more, today it kills. We know the problem, but it has perhaps not been dealt with in proportion to its extent and gravity."
Among the members of the Chinese community who spoke to Mediapart, many expressed the feeling that they have been abandoned. Some of the victims, notably those who do not have their residency and/or work permits in order, do not register with the police a formal complaint of an attack, a process that is said to be too often of no effect. As a result, parallel systems of defence and security have been set up.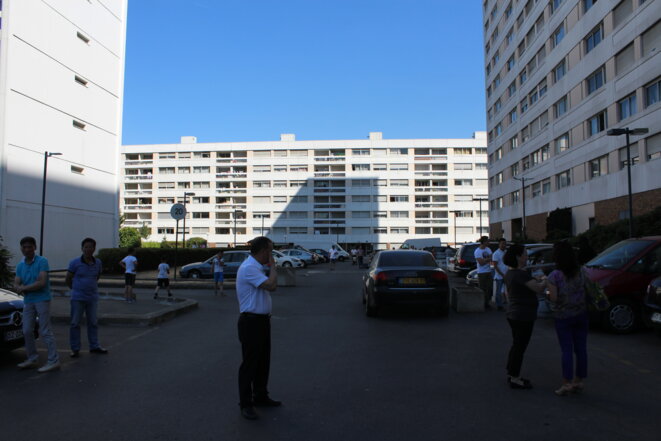 The Résidence du Parc estate in La Courneuve, where an estimated 75% of residents are are of Chinese and south-east Asian origin. © AD
At La Courneuve, a high-rise suburb just north of Aubervilliers, the Chinese inhabitants of a housing estate called La Résidence du Parc, who make up most of those living on the estate, complain of being repeatedly subjected to thefts and vandalism. Since June, they have set up their own nightly surveillance patrols. Groups of ten people take turn to watch over the entrances to estate and its car parks between 8p.m. and midnight. The situation there has now become particularly tense after an incursion there on July 13th by a gang from an estate, the Cité des Cosmonautes, in nearby Saint-Denis, who fired guns, wounding two people, and let off explosives and firework rockets. cars on the estate were vandalised. Mobile phone videos of the attacks were soon circulating widely among the Chinese community and were also broadcast on Chinese TV news (see one such report here). "These acts of violence by delinquents against people La Corneuve of Chinese origin are intolerable, notably because they resemble racist acts," read a statement issued by the town hall of La Corneuve after the July 13th raid on the estate.
Jealousy towards an Asiatic community 'that pulls through'
Antoine Huang, who works in the clothing business and has lived on the estate for the past 15 years, takes part in the Chinese patrols. "Racketeering of those who come back from the tramway, smashing up of cars in the car parks, it's like that every day," he said. "We said to ourselves that we can no longer count upon anybody, not even the police, so we set up a voluntary system every night, working in groups. We sent away those who were occupying the [building] entrance halls. On July 13th, when the youths came, we went down to protect our cars. The police came and then, when they left, they [the youths] came back with weapons." According to several witnesses, the police did not return after the shooting began. "Here, it's become a playground for them, for stealing or simply letting off steam," said Huang.
"The setting up of patrols may have got them worked up," said Joelle Huy, head of the estate's property-owners committee. "They couldn't behave the way they wanted anymore. Despite the promises by the prefecture, we won't remove the surveillance [patrols] as long as we haven't set up our own system of video surveillance and fenced off the estate. We're waiting to see things in the long term, but confidence in the police has been blunted." Huy, who has lived on the estate since 1974, estimates that about three-quarters of its current inhabitants are of Chinese origin. She said that the killing of Chaolin Zhang, relatives of who live on the estate, was "a shock for all of the community, who step up their precautions".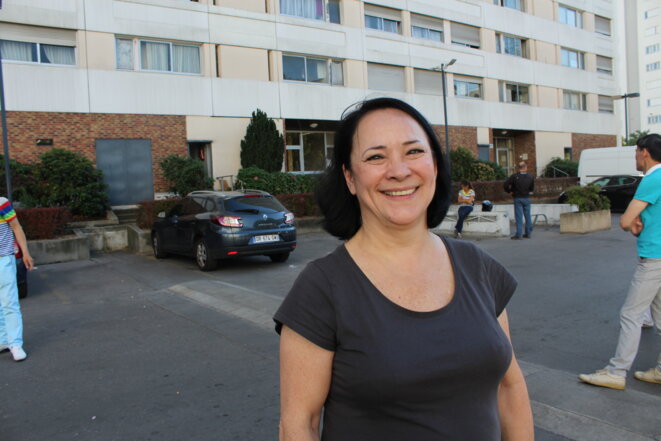 Joëlle Huy, head of the Résidence du Parc estate's committee of property owners. © AD
Huy believes that jealousy on the part of other population groups of immigrant origin plays a significant role in the attacks. "The Asiatic community manages to pull through, at times when not even knowing how to speak French, because solidarity among families allows each one to work, on condition of accepting whatever type of job," she said.
Back in Aubervilliers, Mayor Mériem Derkaoui is concerned that Chinese vigilante groups will be set up to take revenge, and insists on the importance that the State is seen to bring justice to the victims. "The family of the victim has had decency, dignity, and does not call for revenge," she said of the killing of Chaolin Zhang. "To meet out justice oneself is to take the risk of making a mistake, losing one's freedom, and to end up in mafia-like networks and racketeering. People must not set up small groups. But this letter sent to the [interior] minister is also a warning, because some, believing they are doing the right thing, want to defend themselves on their own. One must open one's eyes."
Derkaoui said the town hall, for its part, will reorganize the activities of its 14-strong municipal police – which in France answer to the municipal authorities and which have fewer powers than the national police force which come under the interior ministry – beginning late summer. "What am I to say to new arrivals?" she asked. "Here everyone looks after themselves, each one acts like a sheriff in his own corner? The inhabitants say that they don't see the police around. We want patrols, that they be seen. Perhaps that would not have prevented this assault [on Chaolin Zhang] but we cannot accept that delinquents say to themselves that there are places where they can do as they like."
-------------------------
Update: Three men were arrested on Monday August 29th, after this article was published, suspected of the assault on Chaolin Zhang and his companion.
The French version of this report can be found here.
English version by Graham Tearse and Sue Landau