Major discrepancies
Their task in examining the accounts was far from simple. The investigators had no real power of investigation, certainly not those of a police detective. Their powers were limited to asking, – if not begging, – for 'all relevant information' or 'documentation relating to receipts and expenditure' from the candidates or third parties.
This lack of real power contrasted with the huge issues at stake; if the accounts of Jacques Chirac were rejected, for example, his election would quite simply be annulled. And if the accounts of one of the losers were thrown out, they would lose their right to have part of their election expenses reimbursed by the state. Which in reality would mean they would face financial ruin.
Three investigators examined the file of former prime minister Balladur, who had handed in the following accounts (see below) for his 12 months of campaigning:
Translated into English, the above document reads:
Total expenditure (tax included) 83,846, 491 francs
Total receipts 53,676,060 francs
Balance: 30,238,736 francs
Total reimbursement claimed 30,184,736 francs
For the record: advance received 1,000,000 francs
Reimbursement requested: 29,184,736 francs
Candidate''s signature
Edouard Balladur
The investigators were soon struck by two major discrepancies. First there was a bundle of expenses that was not accounted for in the 83.8 million francs (about 12.74 million euros) total expenditure that had been declared. It should be pointed out that the legal limit on expenditure per campaign for the first round of voting had been set at 90 million francs (about 13.7 million euros). The second discrepancy was that there was no proof of where a cash payment of 10.25 million francs (about 1.56 million euros) had come from. This was paid into the bank account of AFICEB – the association used for the Balladur campaign finances – on April 26th, 1995, in large-denomination notes.
From the end of July, the civil servants had had an exchange of letters with the candidate's representative. Balladur himself never replied, despite several registered letters addressed to him in person.
At the end of their investigation the civil servants delivered their verdict. They judged it to be vital to be able to "re-establish an exhaustive account of the expenses", in other words to re-introduce into the accounts the millions of francs that corresponded to public meetings, trips overseas, renting of electoral headquarters, security costs for meetings and opinion polls. With these taken into calculation, the ceiling on campaign spending was breached.
In relation to the income that was unaccounted for, the investigators wrote in their report: "The candidate manifestly does not know what line of argument to use to answer questions [raised by the deposit of 10.25 million francs] which lacks all supporting documentation'. So where did this cash come from? From secret funds at the French Prime Minister's office, Matignon? From a secret financial trail? If not, why were so many notes paid in at the same time?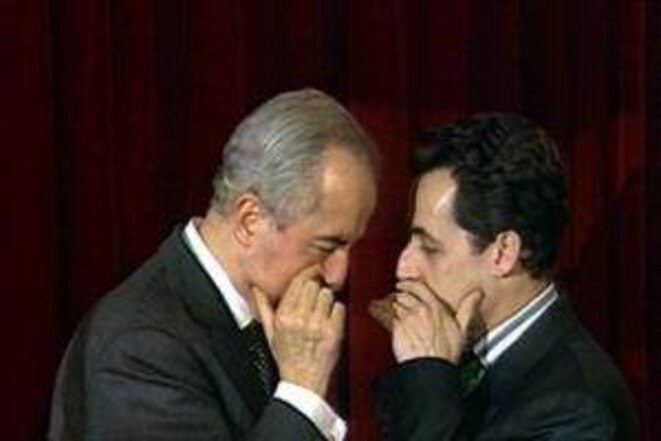 Keeping things private: Edouard Balladur (left) in conversation with Nicolas Sarkozy. © DR
When asked about this, Edouard Balladur's representative gave two explanations. One was that the money came from "various sales of gadgets and tee-shirts as well as from flag day collections carried out during rallies and public meetings". The second reason was that the cash raised was "put into a safe box and paid into the bank account altogether at the end of the campaign to avoid the transport of money".
The investigators retorted that the campaign team should have detailed "rally receipts for each rally" and have produced "a note summarising the objects sold" –as other candidates, like Lionel Jospin, did. In the end they gave no credence to the idea that the receipts had been kept safe and then paid in all in one go. They found that other cash sums had been "regularly paid into the bank account". This had happened no less than 22 times between March 13th and April 14th, 1995.
The civil servants even allowed themselves a little irony in their report; "It's difficult to see a former minister of finance1 ...leaving up to ten million [francs] dormant in a safe rather than investing it to earn some interest" they wrote. In their view, Balladur's team had produced "no indications of proof" in relation to the origins of the money. They recommended the "rejection" of the accounts in their final report.
-------------------------
1: Edouard Balladur was Minister of Economy and Finance under prime minister Jacques Chirac's government, between 1986 and 1988.