The American National Security Agency has been engaged in widespread economic and industrial espionage against France through eavesdropping and spying on economy ministers, senior civil servants and a range of French businesses, Mediapart can reveal. Five secret reports of eavesdropped telephone conversations obtained by WikiLeaks, who are working in cooperation with Mediapart and Libération, show that the conversations of two formers ministers of the economy in the French government, François Baroin and Pierre Moscovici were listened to by American spies in 2012.
A senior figure in the French treasury also had his phone calls listened to, as did a socialist Parliamentarian. Another report obtained by WikiLeaks also makes clear that all the available resources of the American secret services have been used to spy on any negotiations relating to "impending French contract proposals or feasibility studies" for exports. The sectors targeted range from information technology and telecommunication to power generation, oil and gas, transport infrastructure, environmental technologies, biotechnology and healthcare. This means that a wide range of large French companies are potential or actual targets of Washington, which effectively uses its huge espionage capability in the service of private American interests.

© DR
The economic arm of NSA's spying is less publicised and discussed than its diplomatic and military espionage, but it is arguably the most important work it does. It is this snooping on foreign businesses that justifies the vast resources put at the NSA's disposal. Since Mediapart's revelations last week on American snooping on France, including on the last three French presidents, a number of French officials have spoken off the record. They have told Mediapart that while they may not be surprised by the diplomatic spying, they are worried about the scale of US economic intelligence gathering and its impact on the ability of French companies to win contracts abroad.
"The whole world spies," one intelligence specialist told Mediapart. "But there is a real difference between the United States and others: the NSA has crazy resources and objectives. Its dream is to spy on the whole world, all the time. In addition to terrorism we have to make do with [spying on] diplomats from some countries and some manufacturers." Meanwhile a senior official at the French economy ministry told Mediapart: "These revelations are destabilising for the functioning of the state. What are we going to do from now on? This can have consequences, there will be no more internal debates in the [government] administration."
Indeed, the new documents obtained by WikiLeaks show the scale of the phenomenon. In 2002 the NSA sent a "Top Secret"note to Washington that was also addressed to the secret services of its most trusted allies, Australia, Canada, Great Britain and New Zealand – together they are known as the "Five Eyes" - to set out the areas of interest it had regarding the French economy (see document below). It is a very long list, ranging from "Economic Relations with the United States", "French Business Practices" and "Budgetary Constraints/Contributions to NATO" to "Relations with International Financial Institutions" and "Questionable Trade Activities".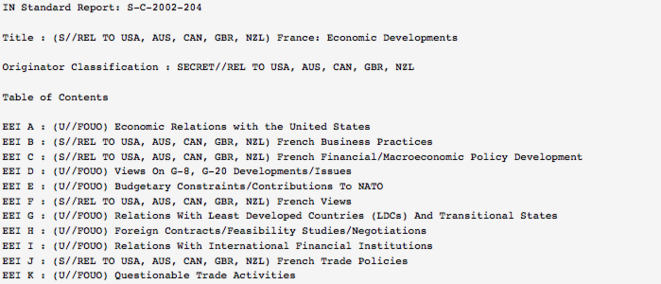 © Wikileaks
The American intelligence services detail under each section the type of information they need. Section H, for example, deals with "Foreign Contracts/Feasibility Studies/Negotiations". Here NSA wants allies to: "Report impending French contract proposals or feasibility studies and negotiations for international sales of investments in major projects or systems of significant interest to the foreign host country or $200 million or more in sales and/or services, including financing information of projects of high interest..." It then proceeds to spell out the sectors that the US is particularly interested in (see document below).
In fact, contracts for 200 million dollars in export sales are not that major on a world scale. So in other words the NSA has been seeking to keep track of almost all the international economic activities and, crucially, the product development carried out by major French groups. The aim has been to gain access to all the intelligence, information and future technologies where French companies are sometimes ahead of rivals.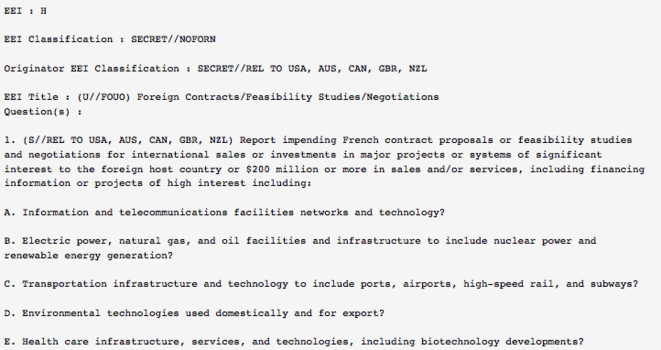 © Wikileaks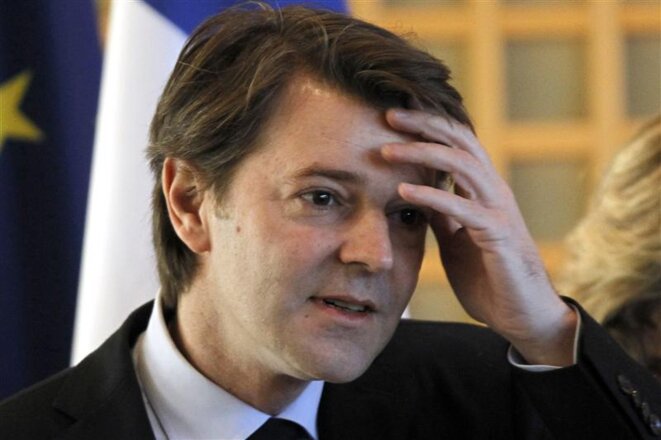 L'ancien ministre de l'économie François Baroin © Reuters
The NSA seems to be able to operate inside the French state and government at will. And naturally the ministry of finance itself is not immune to this spying. According to one document obtained, in 2012 the NSA used "non conventional" methods (in other words eavesdropping) to listen in as a senior official at the French treasury briefed then-economics minister François Baroin about banking reform. This was an item on the agenda for the forthcoming G7 and G20 meetings in April 2012.
A few weeks later the NSA was all ears again after the new socialist government under President François Hollande took power. The agency was keen to understand the new administration's intentions.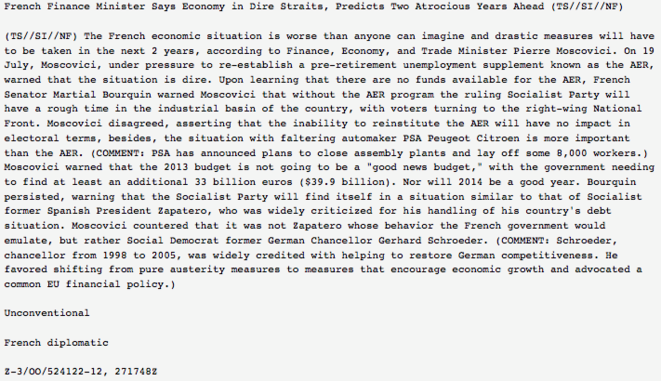 © Wikileaks
In July 2012 a classified cable (see above) provided a transcript of a conversation between finance minister Pierre Moscovici – now a European Commissioner – and the socialist senator Martial Bourquin. "The French economic situation is worse than anyone can imagine and drastic measures will have to be taken in the next 2 years, according to …. Pierre Moscovici," says the NSA summary.
"Moscovici warned that the 2013 budget is not going to be a 'good news budget,' with the government needing to find at least an additional 33 billion euros... Nor will 2014 be a good year. Bourquin persisted, warning that the Socialist Party will find itself on a situation similar to that of Socialist former Spanish President [editor's note, in fact prime minister] Zapatero, who was widely criticised for his handling of his country's debt situation. Moscovici countered that it was not Zapatero whose behaviour the French government would emulate but rather Social Democrat former German Chancellor Gerhard Schroeder," continues the NSA report.
Spying on such conversations will inevitably raise questions not just about the legality and ethics of the eavesdropping, but the value of listening in on conversations that simply echoes debates that can be found in the press. When Martial Bourquin was informed of the fact that his conversation with Moscovici had been eavesdropped he was completely taken back. "It can't be true! It's astounding! I am outraged, flabbergasted, staggered," he said. "It's absolutely scandalous. Under the rule of law how is it imaginable that a conversation between two politicians should be listened to in this way by the NSA! That you might listen to people preparing attacks, that I understand, but strictly political and personally discussions, it's unthinkable!"
Bourquin remembers that conversation with Pierre Moscovici well. "I was negotiating hard and had finally succeeding in reinstating the AER [editor's note, for allocation équivalente retraite, a payment for people who had not reached retirement age but who had paid all their years of pension contributions] in the Senate, against the advice of the budget minister Jérôme Cahuzac." The senator also recalls bringing up the name of Spanish premier José Luis Zapatero, who was accused of having broken his campaign promises in Spain. "I wanted to make it clear that we couldn't let our electorate down," said Bourquin, who is now considering whether to make a formal legal complaint about the phone-tapping.
Pierre Moscovici, too, reacted with dismay to the news that he had been eavesdropped. "These types of procedures between partners and allies are inappropriate. Conversations, whatever their nature, should not be spied on. If I have been subject to phone taps then I will demand a detailed explanation from the US intelligence services. For it that were the case I would be very shocked by it." Former minister François Baroin did not respond to Mediapart's questions.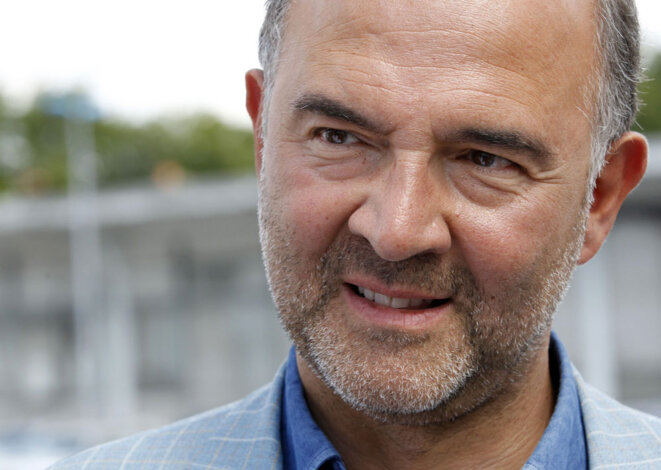 Le commissaire européen et ex-ministre de l'économie français, Pierre Moscovici. © Reuters
All top civil servants, all those who could provide the smallest piece of economic information, are tracked. For example, one note reports a conversation involving Renaud Lassus, the head of investment and trade policies at the French treasury, about Doha Development Agenda negotiations on world trade. The conversation was of no great importance, not least because the cycle of talks failed. The civil servant simply complains that President Sarkozy's view that there would be no Doha accord sat uneasily with the fact that France held the revolving presidency of the European Union, and thus Paris had to reflect a common European view. "The choice for France then becomes one of either capitulating or provoking a crisis within the EU. Paris is totally unprepared to deal with this scenario, Lassus confirmed," says the "Top Secret" document entitled "Sarkozy Remarks on WTO Deemed Injurious to France".
The existence of such documents simply confirms the extent to which the NSA has its fingers into everything and everyone, and is out of control. When contacted by Mediapart Renaud Lassus declined to make any comment.
In reading these secret notes, the stories of how various French companies have lost major commercial contracts over the years take on a different meaning. In particular it raises questions over contracts dealing with telecommunications equipment and gas and coal power stations, deals which have sometimes abruptly collapsed. No companies are named in these WikiLeaks documents so it is impossible to make a direct, objective link between the loss of markets and the American eavesdropping. But the question now arises: were these contracts not sufficiently competitive? Were their technologies sufficiently competitive? Or is it that the Americans torpedoed French commercial proposals?
All of this means that the histories of various French businesses might have to be revised. One of the best-known stories involved the company Gemplus. This French firm had developed chip encryption, which is used in phones and credit cards in particular. This technology had escaped the clutches of the intelligence world and of American firms. Out of naivety and a willingness to comply with the "good practices" of company "governance", its then boss Marc Lassus allowed a Texan investment fund, Texas Pacific, to buy a stake in the firm.
But though it only had a 26% share of the capital the Texan outfit soon imposed its way: it nominated a new boss and transferred the registered office to Luxembourg. At last the encrypted chip technology was in the hands of the Americans. The employees suspected that the management wanted to transfer all activity to the United States and to sell it to an American group. The battle lasted several years, threatening to sink the firm altogether.
By 2009 the American intelligence services were no longer interested in the encrypted chip: they now knew all its secrets. The Texan investment fund agreed to sell its share in the firm – which had been re-named Gemalto and was now based in Holland – and withdraw from the scene. Today Texas Pacific still has a 42% stake in TDF, a French company that provides radio and television transmission services, services for telecoms operators, and other services including digitization of content and encoding.

When reading the NSA reports it is also impossible not to think of the battle between the CEO of pharmaceuticals firm Sanofi-Aventis, Chris Viehbacher and his board of directors, which ended with his departure in October 2014. Viehbacher was suspected by some of wanting to move the research centre and company headquarters of this renowned French firm, a world leader in vaccines in its venture with the Institut Pasteur, to the United States where he was based, after getting rid of thousands of jobs. This was despite the fact the firm had received state aid. His removal marked an end to the plans – for now, at any rate.
The NSA reports also bring to mind the story of Alcatel-Alstom, American firm General Electric's direct competitor. Its business is at the very heart of the kind of activities targeted in the NSA document on French firms; it has a stake in telecommunications, energy infrastructures and transport. Once one of the most powerful groups in France, it is now in shreds.

© Reuters
Its former president, Serge Tchuruk, impressed by financial capitalism and the power of shareholders and the dream of an industry without factories, bears a heavy responsibility for this decline. It was he who organised the split between Alcatel and Alstom, which completely destabilised both. It was he who wanted the fusion between Alcatel and American firm Lucent, which was then in a weak position. But in the aftermath it was Lucent that gained the upper hand. As a result a number of technologies crossed the Atlantic, for example on the laying and monitoring of submarine cables. Alcatel gained little from the merger and, today, has lost many of its essential technologies. It is going to be merged with Nokia.
Meanwhile Alstom's fate was not much better. It April 2014 General Electric made it an "offer it couldn't refuse", and Alston's energy division was bought for 13 billion dollars. It heralded the dismantling of the group. It later emerged that Alstom was targeted by a corruption charge from the American Department of Justice over the sale of power stations in Indonesia, and the group had to pay a 790 million dollar fine. And in Britain the transport division of Alstom is being probed for allegedly using bribes to get contracts in Hungary, Poland and Tunisia.
In the past the French authorities and justice system have shown considerable tolerance towards allegations of corruption on the part of French groups. Today that lenience is working against those companies. For it is foreign justice systems who are now taking action rather than French prosecutors. However, the amount of information that these investigations have access to, based on phone conversations and meetings, raises questions. Above all, how is it that firms such as Alstom and Siemens are regularly caught up in allegations of corruption in markets where such practices seem the norm, when General Electric never is? There are no inquiries into the American group, its subsidiaries in Bermuda and the Bahamas, its contracts won with the support of the entire apparatus of the American state.

© WikiLeaks
The absence of US firms from corruption scandals also seems to have struck Jean-David Levitte, former diplomatic advisor to Nicolas Sarkozy who became French ambassador in Washington. In 2004 a top secret NSA cable (see above) referred to Levitte's conversations following a report on the alleged misuse of the UN Oil-for-Food (OFF) programme in Iraq. "The ambassador termed the report scandalous, since it named no U.S. companies and he claimed that many French companies with contracts under the OFF program were actually subsidiaries of U.S. firms that also profited from the business dealings. He therefore planned, with foreign ministry backing, to present a list of these U.S. companies to both the U.S. Congress and the media," says the NSA report. In the end the report was quickly forgotten and there were few judicial repercussions as a result of it.
-----------------------------------------------------------------------


The French version of this article can be found here.

English version by Michael Streeter